Vinfast's US First Premiere Show and Golden Chance of Vietnamese EV Automaker
VinFast is bringing Vietnamese electric vehicle (EVs) brand to US and Europe, already considering IPO!
Opening on Thanksgiving day, Los Angeles Auto Show 2021 returns for 10 exciting days in November. What is even more appealing for the global market is the Vietnamese smart EV debut by VinFast. Along with the global debut, VinFast is considered making an IPO in the US market.
The two electric SUVs are the centerpiece of VinFast's Future of Mobility concept - VF E35 and VF E36, Vinfast will make their premiere at the 2021 LA Auto Show - Los Angeles Convention Center, this Friday.
This marks the official debut of the VinFast brand to the North American market, where the Vietnamese EVs will be available for pre-order in the first quarter of 2022. The VinFast EV Global Premiere press conference takes place on November 17, 2021, at 3:30 pm (PST). It will be live-streamed globally via VinFast's Facebook and YouTube pages.
The young Vietnamese automaker is looking to bring its vehicles to the Western EVs market with a goal to eventually sell between 160-180 EVs per year in the US alone. As if that wasn't ambitious enough, VinFast is also considering an IPO in the US market.

VinFasr EV Global Premire poster. An official press briefing will be held on November 17th and live-streamed globally. Photo: VinFast
The Future Of Mobility
VinFast's vision of "driving the movement of the global smart EV revolution" is the foundation of The Future of Mobility. The Vietnamese EV brand is dedicated to creating a more sustainable transportation future for people, allowing them to enjoy intelligent, safe, fun, and environmentally responsible mobility. VinFast also believes in 'life technologies,' which serve and enliven clients' daily lives.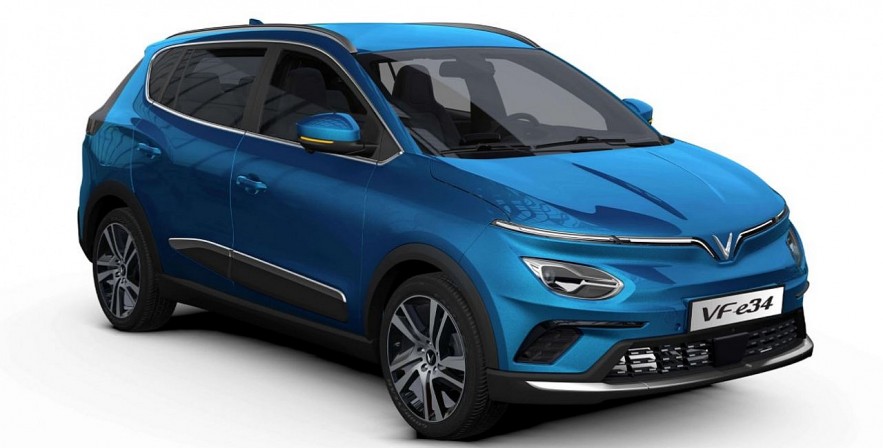 Photo: Electrek
The VinFast design team collaborated with Italian world-renowned styling house Pininfarina to design the VF e35 using a modern design that combines elegant curves with strong, bold finishes to create an impressive, eye-catching style that blends sharp, clean lines.
The front end is angular and deeply sculpted, with a two-layer lighting setup that includes an LED light bar that spans the front of the car and is separated by the VinFast "V" emblem. The VF e35 has deep scallops down its flanks and a steeply sloped back windshield, with a rear light bar design that inserts the brand's symbol in the center.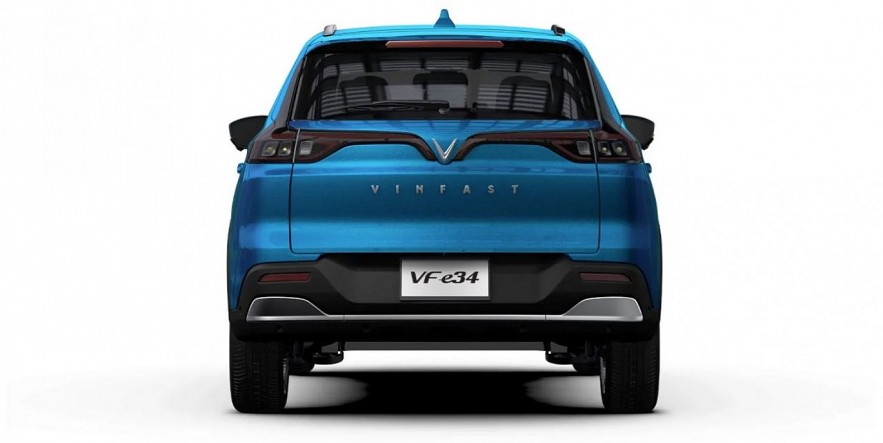 Photo: Electrek
This appealing combination results in a Dynamic Balance design that adds force and velocity to the overall look. The interior has also been designed for comfort, luxury, and a smooth driving experience.
Founded in 2017, VinFast is one of the more recent Asian electric car businesses to attend the show. Vingroup is the largest private conglomerate in Vietnam with a focus on technology, industry and services. Van Anh Nguyen, CEO of VinFast in the United States, stated that the company's goal is to become "a global smart electric vehicle brand."
Nguyen added the pandemic and related supply chain issues have not affected it. It has "made us more flexible to achieve our goals," she said in an emailed interview with LA Downtown News.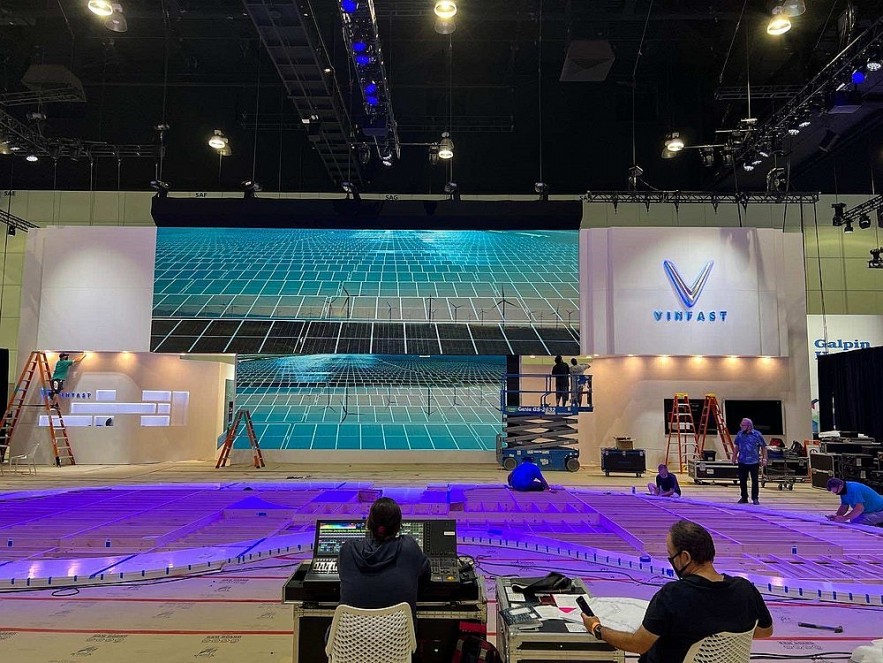 VinFast's exhibit reflects the notion ofthe Future of Mobility.
Every component of VinFast's exhibit reflects the notion of The Future of Mobility. The 8,500-square-foot booth has sleek, modern, and futuristic designs, as well as brilliant white and blue accents to captivate the crowd. VinFast's brand colors bring up visions of a powerful 'blue electric spark' that never ceases to urge movement onward.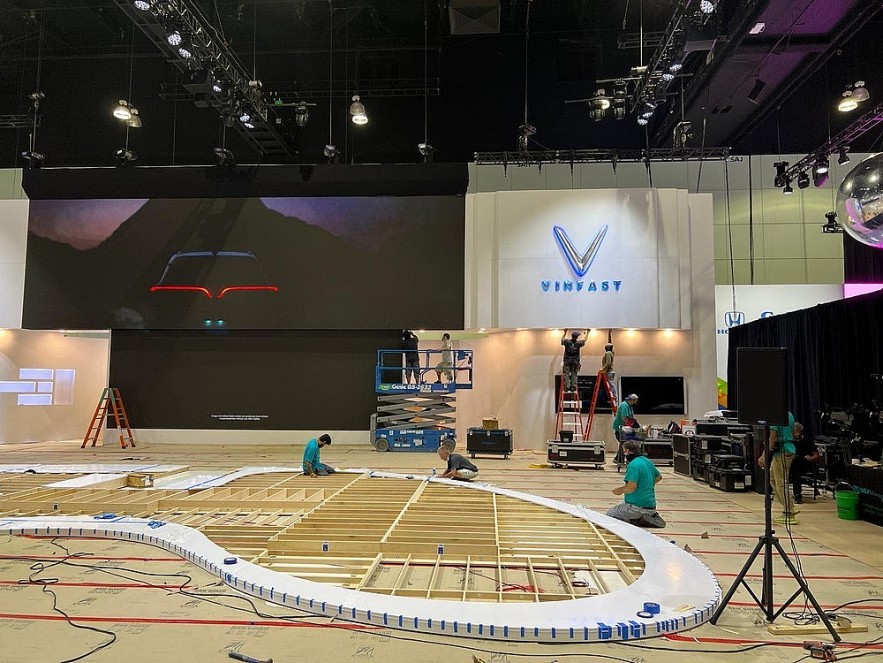 Behind the scene of VinFast's exhibit the Future of Mobility at LA Auto Show
The female CEO, Van Anh Nguyen shared that VinFast will launch the VF e35 and VF e36 models globally in 2022 and participate in several large-scale exhibition events in the U.S. and Europe. While adapting to new conditions in COVID-19, the Vietnamese Automaker brand would also like take the chance to promote the development of the domestic supporting industries, restructure supply chains to reduce dependence on external sources, and diversify sales methods.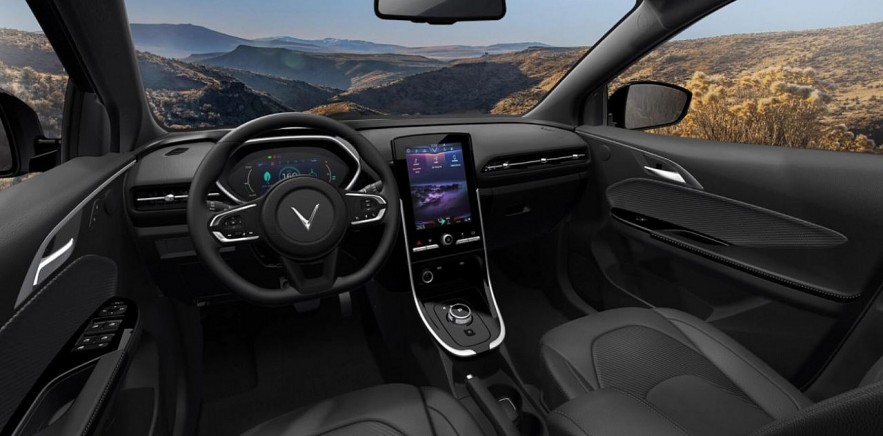 Inside VF e34. Photo: Electrek
Enter the US Market in a Variety of Ways
That's one of the reasons VinGroup is considering an IPO for its VinFast subsidiary in the United States, as well as a variety of other funding options. This move makes sense because it will bring attention to the Vietnamese electric vehicle manufacturer in the United States and provide funding for its ambitious export plans.
VinFast is now losing money in the Vietnamese vehicle market. Before 2026, it's expected to lose money on earnings before interest, taxes, depreciation, and amortization. Last year, VinFast only sold 30,000 automobiles. While it only accounts for 10% of the Vietnamese market, it has the capacity to produce ten times as much.
If VinFast can locate a viable pool of suitors willing to place orders, the EV markets in the United States and Europe could come into play. VinFast certainly hopes so, as it has set a target of selling 160,000 to 180,000 vehicles per year in the United States alone.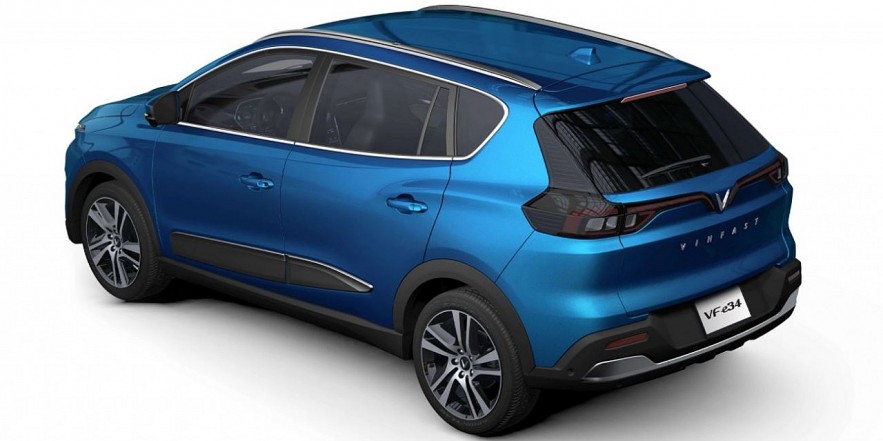 Photo: Electrek
The Golden Opportunity
"VinFast is proud to be among the EV brands exhibiting at the LA Auto Show, one of the world's most influential automotive shows. We are also proud to be the only brand representing Vietnam at the event." VinFast will remarkably enter into the Western car market with the VF e36, a seven-seat electric SUV flagship to rival the Tesla Model X.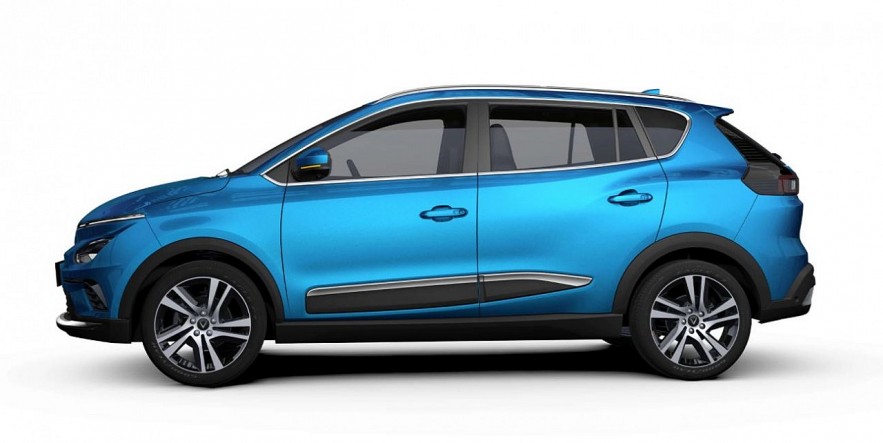 Photo: Electrek
The two latest models of electric vehicles, VF e35 and VF e36 are believed to match the needs of Western consumers. The Vietnamese Auto-maker company said the two vehicles will "have designs that meet American needs and habits and are equipped with many smart technologies that contribute to a user-friendly and valuable experience to users."
Technology included in the car are "remote firmware updates, smartphone — smart city connectivity, voice control, native-language virtual assistant, theft warning, learning and remembering user habits, service center locating, etc.," according to Van Anh Nguyen.
VinFast plans to participate in other large-scale exhibitions destined for the US and Europe. The two SUV models will be available for preorder in 2022.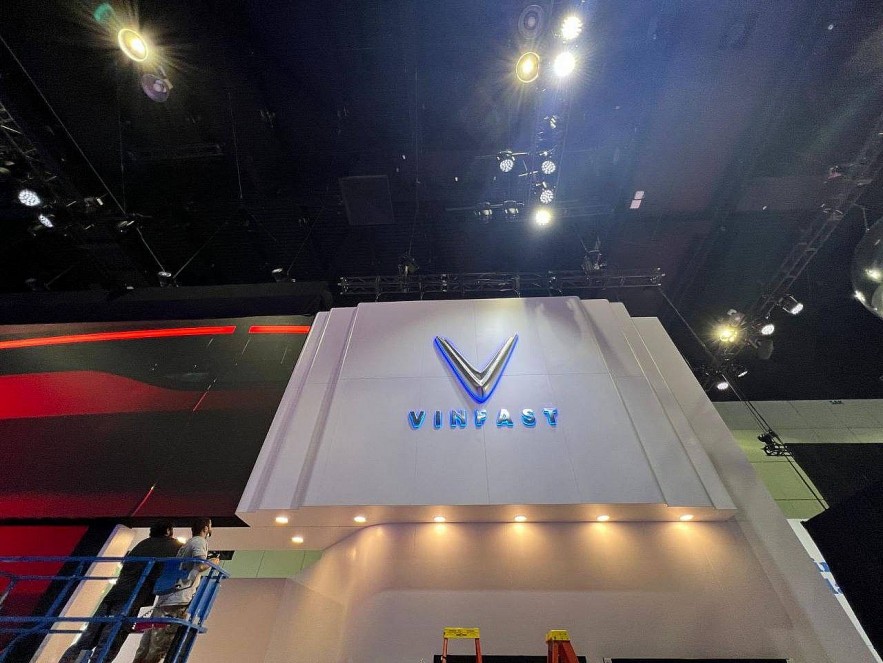 VinFast's exhibit at its final touch-up.
According to Michael Lohscheller, global CEO of VinFast, "VinFast believes in 'The Future of Mobility' – a future where smart vehicles are highly personalized 'technologies for life' – that combines eco-friendliness with maximum safety and outstanding driver experiences."
Lisa Kaz, President and CEO of the LA Auto Show, commented, "Electrification is the biggest transformation the auto show industry has experienced in the past 100 years. The LA auto show is excited to welcome EV automakers, including VinFast, where our visitors will be able to discover Vietnam's first-ever automaker and its all-new EVs."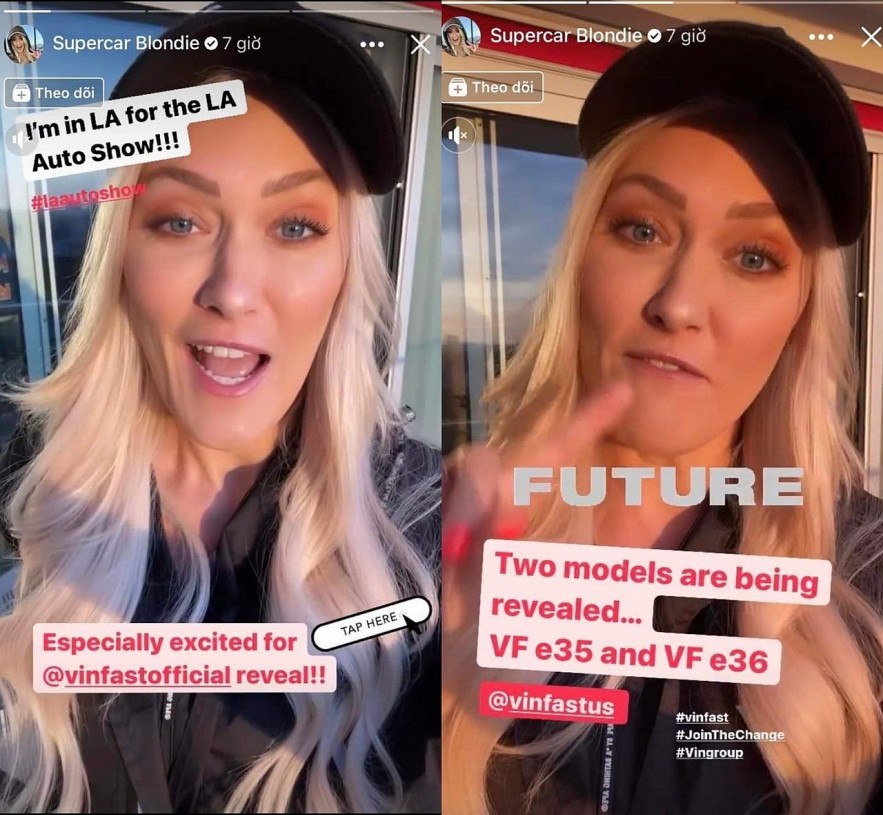 Supercar Blondie - The most famous female YouTuber in the car industry will be a special guest of VinFast at LA Auto show 2021. Photo: Supercar Blondie
Supercar Blondie - the most famous female YouTuber in the car industry will be a special guest of VinFast at the LA Auto show 2021. In addition, appearing on VinFast's celebrity list is Nas Daily - a Youtuber famous for his "1-minute" hit videos, with more than 20 million followers. Along with Nas are Vietnamese-American movie stars Lana Condor, Vietnamese-Australian movie director Maria Tran, Hmong-American athlete Suni Lee, famous YouTuber/Instagramer Mitch Summer and Vlogger Markian.
About Vinfast
VinFast is a subsidiary of Vingroup, Vietnam's largest private business. VinFast is Vietnam's foremost premium automobile manufacturer and the country's first automotive brand to enter international markets. VinFast's state-of-the-art, 90 percent automated manufacturing complex in northern Vietnam, which launched in 2017, is one of Southeast Asia's largest. VinFast, which aspires to be one of the world's top smart electric mobility firms, presently manufactures numerous kinds of electric scooters and buses in Vietnam and plans to debut three new electric SUVs - VF e34, VF e35, and VF e36 in the C, D, and E classes, respectively - in Vietnam, North America, and Europe in 2021 and 2022.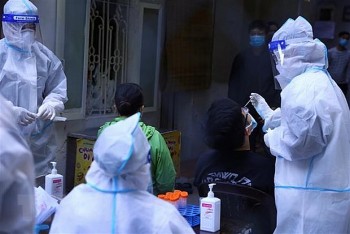 Focus
Vietnam's Covid-19 death toll is now 26,483, or 2 percent of total cases. More than 7,000 coronavirus patients nationwide are in serious condition, with 741 requiring invasive ventilation and 20 on life support.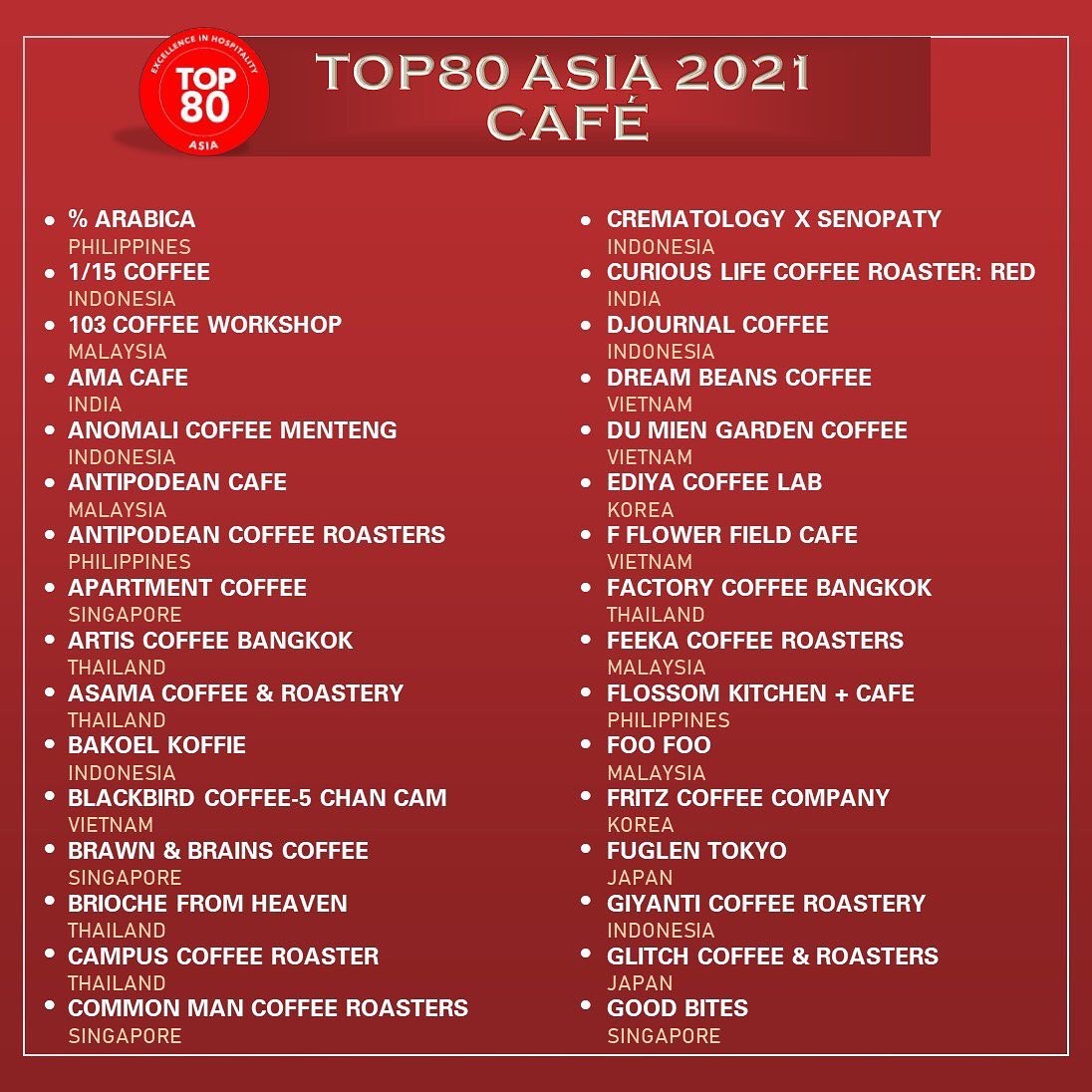 Make in Vietnam
Recently, the 2021 Top80 announced 12 Vietnam's cafe shops that were ranked among the top 80 cafes in Asia.
November 18, 2021 | 09:58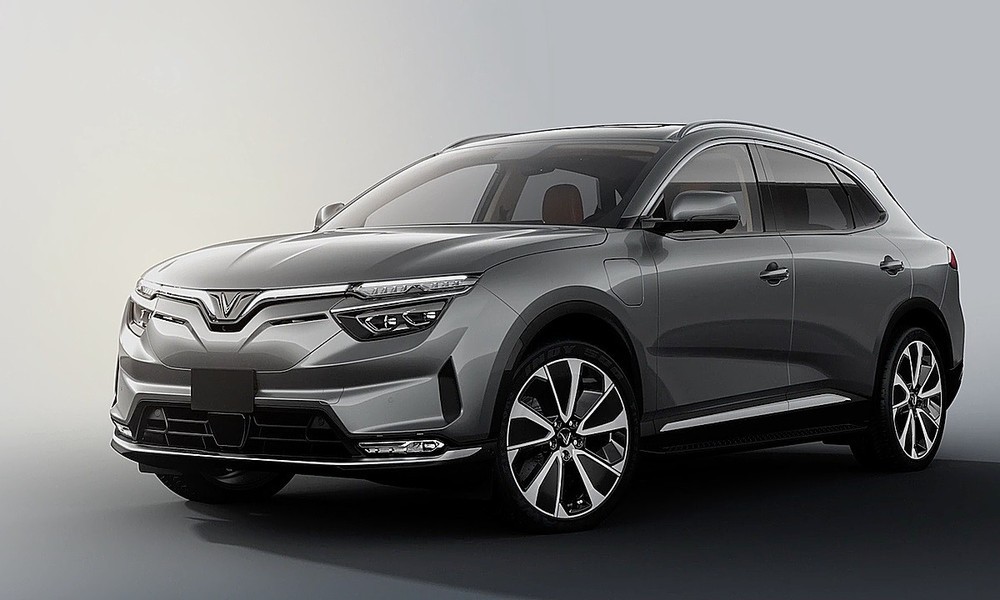 Make in Vietnam
VinFast is bringing Vietnamese electric vehicle (EVs) brand to US and Europe, already considering IPO!
November 17, 2021 | 08:45