Vinh Phuc Friendship Union Finds Balance Between Quality and Quantity
The Union of Friendship Organizations of Vinh Phuc province focuses on the quality not just the quantity of its activities
During the second term, from 2016 to 2021, the people-to-people diplomacy work of the Union of Friendship Organizations of the northern province of Vinh Phuc and its member organizations has made new developments in both quality and quantity, affirming its specialized role on people's external activities.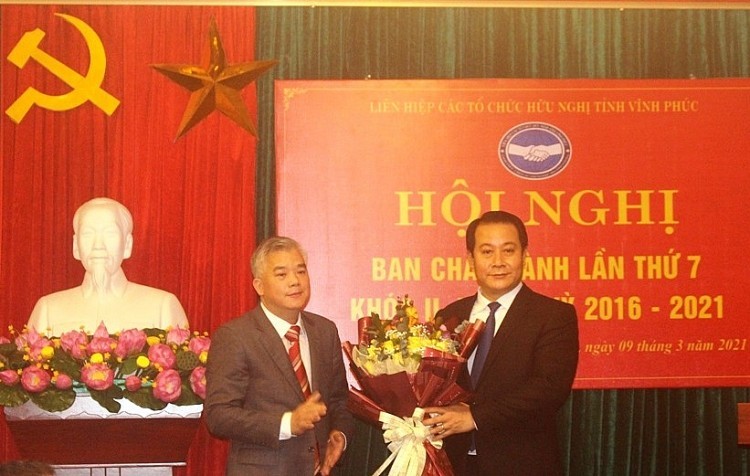 Nguyen Huy Quang, vice president of the Union of Friendship Organizations of Vinh Phuc Province (left) presents flowers to congratulate Pham Hoang Anh, deputy secretary of Vinh Phuc Provincial Party Committee on being elected president of the Friendship Union, term 2016 - 2021.
The Vice President of tge Union of Friendship Organizations of Vinh Phuc province for the 2016 - 2021 term, Nguyen Huy Quang, highlighted their important achievements during the term.
Over 5,000 members
The Vinh Phuc Friendship Union has made new developments in both quality and quantity, affirming the position and role of an organization specialized in people-to-people diplomatic activities, significantly contributing to the province's socio-economic development; at the same time, promoting the initiative and flexibility of people's diplomacy, coordinating and supporting Party and State diplomacy in the general foreign policy of Vinh Phuc province.
Currently, Vinh Phuc Union has 12 member friendship associations, including Vietnam - Laos, Vietnam - China, Vietnam - Russia, Vietnam - Japan, Vietnam - Republic of Korea, Vietnam - Cambodia, Vietnam - Germany, Vietnam – UK, Vietnam– Thailand, Vietnam – Singapore, Vietnam – Bulgaria and Vietnam-Czech-Slovakia.
Moreover, it has fully specialized departments and committees, with six full-time staff, members in the entire provincial union and has increased from more than 4,000 members in 2016 to over 5,000 now.
Every year, Vinh Phuc Union holds courses to update knowledge and foster professional skills on people's foreign affairs for more than 100 officials from departments, branches, unions, agencies, and member friendship associations.
The Union also organizes and coordinates many people-to-people diplomatic activities. Along with delegation exchange activities, commemorating days of establishing diplomatic relations between Vietnam with other countries and Vinh Phuc province's partners.
The cooperative and friendly relations of Vinh Phuc province with other countries' localities are constantly expanding and deepening. Work for overseas Vietnamese continues to be consolidated and enhanced.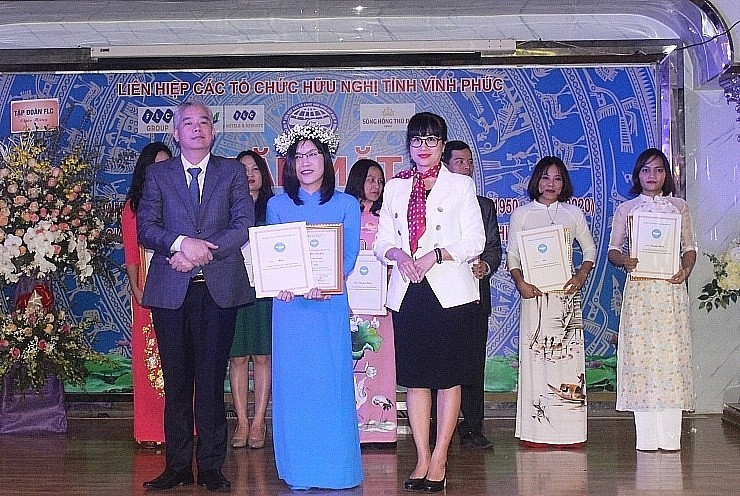 Bui Thi Huyen, a teacher of Tran Phu High School, won the first prize in the individual writing contest "Learning about the Vietnam Union of Friendship Organizations".
On the Vietnam Union of Friendship Organizations' 70th Anniversary of Traditional Day in 2020, the Vinh Phuc Union had held a meeting to celebrate and award winners of the writing contest about VUFO which attracted 7,493 entries. The organizing committee gave prizes to three teams and 12 individuals with the best results.
In the same year, the Union of Vinh Phuc also organized a conference reviewing activities in 2015 - 2020 and made plans for the next five years.
Seven collectives and 14 individuals had been rewarded for their outstanding achievements.
Attracts about USD2 million foreign non-governmental aid/year
According to Vice President Nguyen Huy Quang, the Vinh Phuc Union has always performed well in its role of coordination in developing relations, mobilizing, and coordinating aid from non-governmental organizations and individuals abroad.
To unite Vinh Phuc expatriates abroad, the union has advised the Provincial Party Committee, People's Council, and People's Committee to successfully organize the Vinh Phuc Homeland Spring program every two years from 2012; invite expats living all around the world to gather and celebrate the traditional Lunar New Year (Tet), learn more about the development situation and investment, business potential in their home province. From there, overseas Vietnamese will introduce and spread Vinh Phuc's culture and image to international friends.
Every year, the friendship union coordinates with the provincial Department of Foreign Affairs to organize a conference on non-governmental aid promotion to diversify channels and attract maximum resources to support its disadvantaged localities and needy people. As a result, the average annual aid value in the 2016-2020 of Vinh Phuc province is about 2 million USD per year.
The organizations from many countries operating in the province have launched projects mostly in social issues, urgent aid, capacity development and improvement, microfinance, and environmental protection. Major projects include sustainable agricultural value chain development for small-sized farmer households, support for senior citizens, and healthcare solutions.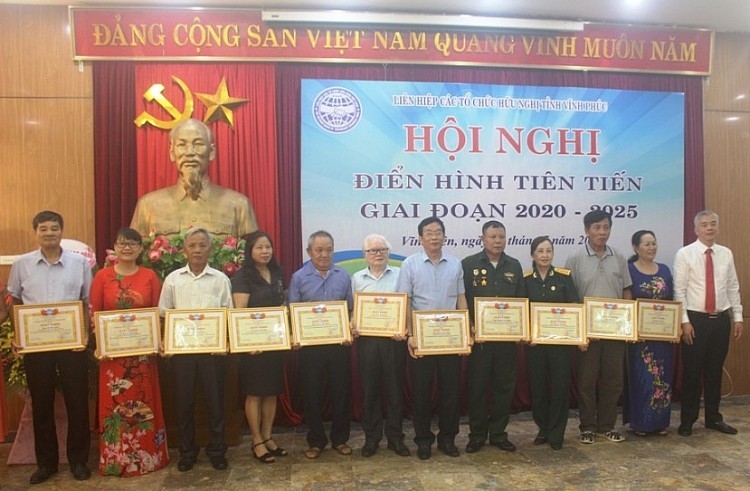 Nguyen Huy Quang, vice president of the Union of Friendship Organizations of Vinh Phuc province (first, right), presents certificates of merit to individuals with outstanding achievements for 2015 – 2020.
Recognizing outstanding achievements in people-to-people diplomacy work of the Vinh Phuc Union of Friendship Organizations in the second term, on Oct. 6, 2021, the State President had awarded the Third-class Labor Medal to the union for its accomplishments, contributing to the cause of building socialism and defending the Fatherland.
At the VUFO's Patriotic Emulation Congress for 20-2025, the Vinh Phuc Union was honored to be awarded the Certificate of Merit for the exemplary collective in the period.
The past performances will help create strength for the Vinh Phuc Union of Friendship Organizations to develop strongly, continue to innovate, and improve the efficiency of its working activities in the new situation.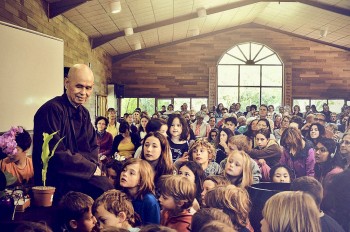 Viet's Home
The master of meditation "passed away peacefully" at the Tu Hieu Temple in Hue – where his spiritual journey began and Vietnam's Buddhist heartland, the Plum Village Community of Engaged Buddhism said.