Strengthening cooperation between Vinh Phuc province and Tuscany, Italy
An online conference between Vinh Phuc province of Vietnam and Tuscany, in central Italy, was recently held by the Italian Chamber of Commerce in Vietnam, Enterpridose Europe Network, Vinh Phuc Provincial People's Committee and the Vietnamese Embassy in Italy.
The meeting was attended by Vice-Chairperson of the Vinh Phuc Provincial People's Committee Vu Chi Giang, Ambassador of Vietnam to Italia Nguyen Thi Bich Hue, Tuscany assessor to the economy and tourism Leonardo Marras, Florence Deputy Mayor for economic development and tourism Cecilia del Re, chambers of commerce, business associations as well as Vietnamese and Italian businessmen.
At the meeting, the speakers evaluated the potential and expectations for strengthening cooperation between the two countries and different localities, particularly between Vinh Phuc and Tuscany.

Online conference between Vinh Phuc province, Vietnam, and Tuscany region, Italy. Photo: Vietnam Times
Italian businesses are currently investing in 17 of 63 provinces in Vietnam, on top of which is Vinh Phuc with a total registered investment capital of over US$ 90 million, accounting for 30% of the total investment capital of Italy in Vietnam. Most notably, Piaggio Vietnam, a subsidiary of Piaggio Group, opened a motorbike assembly and manufacturing factory in Vinh Phuc.
Vinh Phuc is one of the most dynamic provinces in Vietnam. With synchronous and modern infrastructure, Vinh Phuc is a major industrial center for car, motorbike and electronic production in northern Vietnam where large corporations place factories, including Piaggio. Tuscany is one of Italy's top economic centers with strengths in industry, mechanical engineering, tourism, mineral exploitation and fashion.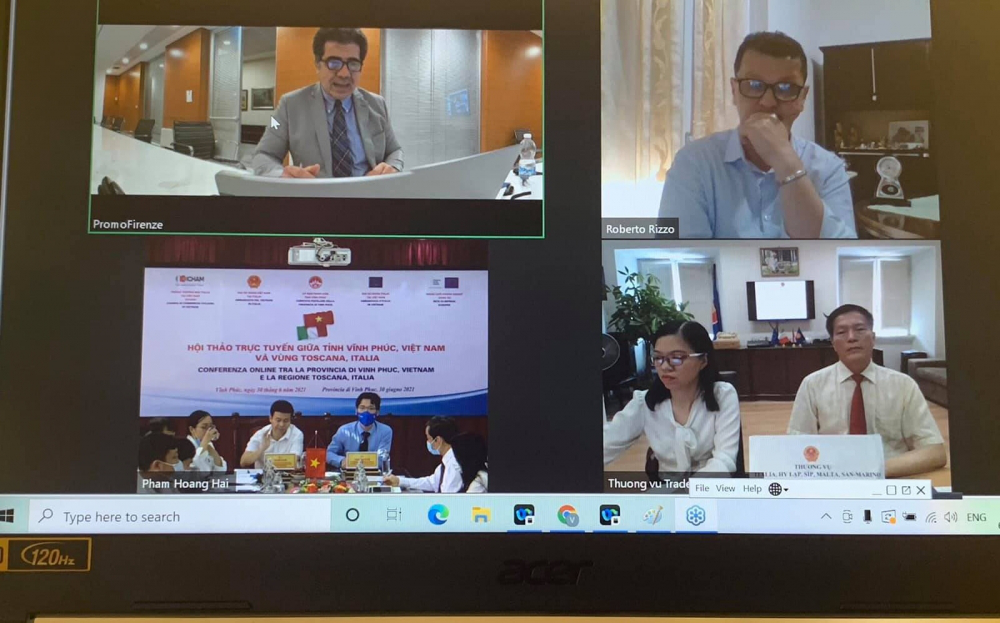 Speakers at the conference. Photo: Vietnam Times
Speaking at the conference, Giang stressed that Vinh Phuc had developed a strong relationship with Tuscany and hoped to strengthen this relationship via specific cooperation activities between the two regions.
Giang also said Piaggio's investment in Vinh Phuc had been fruitful. This is clear evidence of Vinh Phuc's attractive investment environment and effective investment policies.
Giang added that Italian investors and Tuscany would cooperate with Vinh Phuc in high-tech agriculture, food and beverage tourism, fashion, planning, architecture and urban development, in addition to quality, modern and environmentally friendly vehicle production.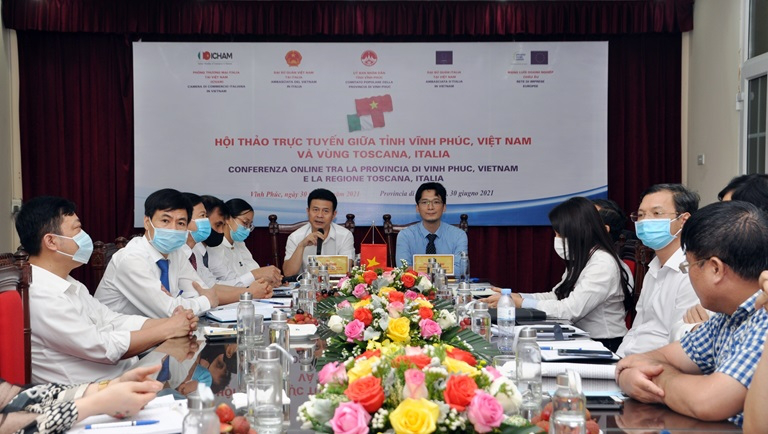 Vinh Phuc participants at the conference. Photo: Vietnam Times
Vinh Phuc committed to creating the best conditions so that investors from Italy, particularly Tuscany, can invest successfully in the province. Giang requested that the Vietnamese Embassy in Italy continue to be a bridge to strengthen cooperation between Vinh Phuc and Tuscany.
Previously, an online conference between Binh Duong province and Veneto, a region in northeast Italy, was held on May 27, 2021, where the two areas signed a Memorandum of Understanding. Veneto is Italy's second-largest economic zone, particularly developed in mechanical engineering, metallurgy, chemistry, fashion and tourism.
With its strengths in infrastructure and proactive attitude toward integration, Binh Duong has been collaborating with Italy's northern region of Emillia-Romagna. Binh Duong currently has eight investment projects by Italian businesses, with a total capital of US$ 64 million.
Among the 65 countries and regions with investment in Binh Duong, Italy stands at 29, investing mostly in the processing industry, shoe and handbag production, food and other consumer goods.