Visit Hon Kho Island – An Exotic Beauty For Your Summer Holiday
Hon Kho is an amazing island located in Quy Nhon that attracts tourists coming here for their summer journeys to witness the sea of beautiful apricot-colored moss, and participate in fun traveling activities.
Summer is the best time of the year to explore Hon Kho Island, which is located in an archipelago of 32 islands near the shore of Binh Dinh province, about 19km from Quy Nhon city. This place is surrounded by a field of thick, breathtaking moss with a lovely apricot color, creating wonderful natural scenery.
A colorful picture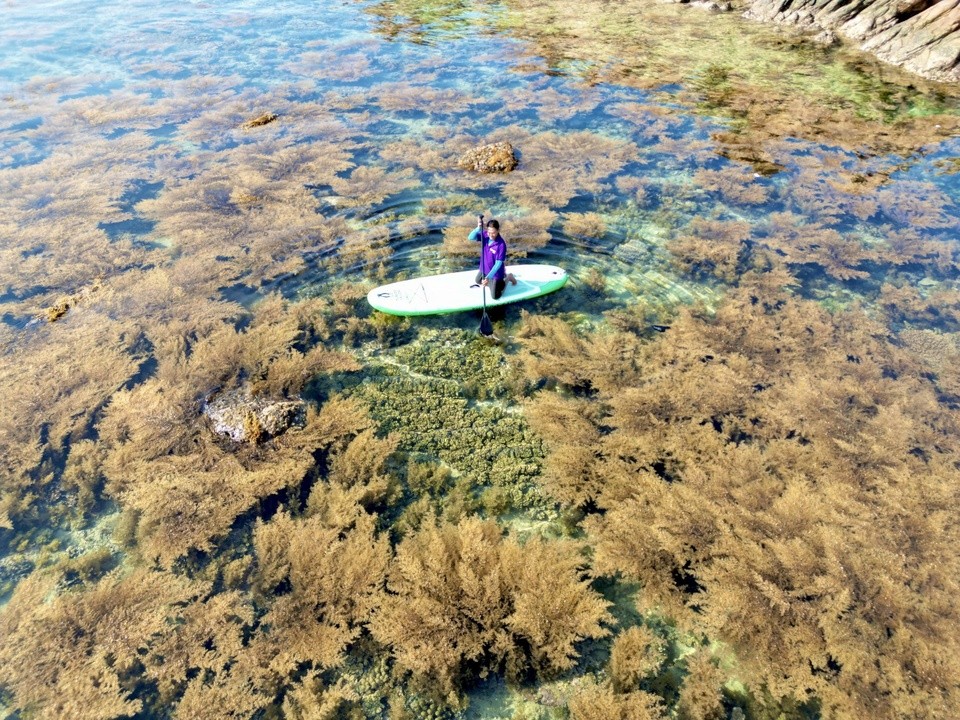 Photo: Hon Kho Trip
Hon Kho, also known as Cu Lao Hon Kho, belongs to Nhon Hai fishing village, about 20 km from Quy Nhon city. From mid-May to the end of August is the season of the moss in this area, forming a beautiful and colorful picture. Many tourists and photographers choose to visit the place to enjoy the scenery and take unique Instagram photoshoots.
Nhon Hai fishing village is a new and attractive traveling destination, drawing tourists' attention with its beautiful beach, and colorful coral reefs preserved almost intact. Travelers can see the moss bed clinging to the underwater rocks and coral reefs. June-July is the time when the sea moss grows highest and strongest, long branches of the moss overflow the surface of the water, creating a yellow field that floats like a fairyland that captivates everyone's hearts.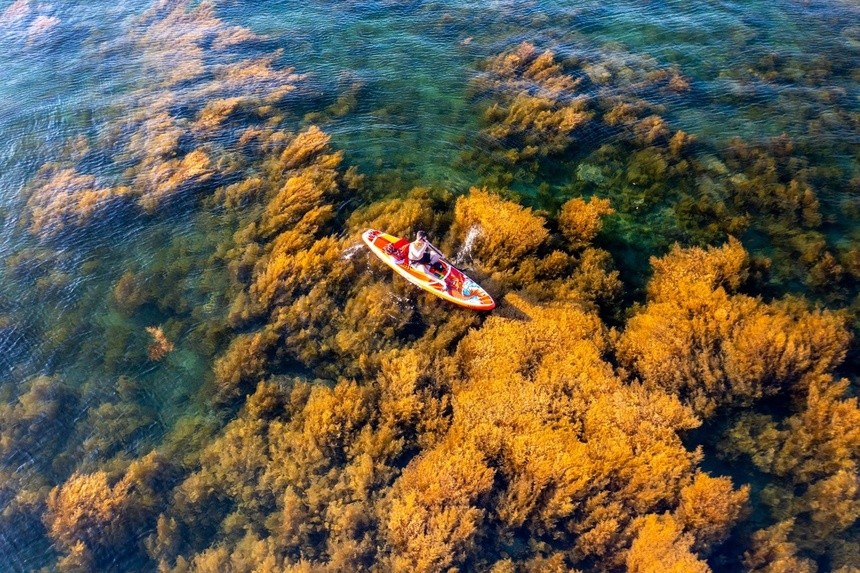 Photo: Dang Van Hai
The apricot-colored moss is a gift of nature for Quy Nhon Sea. This type of sea moss has both nutritional value and pharmacological effects. Harvesting moss for export brings income and improves the lives of the people here.
During this season, many types of marine life gather here to reside in the clumps of moss, creating a rich marine ecosystem. Experiencing scuba diving to see corals and moss is an activity not to be missed when coming here at this time.
When the tide is low, many tourists choose to row SUP to the sea to watch the sea moss. This is also the time when the mysterious and unique ancient city wall, hidden for hundreds of years under the sea, appeared. The wall is about 10 m wide, which is still a mystery, attracting many tourists to come here to take amazing check-in pictures. Especially every season when the moss grows back, the walls are covered with thick layers of sea moss, forming a road along the sea.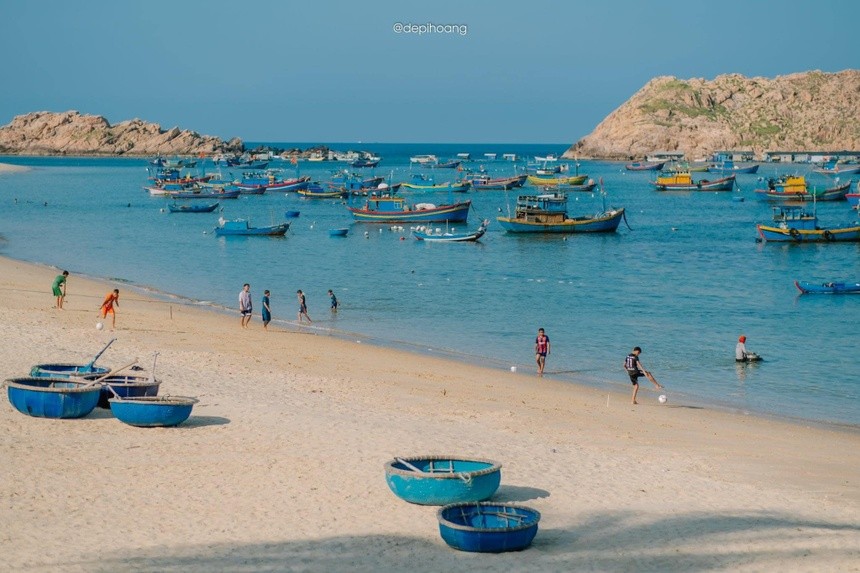 Photo: @depihoang.
Located only about 300 meters from the mainland, tourists can easily see Hon Kho Island at a very close distance. However, in order to set foot on the island, visitors need to travel by canoe or wooden boat for about 10-15 minutes.
With an unspoiled natural landscape, simple people, fresh air, and a lot of interesting activities, Hon Kho Island attracts many domestic and foreign tourists coming to experience and explore the one-of-the-kind land.
The seawater in Hon Kho Island is clear and the coral reefs are diverse and colorful, which makes tourists fall in love the first time coming here. The beach here has a lot of rocks but is very clean, and the local people often see sea turtles come to lay eggs in the breeding season.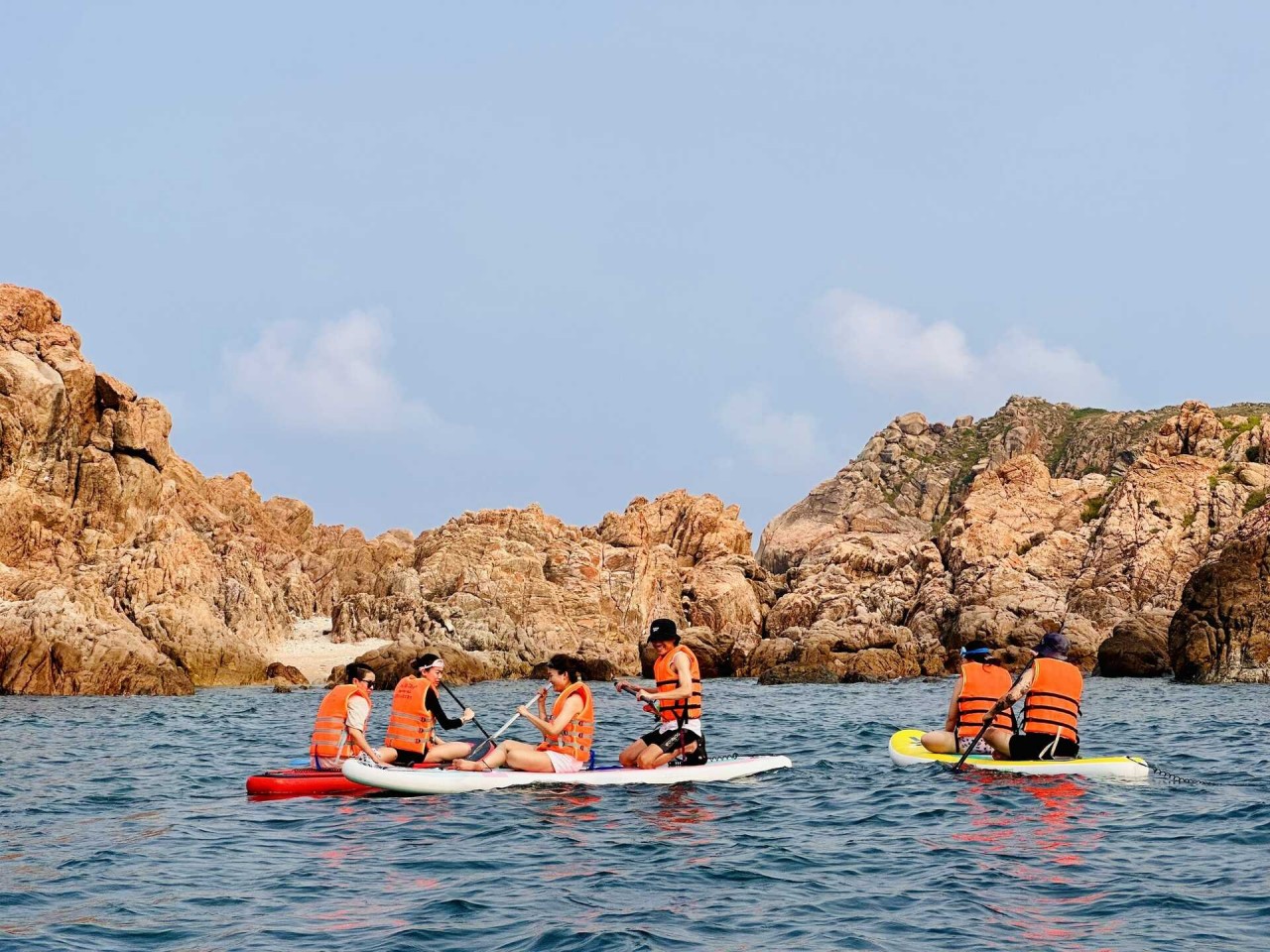 Photo: Hon Kho Trip
The most impressive thing about Hon Kho is the beautiful sea road. When the tide recedes, a cliff mixed with sand gradually emerged, creating a 500 m-long sea road leading from Nhon Hai fishing village to the ultimate island.
This is a unique sea path unique to only in fairy tales but nowhere else. However, it is not always possible to see this mysterious sea path because the water level rises and falls depending on the season.
The wooden bridge around the strait is also a favorite place for many young people. Standing on the bridge, you can see the impressive blue sea. One side is a majestic rocky mountain, the other is a romantic blue sea creating an unforgettable charming landscape.
Lots of fun activities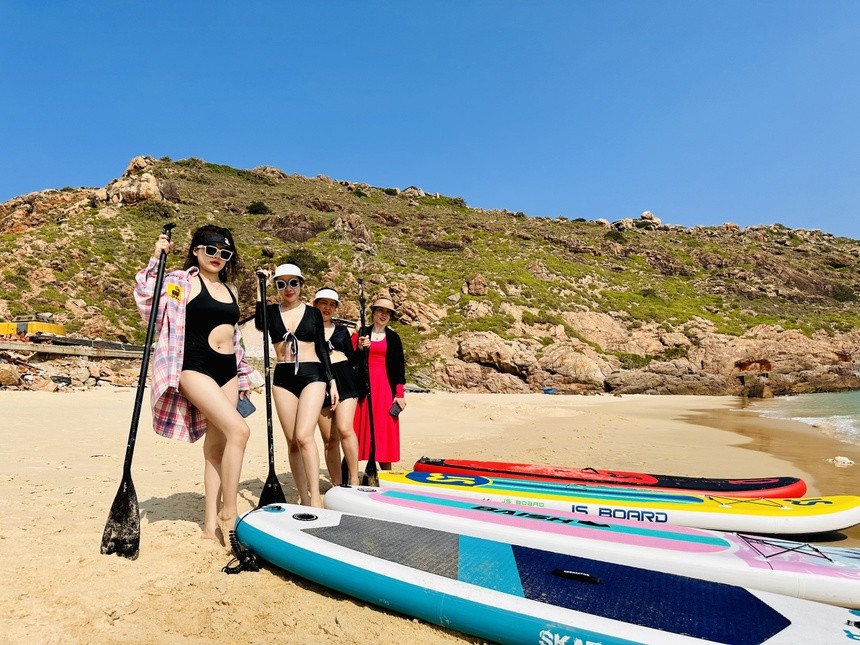 Photo: Hon Kho Trip
The sea space around Hon Kho island is small but favored by nature, suitable for developing many fun activities, experiencing the landscape, and trying out marine cuisine.
In the summertime, Hon Kho Island welcomes a lot of tourists coming to enjoy their holiday time. SUP rowing tours, photography, snorkeling, and exploring the coral reefs are chosen by many tourists. Boating on the peaceful sea, watching the clusters of seaweed floating in the water, or immersing themselves in the cool beaches are some of the most unforgettable experiences of your lifetime.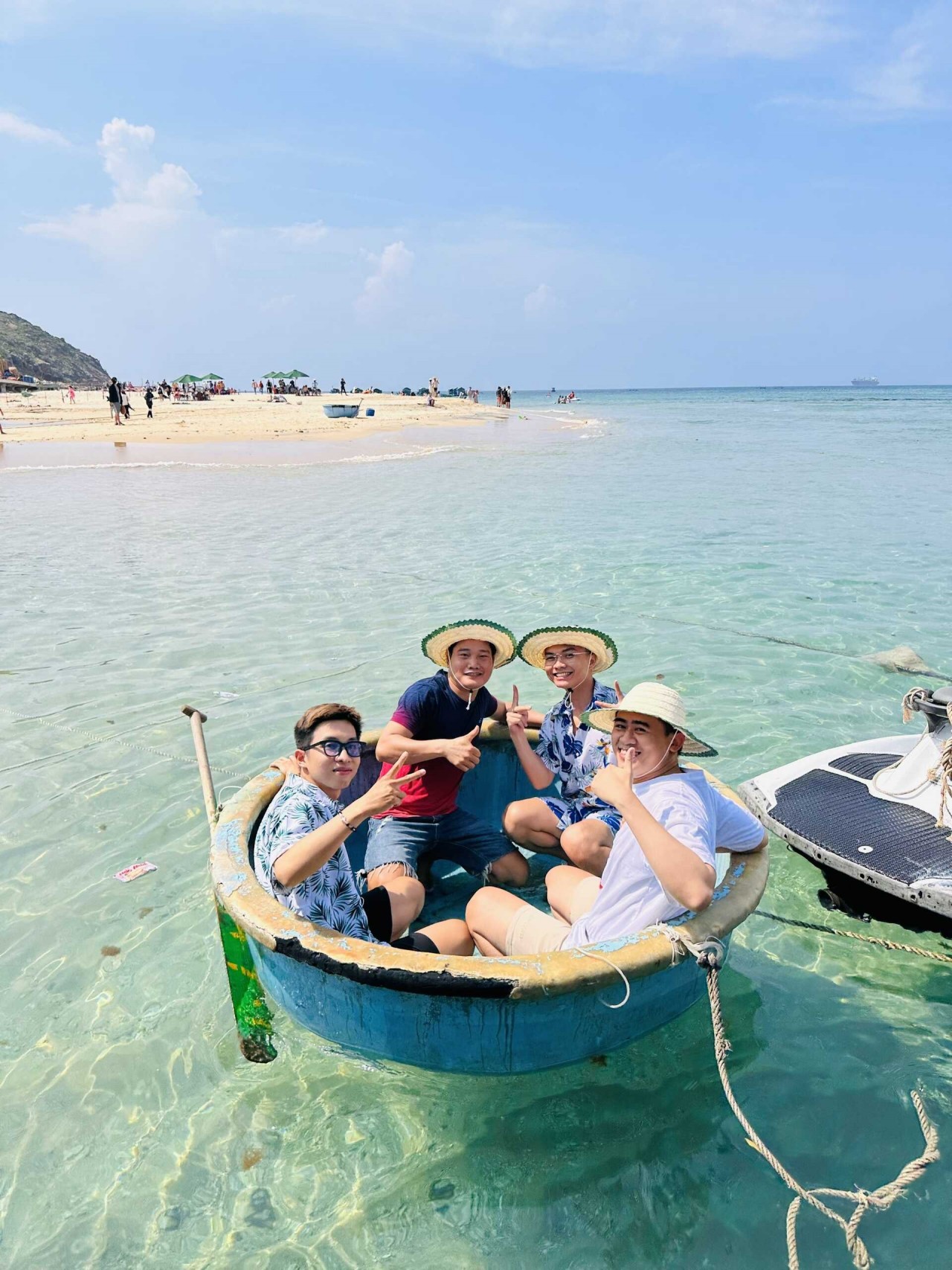 Photo: Hon Kho Trip
Hon Kho has very few trees and almost no trees are taller than the head, so it is extremely sunny. So you should fully equip a hat and sunscreen! The water bars here are just small huts built temporarily, so you can actively prepare some drinking water and snacks to bring.