Visit The Most Beautiful Tourist Attractions in Phu Yen
Beautiful beaches and scenic spots, Phu Yen is a wonderful destination for relaxation and exploration. Here is 7 most beautiful and lovely tourist attractions in the region.
Phu Yen is another off beat track destination in Central of Vietnam with pristine beaches, busy fisherman villages, glistening mini desserts, mouth-watering seafood and astounding natural landscapes. If you're planning to travel to Phu Yen for a peaceful holiday, you certainly won't be disappointed.
While attractions in Phu Yen are a bit similar to those in Quy Nhon, Phu Yen is a lesser-known destination which has only become (a bit) more popular thanks to the Vietnamese film "I see yellow flowers on the green grass". Nonetheless, many people still call this land a sleeping beauty, waiting for the Charming Prince to come and wake her up.
Where is Phu Yen in Vietnam?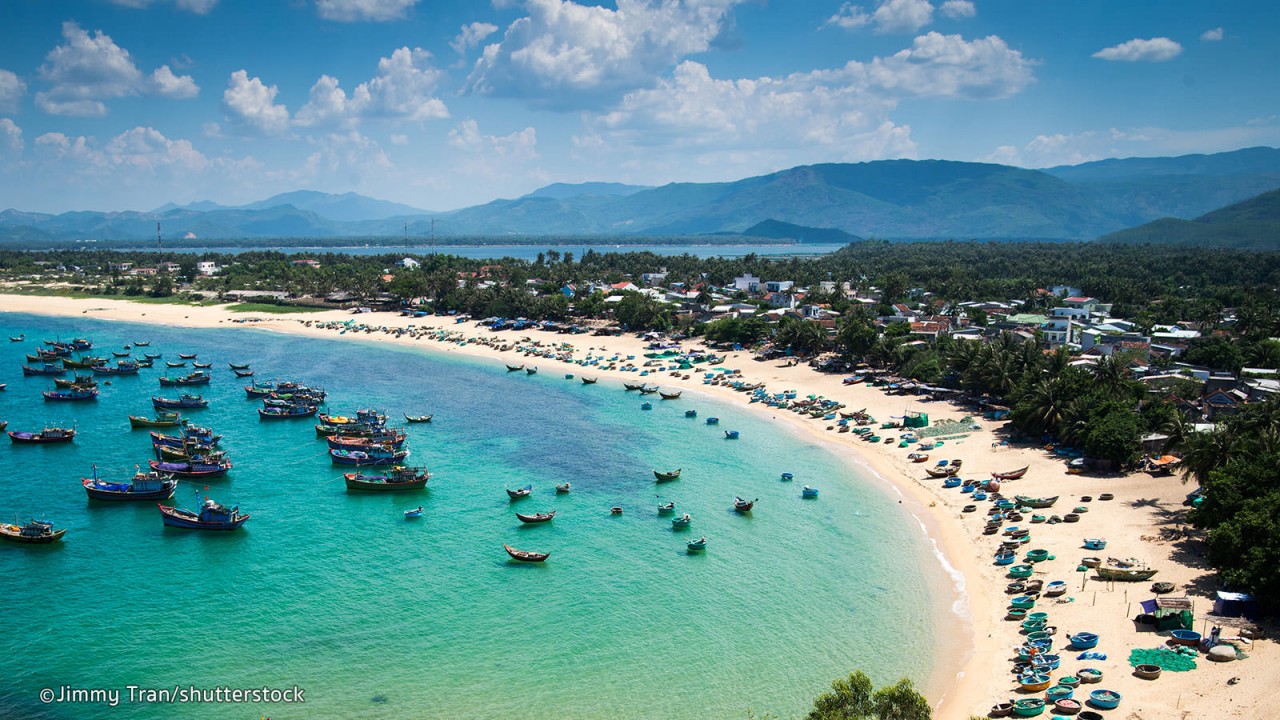 Photo: Shutterstock
Situated in the middle of Binh Dinh Province (Quy Nhon) and Khanh Hoa Province (Nha Trang), Phu Yen is a coastal province in the Central of Vietnam. Its capital is Tuy Hoa City.
Phu Yen remained unpopular to tourists for a long time as the province did not invest much in promoting its tourism. After the launch of the movie "I see yellow flowers on the green grass", which was shot in Phu Yen, the province's picturesque landscapes started to capture attention from Vietnamese tourists. Since then, tourists have flocked there to discover other lesser-known attractions in Phu Yen.
Best Time to Visit Phu Yen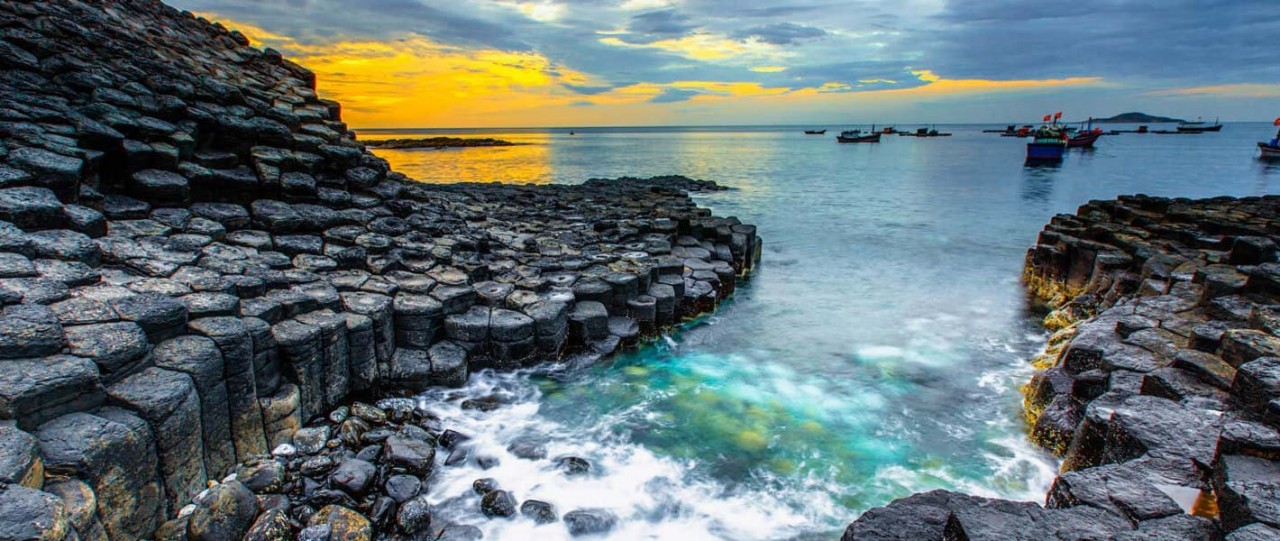 Photo: City Pass Guide
Phu Yen has a tropical climate which means it's rather warm and humid most of the year. To avoid the hottest season, the best time to travel to Phu Yen come here between January and March. During this time, you'll experience temperatures in their high twenties and there will not be a lot of rain. The closer your travel dates are to summer, the hotter it will get, but chances of rain are still low. If the heat doesn't bother you, traveling in summer is great as you'll be sharing the beaches with fewer people.
If you can, avoid the time between September and December. That's Phu Yen's rainy season and you risk getting caught in heavy downpours several times a day. You'll still have your share of sun and warm weather but be ready to get the occasional free shower. Also, note that bad weather might make it impossible to go on boat trips during this time (in Phu Yen as well as neighboring provinces), as going out to sea wouldn't be safe.
Top Tourist Attractions in Phu Yen
1. O Loan Lagoon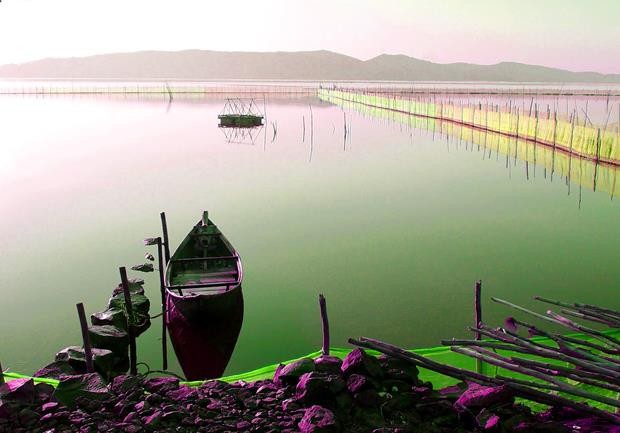 Photo: Baodanang
O Loan Lagoon is located near National Highway No. 1, under Quan Cau pass, about 25 km away from Tuy Hoa city to the North. This is a blackish water lagoon with the natural area of approximate 1,570 ha and adjoins to communes of An Cu, An Hoa, An Hai, An Hiep and An Ninh Dong of Tuy An district. The lagoon is covered by Dong Chay mountain, Cam Mountain and An Hai Sand-bank with a cannel through the sea in the North. At the middle of the lagoon, there are two big stone blocks overlapped which are called Hon Chong. Looking from Quan Cau pass down, O Loan lagoon looks like a phoenix spreading its wings. The unique beauty of O Loan Lagoon is the wonderful combination of mountains and water.
Visiting this place, the visitors shall have the change to visit, admire the fanciful beauty of the nature and enjoy many special foods such as: arca, crabs, shrimps, jelly-fish, oyster, seaweed etc. especially arca in O Loan Lagoon which is very delicious.
Every year, on the 7th of Lunar January, traditional boat-race festival in O Loan Lagoon is held which presents for the traditional cultural beauty of Phu Yen. The festival has attracted thousands of people from everywhere on the occasion of spring.
O Loan Lagoon was recognized as a National Relic on 27/9/1996.
2. Bai Xep Beach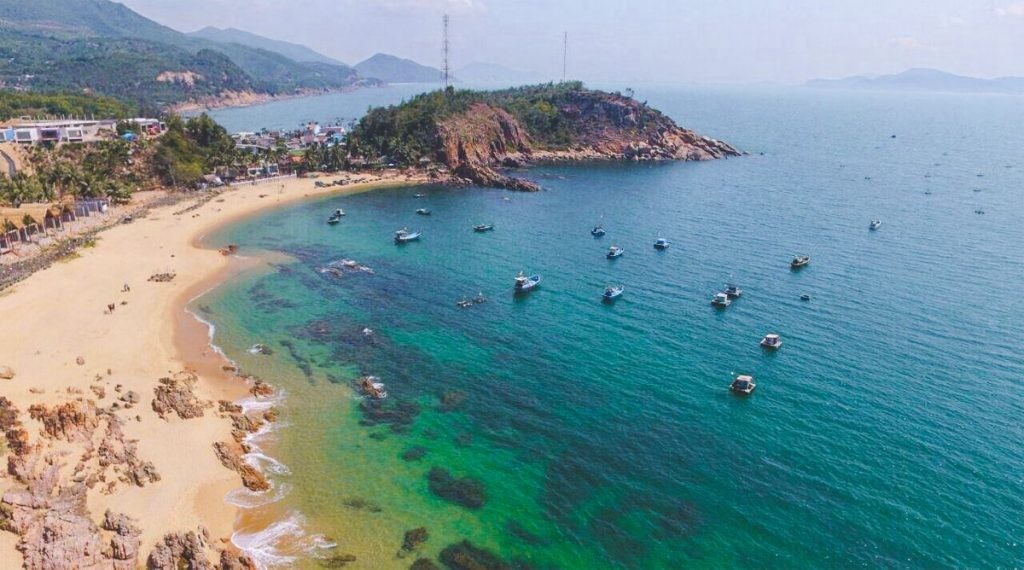 Photo: Local Vietnam
Xep Beach (Bai Xep) is situated on a beautiful beach just 10 km from Quy Nhon. This is the perfect place to escape the busy city life of Vietnam. This secluded and car-free fishing village offers you a real chance to experience an authentic Vietnamese beach without the crowded tourism.
What is so great about Bai Xep, or also called Xep Beach, is the great atmosphere. It is the perfect mix between a beautiful beach, an authentic fishing village with very friendly villagers and just few tourist. The locals and tourist blend in great together. In the morning you see the fisherman prepare their gear to go on the sea, during the day time you can relax and visit an island and in the evening you can enjoy a BBQ on the beach together with the locals.
You come to this beach mainly to do nothing. It is very quiet here and feels peaceful, which means that you can recover from all the traveling and the busy activities that you have done so far in Vietnam. Relax on one of the chairs, read a book and cool off by swimming in the sea every now and then.
Immerse yourself in the local culture of the village. The fishing village is a cute little village and still feels very authentic. It takes you just 3 minutes to walk through the entire village, but it is certainly nice to take a look. You are greeted with a smile and there are no cars in the village, so it is very quiet. On the other side of the village than where the accommodations are located you will find a place where they repair boats and prepare boats for fishing.
3. Mang Lang Ancient church
The ancient Mang Lang Church is located near Cai River in Tuy An Commune, Phu Yen Province. It is considered to be the oldest church in Vietnam. The antiquated Mang Lang Church was first built in 1892 with the extraordinary Gothic design.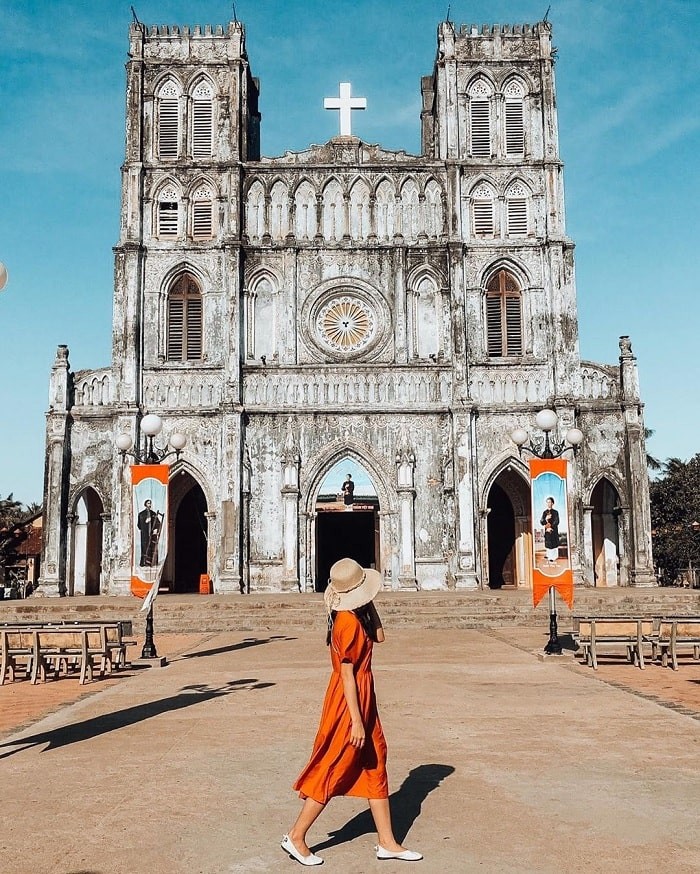 Photo: VinLove
The Gothic design has impressed everyone since it was born because of the unique innovative concept. Gothic architecture is a style of architecture that flourished during the high and late medieval period. It was originated around 1200 B.C. Gothic design created a bit reminiscence of the antique art but still be inspired with a modern spirit. Gothic architecture has been most familiar as the architecture of many of the great cathedrals, abbeys and churches of Europe, especially it was greatly popular in the 18, 19th century.
The ancient Mang Lang is the typical Gothic construction in Vietnam. Surmounting the flow of time, Mang Lang Church still grandly stands there like a hundred-year old man who has witnessed all the changes of this land.
Referring to Mang Lang, you will hear the locals here telling a story happened more than 100 years ago. At that time, there was a kind of plant that had oval-shaped leaves, flowers growing in clusters and they had a brilliant purple-pink color when they blossomed. Their ancestors called it "Mang Lang". The Church was named after this plant and the trace it left is the 1,5 meters diameter round table surface which was manipulated by Mang Lang wood.
The impression at first sight that tourists would notice at this church is the magnificent and imposing cross with two church bell towers in both sides.
The Church nestles in a spacious and massive space with the total area of 5000 meters square surrounded by vigorous breadfruit plants. The lush greenness of trees mixed with the greyish color of the architecture creates a harmonious and peaceful scenery, appeals strongly to the emotions.
4. Vung Ro Bay
With calm, clear waters, rocky escarpments, hidden coves, beaches squeezed between forested hills, remote fishing villages, and excellent transport infrastructure, Vung Ro Bay has really got it going on. But, despite a mammoth investment plan and construction proposal by a giant American corporation a few years back, there has so far been no development whatsoever on this achingly beautiful promontory on Vietnam's south-central coast. This means that, for now at least, Vung Ro Bay is easily accessible, stunningly beautiful, and largely empty of foreign tourists. Change is bound to come sooner or later, so visit now if you want to see Vung Ro Bay before construction and development spoil its current condition. Ideal for independent travellers on two wheels, Vung Ro Bay is great as a day-night trip from Nha Trang or as a stop on a longer coastal route.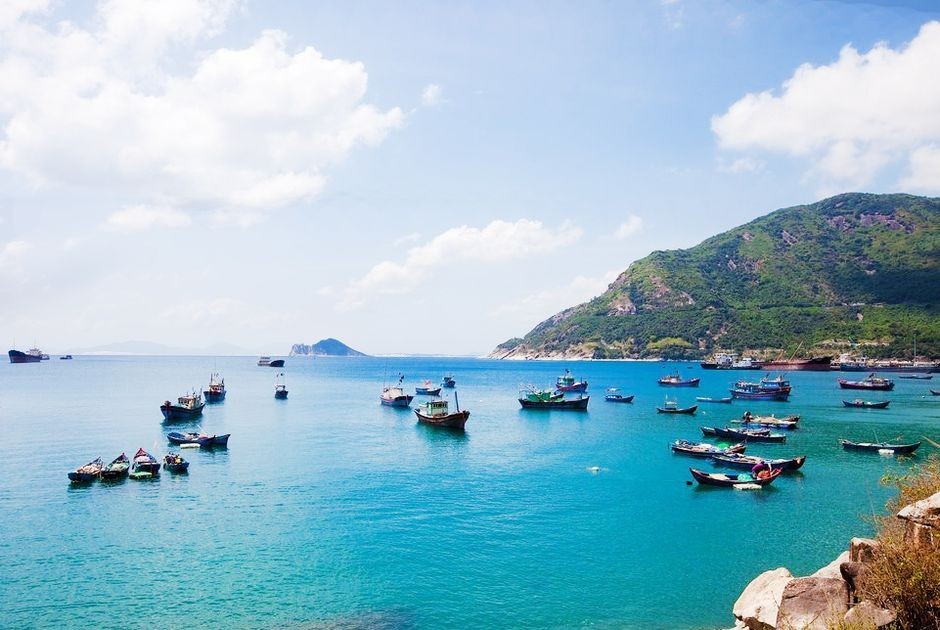 Photo: Yeudulich
Vung Ro Bay is formed by a tongue of rugged land that spreads southwest, sheltering the main shoreline from the winds and weather coming off the East Sea. The large main bay is dotted with hundreds of floating homes, fish farms and wooden fishing boats. A dramatic backdrop is created by craggy, forested mountains that culminate in an 80-metre-high, free-standing slab of stone atop the highest peak, known as Núi Đá Bia – 'Tombstone Mountain'. North of the main bay, there's a perfect V-shaped inlet, filled with golden sand, called Bai Mon. This fabulous beach is great for swimming, and it's the only place that offers any form of accommodation in Vung Ro.
From the beach, there's a long, steep staircase up to a lighthouse. Originally constructed under French colonial rule, in 1890, the lighthouse was destroyed in 1965 during the war, and rebuilt in 1995. Visitors to Mon Beach can climb the rocky hillside via a steep stairway, winding all the way up to the lighthouse, inside which there's a rickety spiral stairwell leading to the light itself. From here, the panoramic views of the bay are superb. The lighthouse was one of the first ever to be built in Vietnam, and locals came to refer to the area as Mũi Điện – 'Electric Cape'. (Entrance to Mon Beach and the lighthouse is 20,000vnd).
5. Xuan Dai Bay
Arriving at Phu Yen, a province situated in South-Central Coast of Vietnam, a large number of tourists in Vietnam travel has been fascinated with the scenery of the sea, the mountains, the sky and the clouds of Xuan Dai bay together with the famous special foods here. The Bay is known as the the gift endowed to Phu Yen by the nature.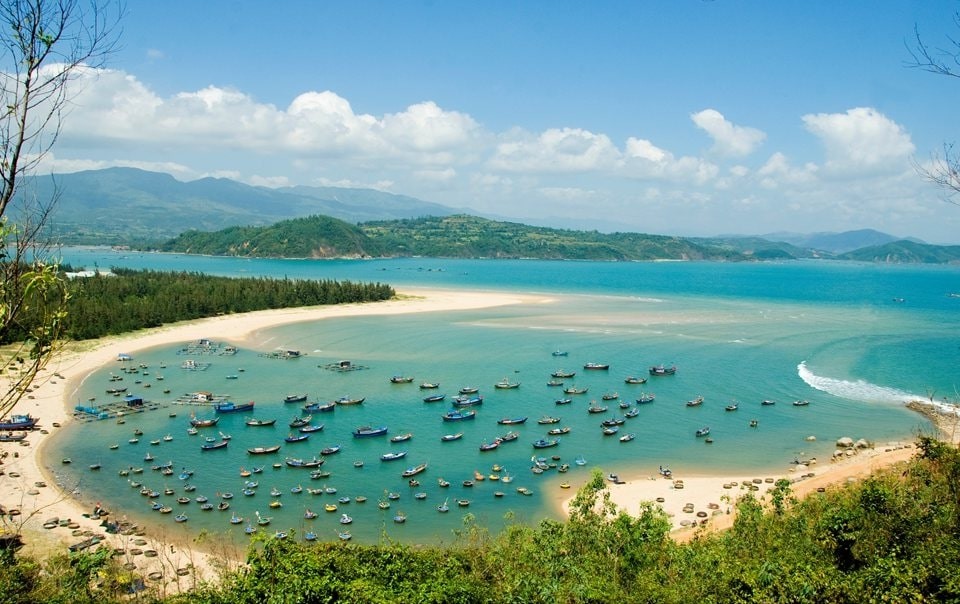 Photo: VietnamBiz
Traveling about 45 kilometers to the north of Tuy Hoa city, tourists in Vietnam travel will stop at Xuan Dai Bay. The National Highway 1A runs along the western bank of Xuan Dai bay, to the North and to the South, on arriving at the top of Doc Gang slope, visitors can easily enjoy a partial view of Xuan Dai bay. Boats and ships can enter from the estuary of the bay or exit from the ports of Dan Phuoc, Tien Chau, etc make a sightseeing tour around the entire bay.
The surface area of the bay is about 13.000 acres. The estuary of the bay is about 4.4 kilometers wide, with the depth from 7 meters to 18 meters; the bank of the bay is about 50 kilometers long, running through various areas of different terrain with rather interesting names such as Ganh Den (light reef), Mui Da Ong (Laterite Cape), Ganh Den (Black reef), Ganh Do (Red reef), Vung Lam bay, Vung Mam bay, Vung Dong bay, Vung Su bay, Vung Chao bay, Vung Me bay, Vung La bay, Bai Om beach, Tu Nham beach, Dong Tranh cape, Ganh Tuong cape, Hon Mom islet, Tai Ma cape, Ganh Ba reef, Ong Xa islet, Nhat Tu Son island, Con Ca islet.
On the south-east side of the bay are Da Dia reef, Hon Lao Mai Nha islet; In the north are Tu Nham beach, Cu Mong lagoon, Vung Vuong bay, Bai Tram beach, Bai Nom beach, in the sea there are various coral reefs and sea-weeds.
6. Dai Lanh Cape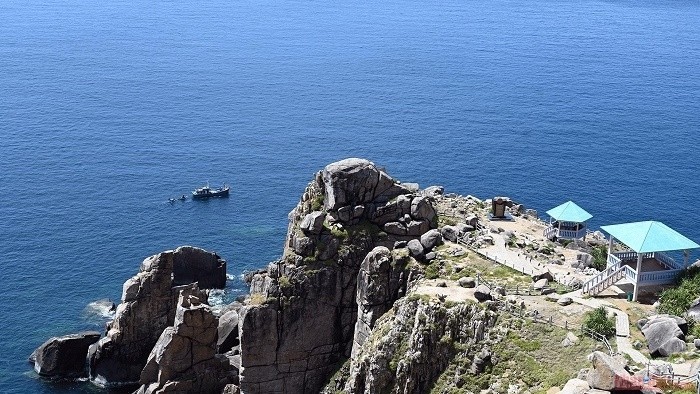 Photo: Nhandan
Dai Lanh Cape, a branch of Truong Son mountain range stretching to the sea, was discovered and included in nautical chart in late 19th century by the French. In 1890, the French built a lighthouse here for maritime navigation.
Dai Lanh Lighthouse is 26.5m high from the ground and 110m above sea level. This solar powered lighthouse can be seen from a distance of 27 nautical miles. Climbing 110 wooden stairs to the top of the lighthouse, visitors can contemplate the immense blue sea and sky, Bai Mon - a pristine beach, breathtaking cliffs, etc.
7. Van Hoa Plateau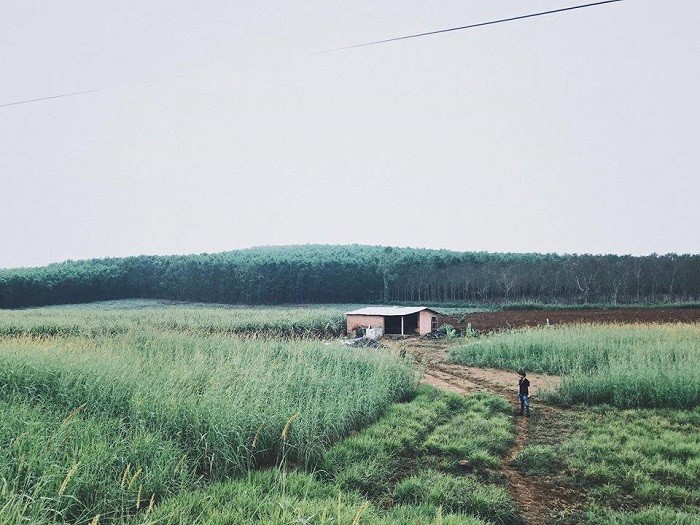 Photo: VinLove
Van Hoa plateau consists of three northern communes of Son Hoa district: Son Xuan, Son Long and Son Dinh, with an altitude of about 400 m above sea level. It has a cool climate and is well-known as "Da Lat" of Phu Yen; This place also has a Zone National Historical Relic which was a military base of Phu Yen in the Resistance War against the United States.
Van Hoa plateau is awarded by the nature with a "temperate" climate, there are four seasons in one day. It is also the "homeland" of fragrant fish sauce and fruit gardens with ripen fruits attracting tourists from all over to visit and take photos.
Going to Van Hoa plateau to experience the cool and fresh climate of fruit trees, mountains hills, lakes and streams and coming here, visitors can enjoy the traditional specialties of indigenous people, which cannot be missed such as walking chicken cooked with fragrant fish sauce or cooked with Dit Leave to give a very special flavor and tourists will surely remember forever if once trying these dishes.
Magical Photos of Milky Way Across Vietnam

Ganh Den lighthouse, En cave, and Moc Chau tea hill shimmering under the night sky through photos of Vietnamese authors participating in the 35AWARDS international ...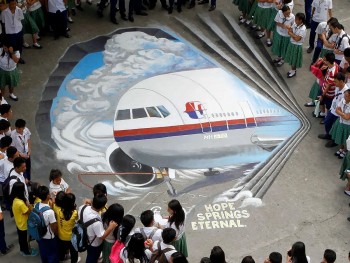 World
The world might never know what really happend when these planes went off the radar. Let's take a look at some of the unsolved mysteries of aircraft disappearances.