Visit The Unique And Attractive Pink Lake In Australia
One of the most famous and unusual places in Australia is Hutt Lagoon, a blazing and beautiful pink lake whose charms are irresistible to new tourists coming here.
Western Australia's Pink Lake, or the "Hutt Lagoon," makes for some spectacular photo opportunities—a bright bubble gum-pink pool that stands in stark contrast to the azure ocean just to the west. The inland sea is a natural phenomenon, caused by its resident algae, and it's one of just a handful of its kind in the world.
Hutt Lagoon is a marine salt lake located near the Indian Ocean coast 2 kilometres (1.2 mi) north of the mouth of the Hutt River, in the Mid West region of Western Australia.
Pink Lake (Hutt Lagoon) at Port Gregory is an iconic sight along the Coral Coast Highway
Photo: KKDay
Located just over 1 hours' drive north of Geraldton or 40 minutes south of Kalbarri, Port Gregory is a scenic fishing village encircled by 5km of exposed coral reef. The village is located near the mouth of the Hutt River, and was originally developed to serve the Geraldine Mine at the Murchison River - the first site for mining in Western Australia! Today, Port Gregory is a popular holiday destination for fishing and diving. A pinkish, garnet sand is found around the mouth of the Hutt River, which is a popular spot for picnicking, kayaking and pelican spotting.
Lying mere metres from the village, Hutt Lagoon covers roughly 70 square kilometres, with most of the lagoon lying a few metres below sea level. It is separated from the Indian Ocean by a beach barrier ridge and barrier dune system. Similar to Lake MacLeod (40km north of Carnarvon), Hutt Lagoon is fed by marine waters through springs.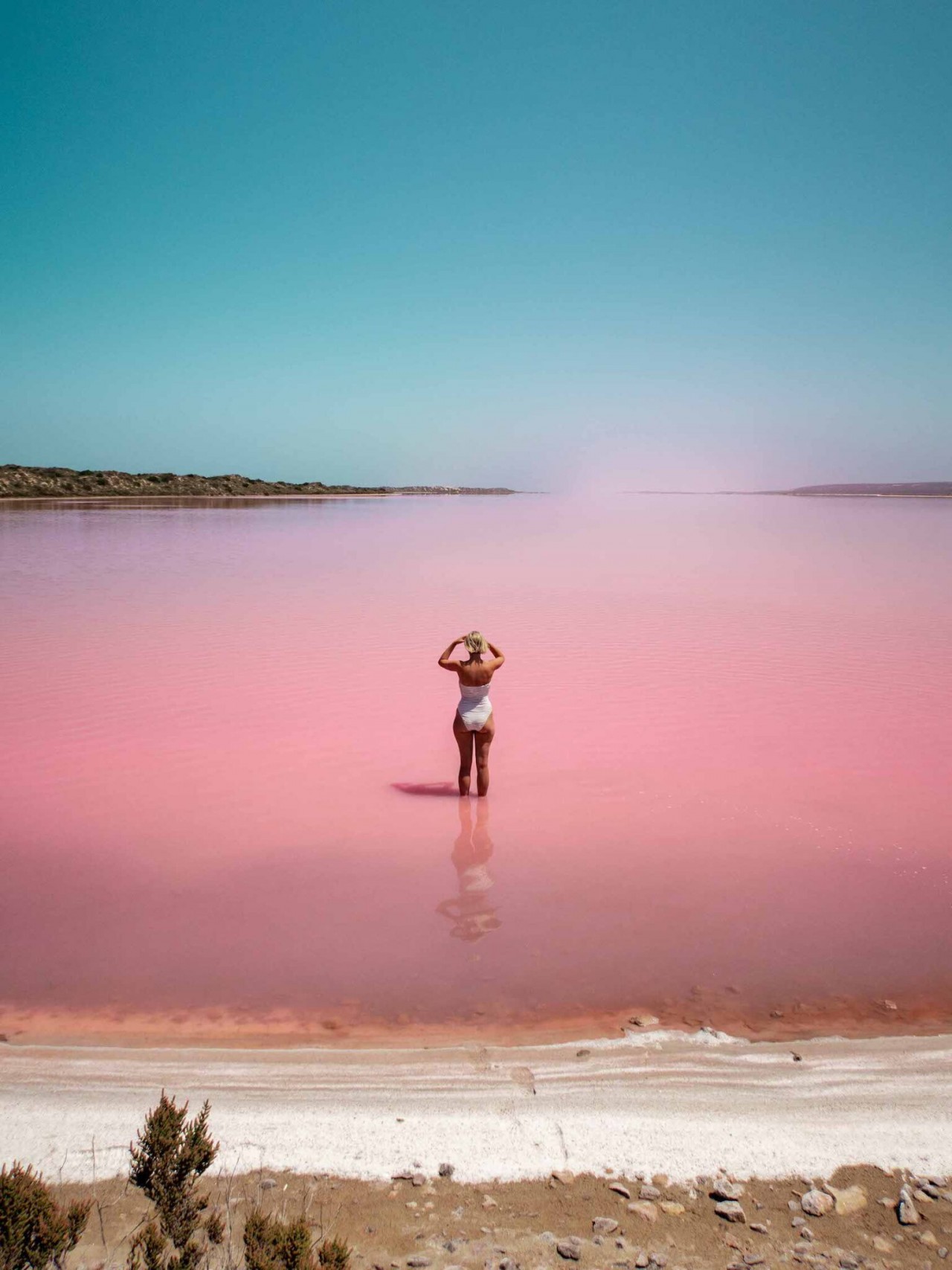 Photo: VANDERMEERKAT
Nearby, tucked away at the foot of rolling hills in Port Gregory, is the Lynton Convict Hiring Station's stone buildings which once housed convicts who worked on the Geraldine mine and local pastoral stations. The convict facilities were built in 1853, and some of the buildings have been carefully restored. Stop by on your way to or from Pink Lake to stretch your legs and learn about the history of the station through informative signage. Cross over the fence at the stile and follow the path to the top of the hill for panoramic views.
History of Hutt Lagoon
Hutt Lagoon was named by the explorer George Grey who camped on its eastern edge on 4 April 1839, while on his second disastrous expedition along the Western Australian coast. He mistook the wet season lagoon for a large estuary and named "the river and estuary now discovered" after William Hutt, M.P., brother of John Hutt, the second Governor of Western Australia. Hutt was a British Liberal politician who was heavily involved in the colonization of Western Australia, New Zealand and South Australia.
After Grey's arrival back in Perth, Governor Hutt dispatched the colonial schooner Champion under Captain Dring to investigate the large estuary and river discovered. In summer, January 1840, George Fletcher Moore aboard Champion reported the Hutt River at its mouth to be dry, and could not locate the large estuary described by Grey.
The lagoon, a marginal-marine salina or marine lake, is an elongate depression about 70 square kilometres (27 sq mi) in area, with most of it lying a few metres below sea level. It is separated from the Indian Ocean by a beach barrier ridge and barrier dune system. Similar to Lake MacLeod, 40 kilometres (25 mi) to the north of Carnarvon, Hutt Lagoon is fed by marine waters through the barrier ridge and by meteoric waters through springs.
Due to the salina's sub-sealevel position, seepage of seawater into the salina is continuous year round. During the winter wet season, the amount of water coming into the salina is substantially increased by the influx of meteoric groundwater. Hutt Lagoon has a Mediterranean climate, with mean annual rainfall of 449 mm (17.7 in) (mainly May to August), and a mean annual evaporation rate of 2,445 mm (96.3 in). These factors combine to form a setting within which salt is deposited seasonally and the rates and style of precipitation follow a balance between influx of water and removal by evaporation. During the summer about 95% of the salina surface is a dry salt flat.
Why is it pink?

Photo: Australia's Coral Coast
Hutt Lagoon boasts a pink hue created by the presence of carotenoid-producing algae, Dunaliella salina, which is a source of beta-carotene; a food-colouring agent; and a source of Vitamin A.
The bright pink pigment is so sought-after that the world's largest microalgae farm is located on the lake, forming fields of algae and patterns that can only be seen by plane. Aside from algae, brine shrimp—or "sea monkeys"—are also raised in the lake and used as food in fish farms.
Australians will know of Hutt Lagoon from various fashion shoots, including Lancôme's Life is Beautiful campaign and Myer's Jennifer Hawkins Summer collection.
How do I access the lake?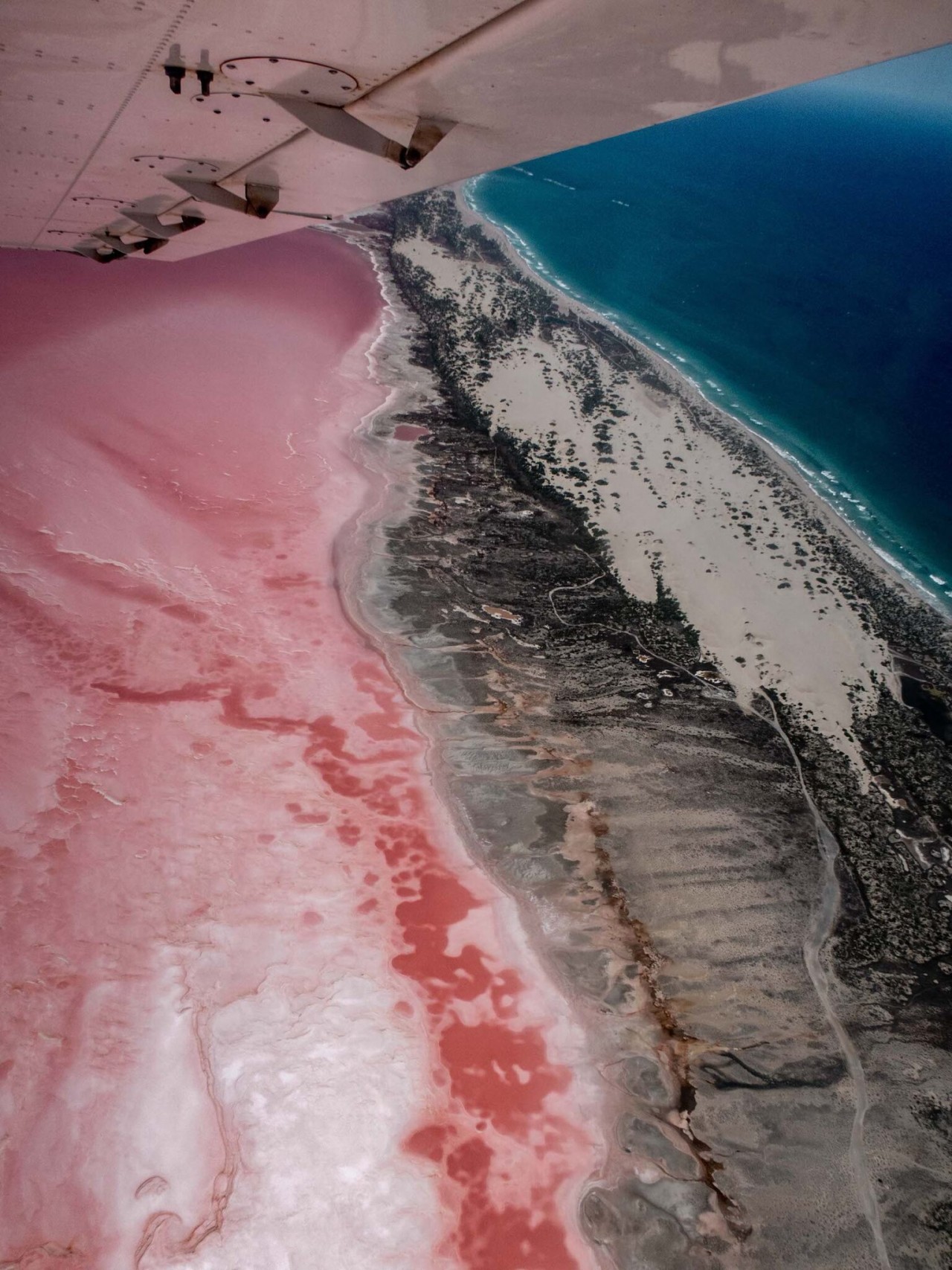 Photo: VANDERMEERKAT
Hutt Lagoon at Port Gregory is just over 1 hour north of Geraldton, and 45 minutes south of Kalbarri. It can be easily accessed via road, sitting between Port Gregory Road and George Grey Drive. There is a dedicated (unsealed) Pink Lake Lookout on Port Gregory Road, where you can safely pull off the road, park your car and get out to explore. Alternatively, if you are stopping along George Grey Drive, make sure you allow yourself time to safely pull over at a suitable place and park off the road. Have your camera ready and fully charged, as there are plenty of photo opportunities!
There are also multiple tour options to see and explore the lake.
Enjoy spectacular aerial views of the lake on a scenic flight from Geraldton or Kalbarri
Join a guided buggy tour from Port Gregory to see the lake and explore the surrounding coastline
Join a guided coach tour from Geraldton or Kalbarri to see and learn about the lake from the ground.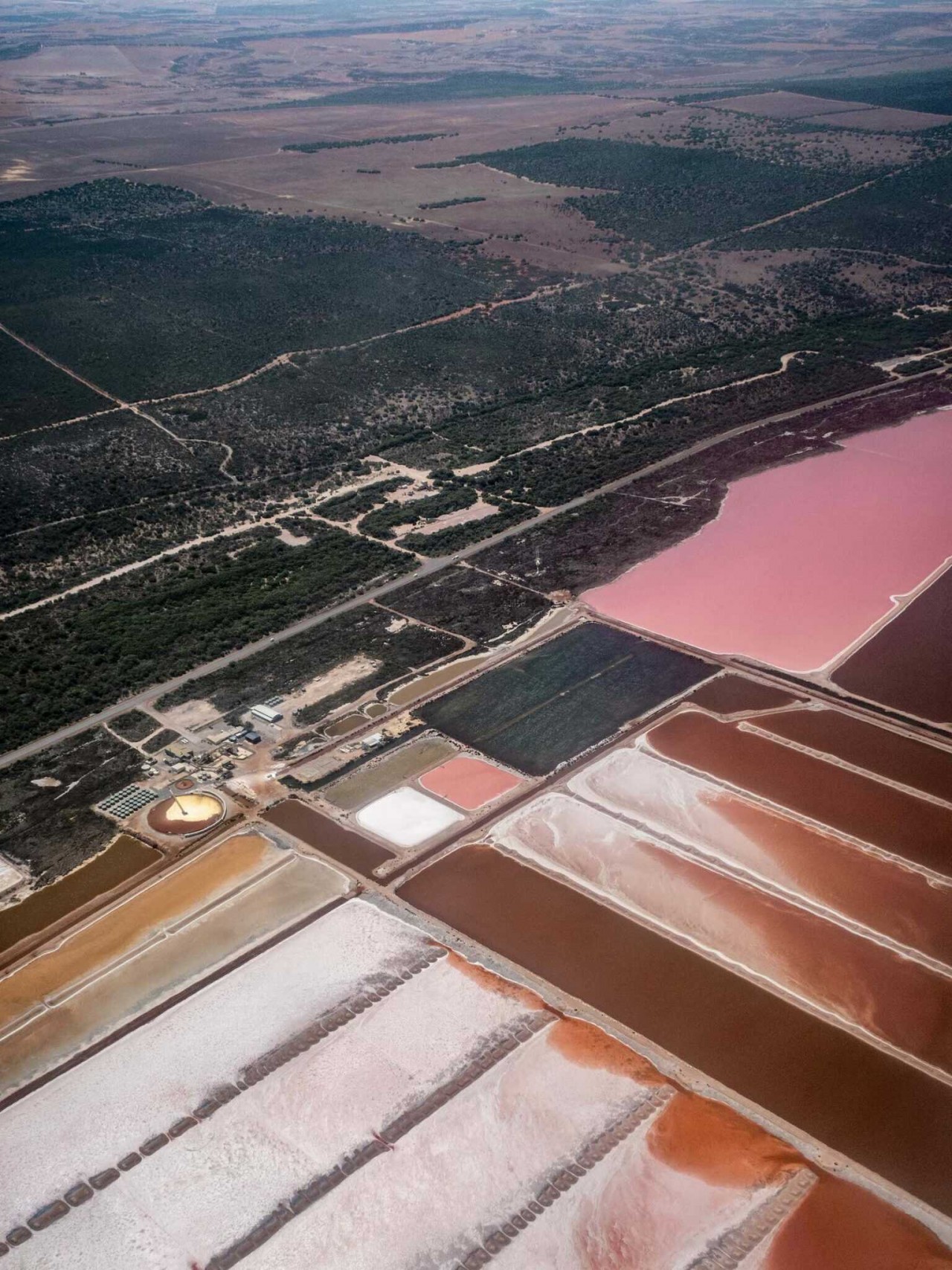 Photo: VANDERMEERKAT
When should I visit?
The lake's colour changes through the spectrum of red to bubblegum pink to lilac purple, depending on the time of day, season (time of year) and amount of cloud cover when you visit. The best time of day to visit is typically in the middle of the day, when the sun is high.
5 Tourist Attractions in Bat Xat

The local people are proud that Ai Thau Thuong has the most beautiful terrace fields and the best spot for seeing clouds and snow.