Vivid Introduction to Vietnamese Culture
Film and television are among important and effective bridges to promote a country's tourism and culture to the world. Vietnamese film weeks held abroad, and projects coordinated with other countries are an appropriate and effective "step" to spread Vietnamese culture to a global audience.
Film weeks introducing Vietnamese culture
From July 15 to 20, 2022, "Vietnamese Film Week" was organized by the Vietnamese Embassy in Venezuela at the Tulio Febres Cordero Cultural Center, Mérida state. Vietnamese films shown here are diverse in themes. They are works that have won many domestic and international film awards such as "Story of Pao", "Don't Burn", "Yellow Flowers on the Green Grass", and "Yen's Life".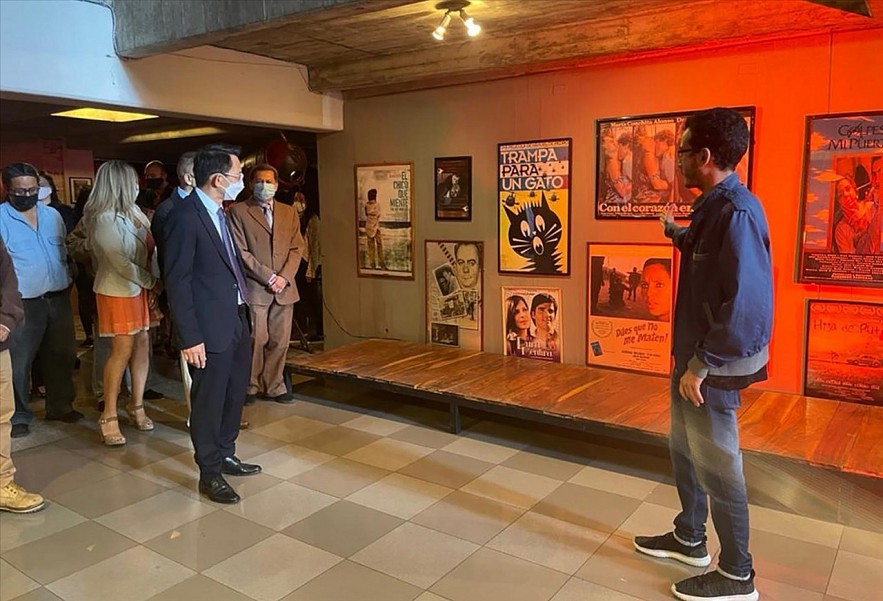 Film screenings have attracted Venezuelan audiences. Photo: Vietnamese Embassy to Venezuela
According to Vietnamese Ambassador to Venezuela Le Viet Duyen, the famous film works in "Vietnamese Film Week" convey profound and emotional messages about the Vietnamese culture, history, human and social life. They help to strengthen understanding, cooperation and friendship between the peoples of the two countries.
At the end of 2021, for the first time, a week of Vietnamese films was shown in the Middle East. Nguyen Phuong Hoa, International Cooperation Department, Ministry of Culture, Sports and Tourism said: Vietnamese Film Week at EXPO 2020 Dubai is Vietnam's first film event in the Middle East. This is an opportunity to spread to the world the image of a peaceful Vietnam, always focusing on preserving the national identity and upholding the good values ​​of humanity.
Joel Cuevas, president of the Mario Briceño Iragorry Foundation, said this was the first time he had seen a full Vietnamese film. Through the film, he was impressed with the beautiful country of Vietnam, the profound Vietnamese culture and the humane Vietnamese people. Many foreign viewers also shared good impressions of the film week.
According to the Ministry of Culture, Sports and Tourism, the criteria for the selection of films in this program are the unique and humane films of Vietnamese cinema produced within the past five years. The films introduce the culture of thousands of years of civilization, with the identity of the country; reflect the heroic history of the nation; magnificent natural beauty and hospitable Vietnamese people. They introduce Vietnam as a safe, friendly, and potential destination for foreign investors; convey the message that Vietnam brings opportunities for cooperation and development.
According to the Vietnam Cinema Department, from 2010 to 2020, Vietnam has organized 48 programs to introduce Vietnamese films to foreign countries with 186 titles. With films shown in many countries around the world, the country, people, and landscapes of Vietnam with diverse and attractive cultural features are introduced to the public. Films have become a vivid introduction to Vietnamese culture.
Cooperation to promote culture
Factual situation proves that film is a slow but effective cultural transmission channel. Cultural features such as food, traditional costumes, festivals, and lifestyles are known to a large number of international audiences through films and music.
Vietnam - a country with beautiful landscapes, diverse cultures and special positions in world history is also the attraction of foreign filmmakers. Many foreign films are filmed in Vietnam and became worldwide famous such as Indochina, Dien Bien Phu, Lover, The Quiet American, Skull Island.
In 2015-2020, there were 179 scripts produced in Vietnam by foreign organizations and individuals. Films in cooperation with foreign countries are also an effective bridge to introduce the beauty of Vietnamese culture and people to other countries. Through life, emotions, and the happenings in the film, the directors skillfully integrated and expressed the traditional beauties of the two countries, helping the audience understand and love Vietnamese culture more.
The cooperation in film production with foreign units not only promotes the development of the film and television industry but also contributes to providing audiences in other countries with a better understanding of Vietnam's affection and cultural similarities between countries. Thereby, it enhances investment cooperation, cultural exchange, and economic development among countries. This is the long-term promotional effect that co-production offers.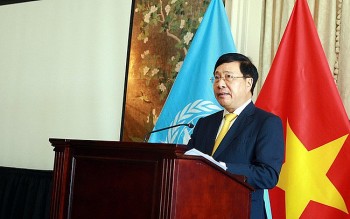 Friendship
Deputy Prime Minister Pham Binh Minh has asserted Vietnam's strong support for and commitment to the UN's role in leading and coordinating multilateral efforts to respond to global challenges.