Vu Lan Festival of Vietnamese people - 7th Lunar Month
In Vietnam, the 7th full moon festival is called "Vu Lan bao hieu" (Parents' Day) or "Xa toi vong nhan" (Wandering Soul's Day). This is the second largest annual traditional festival in Vietnam after the lunar New Year (Tet) festival, and is celebrated by Vietnamese people through various religious rituals.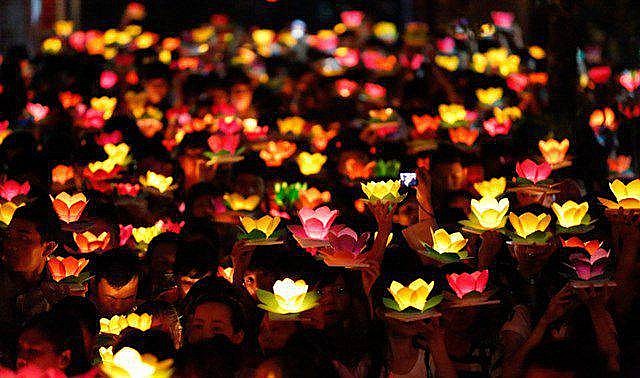 Worshippers offer prayers to their ancestors and to Buddha. Photo: travelvietnam
What is Vu Lan Festival?
Ram (full-moon day) Thang Bay in Vietnamese, also known as the Hungry Ghost Festival or Ullambana Festival (Vu Lan), is a traditional Buddhist festival taking place on the 14th to 15th of the seventh month in lunar calendar.
It is considered the second most significant event of the year in Vietnam, after Tet holiday, and is an occasion to give thanks and praise to parents and ancestors as well as to embrace the "wandering souls", in other words, the "forsaken spirits".
Regarding the occasion in Buddhism, many followers in southern Vietnam took the practice of pinning red or white rose onto their shirts some 40 years ago to express their sincerity and respect to their parents. So far, it has become a customary practice in Ullambana Festival, reported VNN.
Accordingly, those whose parents passed away wear a white rose to show their grief and nostalgia to the deceased persons while those whose parents are alive to wear red rose to remind themselves of offspring's responsibilities of respecting and making their parents happy.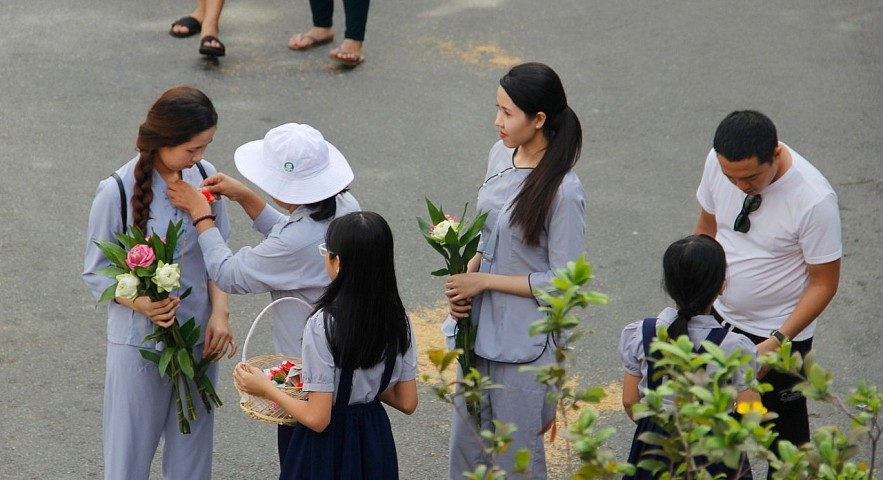 Worshipers at Pho Quang Temple in Saigon are given either a red of white rose before joining festivities. The red one is for those who have a mother, and the white one is for those without. Photo: saigoneer
Besides, the Full Moon Day of the Lunar Seventh Month, which takes place on 15th August this year, is considered a taboo time according to the long-lasting traditional belief of the Vietnamese people that the gates of hell open from the 1st to 14th so that hungry spirits are free for a short time before returning to the fiery depths on the 15th.
Therefore, Buddhist followers and Vietnamese families often offer vegetarian meal including congee, salt, rice, among others and burn votive personal belongings and money to feed the destitute spirits or to help wandering souls find their way back home.
This kind of worship aims to avoid bad luck and bring peace to all family members.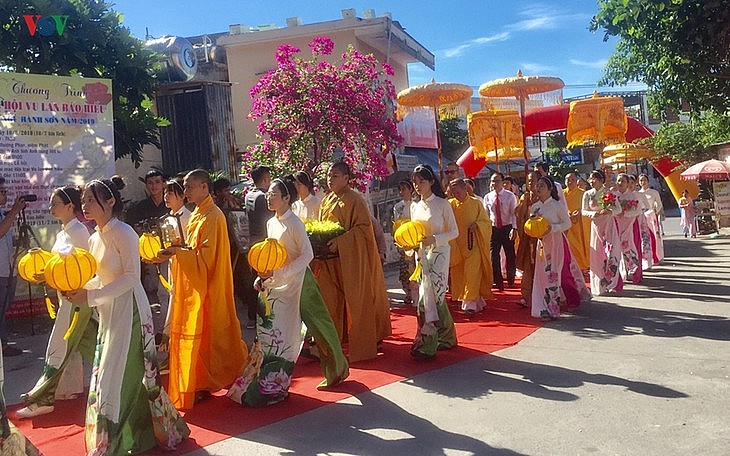 People flock to pagodas to celebrate the 7th full-moon festival. Photo: VOV
How Vu Lan Festival is celebrated in Vietnam and things to do?
Whether you are Buddhist or not, Vu Lan Festival in modern Vietnam has become a day to celebrate your parents and ancestors, and a reason to gather as a family and enjoy time together.
For the Vietnamese people who practice more traditional forms of celebration, there are different rituals to be done at home, at the pagodas, at the cemeteries of their forebears, cited vietnamisawesome.
At home
On the morning of the seventh lunar month festival, a tray filled lavishly with fruits, snacks and dishes is placed on the family's ancestral alter at home. Incense is burned to welcome ancestors back home to celebrate the festival with family. The living family will gather to pray and have lunch together, often vegetarian food.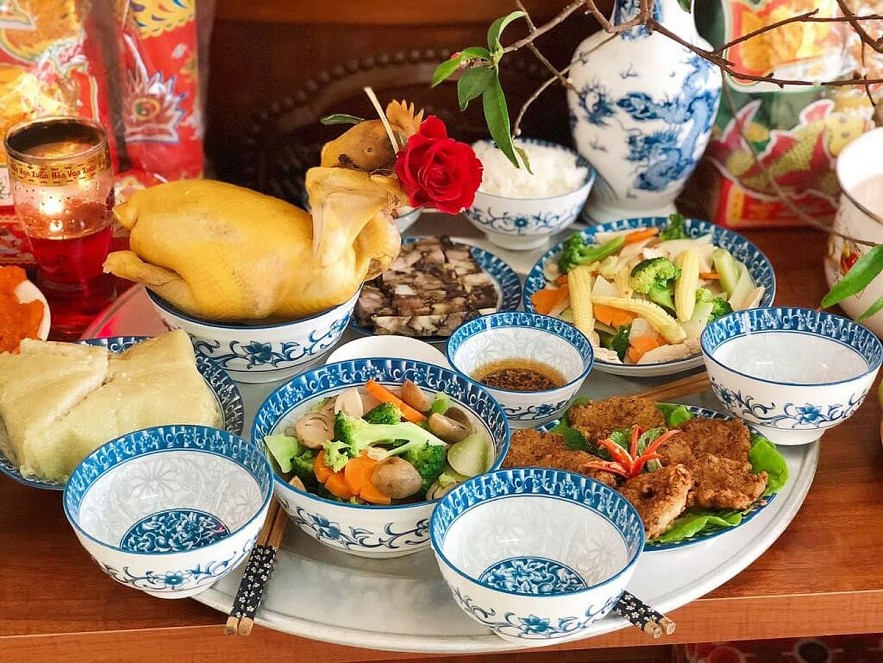 A sample tray to welcome ancestors back home. Photo: vietnamisawesome
At the pagodas
On Vu Lan Festival, pagodas all over the country are filled with activity as Buddhist monks, nuns and devotees gather to pray. Popular places of worship to visit in Ho Chi Minh City include Dieu Phap, Hoang Phap, and Vinh Nghiem.
The temples often have a 'rose on the shirt' ceremony for visitors. A red rose is worn if their mother is alive, whereas a white rose is worn for deceased mothers. The rose flower has become a symbol of love and connection among the community.
Apart from prayers, the Vietnamese people also express gratitude by offering flowers, fruits, joss paper, sticky rice cakes, snacks, to their ancestors. Many also offer fake banknotes and paper models of luxury items, including clothing, bags, air conditioners, and even villas and cars, in the hope that their relatives will be able to enjoy these items in the afterlife.
The monks also often offer a lecture to visitors, advising attendees on the responsibilities as children to their parents, and how to respect them whether they are living or have passed away.
Visiting cemeteries
Some people will also take the time during Vu Lan Festival to visit the graves of their ancestors. As part of the ceremony, the graves will be cleaned and maintained, people will pray and give gifts to the departed.
Bring flowers to visit grave. Photo: Getty Images
What are Vietnamese beliefs on 7th full-moon day?
According to Vietnamese belief, there are do's and don'ts that people should notice when it comes to the 7th full-moon day of the year to avoid bad luck, reported Hanoitimes.
Don't
1. Hang wind chimes ahead the bed, which is believed to draw the attention of ghosts. They may annoy you when sleeping.
2. Go out at night.
3. Shave your legs or pluck your leg hair out because it is believed that the more leg hairs you have, the less chance ghost can follow you.
4. Burn votive paper and money without attentiveness.
5. Hang up wet clothes at night which may attract the spirits.
6. Call people's names at night which may bring bad luck.
7. Hide, lie or sit near the banyan trees, where the negative spirits is embodied.
8. Pick up money on the streets because it may be money to offered for the wandering souls.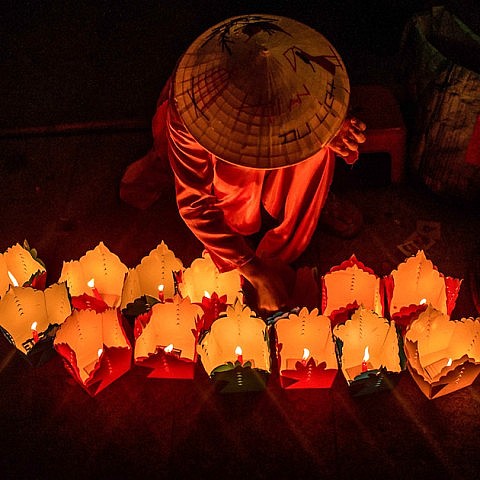 Photo: vietnam.travel
Do
1. Worship at home or pagoda.
2. Avoid slaughtering.
3. Eat vegetarian meals.
4. Do charity work and help other people.
5. Stay away from disputes.
Vu Lan Festival amid Covid-19
The Vietnam Buddhist Sangha has requested that provincial Buddhist Sanghas, Buddhist dignitaries, followers, and pagodas nationwide celebrate the Vu Lan Festival and hold requiems for the deceased virtually via online apps.
The festival is scheduled to fall on August 22 this year, or the 15th day of the seventh lunar month. Buddhist followers are therefore asked to hold the event at their own residence and avoid large gatherings in order to prevent the further spread of the Covid-19 pandemic among the community.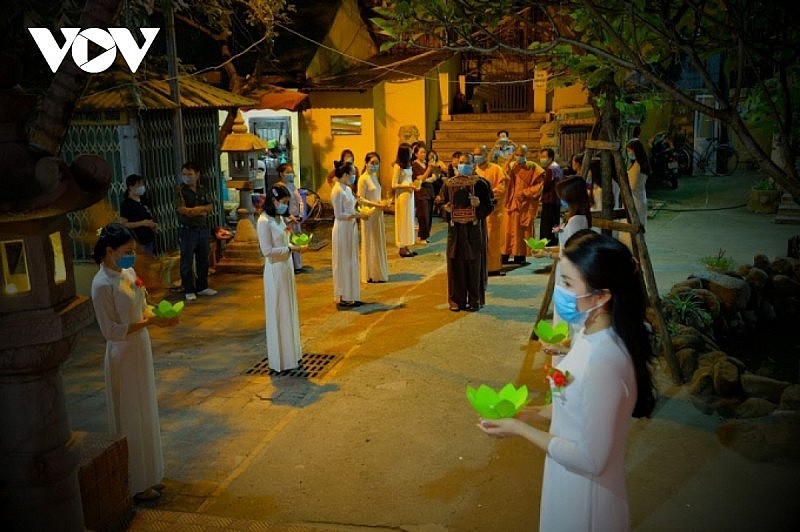 Photo: VOV
This year will see the Vietnam Buddhist Academy in Hanoi host an online ceremony to mark the occasion of the Vu Lan Festival, with the occasion set to draw the participation of 500 monks and nuns, reported VOV
The ceremony will be broadcast live through the Facebook page of the Vietnam Buddhist Academy, replayed on website khuongviet.vn, along with being uploaded to a number of YouTube channels.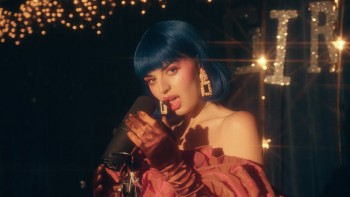 Handbook
2021 is the year of the top debut songs and music of the most talented singers, from Adele, Lil Nas X to The Weeknd. To celebrate the year's end, don't forget to add these best songs to your list.