VUFO - Eurasian People's Assembly Boost Cooperation in Green Economy, Digital Transformation & Cultural Exchange
VUFO President Nguyen Phuong Nga led a delegation to discuss strengthening cooperation between the Vietnamese and Eurasian peoples.
Within the framework of President Nguyen Xuan Phuc's official visit to the Russian Federation, President of the Vietnam Union of Friendship Organizations (VUFO) Nguyen Phuong Nga had a working session with the leader of the Eurasian People's Assembly at the assembly's headquarters on Dec. 1.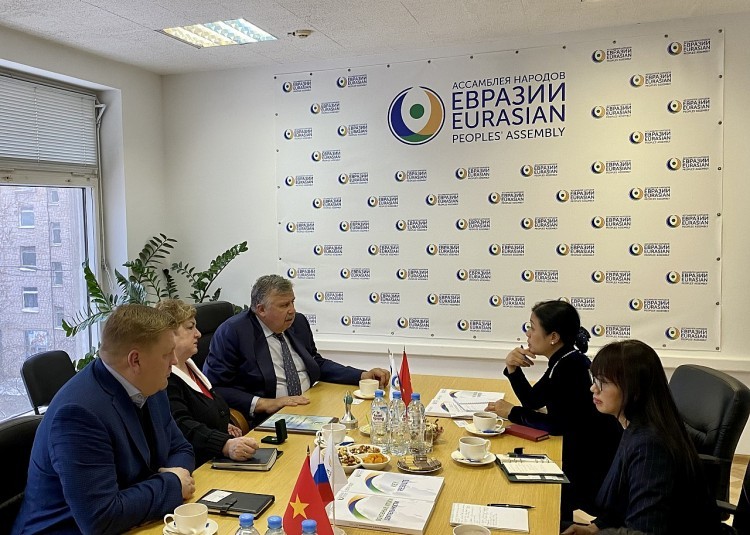 VUFO President Nguyen Phuong Nga (second one from the right) worked with leaders of the Eurasian People's Assembly. Photo VNT
Andrey Belyaninov, head of the assembly, welcomed the VUFO President to Russia. He thanked VUFO and other organizations in Vietnam for their support and active participation in events held by the assembly. The two sides recalled activities in many fields such as independent dialogue in support of the 2021 UN Food Systems Summit themed "Different routes, similar goals"
The leader of the assembly also expressed a great desire to further strengthen cooperation with VUFO and other Vietnamese people's organizations in order to promote mutual understanding between the Vietnamese and the Eurasian peoples, contributing to Vietnam's socio-economic development, to realize the United Nations' Sustainable Development Goals.
VUFO President Nguyen Phuong Nga expressed her deep gratitude for the assembly's interest in developing cooperation with VUFO. She stressed the necessity to further strengthen people-to-people exchanges and cooperation between the two sides.
The two sides agreed to schedule for organizing conferences and seminars on topics of mutual interest as green economic development, digital transformation, tourism in various forms, and dissemination of Russian - Vietnamese cultural and language.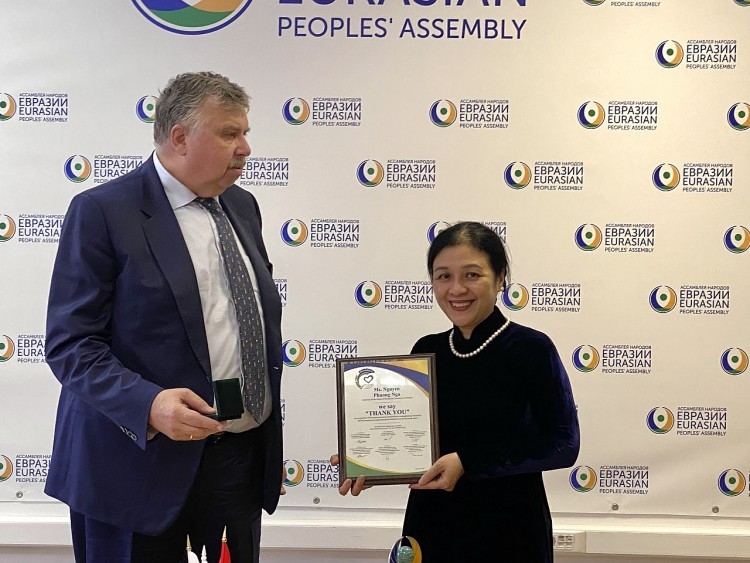 President of the Eurasian People's Assembly Belyaninov presented Ms. Nguyen Phuong Nga with the medal "We say Thank you". Photo: VNT
Also at the assembly's headquarter, Belyaninov awarded VUFO President Nguyen Phuong Nga the "We Say Thank you" medal for her contributions in strengthening the friendship between the peoples of Eurasia.