Wakayama Committed to Facilitating Japanese Investment in Vietnam
At the invitation of Wakayama Mayor, Vietnamese Consulate General in Osaka paid a visit to Wakayama Prefecture.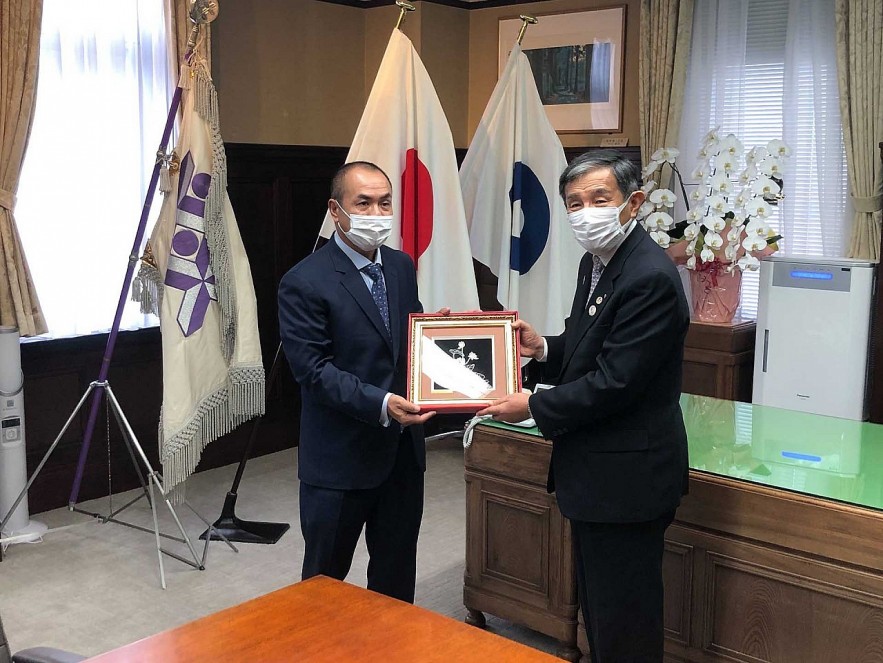 Consul General of Vietnam in Osaka Nguyen Hong Ha and Wakayama Mayor Nisaka Yoshinobu. Photo: WVR
Consul General Nguyen Hong Ha, his wife and officials of the Consulate General paid a courtesy visit to the Wakayama Mayor Nisaka Yoshinobu, visited Kinokawa city, Aridagawa town and a number of economic and tourist facilities during the visit from October 25-26.
At the meeting, Consul General Nguyen Hong Ha thanked the Mayor and leaders of Wakayama province for inviting the Consulate General's delegation to visit the province. He also informed about the situation of pandemic control and economic recovery of Vietnam.
The Consul General said that the Vietnamese Government has taken new views and measures in the prevention of the pandemic, in combination with economic development, supporting domestic and foreign enterprises to restore production and maintain the supply chain.
He also suggested Wakayama authorities pay attention to supporting local businesses to invest in Vietnam in the fields of animal husbandry, farming, seed production and processing of agro-forestry-fishery products, and to cooperation in organizing seminars and exchange events to provide detailed information for Japanese businesses and promote linkages between the two sides' businesses.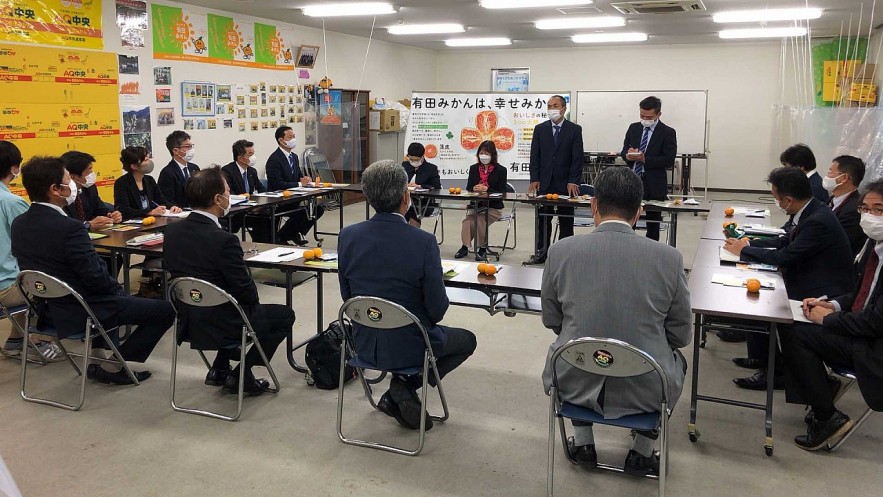 Consul General Nguyen Hong Ha attended a workshop introducing tangerines of Wakayama province. Photo: WVR
Mayor Yoshinobu expressed his agreement with the proposed contents of the Consul General and said that he would create a favorable legal corridor for businesses of the province to invest in Vietnam.
He asked the Vietnamese Consulate General to support the province in promoting tourism as well as the export of tangerines to Vietnam, and wished to visit Vietnam soon after the pandemic was under control.
Consul General Nguyen Hong Ha visited Aridagawa town, which has the highest production and quality of tangerines in Japan. Photo: WVR
In Kinokawa City, Consul General Nguyen Hong Ha was welcomed by Mayor Nakamura Jinji. He was invited to visit the Vietnamese lotus planting site next to the Japanese Oga lotus and the cherry blossom tree, planted by President Nguyen Xuan Phuc in June 2019.
Nakamura also introduced a gallery of books, newspapers and pictures about Vietnam, and expressed his pride that Kinokawa is the only locality in Japan that has been donated and is growing Vietnamese lotus flowers. The city also signed a Memorandum of Understanding with Quang Nam province.
Consul General Nguyen Hong Ha also visited Aridagawa town, which has the highest production and quality of tangerines in Japan. Tangerine products here have been approved by Vietnam and are about to be exported. Aridagawa is also the largest consumer of grapes in Japan.
The leader of the town said that the current biggest difficulty of the locality is the shortage of labor force. The labor force mainly cultivating grapes here are elderly workers (average age is about 75 years old). Therefore, they expressed their desire to receive more Vietnamese trainees.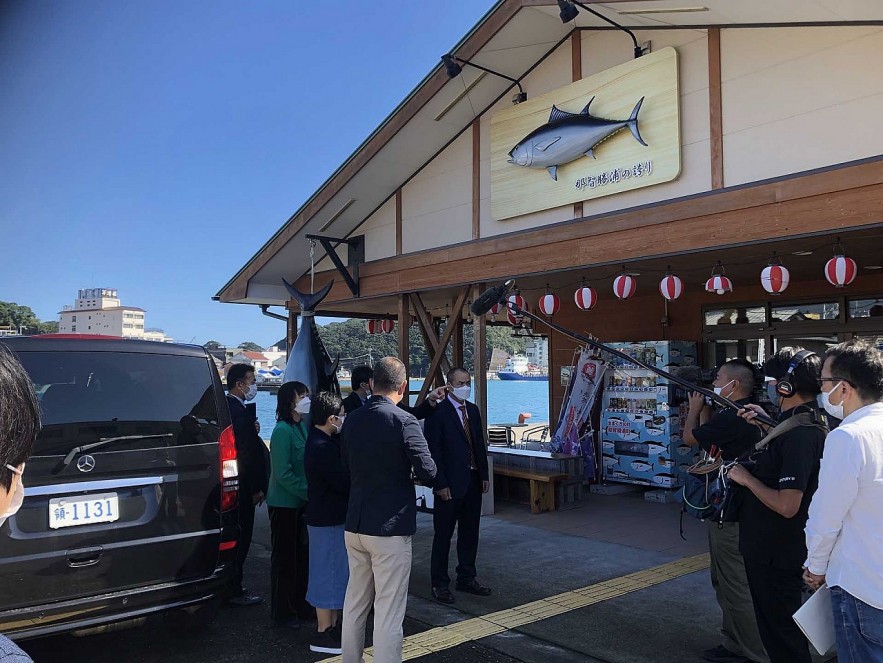 Consul General Nguyen Hong Ha visits Yamasa Wakiguchi company. Photo: WVR
Visiting Yamasa Wakiguchi company, Consul General Nguyen Hong Ha and the delegation were introduced to tuna fishing technology, preliminary processing and preservation of fish after catching. Yamasa Wakiguchi Company currently employs the majority of Vietnamese workers, recruited and trained directly at the factory.
The company's tuna products are in the high-quality segment, with the advantage of most advanced fishing, preservation and processing techniques. The company plans to set up a company in Vietnam and develop cooperation in tuna fishing in Binh Dinh.
Consul General Nguyen Hong Ha suggested the company soon invest in Vietnam, support human resource training and provide technical guidance, fishing technology to improve the quality of tuna.
Consul General Nguyen Hong Ha visits Takeshima company, specializing in steel design and construction. Photo: WVR
Visiting Takeshima company, the Consul General and the delegation were introduced to the company's achievements, development and history since its establishment, with many certified achievements associated with large and famous projects throughout Japan.
Takeshima Company has also shared about its development and expansion plan, and they are also recruiting more Vietnamese engineers.
Economy
Vietnam Business & Weather Briefing (May 16): The State Bank of Vietnam set the daily reference exchange rate for the US dollar at 23,160 VND/USD on May 16, while the aviation market is recovering with the number of international visitors increasing five-fold.