Vietnam-Japan Joint Initiative Focuses on 11 Groups of Issues in 8th phase
The Vietnam-Japan Joint Initiative continues into its eighth phase, focusing on improvement of legal frameworks and market reformation.
The eighth phase of the Vietnam-Japan Joint Initiative has been officially launched, focusing on 11 groups of issues, according to the Ministry of Planning and Investment.
The ministry said if these issues are successfully implemented, they will positively contribute to improving the investment and business environment in Vietnam.
The 11 groups of issues include the publication and application of case law/civil judgment enforcement/competition regime; the Law on Investment and the Law on Enterprises; improvement of the working environment; promoting infrastructure investment in the form of public-private partnership (PPP); reform of state-owned enterprises and stock market; method of implementing specific measures to create the best electricity structure in Vietnam; and efforts to improve laws and regulations related to natural gas pipeline construction and promote import of liquefied natural gas.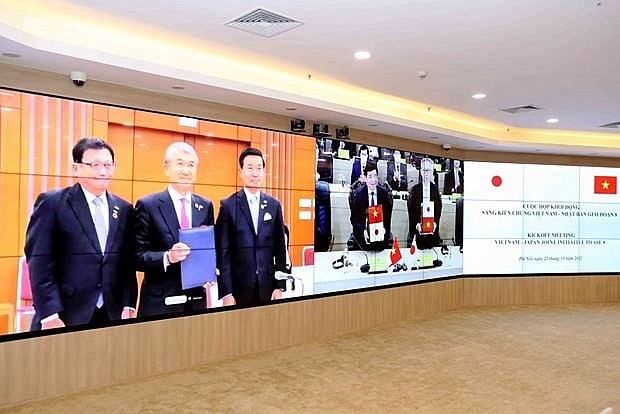 Vietnamese and Japanese government representatives sign a Memorandum of Understanding to implement the eighth phase of the Vietnam-Japan Joint Initiative. (Photo: MoIT)
These also cover land-related issues; the supporting industry; promoting activities of the Vietnam National Innovation Center (NIC) and innovation activities in localities and businesses; and highly-skilled human resources development, reported VNA.
Japanese Ambassador to Vietnam Yamada Takio highly valued the initiative in the eighth phase, and remarked that the Vietnam - Japan Joint Initiative is a practical and effective policy dialogue framework.
The active cooperation of Japan with Vietnamese ministries and sectors over previous seven phases has contributed significantly to policy development and improving Vietnam's investment and business environment, he stressed.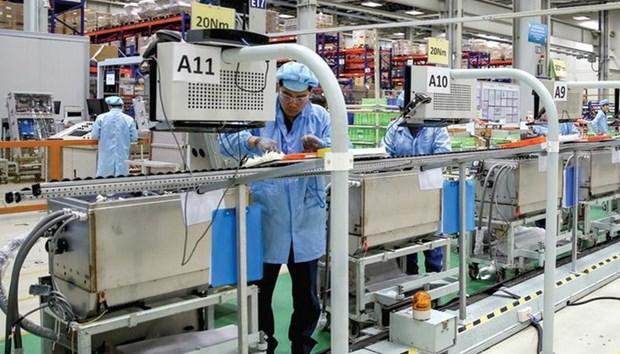 The Vietnamese Government has been exerting utmost efforts to effectively fight the pandemic and maintain important supply chains. Photo: VNS
The Vietnam-Japan Joint Initiative was launched in April 2003 as a result of special cooperation mechanism between the Vietnamese and Japanese Governments. It serves as a policy dialogue forum between Japanese investors and relevant Vietnamese ministries and agencies, where proposals have been made to help competent Vietnamese agencies fine-tune laws and policies. Over the past 18 years, the initiative has helped create an open and transparent business and investment environment in Vietnam, according to VNA.
Japan's Sojitz, Osaka Gas join hands in rooftop solar business in Vietnam
Japanese trading house Sojitz Corp. and Osaka Gas Co. have set up a new joint venture with Tokyo-based electric power startup Looop Inc. to launch a rooftop solar power business for industrial and commercial customers in Vietnam.
SOL Energy Co. was established Thursday in Dong Nai Province, owned 70 percent by Sojitz Osaka Gas Energy Co., an existing joint venture between Sojitz and Osaka Gas, and 30 percent by Looop, the partners said Friday in a press release.
The new venture plans to install at its expense rooftop solar panels that can provide over 10,000 kilowatts on customers' buildings at the Sojitz-operated Long Duc Industrial Park in the province, according to the release.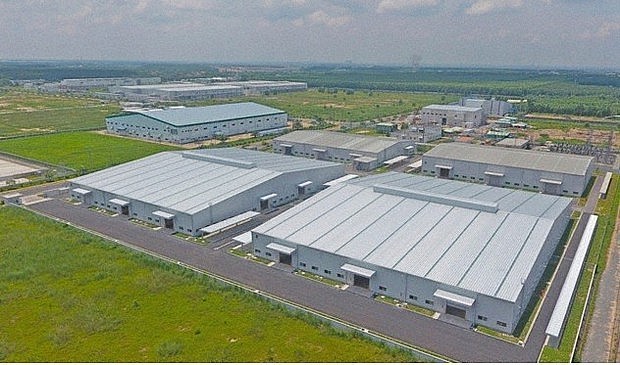 A part of Long Duc Industrial Park in Dong Nai Province. (Photo: Sojitz/NNA/Kyodo)
SOL Energy will supply these customers with solar power generated on a long-term contract, and use the surplus electricity to supply the industrial park's operating companies, thus contributing to the wider use of renewable energy and decarbonization at the park, the release said.
The installation is scheduled to be completed by the end of next year, a Sojitz official told NNA.
The business is expected to reduce emissions of carbon dioxide for the industrial park as a whole by about 5,800 tons annually, according to the release.
The company also plans to expand its solar business beyond Long Duc Industrial Park to other areas including another Sojitz-operated Loteco Industrial Park in the same province, east of Ho Chi Minh City, the official said, adding it aims to install solar power facilities capable of producing 50,000 kW of electricity by around 2030, The Mainichi reported.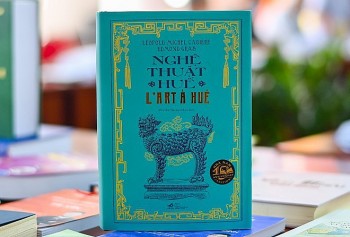 Expats in Vietnam
Inspired either by Vietnamese art or the people themselves, foreign authors often find inspiration in the S-shaped nation.