Wandering Around Cao Bang: Best Activities and Places to Enjoy
Cao Bang is packed with beautiful places to see and visit, and this is 7 best activities and places for tourists to enjoy in this region.
Tucked away in a remote area of Northern Vietnam, Cao Bang Province is bursting with beautiful geo-cultural sites. With five major river systems and 47 lakes, water plays a vital role in shaping the landscape and local life. Much of Cao Bang is protected as UNESCO Global Geopark. The province's extraordinary diversity makes it a spectacular place to explore, especially for adventure travellers.
Cao Bang has majestic mountains, forests, rivers and streams, with many wild and primitive features. This is an indispensable destination in the journey to conquer the top land of the country. Let's take a look at these best activities and places to enjoy while you are in Cao Bang.
1. Ban Gioc Waterfall Is The Top Things To Do In Cao Bang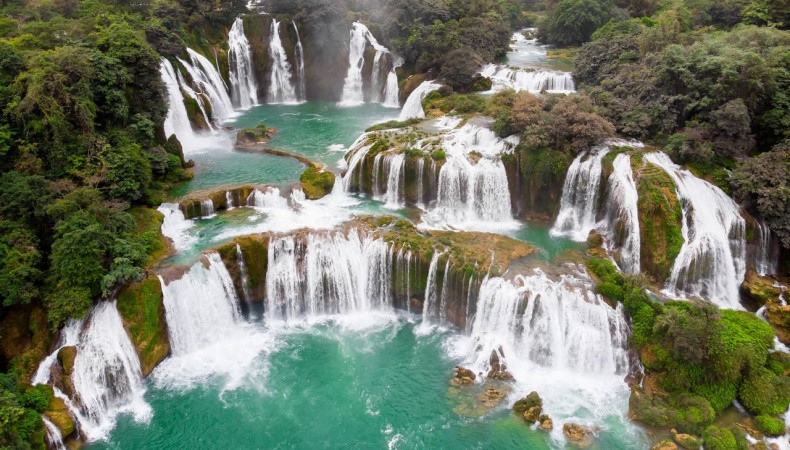 Photo: Journey On Air
Ban Gioc Waterfall is one of Vietnam's most impressive natural sights. Located in the northeastern province of Cao Bang, the falls are 30 metres high and 300 metres across, making Ban Gioc the widest (but not the highest) waterfall in the country. The falls occur on the Quay Son River, a beautiful jade-blue body of water flowing from China through a pastoral landscape of rice fields and bamboo groves surrounded by limestone pinnacles. Despite improved road access and public transportation connections, and the popularity of several recent viral drone videos showcasing the majesty of the falls, Ban Gioc is still a relatively off-the-beaten-path sight. Mass tourism has yet to arrive and, outside of weekends and public holidays, there's rarely more than a trickle of foreign and domestic visitors.
Also known as the Ban Gioc Detian Falls, this impressive waterfall is located in the Cao Bang province in Northern Vietnam and is around an eight-hour journey, by road, from Hanoi. Much like other famous waterfalls in the world including Niagara and Iguazu, Ban Gioc Waterfall sits on the border between two countries, in this case, Vietnam and China. It is fed by the Quay Son River.
The waterfall has multiple terraces, which only serves to make it more visually impressive. The surrounding scenery contributes to its wow factor too! Karst peaks and verdant valleys dot the area, making Ban Gioc Waterfall the perfect postcard scene.
2. Pac Po Historic Site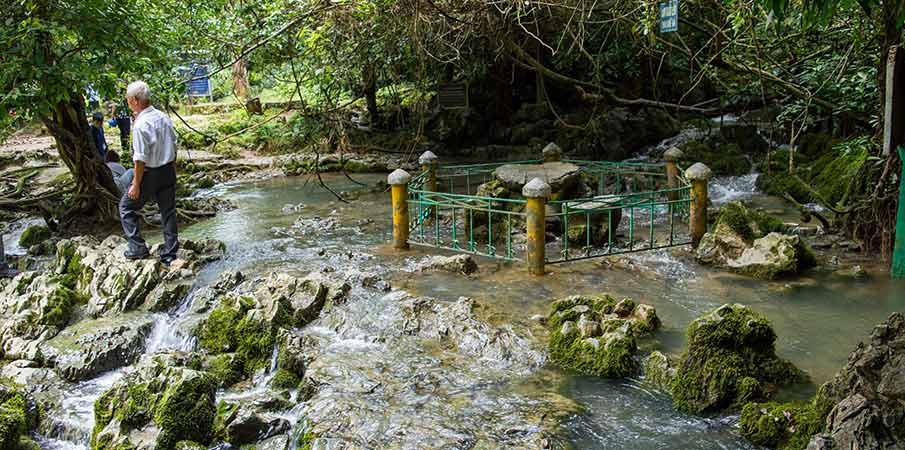 Photo: Northern Vietnam
Pac Bo historical relic, combining Lenin stream, Uncle Ho commemoration house and Lung Lan cave, is truly a fascinating destination for tourists who love to admire the poetic nature of Vietnam and learn about the most crucial stage of its war against invaders. Pac Bo is located in Ha Quang District. One can travel there from Cao Bang by riding a motorbike or hiring a taxi/ motorbike.
Historical values of the site are undoubted. After 30 years traveling the world in search of a way to save the nation from invaders, President Ho Chi Minh came back to Viet Nam and spent 7 weeks covertly working in Pac Bo cave. The cave is quite private as you can observe anything from the inside but not vice versa. As he came here, Uncle Ho named the mountain after Karl Max and the peaceful stream lying under it after Lenin. Both of the famous politicians had deeply inspired president Ho Chi Minh in his work with their political philosophies. He also wrote 3 famous poems about Pac Bo in which he relished nature, shared the burning communist passion and his modest but romantic lifestyle. Such poems help Pac Bo win the heart of Vietnamese.
The complex also attracts tourists with its pristine natural beauty. Lenin stream is not only clear but it also has a vivid bright green color that distinguishes itself from the mainstream ones. Tourists can sit by the stream, close their eyes, take in a deep breath of fresh air and listen carefully to the harmonious anthem of mountain and birds.
September to October is the most ideal period to go sightseeing at Lenin Stream as the weather is nice. July and August are deemed unsuitable since the water flow is too strong and hence less opaque than usual.
3. Truc Lam Ban Gioc Buddhist Temple
Photo: Origin Vietnam
Phat Tich Truc Lam Ban Gioc pagoda is the first pagoda to be started construction at the Northern border position in Dam Thuy, Trung Khanh and Cao Bang. The project started in June 2013 and completed 2018. It's a new beauty spot destination whenever coming to Cao Bang.
Phat Tich Truc Lam Ban Gioc Pagoda located right at Phia Nham mountain, in Gioc village, Dam Thuy commune. The temple is only 500m from the famous Ban Gioc waterfall. So you can watch the beauty of that waterfall from the temple.
This is a project with high investment capital, great significance for cultural values, helping to meet the religious and spiritual needs of the Vietnamese people in general, especially Ban Gioc Waterfall, which becomes a famous tourist destination, the focal point of the country, is known by many tourists.
The temple is built with Vietnamese architectural culture, making the pilgrims familiar. Entering the pagoda, the first highlight that everyone noticed that is Dai Hong Chung Thien Bao. It's built all by bronze with a weight up to 1.5 tons. In addition, the temple also features a Bodhisattva area.
4. Chestnuts Trung Khanh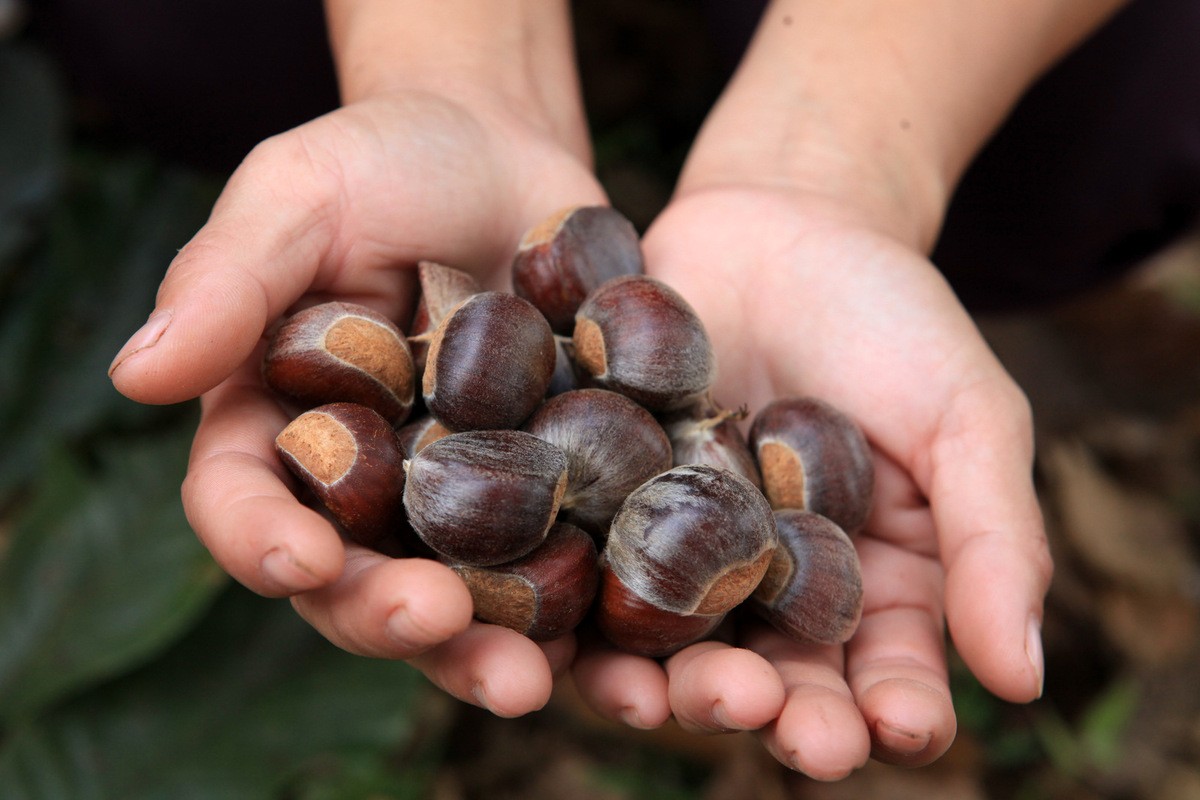 Photo: VnExpress
Possessing cold weather, soil, and suitable climate for mountainous areas, Trung Khanh is the only land that can produce Trung Khanh chestnuts. They differ from many other types of chestnuts. Standard Chongqing chestnuts have a hard, thick, fluffy shell. If boiled, steamed or brought into the oven, it has a natural fragrance. When eaten with a sweet taste, just hold it for a while, the chestnuts will melt by themselves.
Trung Khanh chestnuts only appear in late autumn and early winter. At this time, the chestnut ruffles its navel. Picked up must be processed immediately because chestnuts contain high protein content, which is easy to rot.
Coming to Trung Khanh, Cao Bang, you will walk under the cool chestnut trees with a hint of incense. Chestnut many shaggy thorns. Each fruit contains 3 or 4 seeds. When ripe chestnuts fall off the ground. Then chestnuts followed the ethnic people to the market, or on the way back down as a unique gift of Cao Bang forest.
5. Ma Phuc Pass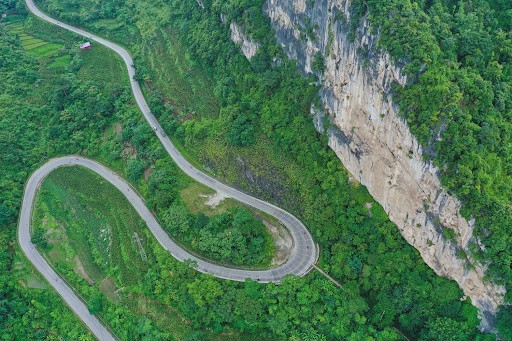 Photo: Caobanggeopark
Ma Phuc pass is located in Cao Xuyen village, Quoc Toan commune, Quang Hoa district. More than 3.5km long at an altitude of 700m asl, the pass has seven steps and is considered one of the most beautiful passes in Cao Bang. The pass winds between two high limestone mountain ranges and constitutes, at its bottom, an exceptional geosite. Here, in contact with the limestone (white rock) can be seen a blackish green rock with rounded shape - the so-called pillow basalt.
In this area, many submarine volcanoes were active c.260 million years ago. Erupted under sea water the lava cooled down very quickly to result in rounded, stacked pillows (pillow lava). The size and colour of the pillows vary depending on lava composition (basic, intermediate or acidic). More than often one sees blackish green, small-sized (commonly up to one metre in diameter) pillows of basic composition, which rock is, therefore, also called pillow basalt.
Today, a large number of submarine volcanoes are located near areas of tectonic plate movement, known as mid-ocean ridges. Although most submarine volcanoes are located in deep oceans (erupting basic lava), some also exist in shallower water (more acidic in composition), and these can discharge, in addition to lava under water, also ash, bomb and gases etc. into the atmosphere during eruptions. The total number of submarine volcanoes is estimated to be over 1 million.
Besides the exceptional geological interest Ma Phuc pass is also a place of intangible heritage. According to legend, in the 11th century, a leader of the Nung people named Nung Tri Cao led the local people to fight against the Song army from the north. Once returning from a patrol along the border, at Quoc Toan commune of the present day Quang Hoa district, he faced this high, winding and steep pass, and his horse was crippled and could not move on. The mountain was since named An Lai, literally meaning to stop, and the pass was named Ma Phuc, literally meaning a kneeling horse.
6. Thang Hen Lake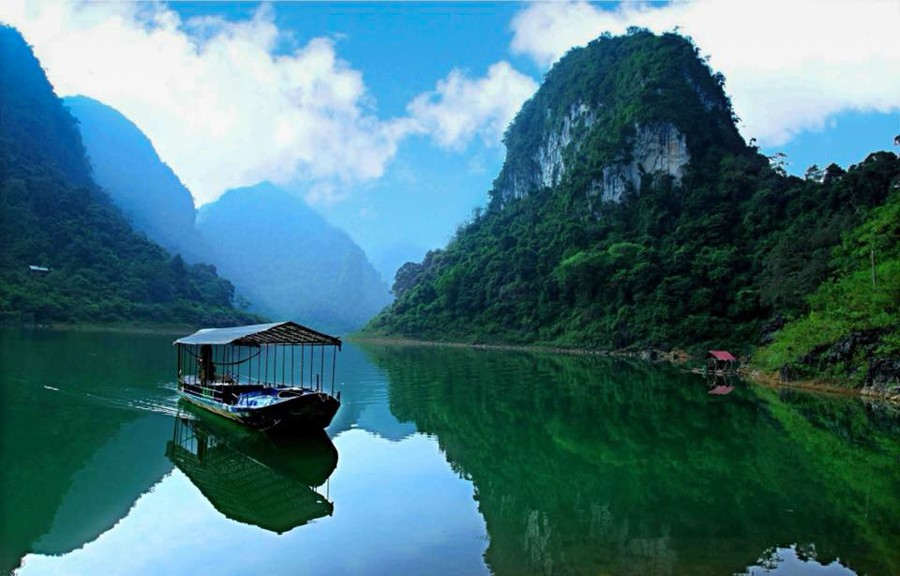 Photo: Origin Vietnam
Thang Hen Lake is located in Quoc Toan Commune, Tra Linh District, 30km north of Cao Bang. The lake consists of 36 large and small lakes on high peaks, thousands of meters above sea level. The main lake is lozenge, 300 meters wide and 1,000 meters long. It is a beautiful lake among lakes in the rocky mountains. Legend has it that before, there was a guy Tay ethnic, clever tuxedo, sobbing heart girl in the area. He passed the exam and was rewarded with seven days of honoring the novitiate and then the capital. This time, he was married to her Bjooc na na and beautiful. Thang Du Phja Oac - Phja Den Eco - tourism area Cao Bang tourism guide 11 The attachment to his young wife, he forgot to go to the capital, the new Saturday night memory , breaking up with his wife and father and mother, and then slipping all his young horses past thirty-six stone valleys. The thirty-six valleys at that time were 36 large and small lakes in the mountainous area of Tra Linh district, symbolizing the footsteps of the talented young man. Have a chance to come to Thang Hen, visitors will enjoy the specialties of the mountains, visit the villages of the Tay, the Nung, camp fire, listen to the song, snare drum, human heart, boating to visit the lake and play tennis etc.
7. Phuc Sen Forging Village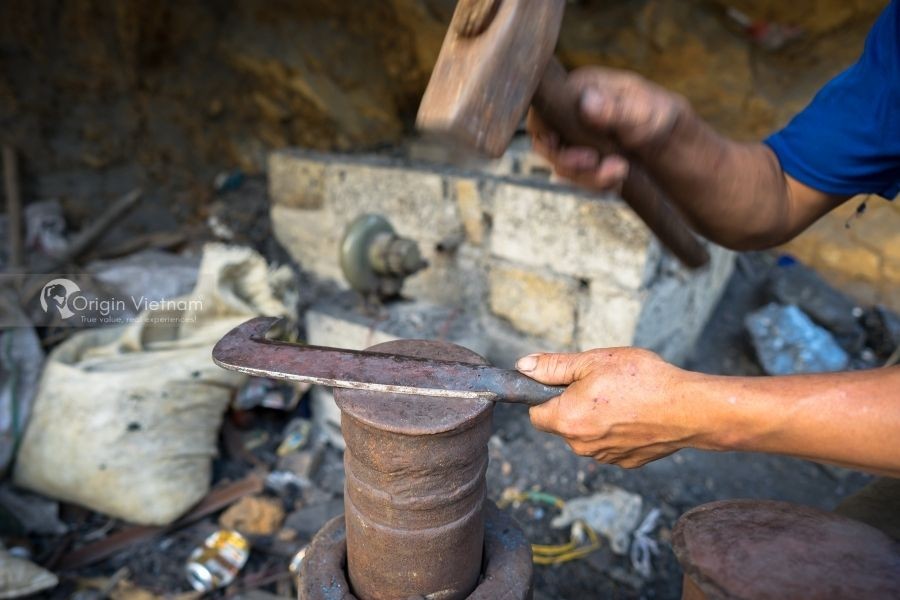 Photo: Origin Vietnam
The Phuc Sen forging village is located at Phuc Sen Commune, Quang Uyen District, Cao Bang Province. It is said that this village was established in the 11 th century. In the early days, the villagers produced weapons for the soldiers of Nung Ton Phuc and Nung Tri Cao to fight against the Song army. After the war, they made farm and domestic tools such as ploughs, hoes, knives and scissors. It is also said that the villagers used to cast cannons and grenade casings, especially during the resistance war against French colonialism. Thus, this craft village has a long
tradition of forging. There is also another tale explaining the origin of this craft village. It says that from ancient times, there was an old, strange-looking man walking through the village. He noticed that the local Nung An people lived only by hunting, hence they were always poor. However, the old man found that the local people were very kind, and they had extraordinary bright eyes because they could walk in the forest at night without any lighting equipment. Therefore, he decided to train the Nung An people how to forge tools. Following that, the old man left Phuc Sen without saying goodbye to anyone, and no one ever knew his name or address. Today, the Nung An people in Phuc
Sen have established a temple to commemorate their ancestor. Every family has its own incense bowl to express their gratitude to the ancestor, who brought the craft to the village and improved their lives.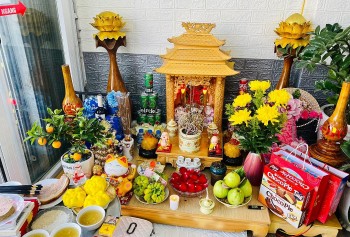 Handbook
Learn more about an ancient Vietnamese tradition that may bring you good fortune!