WB Regional Vice President: Vietnam Makes Great Efforts in Socio-Economic Development
Vietnam has made great efforts and progress in socio-economic development over the past decades, WB Regional Vice President for East Asia and Pacific Manuela V. Ferro said.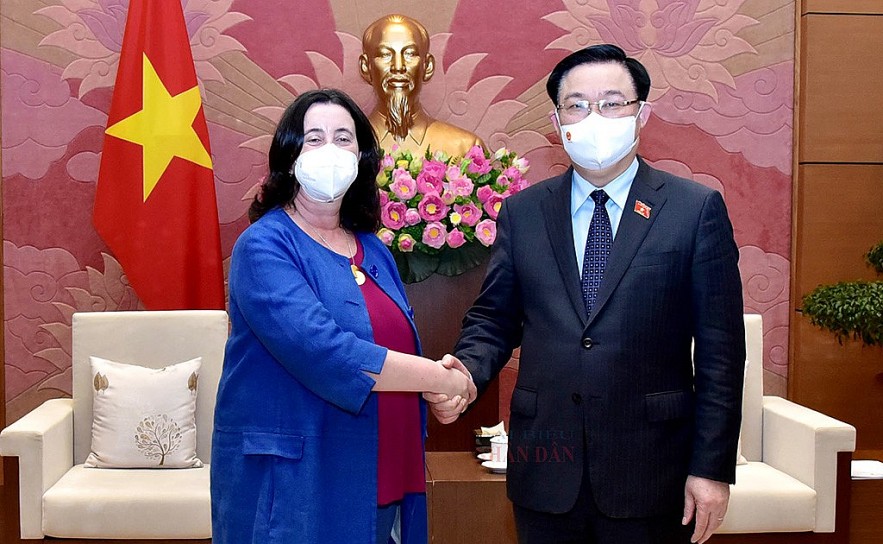 WB Regional Vice President for East Asia and Pacific Manuela V. Ferro and National Assembly Chairman Vuong Dinh Hue at their meeting in Hanoi on March 22. Photo: daibieunhandan.vn
Speaking at a meeting with National Assembly Chairman Vuong Dinh Hue in Hanoi on March 22, Ferro noted that complex developments forecast for the world in the next 30 years require longer and clearer visions, as well as national strategic orientations.
The WB will provide technical consultations to help Vietnam make strategic decisions and policies, she pledged, as cited by VietnamPlus.
For his part, Hue said the Vietnamese legislature has amended laws relating to the mobilisation of resources many times, including those on the supervision of the use of official development assistance (ODA).
The government and the NA have made great efforts to restructure public finance and debt, and gained positive results, he said, adding that the Vietnamese legislative body hopes to cooperate with the bank in this regard.
The top legislator also noted his hope that the bank will maintain its consultation mechanisms with Vietnamese ministries and agencies in seeking ways to raise the efficiency in using loans.
He called on the WB and other development partners to support Vietnam in consolidating its legal system, particularly institutions on economic development amid the Fourth Industrial Revolution and digital transformation.
Hue also asked for the bank's technical and policy consultations in such fields as sustainable development, green growth and climate change adaptation, and in fullfilling the commitment to net-zero emissions by 2050 that Vietnam made at the 26th United Nations Climate Change Conference of the Parties (COP26).
NA agencies will organise the annual national economic forum to consult domestic and foreign scientists in policy making, he said, expressing a hope that WB will actively join the process.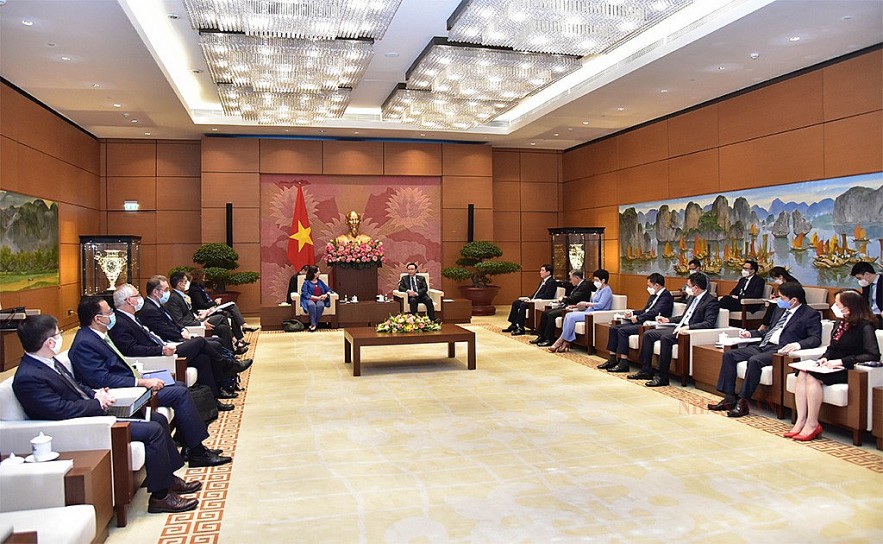 The WB will provide technical consultations to help Vietnam make strategic decisions and policies. Photo: daibieunhandan.vn
Ferro emphasised that the WB hopes to enhance cooperation with the Vietnamese legislature in the time ahead, and that WB experts are ready to cooperate with the legislative body.
She said the bank is coordinating with Vietnamese agencies to build the Vietnam 2045 report. Therefore, it would like to exchange information with NA agencies.
Mentioning Vietnam's commitment at the COP26, she affirmed that the WB will help Vietnam integrate the commitment into its development targets in a harmonious, practical and feasible manner.
The same day, the WB Regional Vice President had a meeting with Politburo member, President of the Ho Chi Minh National Academy of Politics (HCMA) and Chairman of the Central Theory Council Nguyen Xuan Thang.
On March 21, she met with Prime Minister Pham Minh Chinh, who affirmed that the Vietnamese Government always views the WB as a good friend and a highly important development partner.
Vietnam's economy continues to show resilience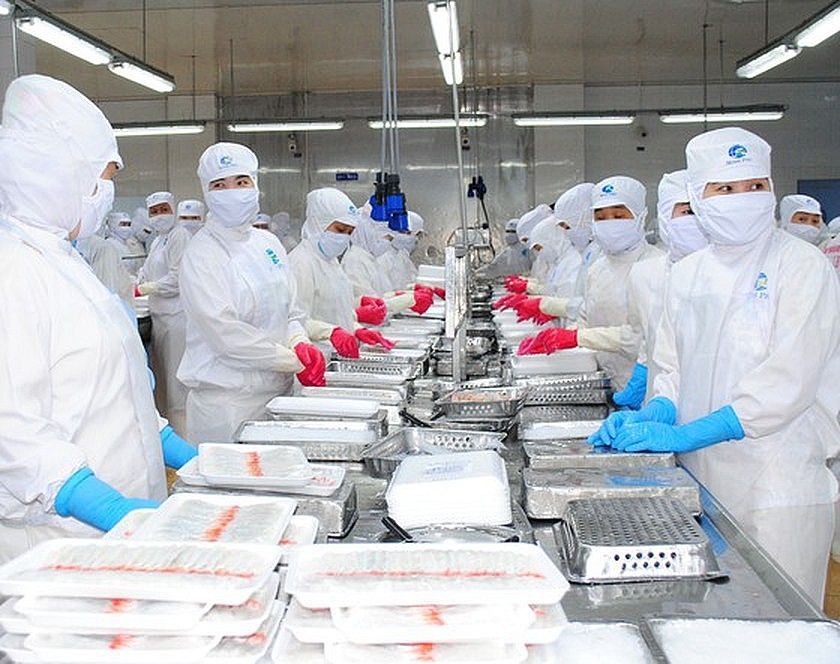 The Vietnamese economy continues to show resilience and is recovering. Photo: Sai gon Giai phong Online
The WB on March 11 released its brief updating Vietnam's economic development in March, stating that the economy continues to show resilience and is recovering although downside risks have heightened, according to Nhan dan (People) newspaper.
Available data suggest continued recovery of domestic economic activities, with industrial production growing by 8.5% year on year and a broad-based improvement in manufacturing despite the surge of new Covid-19 cases to over 100,000 infections per day by the end of February.
After falling in January, production of computers, electronics, and optical products bounced back, posting a year-on-year growth of 9.1%. Apparel manufacturing maintained strong performance with a 24.7% growth against the same period last year, according to the report.
Retail sales grew by an estimated 3.1% in February. Sales of consumer services continued to recover, increasing by 5.9%, the first expansion since May 2021, as accommodation and catering services sales grew strongly. Sales of goods increased by 2.4%.
With imports growing much faster than exports, trade balance deteriorated from a surplus of $1.4 billion in January to a deficit of $2 billion in February.
Higher export growth rate could be attributed to phones, computers and electronics and machinery, whose exports grew by 6.2% in February.
Exports of garment-textile remained strong, growing by 25.8%. Strengthening imports partly reflect a jump in imports of phones, computers and electronics components from 14.9% in January to 32.3% in February.
Imports of petroleum products also increased by 146.8%, clearly reflecting rising oil prices. By trading partners, exports to the US remained robust, expanding by 14.6% while exports to China rebounded, growing by 19.5% after a 15.2% drop in January.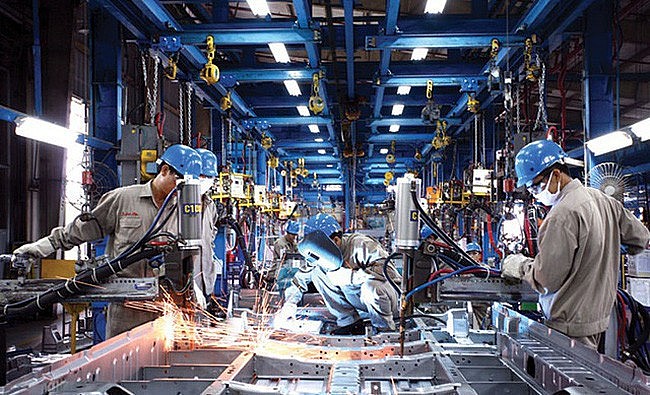 Industrial production grows by 8.5% year on year. Photo: VTV
The WB brief also indicated that FDI commitment slowed while FDI disbursement continued to recover strongly.
Vietnam attracted $2.9 billion of FDI commitment in February, 15.9% lower than a year ago. Most of the commitments were made by existing firms intent on expanding their production facilities.
The disbursement of approved FDI projects increased by 7.9% in February, a third month of increase.
"CPI inflation remained subdued thanks to relatively stable food prices and still weak domestic demand. Credit demand remained strong after the Lunar New Year, keeping overnight interbank interest rate at 2.56% at the end of February, compared to less than 1% at the end of 2021," the report continued.
WB experts noted that Vietnamese authorities should encourage exporters to seek new markets and innovate into new products through global value chains and existing free trade agreements to strengthen export resilience. Keeping track of domestic price developments is also warranted.
Continued administration of the vaccine boosters and renewed health guidance are critical to manage the Omicron wave, the bank recommended./.
Vietnam Becomes World's New Production Base

Vietnamese footwear accounts for 10% of world production; textile, furniture rose to the second position on the global export map. Many Vietnamese products are available ...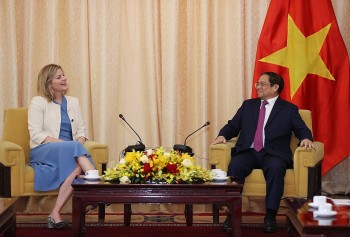 National
The Netherlands committed to cooperate with Vietnam, and together find innovative and sustainable solutions to accelerate green economy transformation.