What to Eat in Cambodia? Here're 14 Most Popular Dishes
Cambodia's cuisine takes in a range of mouth-watering dishes, with a variety of herbs and vegetables.
Cambodian cuisine has a long history and a diverse range of influences, yet it's only now becoming known beyond the country's borders. With no shortage of places to eat local across Cambodia, here are a few dishes to satisfy food lovers.
Lap Khmer (Beef salad)
This beef salad is prepared with well-done slices of beef marinated in lime juice with shallots, fish sauce, basil, mint, garlic, bell peppers, and spicy chilies. Due to its extremely bold flavors, it's often eaten as a bar snack.
Pleah sach ko (Beef ceviche)
Pleah sach ko is typically made with thin, bite-sized pieces of raw beef that are first marinated in lime juice, and then covered with a clear broth of lime juice, chicken soup base mix, fish sauce, and sugar. A variety of chopped up vegetables and fresh herbs are usually added to the dish, Typical ingredients include green eggplants, shallots, garlic, radishes, bell peppers, jalapeño peppers, green onions, and freshly chopped herbs such as saw leaf, lemongrass, basil, mint, and cilantro.
Sour and spicy, the ceviche is usually topped with roasted ground rice and crushed peanuts, and it can be served either warm or chilled. In Cambodia, pleah sach ko is commonly prepared for weddings and similar festive occasions.
Samlar kari (Chicken curry)
This traditional Cambodian chicken curry consists of pieces of chicken in a silky-smooth coconut sauce that is typically flavored with Cambodian kroeung paste, shrimp paste, fish sauce, and palm sugar. The dish can optionally be enriched with vegetables such as purple sweet potatoes, onions, bamboo shoots, carrots, eggplants, yard long beans, or spinach.
Bai sach chrouk (Pork and rice)
No two bai sach chrouks are ever alike. Served early mornings on street corners all over Cambodia, bai sach chrouk, or pork and rice, is one of the simplest and most delicious dishes the country has to offer.
Thinly sliced pork is slow grilled over warm coals to bring out its natural sweetness. Sometimes the pork will be marinated in coconut milk or garlic -- no two bai sach chrouks are ever exactly the same.
The grilled pork is served over a hearty portion of broken rice, with a helping of freshly pickled cucumbers and daikon radish with plenty of ginger.
On the side, you'll often be given a bowl of chicken broth topped with scallions and fried onions.
Chaa angrong sach ko (Red tree ants with beef and holy basil)
You'll find all sorts of insects on the menu in Cambodia, but the dish most appealing to foreign palates is stir-fried red tree ants with beef and holy basil.
The tree-dwelling red weaver ant, some barely visible and others almost an inch long, are stir-fried with ginger, lemongrass, garlic, shallots, and thinly sliced beef. Lots of chilies complete the aromatic dish, without overpowering the delicate sour flavor that the ants impart to the beef. This meal is served with rice, and if you're lucky you'll also get a portion of ant larvae in your bowl.
Trei boeng kanh chhet (Fried fish on the fire lake)
Fried Fish on the Fire Lake is traditionally made for parties or eaten at restaurants in a special, fish-shaped dish.
A whole fish is deep-fried and then finished on a hotplate at the table in a coconut curry made from yellow kroeung and chilies.
Vegetables such as cauliflower and cabbage are cooked in the curry, and served with rice or rice noodles. The literal translation of this dish is trei bung kanh chhet, fish from the lake of kanh chhet, a green Cambodian water vegetable served with this dish.
Maam chao (Raw fermented fish)
Maam chao is a dish made with a type of raw, fermented fish known as maam. Roasted rice, galangal, and sugar are added to freshwater fish and left to ferment for at least a month.
Compared to prahok, maam is delicately flavored (as far as fermented fish goes), its salty pungency balanced by the sweetness of the palm sugar. Maam chao is most often served as a dip mixed with pineapple, alongside boiled pork and crunchy raw vegetables.
Samlar machu (Sour soup)
Samlar machu is made with meat, fish, or seafood and vegetables cooked in a sour broth base. The seasonal local vegetables and herbs might include water spinach, shallots, scallions, tomatoes, kaffir lime leaves, hot basil, cilantro, and lemongrass.
There's also a version that calls for pineapples. Other key ingredients in this dish are the fermented fish paste known as prahok, and the spice paste, kroeung, while typical souring agents include krasaing fruit seeds, tamarind, or kaffir lime juice.
Kampot Pepper Crab
Cambodia's Kampot province is famous for its Kampot pepper crab in which whole fresh crabs are fried up with a garlicky sauce and topped with the famous Kampot green peppercorns. The sweet crab meat is complimented perfectly by the spice and crunch of the pepper for a dish that is delicious and as unique as the peppercorns themselves.
Fish amok
Fish whipped into a mousse. Tastes far better than it sounds. Fish amok is one of the most well-known Cambodian dishes, but you'll find similar meals in neighboring countries. The addition of slok ngor, a local herb that imparts a subtly bitter flavor, separates the Cambodian version from the pack.
Fish amok is a fish mousse with fresh coconut milk and kroeung, a type of Khmer curry paste made from lemongrass, turmeric root, garlic, shallots, galangal and fingerroot, or Chinese ginger.
At upscale restaurants fish amok is steamed in a banana leaf, while more local places serve a boiled version that is more like a soupy fish curry than a mousse.
Kangkep baob (Stuffed frogs)
Served at roadside barbecues all over Cambodia, stuffed frogs can be an intimidating sight for timid visitors, but any fearfulness disappears at the first taste.
Frogs are stuffed with minced pork, roasted peanuts, red chilies, frog meat and fresh kroeung made from lemongrass, garlic, galangal, turmeric and the zest of makrut limes. Grilled inside split pieces of bamboo over hot coals, the resulting snack is like a frog sausage, rich with root spices and slightly sweetened by palm sugar.
Nom banh chok (Khmer noodles)
Enjoy, just don't call it pho.Nom banh chok is a beloved Cambodian dish, so much so that in English it's called simply "Khmer noodles."
Nom banh chok is a typical breakfast food, and you'll find it sold in the mornings by women carrying it on baskets hanging from a pole balanced on their shoulders. The dish consists of noodles laboriously pounded out of rice, topped with a fish-based green curry gravy made from lemongrass, turmeric root and kaffir lime.
Fresh mint leaves, bean sprouts, green beans, banana flower, cucumbers and other greens are heaped on top. There is also a red curry version that's usually reserved for ceremonial occasions and wedding festivities.
Kuy teav (Noodle soup)
Cambodia's noodle soup is a popular breakfast dish, commonly bought from street vendors. It is usually made from rice vermicelli and beef or pork bones. The broth is flavored with fried shallots, green onion, garlic and bean sprouts. Pork or beef balls are then added just before serving.
Yaohon (Hot pot)
Yaohon is a Cambodian hot pot that contains a variety of vegetables, meat, and seafood. The broth is based on a mixture of coconut milk or cream, chicken broth, and coconut soda, and it is typically flavored with barbecue sauce, fish sauce, soybean curd sauce, kaffir lime leaves, lemongrass, and palm sugar. Typical vegetables include watercress, spinach, and bok choy, while the selection of meat and seafood usually includes beef, chicken, shrimps, squids, oysters, and mussels.
Other ingredients featured in this flavor-packed broth are crushed peanuts, quail eggs, mushrooms, and (optionally) beer.
Cha houy teuk (Jelly dessert)
Hot sticky summers call for sweet sticky snacks. After school in Phnom Penh, young people crowd around street stands serving Khmer desserts. Some have sticky rice or sago drenched in coconut milk and topped with taro, red beans, pumpkin and jackfruit. One of the most refreshing is cha houy teuk, a sweet jelly dessert made with agar agar, a gelatin that is derived from seaweed.
The jelly can be brightly colored in pinks and greens, making it especially popular with children. Combined with sago, bleached mung beans and coconut cream, cha houy teuk is usually served in a bowl with a scoop of shaved ice.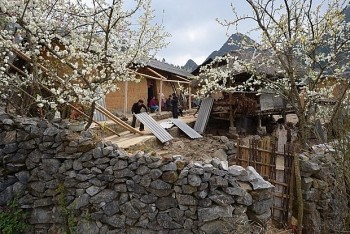 National
Vietnam News Today (Feb. 3): Vietnam and Trinidad & Tobago establish diplomatic ties; Severe cold spells expected to hit northern mountainous provinces late this month; Vietnam among top 10 best places to go for budget honeymoon; Hanoi, HCM City record highest disbursement of public investment capital in January.