When is Single's Day Around the World and How to Celebrate
Single's Day is coming and here's how people around the world celebrate.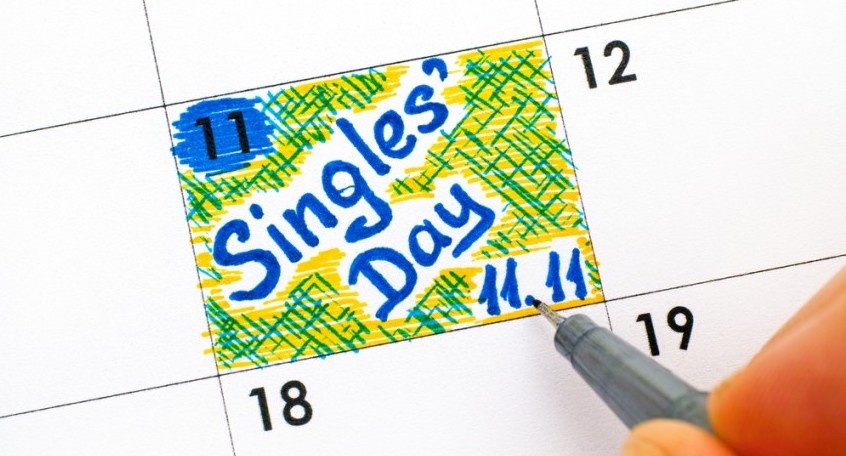 The number 11.11 represents the single and unattached. Photo: Fun! Japan
People around the world celebrate Nov 11 - Single's day, even though it is not an official holiday. The way it is written in number, 11.11, looks like single branches. That's why Nov 11 is chosen as the day for single and unattached adults. This trend started a few years ago in China and has now popularized as an anti-Valentine's day. Many celebrate on that day as a rebel against social pressure to be married or in a relationship.
How it started
Originally called "Bachelor's Day," the celebration began among students at China's Nanjing University around 1993 when four single male students agreed that couples have Valentines'Day so single people should also have a day in honor of being single, as reported by Time. The trend spread out across university students, appealing to both young men and women—hence the name change.
A day to treat yourself
According to South China Morning Post, e-Commerce sites in China quickly turn this day into an online shopping festival and call it Single's Day or Double 11. You can say the day has got commercialized almost 12 years ago when Alibaba Group Holding hosted its shopping festival on Nov 11 2009 and made it an annual event ever since. Other sites jumped in on the trend, offering discounts of at least 50%, free shipping, gift cards, and special deals. The event only lasts for 24 hours and consumers couldn't pass down on this opportunity to shop until they drop.
Every year the sales event got bigger, better discounts and deals. Photo: Pinterest
Other countries have also begun offering discounts on Singles' Day. Amazon.com also advertises Singles' Day sales internationally. The U.S. online retail giant also has its own two-day Prime Day sales event in the summer which generated $7.16 billion in 2019, as reported by Reuters.
The 24-hour Single's Day event on Alibaba generated more sales than other e-Commerces sales event combined. Photo: The Reuters
The sweet competition
Pepero is a cookie stick, dipped in compound chocolate, manufactured by Lotte Confectionery in South Korea since 1983 and Nov 11 is Pepero Day. Students originally exchange Pepero on Nov 11 in hopes of becoming taller and thinner. Meanwhile, in Japan, Nov 11 is known as Pocky Day. You celebrate by buying Pocky cookies for you and others.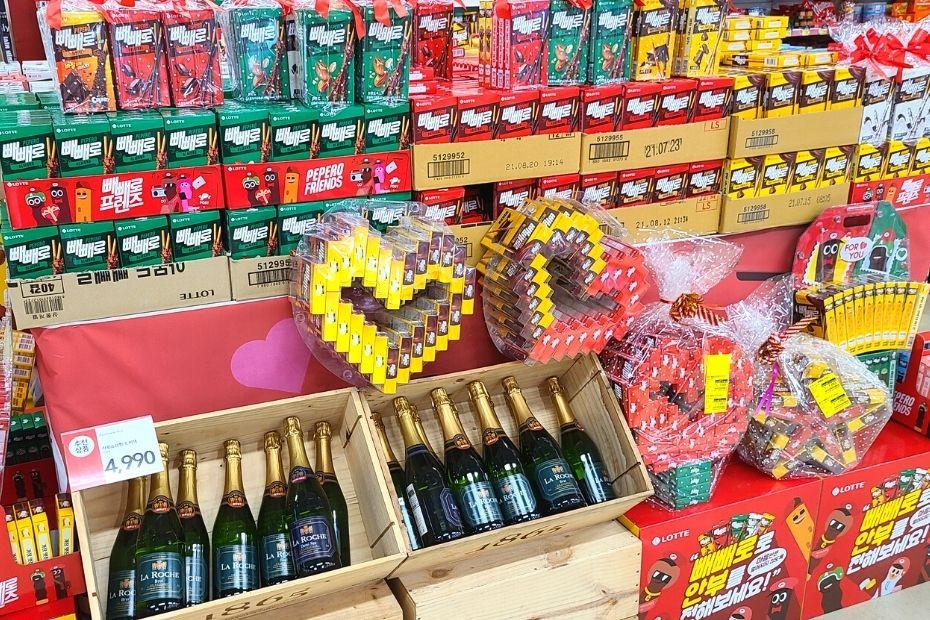 Pepero Gift Bags in a Korean store. Photo: In My Korea
It is difficult to tell Pepero and Pocky apart since they are both cookie sticks coated with flavorful and colorful layers like chocolate, green tea, or strawberry. According to Favy, Pocky is a well-known product of Ezaki Glico and Pocky's creator grew quite annoyed by the fact that their competitor Lotte was making huge profits from that day alone and thus started massively promoting Nov 11 as Pocky Day.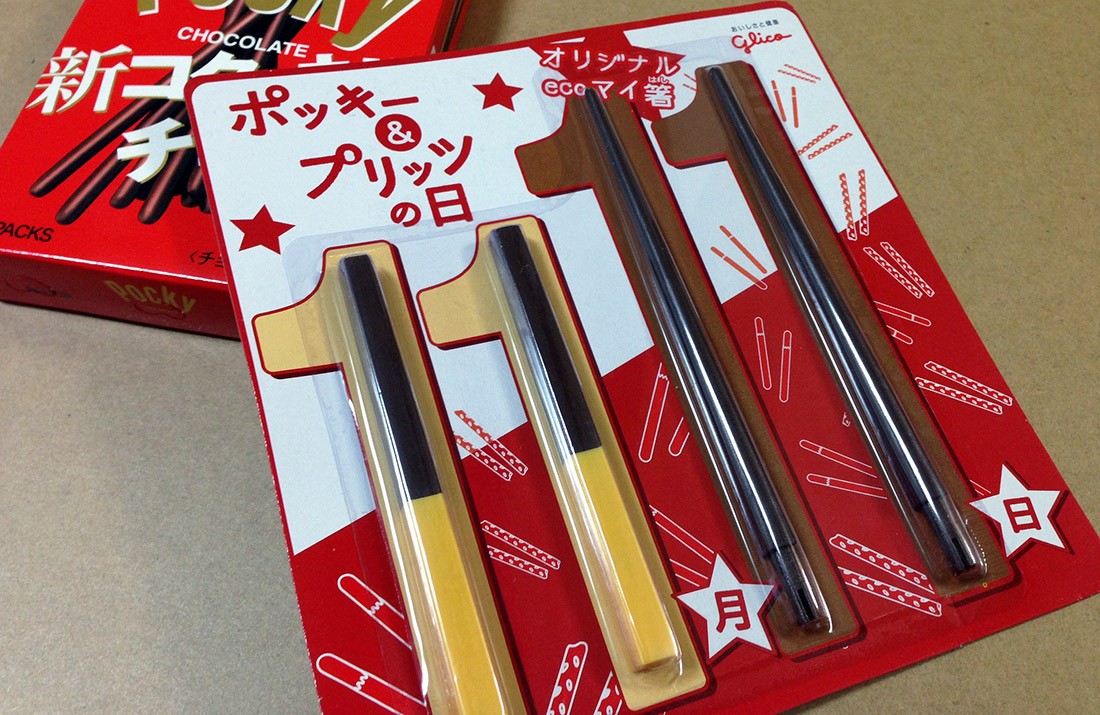 The word "pocky" comes from the Japanese written record of the sound the stick makes when broken. Photo: Tofugu
Display of affection
For countries like South Korea or Japan, Nov 11 is a lovely festival that everyone, not just single people, can enjoy. Ironically, as the popularity of Singles Day has increased, the current purpose of exchanging Pepero or Pocky sticks is to show affection for friends and loved ones.
One fun thing to do on Pepero Day is playing the Pepero Game. This game is played in pairs where you will bite off a Pepero stick from each end together. The pair with the shortest piece left wins. K-dramas, match-making events, or TV shows in South Korea help make this game so popular that you can see people around the world join this trend. Some even say Nov 11 is now the Korean version of Valentine's Day.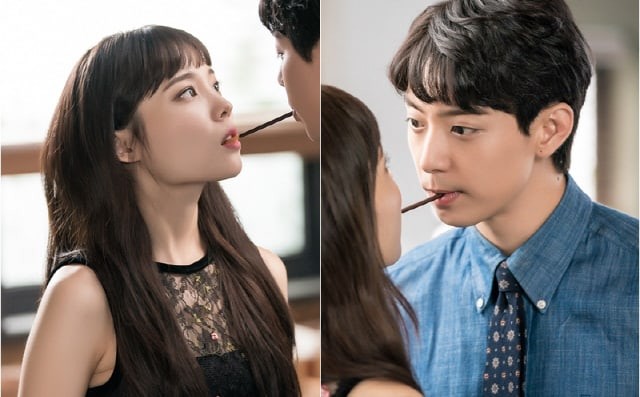 Scene of actors playing Pepero game in K-Drama. Photo: Soompi
Pocky Day is now considered a part of the culture, a big festival, an annual event on every Nov 11 in Japan. According to Waku Waku, many big supermarkets usually decorate according to the Pocky Day theme and prepare for Pocky Day about a week in advance. Supermarkets and convenience stores fill Pocky sections with dozens of flavors and put up human-sized standees of Pocky Box. It is a shopping paradise for sweet-tooth. You can choose from almond to sakura or Glico grape.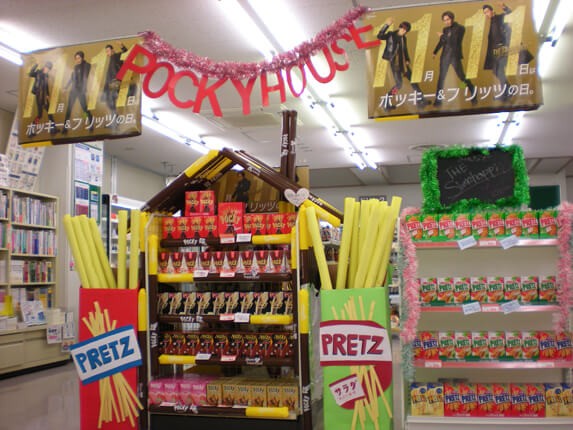 Pocky section are decorated with big posters and signs about a week before Pocky Day. Photo: Glico Japan
Pocky is popular among young people because it's a cheap tasty snack with cute packaging. One box with 50 sticks divided into 2 or 4 small packs is roughly JPY 100 (US$ 0.88). People are also excited to buy Pocky on this day because it is their chance to get cute prizes or gifts, depending on the stores, like Pocky balloons or adorable Pocky stickers.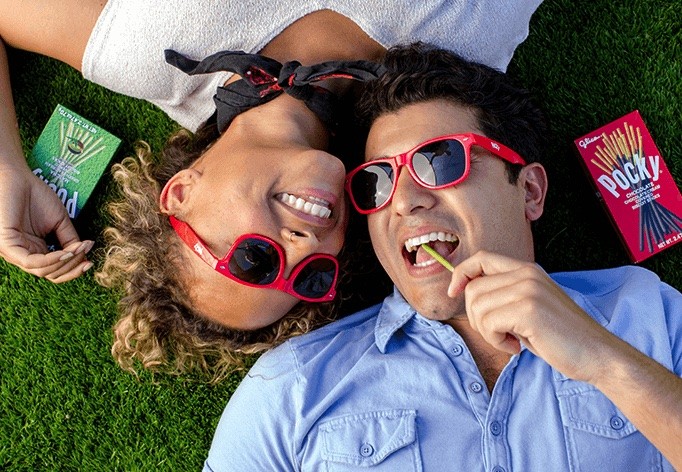 Pocky sticks are cheap tasty snacks with cute packaging that originated from Japan. Photo: Pocky
How about you? How will you celebrate Single's Day this year?