When the "Sprout" Grows
The "Sowing the Seeds of Friendship" program has helped strengthen the trust, solidarity, friendship and comprehensive cooperation between Vietnam and Cambodia, while educating the youth of the two countries on the bilateral relations, enhancing their sense of responsibility in preserving and reinforcing the long-lasting traditional solidarity and friendship between the two nations.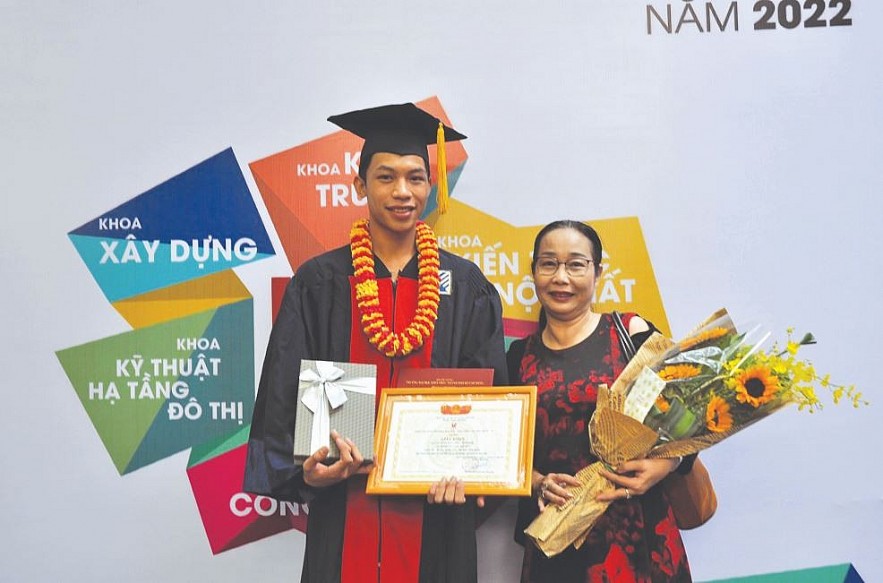 Sopha Chouk with his foster mother, Huynh Ngoc Van, at the graduation ceremony. Photo courtesy of Sopha Chouk.
With Vietnamese foster parents' support through the "Sowing the Seeds of Friendship" program, Cambodian international students can be comfortable studying and learning more about Vietnamese customs, culture and history. The programme also helps them have a good foundation when working and many opportunities for development. Some of you are studying for a master's or doctoral degree. In particular, Cambodian students continue to be bridges of friendship, fostering the growing relations between the two countries.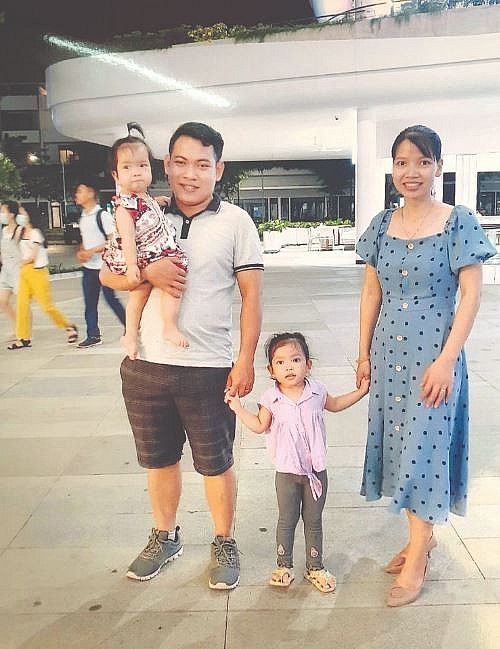 Pu Thia and two children in Phnom Penh. Photo courtesy of Sopha Chouk.
Build a happy life
On the evening of December 22, 2022, as usual, 31-year-old Pu Thia, born in Soai Rieng, a former Cambodian student at Hanoi University of Science and Technology, called her Vietnamese foster father, Pham Tuyen - former head of a delegation of Vietnamese youth experts on international duty to help the Cambodian revolution in the period 1979 - 1989. Pu Thia confided about his son being sick and hospitalized in Phnom Penh. The locomotive on this side, Tuyen constantly instructs Pu Thia how to take care of small children in the changing weather season.
Pu Thia has been sponsored by Tuyen since May 2014, when he was a student at the Faculty of Electronics and Telecommunications, Hanoi University of Science and Technology. Thanks to his adoptive father's family, Pu Thia understood more about Vietnamese culture and improved her Vietnamese language.
What year the student is now a teacher of Electronics - Vocational Training Department, Rota High School, Kandal province. Pu Thia wants to pass on the knowledge learned in Vietnam to the children in Cambodia.
Like Pu Thia, 24-year-old Sopha Chouk, from Phnom Penh, is also a former Cambodian student in Vietnam.
In early December 2022, Sopha Chouk went to Vietnam to receive a diploma in Industrial Design from the University of Architecture of Ho Chi Minh City. He is one of the few excellent thesis defense students of the University of Architecture. He is working as a graphic designer for Chip Mong Group - a corporation in Cambodia with a relatively good income.
Not only Pu Thia and Sopha Chouk, many young Cambodians after studying in Vietnam returned home have stable jobs and good lives such as Ath Sreyneang, from Kampong Cham, former studied at the HCM City's University of Agriculture and Forestry as well as Chey Vothy from Phnom Penh, former student of the Vietnam Academy of Agriculture.
Keep spreading the friendship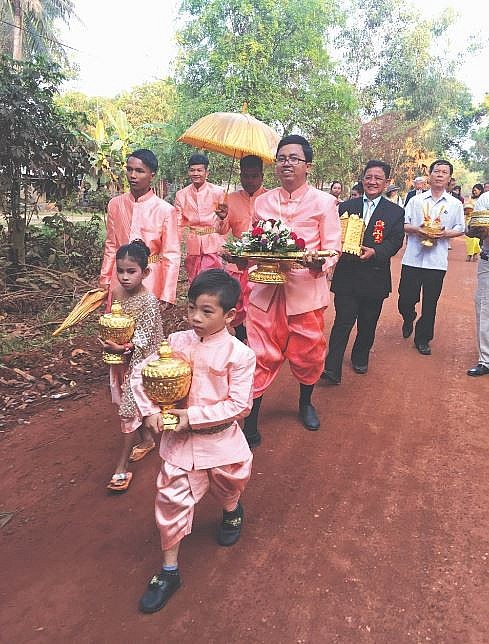 Chey Vothy (3rd row, second from left) on the wedding day, March 2019. Photo courtesy of Sopha Chouk.
In 2013, while studying at the Vietnam Academy of Agriculture, Chey Vothy, coming from Phnom Penh, was supported by Nguyen Thi Thao - a member of the Standing Committee, and head of the Central Inspection Committee of the Vietnam - Cambodia Friendship Association.
At the most disheartened time, Thao helped him regain faith in life. It was at midnight on April 30, 2013, Chey Vothy suffered from viral fever and was taken to the hospital in critical condition. At that time, the person he called to convey his thoughts was Thao. He asked to regard her as his second mother. If anything happened to him, Chey Vothy asked her to bring him back to his birth parents in Cambodia.
Unable to go to the hospital because she was on her way to the airport to go to Europe, Thao always texted Vothy to encourage him and constantly contacted the hospital to check on him. Fortunately, Vothy overcame the fatal fever. After that time, Chey Vothy often consults with Thao before making any major decisions.
After graduating, Vothy returned home to work for a Vietnam - Cambodia joint venture company. At the end of March 2019, Vothy was extremely happy when his godparents went to Siem Reap to attend his wedding. He now has a baby boy and earned a New Zealand postgraduate scholarship. Back home, he has shared the story of his foster family in Vietnam with many of his friends and colleagues.
In 2019, Huynh Ngoc Van, director of the Ao Dai Museum, decided to support 25-year-old Ath Sreyneang from Kampong Cham, then a Cambodian student at the University of Agriculture and Forestry in Ho Chi Minh City. She made this decision after seeing how thin and weak this girl was, who had studied away from her family.
At the end of 2020, due to the Covid-19 pandemic, Ath could not return home to celebrate the new year. Van let Ath work for a short time at the Ao Dai Museum to earn some money during the difficult period. When Covid became more and more complicated, Van often contacted Ath and made sure she remember to follow the anti-Covid measures. The foster mother also sent food, water, and medicine to her foster daughter's dormitory.
After graduating from the HCM City University of Agriculture and Forestry, Ath returned to Cambodia and worked at Chanh Kun Construction Co., Ltd which is a Vietnamese company based in Phnom Penh. Ath shared that she wants to try her best, and at the same time, have the opportunity to take care of her parents. "I always remember and be grateful to my Vietnamese mother".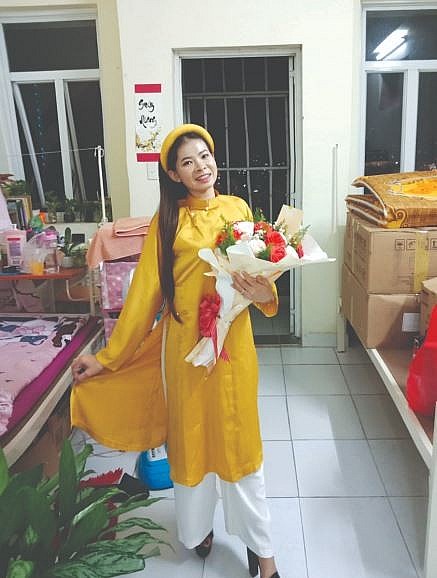 Ath Sreyneang wears a Vietnamese ao dai given by her foster mother Van. Photo provided by the individual
According to Le Tuan Khanh, Vice Chairman of the Vietnam - Cambodia Friendship Association, the program "Incubating the Friendship" was born in 2012 in the context of solidarity, friendship, and comprehensive cooperation between Vietnam and Cambodia. strongly developed in all fields, especially cooperation in the field of education - training, and human resource development.
Over the past decade, the program has been organized in many forms, on the principle of voluntary, practical, and effective. From 12 families who sponsored 34 Cambodian students in Hanoi and Thai Binh, the program has grown in most provinces and cities where Cambodian students study with the voluntary participation of families, organizations, and individuals supporting nearly 500 students from the neighboring country.
Also in the past 10 years, the Viet Nam Union of Friendship Organizations, in coordination with all levels, branches, and localities, organized numerous activities and assisted thousands of Cambodian students, including providing rewards, gifts, and scholarships to the students; organizing meetings, friendship exchanges, field trips, and fact-finding tours for them; and supporting them with essential supplies in their study and stay in Vietnam.
"The initial success of the program is that the majority of the students have become more confident and shown strong academic performance. After their study in Vietnam, they found stable jobs. Some even have continued studying for a master's or doctorate degree, and all kept regular contact with their Vietnamese sponsors," said Khanh.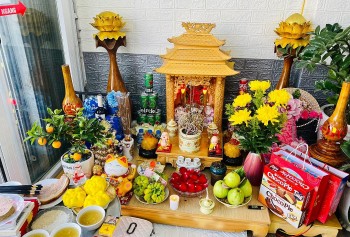 Handbook
Learn more about an ancient Vietnamese tradition that may bring you good fortune!