Where To Shop: Discover Biggest Retail Supermarkets In Vietnam
From Big C Vietnam to Lotte Mart, here are the 8 biggest retail supermarkets in Vietnam that you can find all different products, food and friendly services such as entertainment, movie theaters and play areas for children.
The supermarket is a retail system of many products serving the daily life of people. Supermarkets have sprung up quickly, which change the shopping habits of Vietnamese people in small markets and shops. This is also the shopping trend of developed countries in the world. When shopping at the supermarket, you can buy everything you need; goods with input quality, safety, and hygiene; The service attitude is pretty good compared to that at the market or retail store. Supermarkets are modern, friendly, and safe shopping places, which popular in major cities. Besides selling food and consumption, it also has movie theaters, entertainment areas for adults and children. AEON supermarket is the most complex supermarket system that includes a full range of entertainment and shopping services for everyone. Here is the biggest supermarkets in Vietnam.
1. AEON Vietnam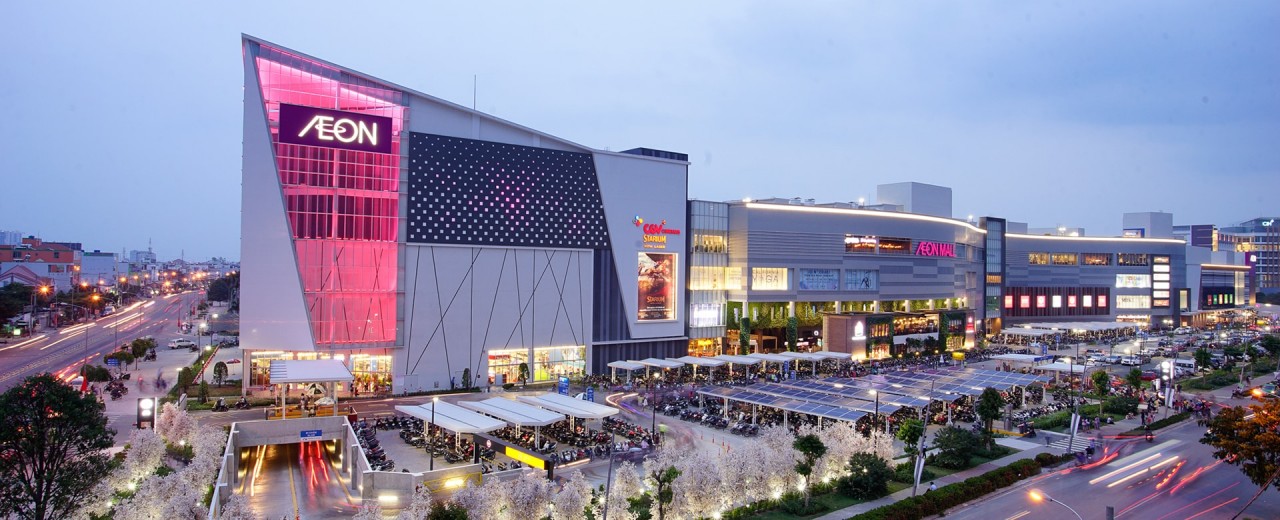 Photo: AEON MALL Vietnam
AEON is a long-standing Japanese retail group and is very famous in many countries around the world. Vietnam's potential market is the target that AEON wants to invest in in the long term. AEON officially started operations in Vietnam in 2009 in the form of a Representative Office (December 1, 2009 – July 10, 2012). On October 7, 2011, with the approval from the People's Committee of Ho Chi Minh City, AEON Vietnam Co., Ltd. was officially established. It invests in activities of construction, organization, management, and business through the following models: Trade Center, General Department Store, and Modern Supermarket. This is considered a mainstream business direction. In addition, AEON conducts other business activities related to import-export, trade, and research. Despite just operating in Vietnam in 2014 with 2 branches in Ho Chi Minh City and Binh Duong, if you enter this supermarket, you will see the professionalism and class of Japanese brands.
AEON Group maintains a sustainable commitment: Customer first, which goes throughout its operation. The essential principle of this system is towards a prosperous, peaceful society through retail activities. AEON has the trust of customers and expands its business activities in Vietnam.
2. MM Mega Market Vietnam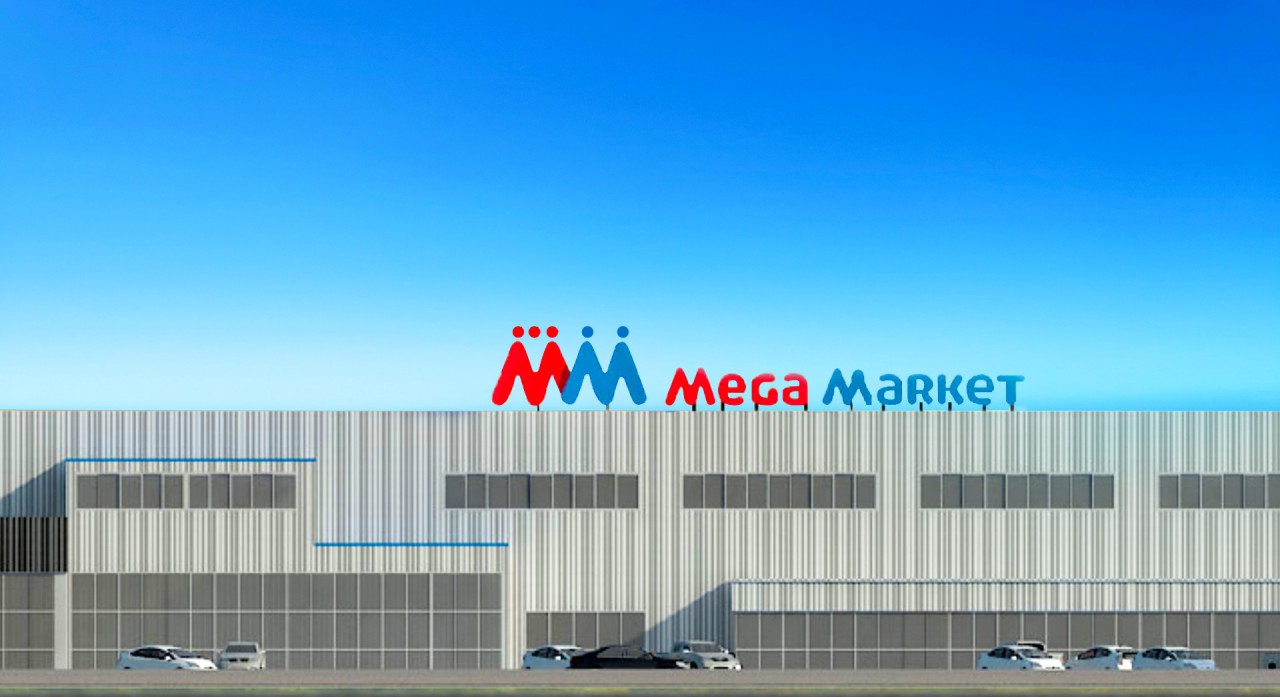 Photo: MM Mega Market Vietnam - Home
MM Mega Market Vietnam Company Ltd., which is a branch of BJC / TCC Group Thailand, have established the first distribution center in 2002 in Ho Chi Minh City.
During than 20 years of business development, MM Mega Market has expanded to 21 Wholesales Distribution Center and Supermarkets in nationwide, along with 5 Fresh Sourcing and Supply Centers, 2 Depots with more than 4,000 employees, and thousands of suppliers.
MM Mega Market Vietnam (MMVN) has the vision of developing a model of professional supply chain, which is the connecting from farmers and local manufacturers to consumers, with 90% of goods sourcing in Vietnam.
As a leading in B2B Business, MM Mega Market Vietnam provides the best solutions for professional customers, which is tailored- made with the customer requirements of high quality and variety of products as well as competitive pricing.
Currently, MMVN has the business partnership with hundred thousand of professional customers, including Hotel Restaurant and Catering, Big Offices and Manufactures in Vietnam.
3. Big C Supermarket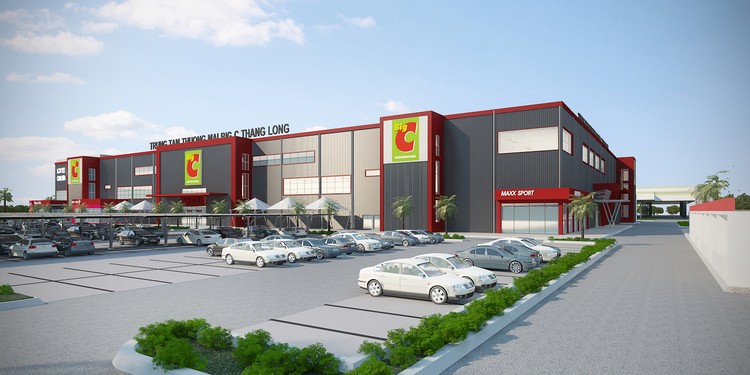 Photo: Vina.com
Big C is a family-oriented shopping mall and supermarket focused on providing customers the top-notch service and quality at the lowest prices. You can find a wide variety of domestic and imported products and services including household goods, cosmetics, wine, and organic products.
To offer further savings, Big C's own private brand is priced significantly lower than the leading brands. Offering a one-stop shop experience, Big C also houses many other businesses ranging from cinemas and karaoke booths to bookshops and fashion boutiques. Big C also has an in-house bakery offering freshly baked breads and pastries.
4. Co.op Mart
Photo: Saigoneer
Coop Mart is the only supermarket in Vietnam belonging to Ho Chi Minh City Cooperative Buying and Selling Association. The first supermarket was launched in 1996 with a single branch in Q1. HCMC. And then thrived as it is today. As of September 2015, the Co.opmart system had 77 supermarkets, including 30 Co.opmart in Ho Chi Minh City and 47 Co.opmart in provinces/cities nationwide. As of 2020, there are more than 100 Co.opmart supermarkets in the country.
5. Lotte Mart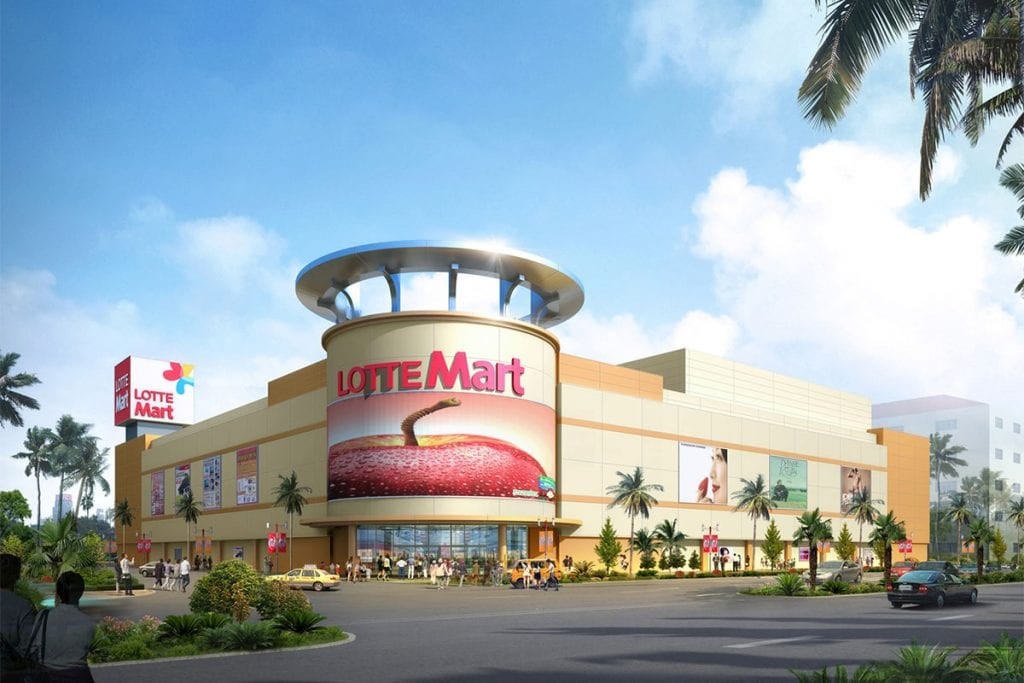 Photo: KoreaTravelPost
South Korea's leading department store operator is now in Saigon. With a well-stocked grocery, all varieties of designer clothing, a cinema and everything else you'd need or want from a department store, Lotte Mart will make you feel like a Seoul suburbanite. For a break from the Ho Chi Minh City heat, hit the bowling alley, catch a movie at their modern cinema or grab a bite in the food court.
Lotte Mart, the megalodon of South Korean retailers, is now operating in Saigon. The store comprises three areas: the supermarket and department store on the ground floor; the cinema, bowling lanes and children's play area on the second floor; and the dining and food court area on the third floor. If you've got a craving for coffee, pizza, electronics, grocery items and big screen excitement, then head over to Lotte Mart.
There are several other popular malls in HCMC. You can check the following: Saigon Square, An Dong Plaza, Parkson Paragon, Crescent Mall, Diamond Plaza, Parkson Plaza and Vincom Center.
6. Vinmart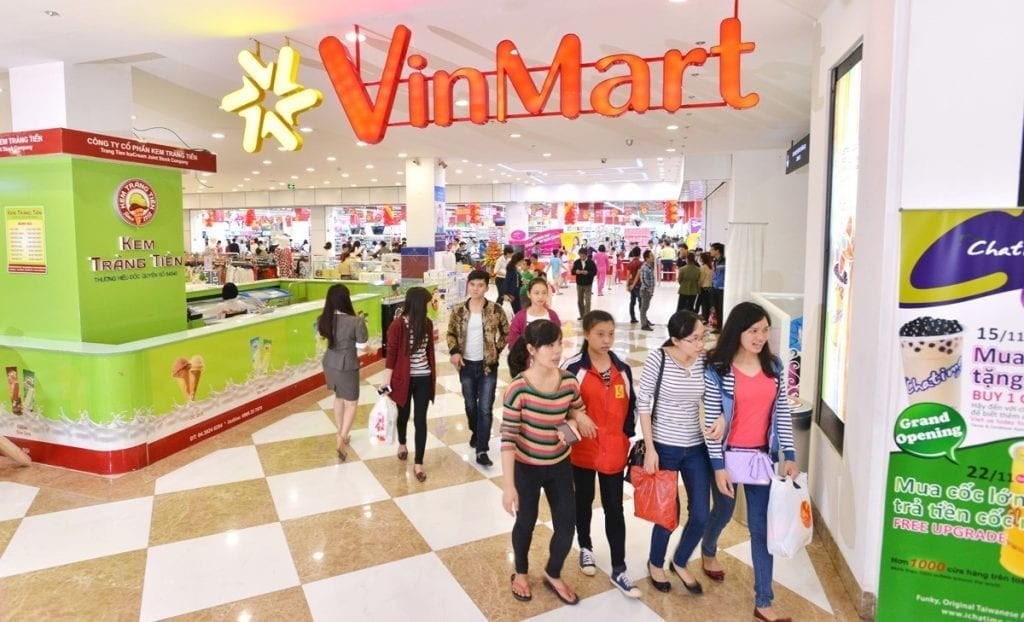 Photo: Retail News Asia
VinMart and VinMart + are two retail chain brands belonging to Vingroup, a leading multidisciplinary economic group in Vietnam and in the region. In the spirit of sustainable and professional development, with the motto "For the quality of life for every home", VinMart & VinMart + system offers consumers a variety of goods and services, and benefits, meeting the shopping needs of customers from low class to high class. Especially, when shopping at VinMart and VinMart + systems, customers also receive many outstanding values through attractive promotions.
With a long-term vision and desire to sustainably develop supermarkets and convenience stores, bring consumers an enjoyable shopping experience with a variety of product options, in the near future, VinMart will open 100 more VinMart supermarkets and 1,000 VinMart + convenience stores.
7. Lanchi Mart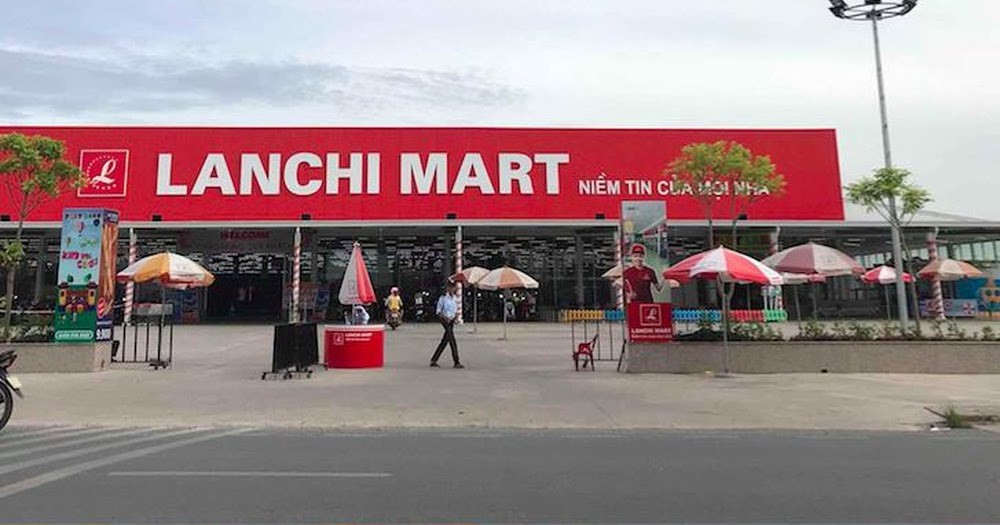 Photo: dichvusieuthi
Lanchi Mart is manages by Lan Chi Company founded in 1995. It starts from a small enterprise supplying the distribution of consumer goods in the western area of Hanoi.
During 25 years of operation, with the valuable experience of serving customers in retail, Lan Chi Mart becomes a professional system and large-scale distribution network in the North of Vietnam.
The system of Lan Chi Mart has many supermarkets in Hanoi, Hai Phong, Quang Ninh, Bac Ninh, Ninh Binh, Hai Duong, Thai Nguyen, … Lan Chi Mart brings professional shopping services, stable prices, attentive services, which supports the people at smaller cities in North Vietnam, which creates hundreds of careers for the locals.
8. Sakura Vietnam
Photo: Vietnamese Private Tours
Sakura International Vietnam Co., Ltd. specializes in supplying domestic products originating from Japan such as consumer goods, baby goods, cosmetic products, some household appliances, electronic equipment, electronics …
Sakura Vietnam has 9 shopping chains in Hanoi. The first one was established in September 2011 with the name of Sakura Baby Shop, which is situated at a stall on the second floor of The Garden Commercial Center, Me Tri, Tu Liem, Hanoi.
The company commits that all products are 100% of Japanese domestic goods. The trust of customers helps Sakura develop stably and live with the life of people in Hanoi.
The market in Vietnam becomes richer, more diverse, and more colorful. These conditions are opportunities and great challenges for retail sales in Vietnam. With the list of famous supermarkets above, Vietnamdrive hopes you have a good plan to go shopping when you travel to Vietnam for your holidays.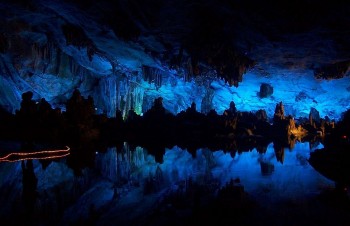 Travel
Caves are the creation of nature, charming any tourists with their mysterious and an air of danger, waiting for humans to explore the deepest secrets inside them. Take a look at these magnificent and beautiful caves around the world that you must visit once in your lifetime.
Viet's Home
According to the AFC official statement, Vietnam striker Nguyen Tien Linh won the AFC International Player of the Week after receiving the most votes out of the remaining nine players.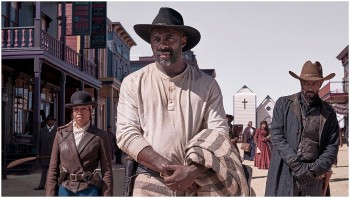 Handbook
November is coming close, and the cold outside makes us want to curl up inside our warm blanket and bing watch our favorite movies or shows. Here is the list of what is coming on Netflix in November, and some of the most expected Netflix originals for you to enjoy.