Who is Lloyd Austin – Biden's pick to lead Pentagon
While Austin's appointment is not necessarily consequential for Biden's China policy, it sends a clear signal within the broader context of the President-elect's assembled foreign policy team.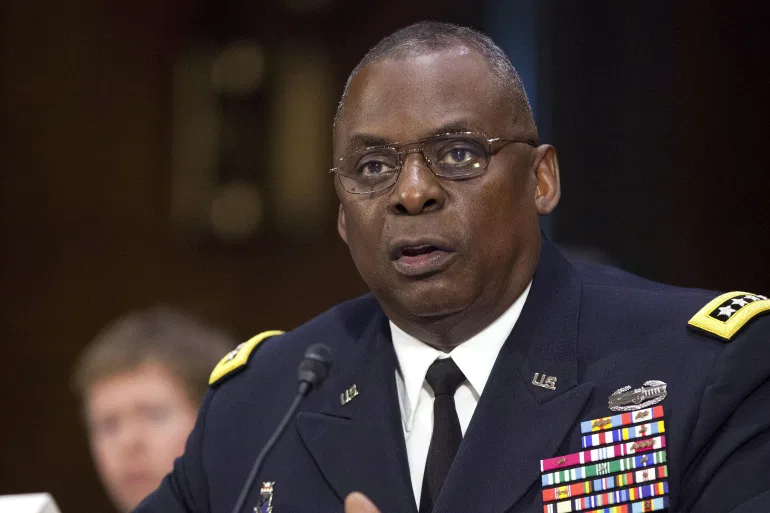 Retired Gen. Lloyd Austin. Photo: AP
Last week, President-elect Joe Biden nominated retired Gen. Lloyd Austin to be secretary of defense. If confirmed by the Senate, Austin would be the first Black American and the third former military officer to run the Defense Department since its establishment in 1947.
A four-star general
A man who achieved the rank of four-star general and succeeded at every turn during his 40-year career, Austin displayed valor and courage over the course of a forty-one-year military career that ended with his retirement in 2016.
As the assistant commander of the 3rd Infantry Division during the early stages of the Iraq War, Austin is widely credited with the Army's successes in Baghdad. Austin's service record during the invasion of Iraq propelled him to the Army's higher echelons; following a flurry of promotions in subsequent years, Austin went on to become the commanding general of all U.S. and coalition forces in Iraq. From there, Austin became vice chief of staff to the Army in 2012 and, eventually, commander of U.S. Central Command in 2013, according to The National Interest.
Austin enjoys a near-unanimous rapport with the military. Michael O'Hanlon, a senior fellow at the Brookings Institution, described him as a "soldier's soldier." "He is popular among many troops that served under his command over the past couple decades, as I can attest from a number of conversations over the years," O'Hanlon said.
U.S. Vice President Joe Biden meets with General Lloyd Austin, the commander of United States Forces Iraq (USF-I) in Baghdad on a surprise visit on November 29, 2011. Photo: AFP
Technically ineligible for the post
Ironically, though, Austin's lengthy military career has created a sticking point in his confirmation process. The law requires a service member to be out of uniform for at least seven years before assuming the civilian role of secretary of defense.
Austin left the Army just over four years ago, making him technically ineligible for the post. Congress would have to waive the waiting period in order to confirm him, something it has only done twice since 1947, most recently in 2017.
Austin's nomination is historic. He would be the first African American to lead the nation's military establishment, a step toward broadening the Pentagon's largely white male leadership ranks, The Conversation said.
Might Austin receive the third waiver?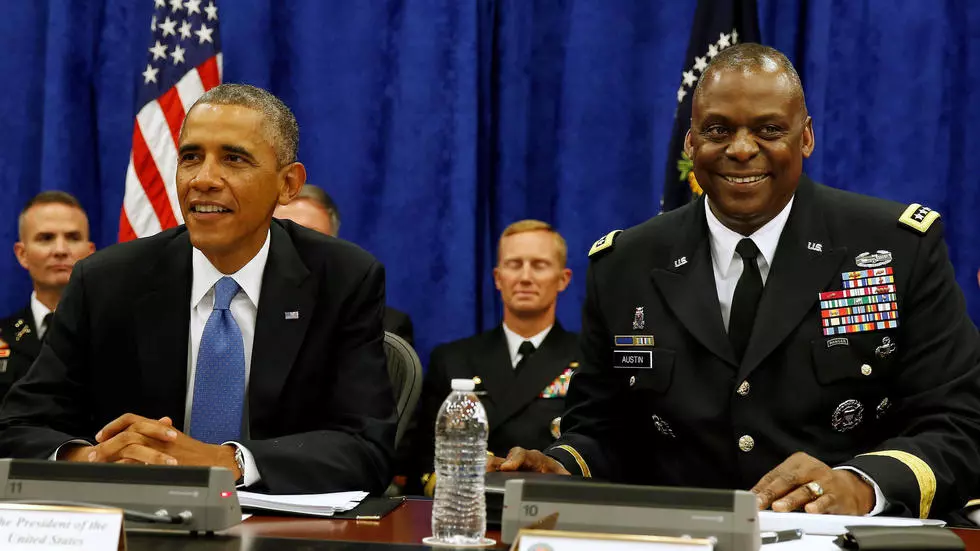 In this file photo, US president Barack Obama sits next to General Lloyd Austin III during a briefing from top military leaders at MacDill Air Force Base in Tampa, Florida on September 17, 2014. Photo: Reuters
Retired Gen. George Marshall received the first waiver of the waiting period in 1950. Marshall made a candid observation during the nomination process: "As a second lieutenant, I thought we would never get anywhere in the Army unless a soldier was secretary of war. As I grew a little older and served through some of our military history … I came to the fixed conclusion that he should never be a soldier."
Considered uniquely qualified to oversee U.S. forces in the Korean War, Marshall was eventually confirmed on the condition his tenure would be limited to one year. Congress stated at the time that "no additional appointments of military men to that office shall be approved."
It took nearly 70 years for the second waiver to be granted, to retired Gen. James Mattis in 2017. His confirmation faced early resistance from senators, especially Democrats, because Mattis had left the Marines just four years earlier. In reluctantly voting to confirm Mattis, Sen. Jack Reed, a Rhode Island Democrat on the Senate Armed Services Committee, cautioned that "waiving the law should happen no more than once a generation."
Austin is now poised to become the third recipient of a waiver. He professes to have acquired a civilian mindset since leaving active duty, but the rationale underlying the waiting period remains as vital and relevant as ever.
"An Army is not a deliberative body," the Supreme Court once observed.
Giving career members of this body the authority to decide how America's blood and treasure are spent should be the exception, not the rule.
Opposition to Austin's nomination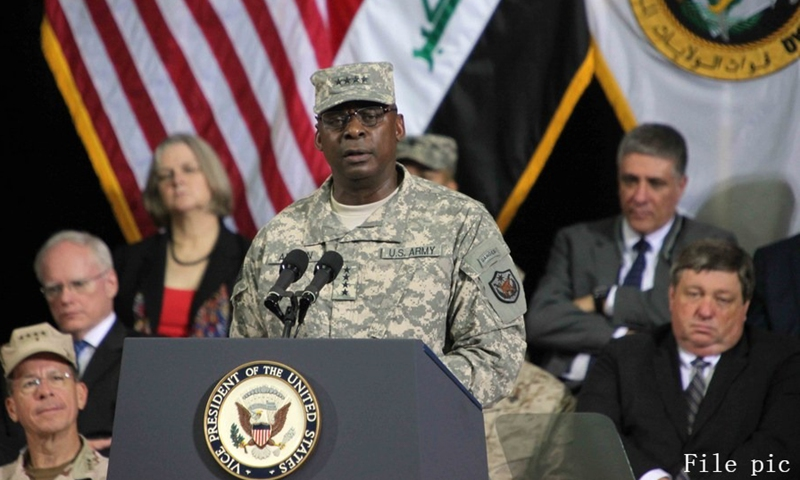 New Commander of U.S. Forces in Iraq Lieutenant General Lloyd Austin speaks during a change of command ceremony at Camp Victory U.S. military base in Baghdad, Iraq, Sept. 1, 2010. Photo: Xinhua
The architects of the 1947 National Security Act, the law that formed the Department of Defense, created the secretary of defense position because they wanted to ensure strict civilian control over the military after the dizzying experience fighting the Axis powers during World War II. In particular, one now long-forgotten crisis illuminated why the armed forces needed strong civilian leaders and inspired Congress to insist upon a gap between military service and assuming the secretary of defense position absent a congressionally granted waiver, according to Newsday.
According to the National Interest, opposition to Austin's nomination runs across two broad themes. The first is the argument, fielded by a wide substratum of American political discourse, that the appointment of a retired general undermines the principle of civilian control over the military. There are those who say that Austin's recent military service is inherently disqualifying. Federal law prohibits military officers from serving as the defense secretary within seven years of their retirement, which means that Austin can only accept the nomination with a waiver provided by congressional vote. There have only been two such cases in the postwar period—one for Army Gen. George Marshall, and the other for retired Marine Gen. James Mattis. It remains to be seen how the 151 House Democrats who voted against Mattis's waiver will navigate Austin's upcoming confirmation process.
The second objection reflects the concern that Austin's range of policy experience is too regionally-restrictive. "Biden is rightfully focused on [Austin's] strength in logistics that pertains to combating the pandemic," Bonnie Glaser, a senior adviser for Asia and the director of the China Power Project for The Center for Strategic and International Studies, told the Japan Times. "But experience in counterinsurgency efforts in the Middle East is not what we need to deal with threats in the Indo-Pacific."
Austin's proponents in Washington have pushed back against the suggestion that ongoing U.S. military operations in Asia could be hamstrung by Austin's nomination: "I can assure you that neither free navigation in the South China Sea nor the security of the Third Island Chain will be imperiled merely because a former Army general is defense secretary," Earl Matthews wrote in an op-ed published by the Washington Post.
"The idea that the defense secretary must be an expert on China, or an Asia policy wonk is without merit . . . he or she must be a generalist with a broad strategic vision ready to meet any global challenge," added Matthews, who served as principal deputy general counsel of the U.S. Army and as deputy assistant to President Donald Trump, in addition to being a senior director for defense policy and strategy on the National Security Council.
While Austin's appointment is not necessarily consequential for Biden's China policy, it sends a clear signal within the broader context of the President-elect's assembled foreign policy team. It is not in the defense secretary's purview to formulate U.S. grand strategy against peer competitors, but Biden's decision to nominate Austin—especially over Obama-era Undersecretary of Defense Michele Flournoy, a long-speculated potential nominee with an established record of taking a hard line on China—poses yet another affirmation that the coming Biden administration is unlikely to pursue measures that might intensify U.S.-China military competition in the Asia-Pacific region. /.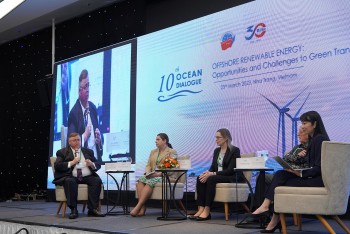 Seas and islands
Vietnam and other coastal countries in the region have both opportunities and challenges in developing offshore renewable energy, according to the 10th Ocean Dialogue held in Khanh Hoa province on Thursday.