US Presidential Election: Wisconsin recount confirms Biden's win over Trump
President-elect Joe Biden's victory over President Donald Trump in Wisconsin was reaffirmed on Sunday after a recount was completed in one of the state's largest counties.
Dane County was the second and last county to finish its recount, reporting a 45-vote gain for Trump. Milwaukee County, the state's other big and overwhelmingly liberal county targeted in a recount that Trump paid $3 million for, reported its results Friday, a 132-vote gain for Biden, AP News reported.
Taken together, the two counties barely budged Biden's winning margin of about 20,600 votes, giving the winner a net gain of 87 votes.
"As we have said, the recount only served to reaffirm Joe Biden's victory in Wisconsin," Danielle Melfi, who led Biden's campaign in Wisconsin, said in a statement to The Associated Press.
Trump campaign spokeswoman Jenna Ellis said in a statement that the Wisconsin recounts have "revealed serious issues" about whether the ballots were legal, but she offered no specific details to validate her claim.
"As we have said from the very beginning, we want every legal vote, and only legal votes to be counted, and we will continue to uphold our promise to the American people to fight for a free and fair election," Ellis said.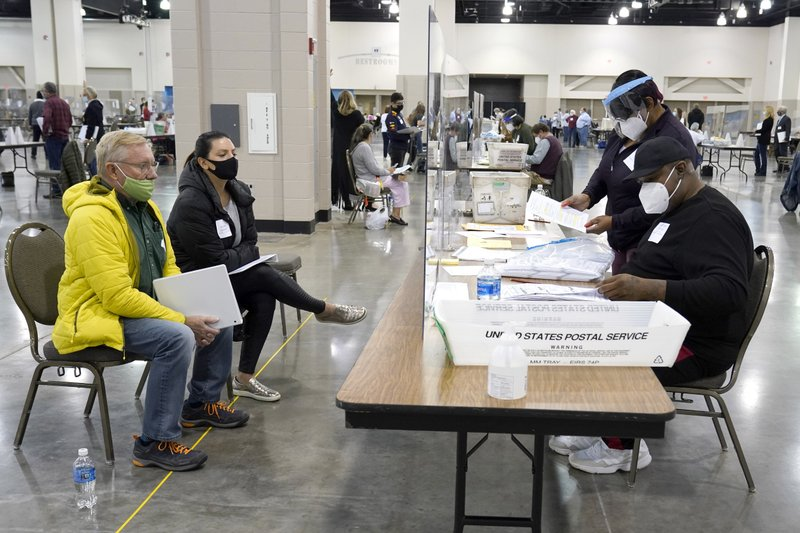 Election workers, right, verify ballots as recount observers, left, watch during a Milwaukee hand recount of presidential votes at the Wisconsin Center, Friday, Nov. 20, 2020, in Milwaukee Photo: AP/Nam Y. Huh.
With no precedent for overturning a result as large as Biden's, Trump was widely expected to head to court once the recount was finished. His campaign challenged thousands of absentee ballots during the recount, and even before it was complete, Trump tweeted that he would sue.
"The Wisconsin recount is not about finding mistakes in the count, it is about finding people who have voted illegally, and that case will be brought after the recount is over, on Monday or Tuesday," Trump tweeted on Saturday. "We have found many illegal votes. Stay tuned!"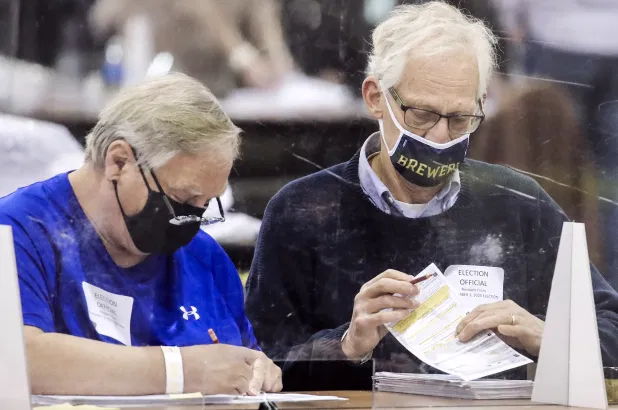 Election officials review ballots during the second day of the recount of ballots. Photo: New York Post
Dane County saw no major issues during the recount, and there are no outstanding issues to address, according to County Clerk Scott McDonell, who is also a member of the Board of Canvassers, CNN reported.
While announcing the results on Sunday, McDonell said it was clear from the recount that there was no voter fraud and questioned why the campaign only asked for a recount in two of Wisconsin's counties if they believed the issue was widespread in the state.
He also tweeted a photo on Sunday of a summary of the recount with the caption "3-0 certification of Dane County recount."
Trump reportedly wants to hold a 2024 campaign event during Biden's inauguration
Donald Trump is reportedly considering hosting a campaign event for a 2024 presidential bid to take place on Joe Biden's Inauguration Day.
The Daily Beast, citing sources familiar with conversations about a possible 2024 run, reported that Trump is strategizing ways to remain relevant even after he steps down from the presidency. The conversations revolve around launching a run for president again in four years after Biden's first term will have neared an end.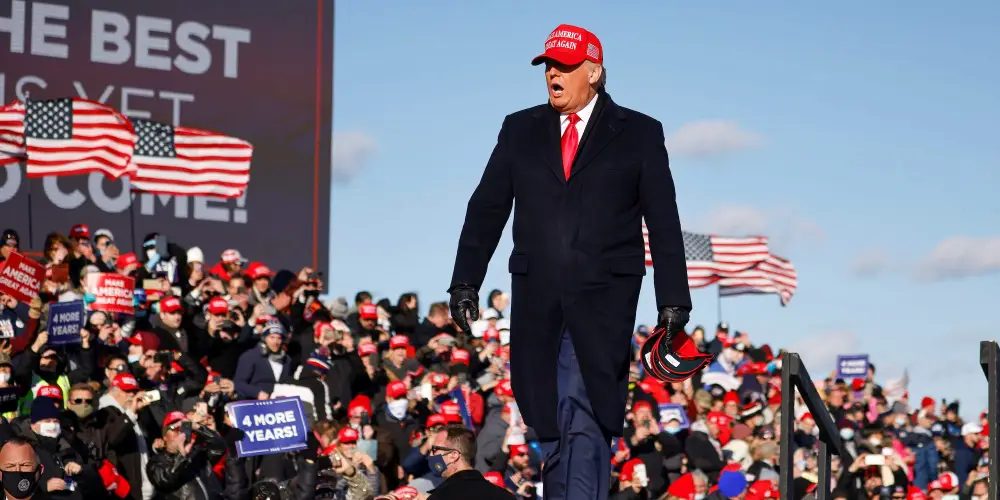 President Donald Trump holding a campaign rally at Wilkes-Barre Scranton International Airport in Avoca, Pennsylvania, on November 2. Photo: Carlos Barria/Reuters.
It would be an "unprecedented" decision to host a campaign event on the day of Biden's inauguration, according to Carl Tobias, University of Richmond law professor.
"No one who has lost a race for President has ever announced the intent to run 4 years later on the day that the victor is sworn in," Tobias told Business Insider in an emailed statement.
Earlier this month, Trump had floated the possibility of a 2024 run, telling aides he might announce his candidacy as soon as the end of December.
The discussions are emblematic of Trump's efforts to continue to derail Biden's presidency.