Which Trump's policies Biden will change?
When taking office as US next president on January 20, Joe Biden is expected to quickly undo many of Donald Trump's policies. However, Trump's "America First" trade agenda seems to be safe for now.
When Joe Biden is inaugurated as America's next president on Jan. 20, he is expected to take quick action to reverse many of Donald Trump's policies. The incoming administration has spent months laying the legal groundwork for a flurry of swift, bold executive actions on issues like climate policy, immigration, transgender rights, and nuclear weapons. Conspicuously absent from this list, however, is trade, according to World Politics Review.
Biden could undo many of the Trump administration's most significant trade moves, like its tariffs on imports from both China and U.S. allies, with the stroke of a pen. But Trump's "America First" trade agenda appears to be safe for now. Biden, it seems, will instead accept and continue to adhere to Trump's trade legacy due to cold political calculation and a shift in ideology within the Democratic Party on free trade.
Unlike other policy areas where progressives in the Democratic Party are pushing him to dismantle every last vestige of the Trump era, Biden is not facing pressure from his left flank to revert to the liberal status quo on trade. Indeed, many progressives are quite skeptical of free trade. At the same time, unwinding Trump's trade agenda—on China in particular—would open Biden up to criticism in the Rust Belt states that he narrowly won in 2020, harming his brand as a fighter for "working people" and jeopardizing the fragile Democratic coalition that just swept him into the White House.
The acquiescence to Trump's trade protectionism also reflects an internal change in the way many Democrats are now thinking about global commerce. After a roughly three-decade commitment to liberal economic ideas highlighting the benefits of free trade, more of the party is increasingly skeptical of it, as concerns about rising income inequality and growing corporate power are ascendant. While there is some room for Biden to maneuver when it comes to tariffs and other measures, the apparent durability of a Trumpian approach to trade signals that a new era in U.S. trade policy has not only arrived, it plans to stay awhile.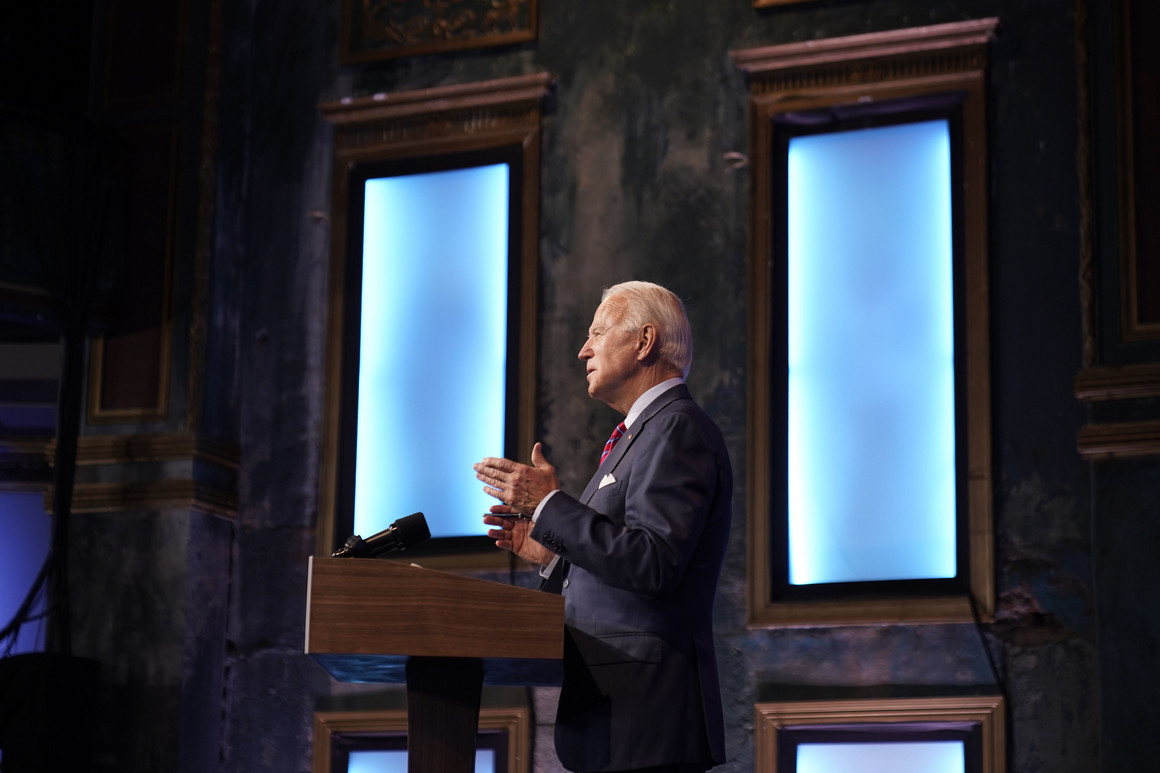 When Joe Biden is inaugurated as America's next president on Jan. 20, he is expected to take quick action to reverse many of Donald Trump's policies Photo: AP
Despite Trump's own personal record of upending norms and breaking with his party, on most matters of policy, his administration has in fact been more typically Republican. In keeping with George W. Bush, the previous Republican president, Trump cut taxes and regulations, deprioritized climate change, and adopted a more unilateral approach to foreign policy. Even Trump's hard-line immigration stance is not as unique as it might seem. In the not-so-distant past, presidents of both parties built border fencing and deported undocumented immigrants en masse, though they accomplished these things far more discretely than Trump.
On trade, however, Trump charted a new course, consisting of three main pillars. First, he halted U.S. participation in new trade deals, like the Trans-Pacific Partnership, the huge Pacific Rim trade pact that went ahead without the U.S. as the CPTPP. Second, Trump blocked key judicial appointments to the World Trade Organization, in order to cripple its capacity to make rulings on international trade disputes involving the U.S. Third, Trump unilaterally imposed tariffs on key American trading partners using executive powers that had seen little to no use for decades, World Politics Review said.
Despite having the power to undercut each of these Trumpian pillars, Biden seems to have no appetite for that. The president-elect has already indicated that China tariffs are not going anywhere. And although Biden has promised to rebuild American alliances, he has yet to pledge any rollback of Trump's steel and aluminum tariffs, justified on spurious "national security" grounds that adversely affected U.S. allies in Canada and Europe. Nor has he promised to revive the WTO role as a global trade arbiter. As for pursuing new trade deals, Biden has simply declared that this is not a priority.
What is holding Biden back? Politically, scaling back Trump's trade policies presents little in the way of political gains, yet carries some potential costs, unlike other issues. Reversing Trump's agenda on immigration and climate change, for example, presents Biden with the obvious political benefits of shoring up support among the left-wing of his party. After progressives came out in droves to vote for Biden's centrist ticket with Kamala Harris, they now want the incoming administration to deliver on the issues they care about most. Trade, however, is not among them.
Indeed, in some corners of the party's progressive wing, there is sympathy toward Trump's trade policies, if not his methods. Indeed, it was Vermont Sen. Bernie Sanders' claims that "disastrous trade deals" harmed the American worker and enriched corporations that ultimately pushed Hillary Clinton to abandon her support for the TPP in her campaign against Trump in 2016.
As for mass politics, a large majority of Americans today still believe that free trade is good. This may suggest that rolling back Trump's trade policies would be the right political move. Yet that assumption is misguided. The benefits of free trade, like lower consumer prices, tend to be diffuse, while the costs, in terms of wage cuts and job losses, tend to be concentrated. Opponents of free trade also tend to be louder and more politically motivated, especially when the economic protections they now enjoy are threatened.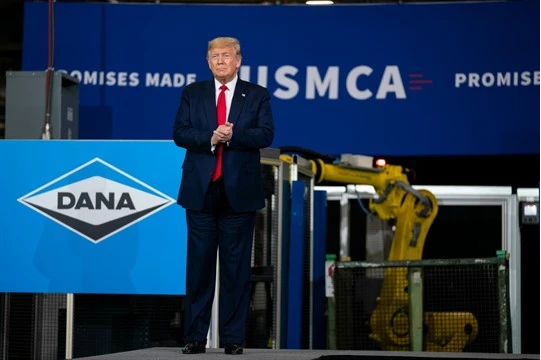 President Trump speaks at Dana Incorporated about the U.S.-Mexico-Canada Agreement on trade, in Warren, Mich., Jan. 30, 2020 Photo: AP/ Evan Vucci
Trump's steel and aluminum tariffs were praised in Michigan, Wisconsin, and Pennsylvania—the so-called Blue Wall states of the Midwest that Trump narrowly won four years ago, and which narrowly swung back to the Democrats in 2020. Repealing these measures would almost certainly harm Biden's political standing there by stoking opposition from industry and sullying his reputation as a fighter for working people.
As for China, there is little appetite in either party for policies that appear to benefit Beijing. Given American public opinion, this should not come as a surprise. Negative attitudes toward China are now at historic highs. Unless Biden is able to secure major concessions from Beijing in return for lifting tariffs, which eluded the Trump administration, any winding down of the tariffs would quickly be cast by Biden's opponents as a giveaway to America's top economic competitor and geopolitical rival.
Ideology is another reason Biden will not fully dismantle Trump's trade agenda. The top economic policy voices among Democrats are just not that into free trade anymore, preferring instead to focus on other economic challenges. Even past free trade cheerleaders in Biden's orbit, like former Treasury Secretary Lawrence Summers, are now arguing that the social safety net needs to be strengthened before any more big trade deals are considered. Other figures, like Jeffrey Frankel, a Harvard economist who was on President Bill Clinton's Council of Economic Advisers, are now trying to distance themselves from the "globalist" label as it relates to trade, admitting they have been "chastened" by recent events.
Biden's pick of Janet Yellen for Treasury Secretary, the most important economic post in his administration, is symbolic of this shift. Her reputation as a champion of workers' interests, and her willingness to identify rising inequality as a core problem in the American economy, further suggests that free trade will be on Biden's back burner.
A popular saying in American politics today is that "elections have consequences." And while that will certainly be true for most issues when Biden takes the reins, trade policy isn't one of them.
It will take time for Biden to undo Trump's immigration policies
A few policies can be changed on Day One. But many can only be unwound through a lengthy regulatory process, months of court battles, and legislative movement, said Politico.
President-elect Joe Biden has vowed to immediately reverse the Trump administration's restrictive immigration policies. It could take years to deliver on the promise.
Yes, Biden will be able to rescind some policies through the stroke of a pen on Day 1. But scores of others face massive hurdles, according to a dozen people on both sides of the issue. A lengthy, cumbersome regulatory process will draw out rule changes. Months of legal challenges could imperil executive orders. A recalcitrant Congress is unlikely to swiftly change laws. And a divided public and shifting border situation could create political difficulties.
Trump has made more than 400 alterations to immigration policy in the last four years, some since Election Day, according to the Migration Policy Institute, a think tank with staffers across the political spectrum that provides data and analysis on immigration policy. Together, the moves have reshaped virtually every part of the U.S. immigration system through executive action, policy guidance, and regulatory change.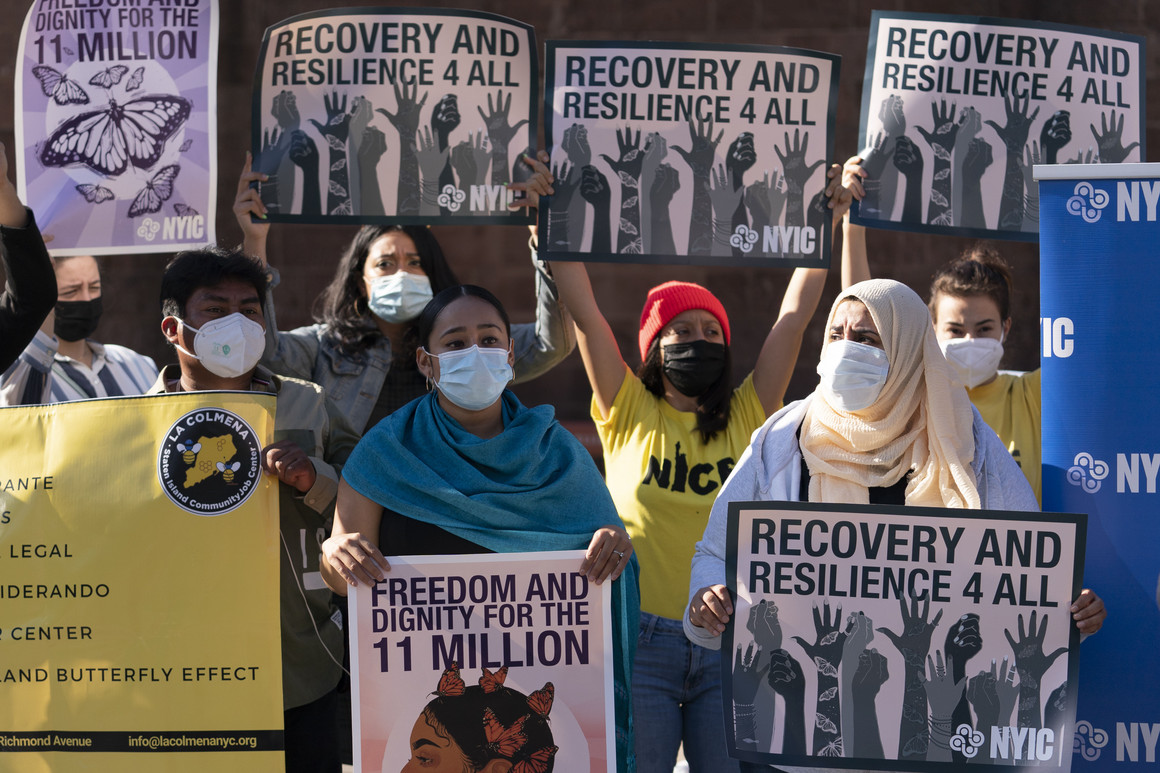 Demonstrators with the New York Immigration Coalition rally asking President-elect Joe Biden to prioritize immigration reform in New York. Photo: AP /Mark Lennihan
The bureaucratic realities reflect the difficulties Biden will have fulfilling his lofty pledges to erase the central pillars of Trump's legacy. In addition to immigration, Biden has pledged to reenter global agreements and institutions Trump abandoned, defend and expand Obamacare and overhaul Trump's approach to the coronavirus pandemic. But immigration stands out as one of the most heated and complicated areas Biden will encounter in his campaign to unwind four years of Trump.
"The majority of the Trump administration immigration reforms will be difficult to address immediately either because of legal rule-making barriers, practical realities on the ground or a lack of bandwidth given how many priorities the Biden administration has in contrast to the singular focus on immigration the Trump immigration had," said Leon Fresco, an immigration attorney who worked in the Obama administration and sits on a Department of Homeland Security advisory board.
That won't stop Biden from trying. According to a person familiar with the plans, the incoming president plans to hire a high-ranking official at the Justice Department who will focus specifically on dismantling Trump's immigration policies. The incoming administration could argue that any policies created under acting Homeland Security Secretary Chad Wolf should be tossed out after a federal judge concluded last month that he was not lawfully serving since he lacked Senate confirmation.
"Reversing everything President Trump did to secure our borders, curb asylum abuse and protect American workers isn't only bad policymaking that will trigger a crisis, it's a political plank walk," said RJ Hauman, government relations director at the Federation for American Immigration Reform, which favors immigration restrictions. "We hope that commonsense and the weight of responsibility for a nation reeling from a pandemic will alter Biden's radical immigration plans once he enters the Oval Office."