U.S Presidential Election: Trump and 17 states partake in Texas election lawsuit against 4 swing states
President Donald Trump and 17 U.S. states threw their support behind a long-shot lawsuit by Texas seeking to overturn his election loss by asking the U.S. Supreme Court to throw out the voting results in four states.
Missouri led a group of 17 states that Wednesday afternoon filed a brief with the Supreme Court supporting the Texas lawsuit aimed at delaying the appointment of presidential electors from Georgia, Pennsylvania, Michigan, and Wisconsin, according to Fox News.
The states that joined the Wednesday brief are Missouri, Alabama, Arkansas, Florida, Indiana, Kansas, Louisiana, Mississippi, Montana, Nebraska, North Dakota, Oklahoma, South Carolina, South Dakota, Tennessee, Utah, and West Virginia.
They argue that they have an interest in the case because "the unconstitutional administration of elections" in some states dilutes votes in their own states.
"When non-legislative actors in other States encroach on the authority of the 'Legislature thereof' in that State to administer a Presidential election, they threaten the liberty, not just of their own citizens, but of every citizen of the United States who casts a lawful ballot in that election—including the citizens of amici States," the Wednesday brief says.
It continues: "All the unconstitutional changes to election procedures identified in the Bill of Complaint have two common features: (1) They abrogated statutory safeguards against fraud that responsible observers have long recommended for voting by mail, and (2) they did so in a way that predictably conferred a partisan advantage on one candidate in the Presidential election."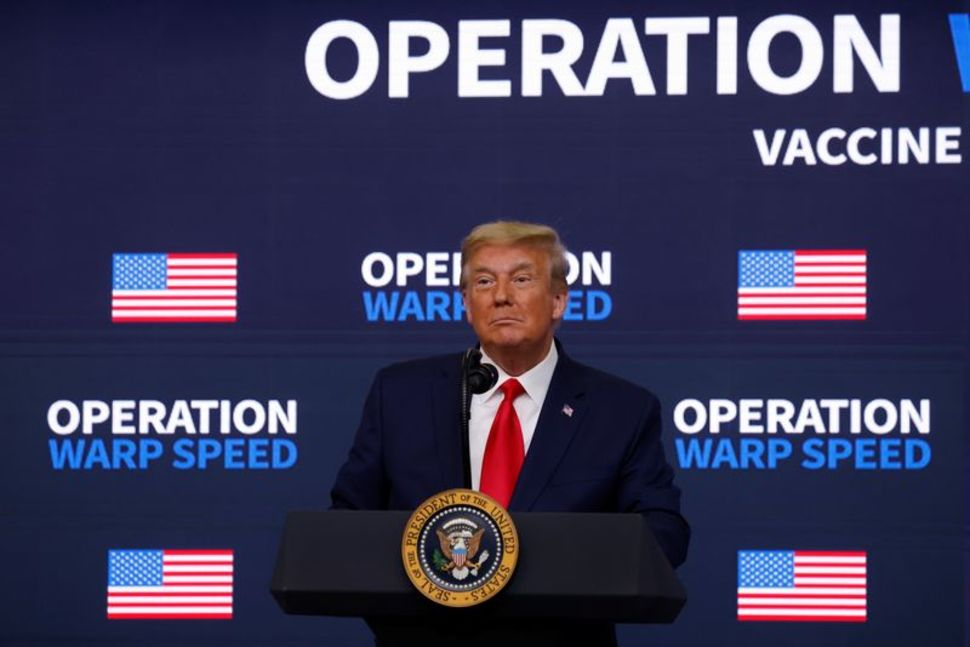 President Donald Trump delivers remarks at an Operation Warp Speed Vaccine Summit at the White House in Washington, U.S., December 8, 2020. Photo: Reuters
Donald Trump's campaign also asked to join a Texas lawsuit.
While presenting no evidence of fraud, the campaign cited the fact that Trump won 12 million more votes than 2016 and a high percentage of non-white voters in his brief, along with the fact that he won both Florida and Ohio. "These things just don't normally happen, and a large percentage of the American people know that something is deeply amiss," according to the filing Wednesday. Trump must get permission from the Supreme Court to be allowed to intervene in the case, Bloomberg reported.
Trump has described this suit as "the big one." He also noted Wednesday that his campaign wasn't part of a separate case, brought by a Pennsylvania congressman that the Supreme Court rebuffed on Tuesday -- the first time the high court has weighed in on Republican litigation to try to overturn the election outcome.
"We will be INTERVENING in the Texas (plus many other states) case. This is the big one. Our Country needs a victory!" he wrote.
Texas Attorney General Ken Paxton filed a last-ditch lawsuit in the Supreme Court against four key states won by President-elect Joe Biden, alleging they unlawfully enacted changes to their voting laws that led to election irregularities and skewed the results of the presidential election, according to CBS News.

Paxton, who is facing accusations of bribery and abuse of office, is asking the Supreme Court to extend the December 14 deadline for the states' certification of presidential electors to allow for investigations into the alleged irregularities. He also wants the court to block the use of "unlawful election results without review and ratification by" the states' legislatures.

Paxton filed his suit against Wisconsin, Pennsylvania, Georgia, and Michigan, all of which have certified their election results and formalized Mr. Biden's victory over President Trump. Mr. Biden was projected the winner of the presidential election on November 7 and has begun the transition process, but the president refuses to concede.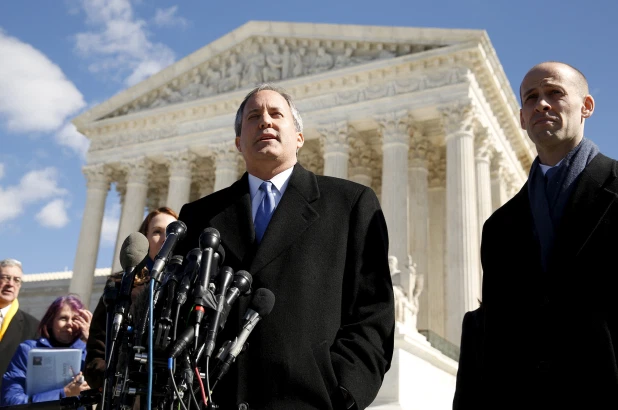 Texas Attorney General Ken Paxton (left). Photo: NYPost
In his challenge to election results in the four battleground states, Paxton claims government officials used the coronavirus pandemic to alter their election rules, "weakening ballot integrity." He also alleges they "flooded" their states with ballots to be returned by mail or in drop boxes while loosening signature verification and witness requirements. As a result of these efforts, Paxton claims the election results are "illegitimate."
The Texas legal action is an extraordinary effort to essentially overturn the result of the presidential election, which President-elect Biden won because of key victories by tens of thousands of voters in the states Texas is suing. It follows numerous losses by President Trump's legal teams and his allies in lower courts as claim after claim of widespread voter fraud that may have affected the result of the election has gone unsubstantiated, Fox News added.
Texas' suit is unique in that it seeks to take advantage of the Supreme Court's rarely used original jurisdiction to bypass the lower courts and put the issue directly in front of the justices.
Responses from sued battleground states
The attorneys general of Michigan and Wisconsin chided the lawsuit as an unserious effort that is without merit.
"The motion filed by the Texas Attorney General is a publicity stunt, not a serious legal pleading," Michigan Attorney General Dana Nessel said in a statement. "The erosion of confidence in our democratic system isn't attributable to the good people of Michigan, Wisconsin, Georgia, or Pennsylvania but rather to partisan officials, like Mr. Paxton, who place loyalty to a person over loyalty to their country."
Nessel noted the issues pertaining to Michigan raised in Paxton's lawsuit have been both litigated and rejected by state and federal courts.
"Mr. Paxton's actions are beneath the dignity of the office of Attorney General and the people of the great state of Texas," she said.
Wisconsin Attorney Josh Kaul said the state Justice Department intends to "defend against this attack on our democracy."
"I feel sorry for Texans that their tax dollars are being wasted on such a genuinely embarrassing lawsuit," he said in a statement. "Texas is as likely to change the outcome of the Ice Bowl as it is to overturn the will of Wisconsin voters in the 2020 presidential election."
Trump, Republicans pin hopes on Texas lawsuit, but legal experts say it's a long shot
Trump personally asked U.S. Sen. Ted Cruz, R-Texas, to argue the case before the court if the justices agree to hear it, The New York Times first reported Wednesday. Cruz — who argued several cases at the high court as Texas solicitor general — agreed, his office confirmed.
Although the Supreme Court has a six-member conservative majority, including three justices appointed by Trump, it has so far shown no interest in siding with him in the election cases his campaign has lobbed. On Tuesday, it decisively rejected Pennsylvania Republicans' effort to overturn Biden's victory there in a one-sentence order with no dissents, said Texastribune.
Legal experts and court watchers expect a similar outcome in the Texas case. The court has asked for a response from the four battleground states Texas is suing, setting a Thursday deadline, but has given no indication about how it will decide the matter.
"This is the Hail Mary with time running out the clock kind of play here," said David Coale, an appellate attorney in Dallas. "This is really the last little window to sort of sneak in there and try to get a court involved."
States have a special legal ability to take cases directly to the Supreme Court, though such cases are rare, and more typically involve boundary disputes like water rights. If the high court accepts Texas' argument that it can sue the four battlegrounds in this case, Coale said, "then any state can sue any other state about just about anything."
Even if the court gets past tricky procedural issues, Texas' case faces an uphill battle.
Experts, state election officials, and U.S. Attorney General Bill Barr have all said there is no evidence of voter fraud on a scale that could have affected the outcome of the election.
"Texas alleges that there are 80,000 forged signatures on absentee ballots in Georgia, but they don't bring forward a single person who this happened to. That's because it didn't happen," said Jordan Fuchs, Georgia's deputy secretary of state.
Still, the long-shot odds of the Texas case have not kept it from sparking hope among Republicans in Texas and across the country.
Republicans Block Inaugural Resolution Recognizing Biden's Win
Republicans on the congressional panel planning inauguration ceremonies blocked a resolution stating that they were preparing for the swearing-in of President-elect Joe Biden, as President Donald Trump continues his bitter battle over the election result, Bloomberg reported.
Senate Majority Leader Mitch McConnell, Senator Roy Blunt, and House Republican leader Kevin McCarthy voted against the resolution in the six-member committee, which is evenly split between the two parties, infuriating the panel's Democratic members.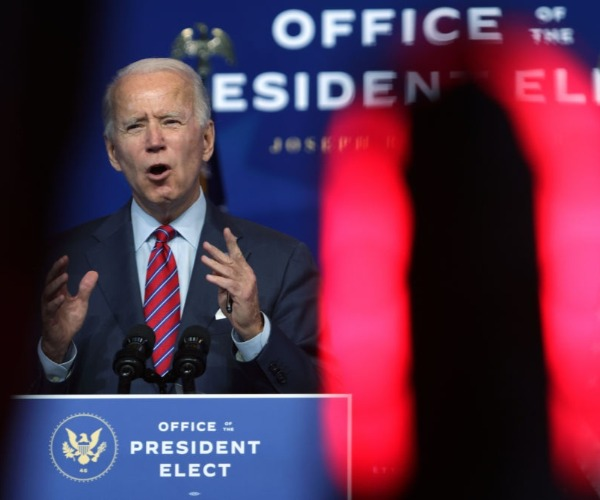 President-Elected Joe Biden Photo: Bloomberg
"The extent to which Republicans are refusing to accept the outcome of the election and recognize Joe Biden and Kamala Harris as our next president and vice president is astounding," House Majority Leader Steny Hoyer of Maryland said. House Speaker Nancy Pelosi and Senator Amy Klobuchar of Minnesota are the committee's other Democrats.
The Joint Congressional Committee on Inauguration Ceremonies plans the official ceremonies for the swearing-in of the president every four years. This year, Trump is refusing to concede his loss in the November election, claiming without evidence that the vote was rigged.
Blunt, the committee's chairman, dismissed Hoyer's complaint, saying, "It is not the job of the Joint Congressional Committee on Inaugural Ceremonies to get ahead of the electoral process and decide who we are inaugurating."