Who is Pete Buttigieg - US former mayor that Biden considering for China ambassador?
U.S. President-elect Joe Biden is considering appointing former South Bend, Indiana, Mayor Pete Buttigieg to a high-level ambassadorship, possibly to China, as a boost to the younger Democrat's future presidential hopes.
Pete Buttigieg - Youngest and first official gay candidate to run for presidency. (Photo: SCMP)
Pete Buttigieg - Youngest and first official gay candidate to run for presidency
Educated at Harvard and then Oxford on a Rhodes Scholarship, Pete Buttigieg, born 1982, served as an intelligence officer in the Navy Reserve and worked as a McKinsey consultant. Mr. Buttigieg's first entry into national politics came in early 2017 when he ran unsuccessfully for the chairmanship of the Democratic National Committee. Until launching his presidential campaign in January 2019, Mr. Buttigieg was a relatively obscure mayor of an Indiana city of just over 100,000 people.
In 2018 he married Chasten Glezman, a schoolteacher from Michigan. Chasten Buttigieg has since become a prolific fund-raiser in his own right, stumping for his husband at events across the country. He's the youngest candidate running, he's the first openly gay candidate to mount a major campaign for the presidency, and he's aiming to be the first mayor to go directly from city hall to the White House, according to NY Times.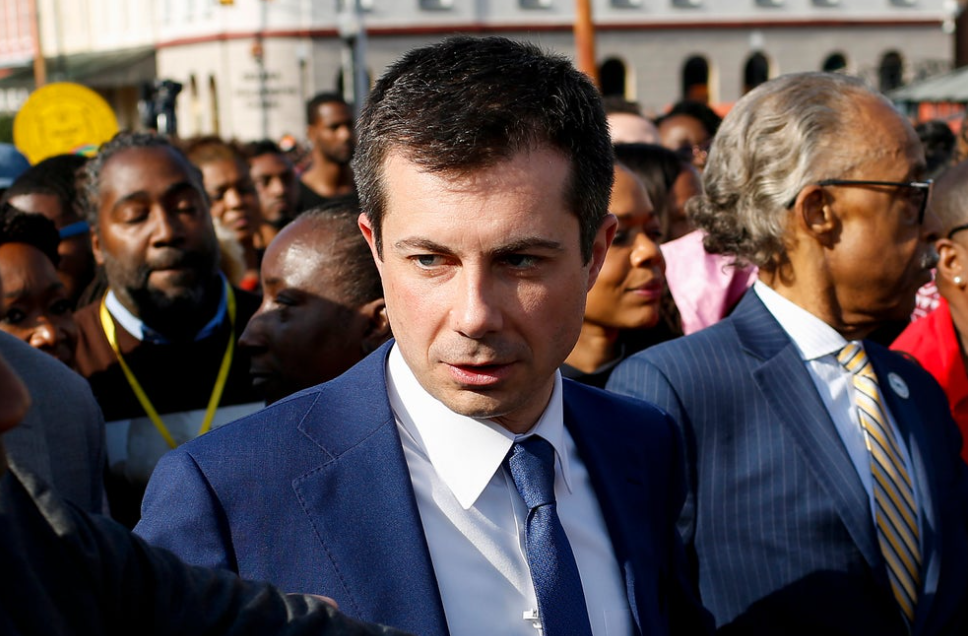 Pete Buttigieg could be set for a high profile position in Joe Biden's cabinet. (Photo: Getty)
Dropping out of presidential run, leaving doors to Biden
In March, Buttigieg dropped out of the race to be the party's presidential nominee for the 2020 US election. The 38-year-old former mayor of South Bend, Indiana, is considered to have played a key role in Biden's presidential nomination. He won the most delegates in the Iowa caucuses before dropping out of the presidential race to consolidate moderates' support around Biden.
After Buttigieg dropped out, Biden said in a rally speech: "I don't think I've ever done this before, but [he] reminds me of my son, Beau. I know that may not mean much to most people, but to me, it's the highest compliment I can give any man or woman."
After his presidential bid faltered, Buttigieg became one of Biden's top advocates in the campaign against Trump, putting him in line for a top job in the administration. The former mayor also used his knowledge of Vice President Mike Pence's record as governor of Indiana to help Democrat Kamala Harris in her debate with the incumbent, according to Reuters.
If Buttigieg does go to China, he would be following in the footsteps of former president George HW Bush. (Photo: Reuters)
Choosing Buttigieg for China ambassadorship - Is Biden going tough on China?
Biden promised during his campaign to be tough on China and was critical of Trump's relationship with the country, accusing the president of not effectively standing up to it. Tensions with China marked the Trump presidency and brought about tariffs and a trade war. Diplomatic observers are watching keenly for signs that the Biden administration will move to restore China-US relations, seriously damaged after four years of trade and ideological conflict. The US does not have an ambassador to China after Terry Branstad stepped down in October. As Business Insider's Thomas Colson reported, Biden has been critical of that strategy, and experts have said he's likely to work with Europe to put pressure on China.
If Buttigieg does go to China, he would be following in the footsteps of former president George HW Bush, who was appointed to the liaison office in Beijing by the Ford administration in 1974, before the two countries had established formal diplomatic ties, according to South China Morning Post.
Tang Xiaoyang, deputy director at the Department of International Relations at Tsinghua University, noted that Buttigieg has no prior diplomatic experience in China affairs. "For now the professional diplomats will only maintain the normal operation of Sino-US relations," he said. Some Chinese commenters worrying whether Buttigieg has the necessary experience to put US-China relations on a better footing than they have been in the last year.
Axios reported that many in the Democratic Party think Buttigieg, 38, is likely to run for president again — and that giving him this role would give China the chance to become familiar with a possible future president. Axios also noted that Biden has focused on nominating people of color and women for roles and that it was still possible that Buttigieg would not be nominated for any senior position.