Who is Jill Biden? A Lady of the American sweet love story couple
Dr. Biden will make history as the first FLOTUS with a full-time teaching job. She is still an educator who worked full-time during Joe Biden's career and plans to keep her job after moving into the White House.
Michelle and Barack. Barack and Michelle. The Obamas. For eight years (and still to this day), they were the political power couple that much of America looked toward for strength, encouragement, and light. But another duo that shined just as bright? President-elect Joe Biden, 77, and his wife Dr. Jill Biden, 69.
Jill Tracy Jacobs Biden (née Jacobs, formerly Stevenson; born June 3, 1951) is an American educator who was second lady of the United States from 2009 to 2017. She is married to Joe Biden, the president-elect of the United States who is set to be inaugurated on January 20, 2021, making her First Lady of the United States.
Dr Jill Tracy Jacobs Biden
Previously, while working as a teacher, she deliberately distanced herself from her famous husband. Some of her students didn't even know she was Joe Biden's wife, calling her only by her preferred name, "Dr. B."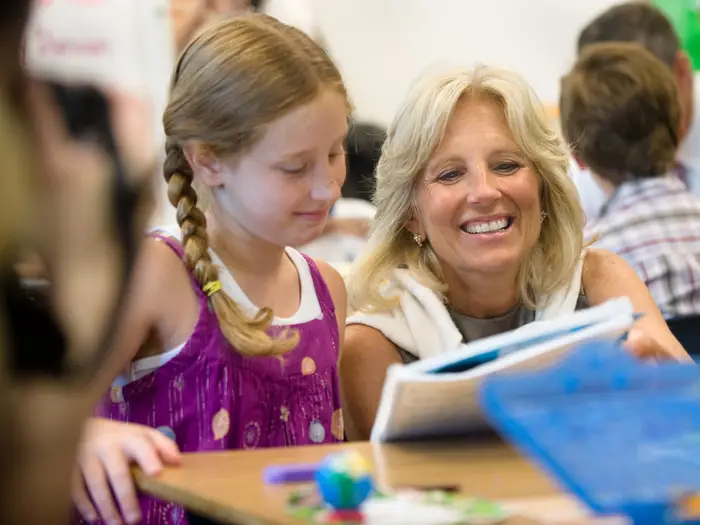 Jill Biden visiting Fort Belvoir Elementary School in Virginia in June 2009. Getty Images. Photo:bussinessinsider
And just after Joe Biden was elected as the 46th president of the United States, his wife Dr. Biden was right by his side to offer her support and belief in her husband's new position.
"He will be a President for all of our families," Dr. Biden tweeted. Along with her sweet message, she shared a photo of herself wearing a mask next to her husband. While President-elect Joe Biden wore a hat reading "We just did," the couple held up a sign presumably from their first time in the White House, reading "Dr. & Vice President Biden Live Here." Except now, Dr. Biden covered up the "Vice," indicating her husband's new-and-improved title.
Like the Obamas, the Bidens have a decades-long relationship that's allowed them to power through and withstand the pressures of Washington and their own personal tragedy. And when you hear their story, it won't be too difficult to understand their connection.
In 1972, Biden lost his first wife and college sweetheart, Neilia, and 1-year-old daughter, Naomi, in a car accident, leaving him to raise their two sons, Beau and Hunter, alone. But three years later, he found Jill (née Jacobs), then a co-ed at the University of Delaware.
"She gave me back my life," Biden said in his 2007 memoir Promises to Keep. "She made me start to think my family might be whole again."
Though Jill is a passionate supporter of her husband, she is also fiercely independent.
She worked as an English teacher throughout Joe's tenure as Vice President from 2009 to 2017, becoming the first known Second Lady to work full time while serving alongside her husband.
At a campaign event in Iowa last November, Joe went off script and nibbled on his wife's finger while she was speaking at an event. She seemed to laugh it off, according to the businessinsider.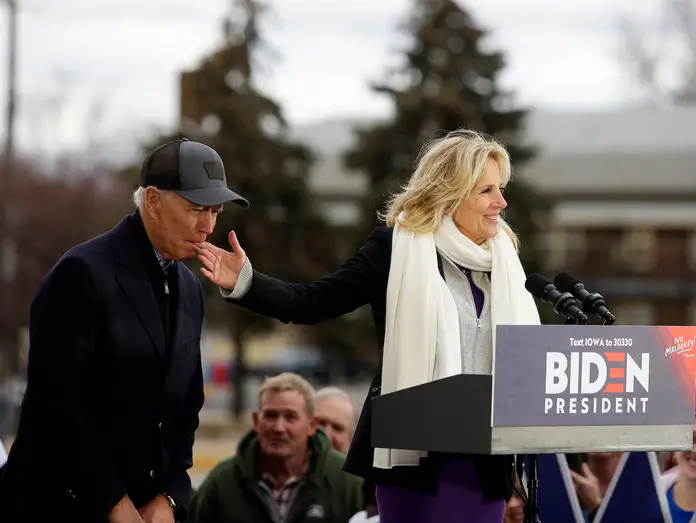 Democratic presidential candidate, former Vice President Joe Biden bites the finger of his wife Jill Biden as she introduces him during a campaign event on November 30, 2019 in Council Bluffs, Iowa. Getty Images
She also jumped up to protect her husband from a protester who stormed the stage at his Super Tuesday victory speech in Los Angeles in March. The moment quickly became a meme, and she was hailed "a hero" online.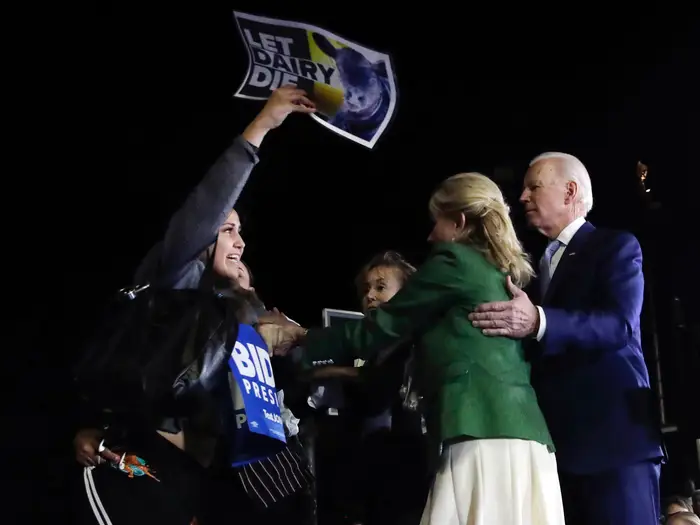 Jill Biden leaping up to protect her husband during his speech in Los Angeles, California, on March 3. Photo:AP
Throughout the race, the Bidens demonstrated a united front, and Joe looked to his wife to keep him going. "The happiest times I've seen him have been when Jill is doing something," Sen. Kaufmann said.
Jill became First Lady-elect on November 7 after Joe won the 2020 presidential race, beating President Donald Trump. She was by his side when he gave his victory speech in their home state Delaware.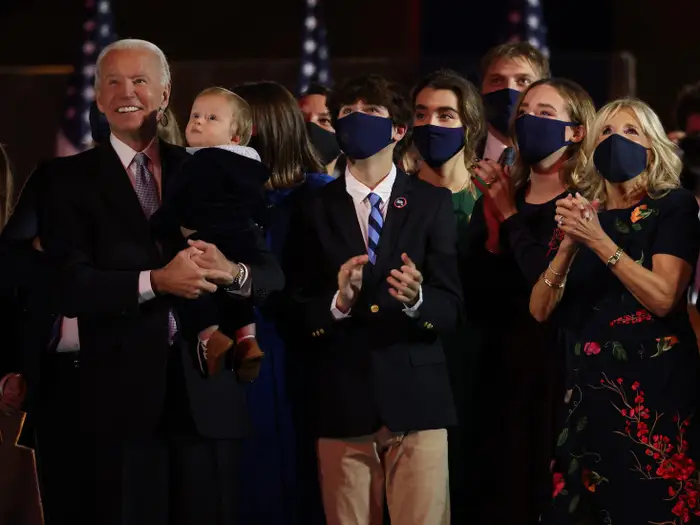 President-elect Joe Biden and family watch fireworks from stage after Biden's address to the nation from the Chase Center November 07, 2020, in Wilmington, Delaware. Getty Images
Jill plans on keeping her day job after she moves into the White House but has also said she will put education and advocating for military families and cancer awareness on her agenda.