Who is Vikas Dubey - Full story of rise and fall notorious gangster
Vikas Dubey had become the most dread name in India after his role in 8 police shot dead on July 3 in Bikru village.
From an ordinary man to the king of the entire district
According to news24online, three decades ago he was a a minor looter and extortionist. But over the last two decades, Vikas Dubey earned unaccounted wealth and established connections with high ranking policemen and political bigwigs.
He invested the proceeds of crime through land, real estate business and all other 'benami' properties. The huge criminal enterprise created by Vikas Dubey had a strong nexus with top politicians and police officers.
A lad from an ordinary family of rural Kanpur had become the owner of crores of 'benami' property and the uncrowned king of the entire district. If sources are to be believed, Vikas Dubey and his family own around 250 bighas of land. His house in Bikru village saw in the middle of a property encompassing thousands of square feet. He had a convoy of expensive cars.
According to sources, Vikas had bought a lot of land in the name of his wife and his brother. The villages of Bikru, Dilipnagar, Kashiram, Nivada also have several plots and farms named after his wife and other relatives. Vikas and his brother also have houses in Indiranagar, Lucknow. The prices of these houses reportedly run into crores of rupees.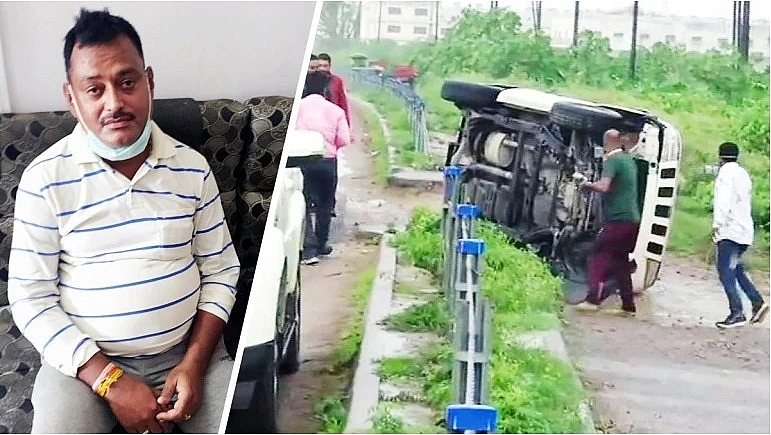 Vikas Dubey killed in encounter in Kanpur, UP (PTI/Screengrab from India Today video)
The path leading from Chaubepur to Kalyanpur and the surrounding area of ​​20 kilometers, the fear of Vikas Dubey made him rich everyday. The fear was such that no one dared to say no to him.
He bought the prized lands of this area at throwaway prices. He used to take extortion money from about 400 factories from Chaubepur to Kalyanpur. His henchmen used to recover this money between the 1st and the 3rd of every month.
Sometimes by threatening and sometimes through violence, he occupied all the prime land of this area. At first he used to buy the land in his own name, but later he started using the names of his associates who did not have any police records.
It is said that there are about 400 small factories in the area from Chaubepur to Kalyanpur, most of which used to pay extortion money to Vikas Dubey every month. His fear was such that the owners of all these factories used to deliver a fixed amount every month to Vikas Dubey, due to which his income was in crores of rupees every month.
Vikas Dubey had many properties in Kanpur, Kanpur Dehat, Unnao and Lucknow, but most of these properties are 'benami' i.e. someone else's name. Detecting these 'benami' properties is a big challenge for the police.
Vikas Dubey's life of crime spanning 30 years: 62 cases, including 5 of murder
According to Indian Express, Back in 2001, Vikas Dubey allegedly chased a BJP leader who then had minister of state rank in UP, Santosh Shukla, inside Shivli police station in Kanpur Dehat, and shot him dead in broad daylight.
Two years previously, in 1999, Dubey had allegedly killed one Jhunna Baba in his village and grabbed his land and other properties. In 2000, he was accused in the murder of his teacher and retired principal of the local Tara Chand Inter College, and jailed for some time.
The murder of Santosh Shukla brought Dubey stature, and he started to receive political support. In 2002, he allegedly made an unsuccessful attempt on the life of his rival and Nagar Panchayat adhyaksha Lallan Bajpai. Subsequently, Dubey was linked to the murder of a cable operator named Dinesh Dubey, who was allegedly killed over a dispute about Rs 20,000.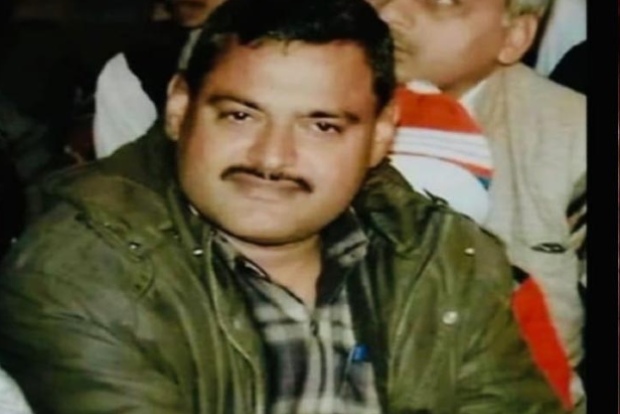 Vikas Dubey. Photo: DTNext
In an interview given in 2006, Dubey said he had been pradhan of Bikru village for 10 years, after which he became a member of the zilla panchayat, while his younger brother was elected unopposed to the post of gram pradhan of the neighbouring Bheeti village. His brother's wife was then a zila panchayat member, and his brother became the pradhan of Bikru village.
There are 62 criminal cases against Dubey in UP, including five cases of murder and eight cases of attempt to murder. Police have invoked tough laws such as the UP Gangsters' Act, Goonda Act, and the National Security Act against him.
Except for a case each in Saharanpur and Lucknow, all cases were lodged in Kanpur and Kanpur Dehat districts. In Saharanpur, Dubey was booked under the Narcotic Drugs and Psychotropic Substances Act, and in Lucknow under the Arms Act. He has been acquitted in the Saharanpur case, while the Lucknow case remains pending, police said.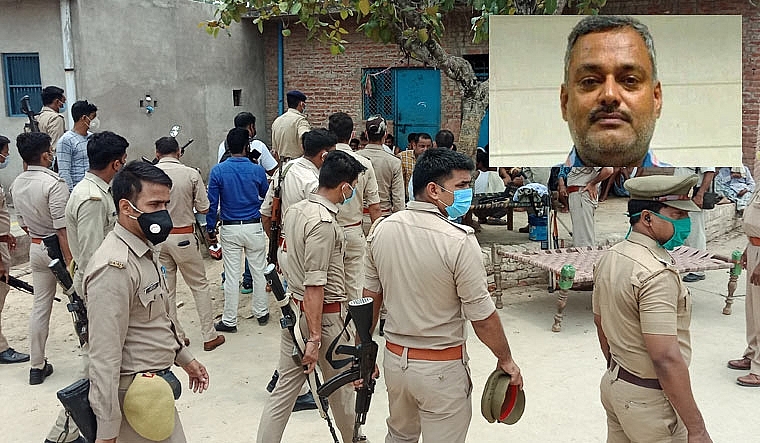 Police officials at Kanpur; inset: Vikas Dubey | Pawan Kumar
The first of the cases against Dubey was of physical assault, lodged at Shivli police station in Kanpur Dehat back in 1990. Two years later, he was booked for the murder of a Dalit youth in the Shivli police station area. He has been acquitted in both these cases.
Police filed a chargesheet in Santosh Shukla's murder in 2002, and named eight accused, including Dubey and three policemen. "In 2003, all the accused were acquitted by a local court for want of evidence," a police officer said. An appeal was filed in Allahabad High Court in 2005. Directions have been issued to check the status of that case, UP DGP H C Awasthi said.
In the murder of retired school principal Siddheshwar Pandey (65) in 2000, Dubey was accused of conspiracy. The chargesheet named four persons including Dubey. "A local court in 2004 awarded life imprisonment to all accused. One of them is dead, and the others are out on bail," an officer of Shivli police station said.
8 cops shot dead case fuels the wrath of community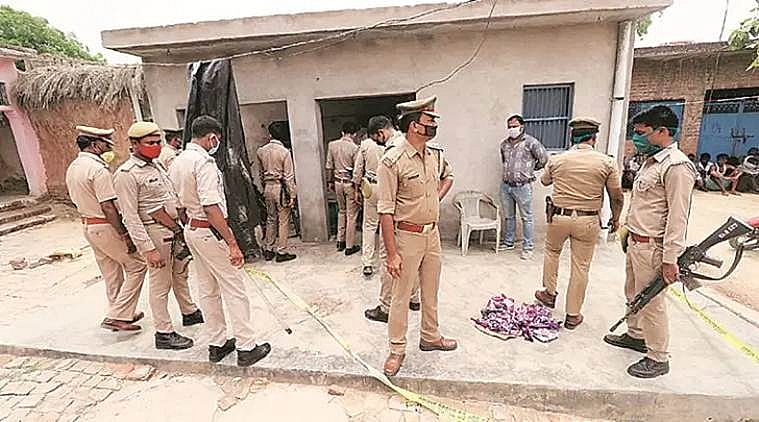 Police outside the house in Bakru village, Kanpur, where the eight personnel were killed. (Photo: Vishal Srivastav)
Accỏding to NDTV, eight policemen in Uttar Pradesh were shot dead early Friday at a village in Kanpur where they had gone to arrest a criminal wanted for murder. The policemen arrived to indiscriminate firing from all sides by the criminal and his associates, all armed with AK-47s.
A Deputy Superintendent of Police, Divendra Kumar Mishra, three sub-inspectors and four constables were killed in Bikru village, which is 150 km from state capital Lucknow. Two of the shooters were killed by the police.
Fifty policemen from three stations had gone to the village in search of a politically-connected, wanted gangster - Vikas Dubey - charged in 60 criminal cases including murder, kidnapping, extortion and rioting. A raid was planned at his village after he was accused in a fresh attempt to murder case.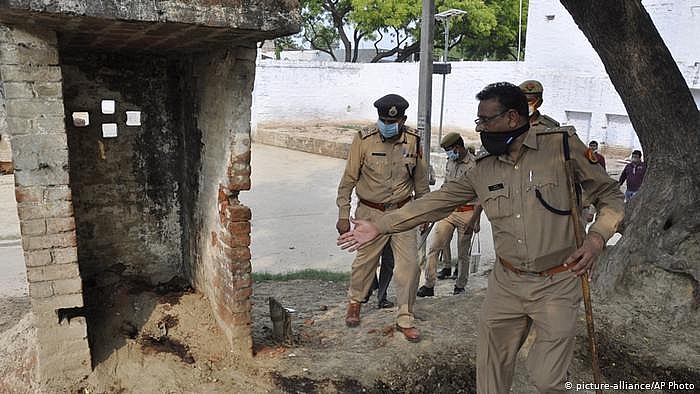 The house related to shot case of Vikas Dubey. Photo: dw.com
"The intention was to arrest him. There was an ambush. The firing by criminals was from three sides and it was totally planned," said Dinesh Kumar, Kanpur's police chief.
According to a statement by UP Director General of Police (DGP) HC Awasthi, Vikas Dubey and other men had put up road blocks on the routes that lead to the village. An earthmover blocking the road indicated an organized ambush. The policemen were forced to abandon their car and walk to the village in pre-dawn darkness. Once they managed to get to the village, they were fired at from rooftops by shooters who were ready for them.
Five days after eight policemen were killed during a failed raid to capture gangster Vikas Dubey in his village near Kanpur, the Special Task Force (STF) of the Uttar Pradesh Police gunned down a close associate and bodyguard of the criminal. Vikas Dubey himself remains absconding.
Six other men - including four associates of Vikas Dubey's - and two female relatives of the gangster's associates, were arrested in three separate operations in Kanpur and Faridabad, Haryana.
The fall of a notorious gangster
Amar Dubey was among the men who had fired at the police party in Bikru village in Kanpur's Chaubeypur police station area early on July 3. Amar Dubey carried a bounty of Rs 50,000 on his head.
Uttar Pradesh gangster Vikas Dubey was on Friday shot dead by the police after he tried to escape following an accident involving one of the vehicles in the Special Task Force (STF) cavalcade bringing him back to the state from Madhya Pradesh.
STF officials said there was an encounter as Vikas Dubey, arrested for killing eight policemen on July 3, tried to escape when the vehicle overturned early in the morning. They said Vikas Dubey snatched a weapon from one of the policemen after the accident. He then ran to a nearby field and was asked to surrender, which he refused to do, they added, India Today reported.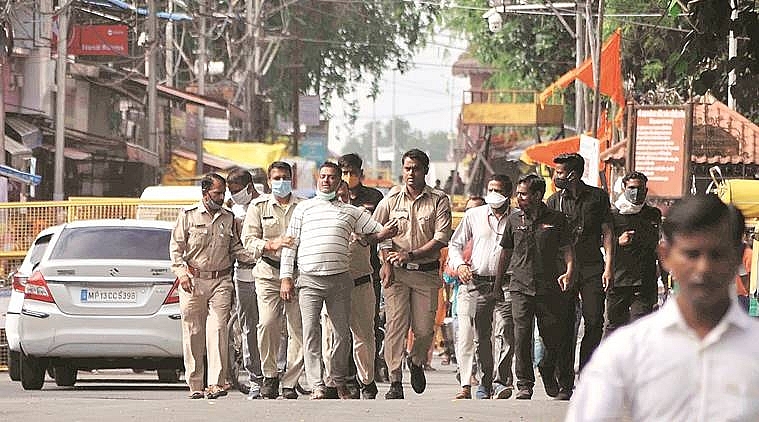 Vikas Dubey, arrested after a six-day hunt, in Ujjain Thursday. (ANI)
There was an exchange of fire and he was killed, they said.
"After being chased by the police team, he was asked to surrender but he did not and started firing with the intention of killing them. The police team fired back in self-defence after which Vikas Dubey was injured. He was taken to a hospital, where he died during treatment," Kanpur Police said in a statement.
The STF vehicle overturned following heavy rains in the region near Kanpur's Sachendi area. Four policemen were also injured in the accident.
The men, including an inspector, have been admitted to the nearest community health centre for treatment.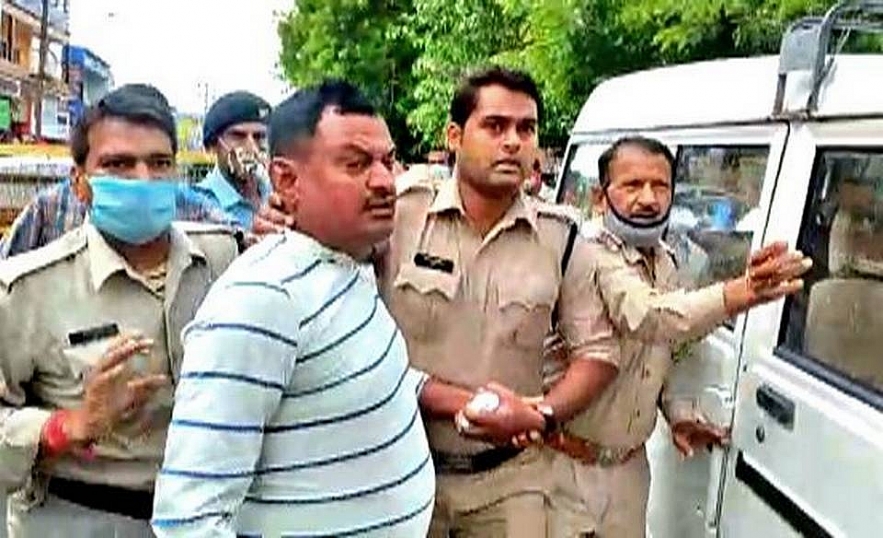 Vikas Dubey, the main accused in the Kanpur encounter case, is arrested at the Mahakal temple in Ujjain on July 9, 2020. | Photo Credit: ANI
Vikas Dubey was arrested outside a temple in Ujjain on Thursday, ending a manhunt for a fugitive behind one of the deadliest attacks on policemen in recent years.
The July 3 shoot-out exposed alleged collusion within Uttar Pradesh police as the force later realised that their men had walked into a trap because some other police officials tipped off Dubey about an attempt to arrest him.
A deputy superintendent of police, three sub-inspectors and four constables were killed, some of whom hacked to death, in the failed raid to nab Vikas Dubey.