Worldwide COVID-19 Updates (July 5): US and Indian positive cases continues to jump
COVID-19 Updates on July 5: A huge jump of new cases have been discovered in the US and India in the last 24 hours, making the world's total reported cases to reach 11,371,646, according to worldometers.info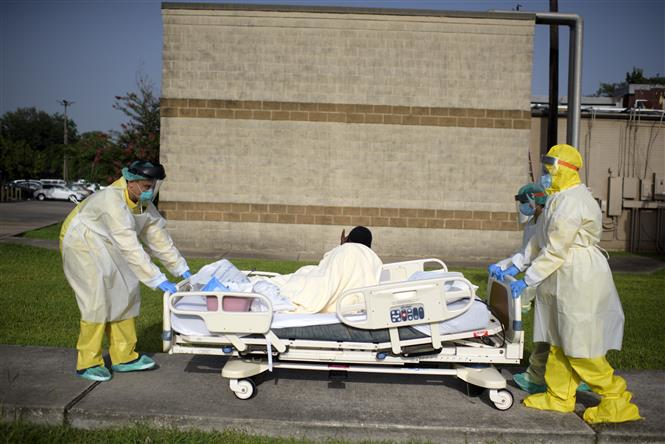 Medical staff transfer COVID-19 patients to a Texas hospital (Photo: TTXVN)
In the past 24 hours, the countries with the highest number of cases positive for SARS-CoV-2 virus in the world namely USA (43,590 cases), Brazil (33,663) and India (24,015 cases); while Brazil ranks first in terms of deaths (with 1,011 deaths), followed by India (620 cases) and the United States (238 cases).
The US continuously breaks the record for highest new cases detected per day
Texas reported 8,238 cases on the last day, another new daily record for the state. Since June 23, when cases crossed 5,000 for the first time, the state has set a new daily case record six times. Total tests have climbed over that period, but positivity rates have as well.
The state has had 191,790 cases to date with 91,752 considered active. There have been 2,608 fatalities since the start of the pandemic. The increase in cases has caused Texas to close beaches in some locations for the Fourth of July, such as in Galveston, and shut down bars statewide.
The Florida Health Department said the state has 190,052 total COVID-19 cases as of Saturday morning, with a record number of 11,458 cases recorded in the last 24 hours.
Cincinnati's City Council voted Friday to require face coverings for residents for all indoor public gatherings.
In a 7-2 vote, the council passed the ordinance, which will go into effect on July 9 and mandate face coverings for anyone who takes a cab or public transportation, or shops, dines, or works indoors in the city. Violators will be hit with a $25 fine, according to ABC News.
Brazil's President vetoes mask-wearing provisions
Brazil's President Jair Bolsonaro has used his veto power to water down legislation that enforced the wearing of face masks in churches, schools, and shops. Brazil has the world's second-highest number of coronavirus infections and deaths.
Within the past 24 hours, Brazil has recorded 35,035 more cases of Covid-19, bringing the total number of infections in the South American country to 1,578,376, of which 64,365 had died, according to The World and Vietnam Magazine.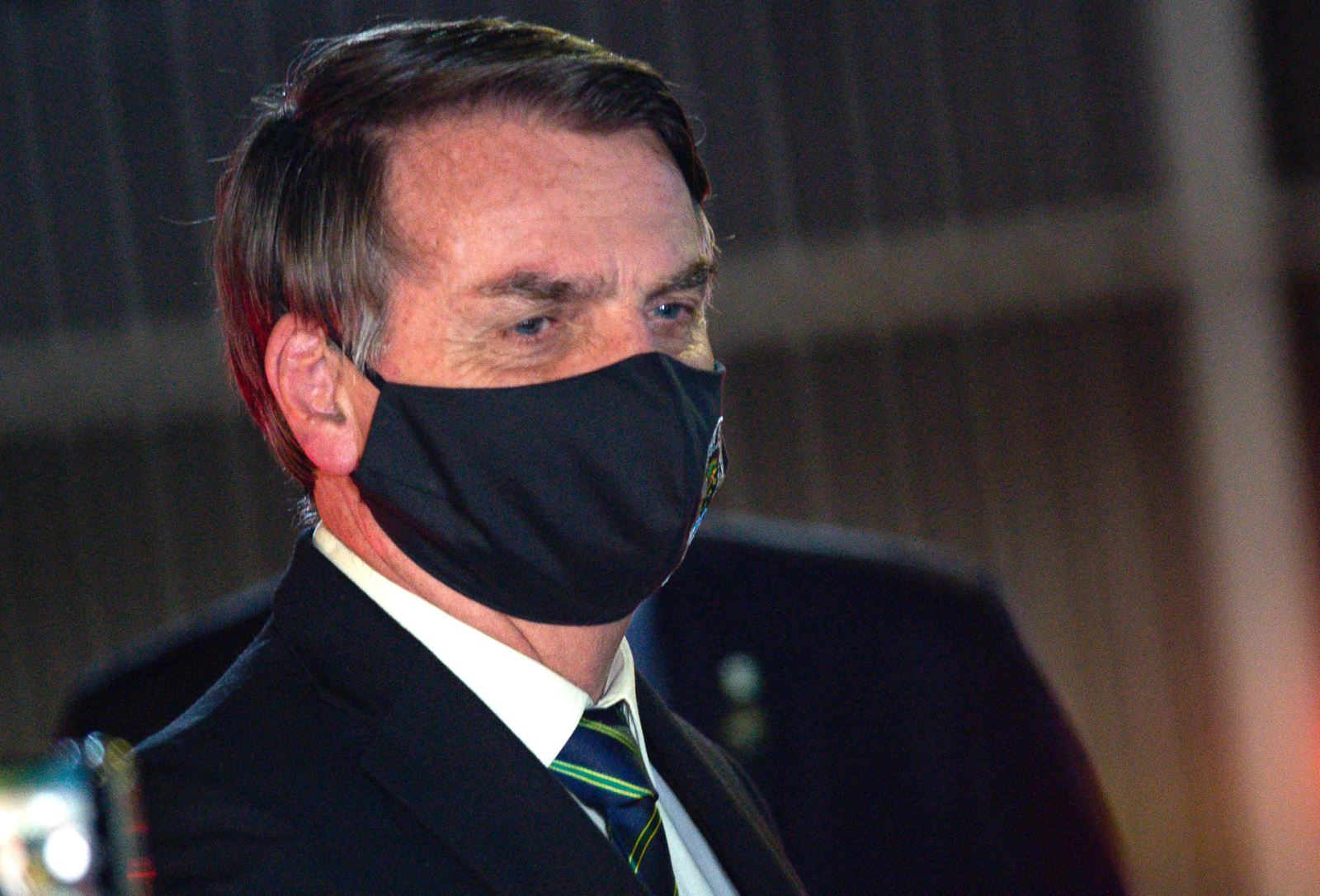 Brazil's President vetoes mask-wearing provisions (Photo: TTXVN)
India records highest single-day spike
A huge jump of 22,771 new Covid-19 cases was recorded in the last 24 hours, which has now taken India's tally to 6,48,315 cases. India is currently the country with the highest number of cases and deaths in Asia. On July 4, the country also recorded the highest number of new cases in a day, with 24,015 cases, concentrated in the Western and Southern regions, said The Times Of India.
Iran tightens anti-epidemic regulations
Iran has enacted new strict anti-epidemic regulations, under which those without a mask will not receive state services, and shops, buildings, restaurants,..that do not apply health regulations will have to close for one week. Iran is trying to fight Covid-19 spread as the total number of cases in the country has reached 237,878, including 11,408 deaths. Wearing a mask will become mandatory in public places in Iran from today, July 5.
Legal adviser to Iranian President, Ms. Leila Joneidi said Tehran had filed an application to the International Court of Justice (IJC) to sue the US over the effects of sanctions on the war against mass Covid-19 acute respiratory infection in this Middle Eastern country.
The Tehran Times daily quoted Joneidi's remarks during a visit to the Pasteur Institute in Tehran, confirming that the ongoing US sanctions against Iran during the Covid-19 pandemic were a manifestation of the " inhuman "and against human rights.
WHO halts hydroxychloroquine, HIV drugs in COVID trials after failure to reduce death
Reuters reported that the World Health Organization (WHO) was discontinuing its trials of the malaria drug hydroxychloroquine and combination HIV drug lopinavir/ritonavir in hospitalized patients with COVID-19 after they failed to reduce mortality.
"These interim trial results show that hydroxychloroquine and lopinavir/ritonavir produce little or no reduction in the mortality of hospitalized COVID-19 patients when compared to standard of care. Solidarity trial investigators will interrupt the trials with immediate effect," the WHO said in a statement, referring to large multicountry trials that the agency is leading.