Why Disagreement Between Saudi Arabia, UAE Plunge OPEC Oil Alliance into Crisis?
Disagreement between the United Arab Emirates and Saudi Arabia have raise questions about the future of the Organization of Petroleum Exporting Countries (OPEC).
Abu Dhabi's Crown Prince Sheikh Mohammed bin Zayed al-Nahyan receives Saudi Crown Prince Mohammed bin Salman at the Presidential Airport in Abu Dhabi, United Arab Emirates November 27, 2019. WAM/Handout via REUTERS
Rare public disagreement between the UAE and Saudi Arabia over OPEC policy points to a growing economic rivalry between the two largest Arab economies which only looks set to intensify, according to a Reuters analysis.
The UAE's opposition this weekend to a proposed eight-month extension to output curbs, favoured by Saudi Arabia, was a rare display of defiance by Abu Dhabi, whose Crown Prince Mohammed bin Zayed al-Nahyan has been a staunch ally of Saudi Crown Prince Mohammed bin Salman.
The disagreement led the talks of OPEC and non-OPEC partners, a group of some of the world's most powerful oil producers, to be called off on July 5.
The group did not set a new date to resume talks.
Oil markets are being leave in a state of limbo just as global fuel demand recovers from the ongoing coronavirus pandemic, reported CNBC July 6.
OPEC+, which is dominated by Middle East crude producers, agreed to implement massive crude production cuts in 2020 in an effort to support oil prices when the coronavirus pandemic coincided with a historic fuel demand shock.
Led by Saudi Arabia, a close ally of the UAE, OPEC+ has met monthly to decide on production policy.
"OPEC+ has been thrown its most serious crisis since last year's ill-fated price war between Saudi Arabia and Russia," Helima Croft, head of global commodity strategy at RBC Capital Markets, said in a research note.
"Back-channel talks reportedly are continuing, but questions about UAE's commitment to remaining in OPEC will likely grow in the coming days."
The UAE-Saudi dispute appeared to be about more than oil policy, Croft said, with Abu Dhabi "seemingly intent on stepping outside Saudi Arabia's shadow and charting its own course in global affairs."
"The current OPEC standoff signals a wider push by the UAE to assert its economic and national self-interest vis-à-vis Saudi Arabia," said Amir Khan, senior economist at Saudi National Bank as quoted by Reuters.
The alliance between the young ambitious princes had propelled a hawkish foreign policy that saw them launch a military campaign in Yemen, lead an Arab boycott of Qatar and combat Islamist political groups in the Middle East and beyond.
But as Saudi Arabia tries to wean its economy off oil, it is vying with the UAE for foreign capital and talent, although economists say it will take time to truly challenge the region's business, trade and tourism hub.
"There is this creeping economic competition in the relationship between the two biggest Arab economies and the competition is bound to intensify," said Emirati political analyst Abdulkhaleq Abdulla.
"The UAE is speaking its mind ... but the relationship is strong and the leadership know how to resolve issues," he said.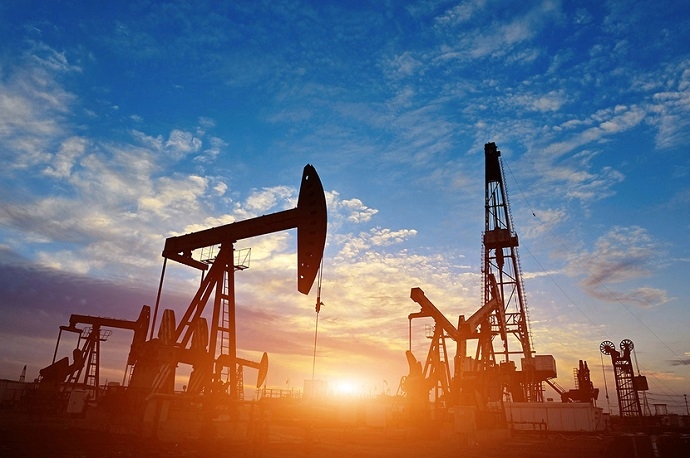 Saudi Arabia and UAE infighting threatens future of OPEC.
OPEC solidarity 'dissolved'
The disarray comes after OPEC+ on July 2 voted on a proposal to increase oil production by roughly 2 million barrels per day between August and the end of the year in 400,000 barrels per day monthly installments. It also proposed to extend the remaining output cuts to the end of 2022.
The plans were rejected by the UAE, however, which wants a higher baseline to its quota to allow for more domestic production.
"For us, it wasn't a good deal," UAE Minister of Energy and Infrastructure Suhail Al Mazrouei told CNBC's Hadley Gamble on July 4, adding that while the country was willing to support a short-term increase in oil supply, it wants better terms through 2022.
The UAE is currently producing around 2.7 million barrels per day under the OPEC+ agreement, though it averaged around 3 million a day between January 2019 and March 2020, according to Refinitiv, a financial market data provider. Analysts suggest the country can easily produce up to 4 million a day.
Speaking to the Saudi-owned Al Arabiya television channel on the same day, Saudi Arabia's Energy Minister Abdulaziz bin Salman called for "compromise and rationality" in order to reach a deal on July 5, Reuters reported.
Responding to the news that the OPEC+ meeting had been adjourned without a deal on Monday, John Kilduff, a founding partner at Again Capital, said: "The OPEC solidarity dissolved today."
"The pandemic held them together and now the post pandemic is breaking them apart. The UAE is sticking to their guns on wanting their baseline raised. They want to be able to produce more," he told CNBC via email.
"Now the fun starts as to who breaks away," Kilduff said, noting the UAE could be the "first domino" to fall.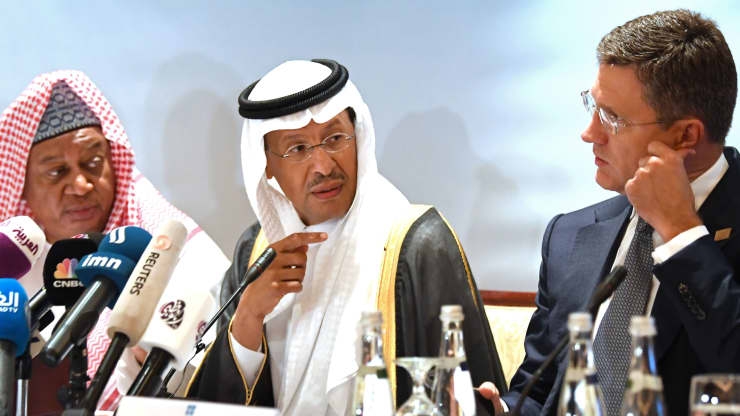 OPEC Secretary General Mohammed Sanusi Barkindo (L), Saudi Arabia's Energy Minister Prince Abdulaziz bin Salman (C) and Russian Energy Minister Alexander Novak (R) attend an Opec-JMMC meeting in the UAE capital Abu Dhabi on September 12, 2019. KARIM SAHIB | AFP via Getty Images
Common concerns
Several diplomats in the region have said the UAE-Saudi alliance has gone as far as it can as national economic interests take precedence, especially in the wake of the Covid-19 pandemic.
According to AFP, the UAE dramatically downsized its footprint in the Saudi-led coalition battling Iranian-backed Houthis in Yemen. The Saudis moved to rapidly restore diplomatic ties with Qatar earlier this year, but the UAE has yet to restore full diplomatic relations and continues to block Qatar-based news sites like Al Jazeera.
While the UAE last year forged ties with Israel in a move that enjoyed bipartisan support in Washington, Riyadh has by contrast made tentative moves to improve its relationship with Turkey.
But the UAE and Saudi remain bound by concern over Iran's expanding influence via regional proxies and security threats that pose a risk to their economic ambitions.
The UAE started engaging with Iran in 2019 to ease tensions after attacks on tankers in Gulf waters and on Saudi oil plants that Riyadh blamed on Tehran, a charge it denies.
The kingdom followed suit this year, launching direct talks with Tehran over Yemen where they are locked in a proxy conflict. The move came as U.S. President Joe Biden sought to revive a nuclear deal between global powers and Iran that Riyadh opposed for not tackling Iran's missile capabilities and regional activities.
"The potential U.S.-Iran detente, the energy transition, and competition in non-oil diversification makes for a particularly challenging period of divergence this time round," Hasnain Malik, head of equity strategy at Tellimer, said of Saudi-UAE relations.
Saudi National Bank's Khan said the UAE, which has invested heavily to boost oil output capacity, wants to move quickly to monetise reserves given a global push away from fossil fuels.
Saudi Arabia is in greater need of price stability to deliver on domestic mega projects that are largely being driven by its sovereign wealth fund.
Oil prices climb high
The news pushed oil prices even higher. International benchmark Brent crude futures traded at $77.34 a barrel on Tuesday morning, up 0.2% for the session, while U.S. West Texas Intermediate futures stood at $76.36, around 1.6% higher.
At one point, WTI crude hit as high as $76.98, which was the highest price since November 2014.
Oil prices rallied more than 45% in the first half of the year, supported by the rollout of Covid-19 vaccines, a gradual easing of lockdown measures and massive production cuts from OPEC+.
Samuel Burman, assistant commodities economist at Capital Economics, said OPEC producers were likely to increase oil production above quota next month as member states "seek to take advantage" of higher oil prices.