Will US's last Hamilton-class cutter Douglas Munro be delivered to Vietnam?
It is said that the last Hamilton-class cutter of the US - Douglas Munro - would be transferred to Vietnam after it is retired at the end of this month.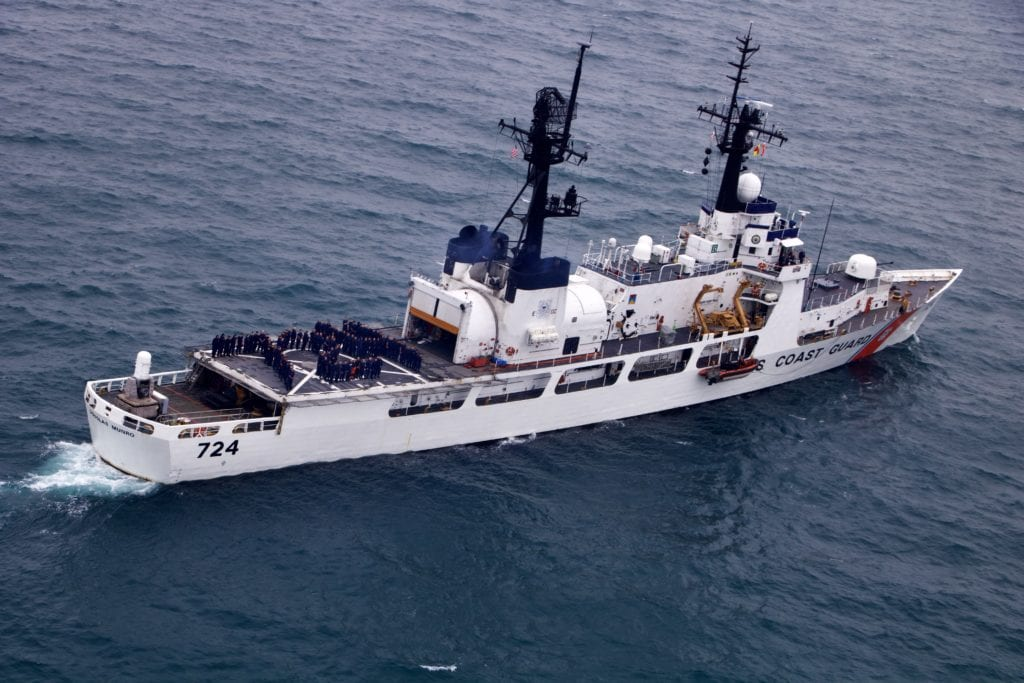 Members from Coast Guard Cutter Douglas Munro stand in formation on the back of the cutter, July 24, 2020. The cutter's hull day, July 24, correlates with its hull number, 724. Photo: US Coast Guard
USCGC John Midgett (WHEC-726), the second Hamilton class cutter the US has planned to deliver to Vietnam following the first USCGC Morgenthau (WHEC-722) provided in 2017, is in Seattle being prepared for the delivery.
It is said that the last Hamilton-class cutter of the US - Douglas Munro - would be transferred to the Southeast Asia country after it is retired at the end of this month.
The Coast Guard will retire USCGC Douglas Munro at the end of March, concluding 49 years of Coast Guard service for the cutter and 54 years for the Secretary-class 378-Foot cutters, according to SeaPower, the official publication of the Navy League of the US.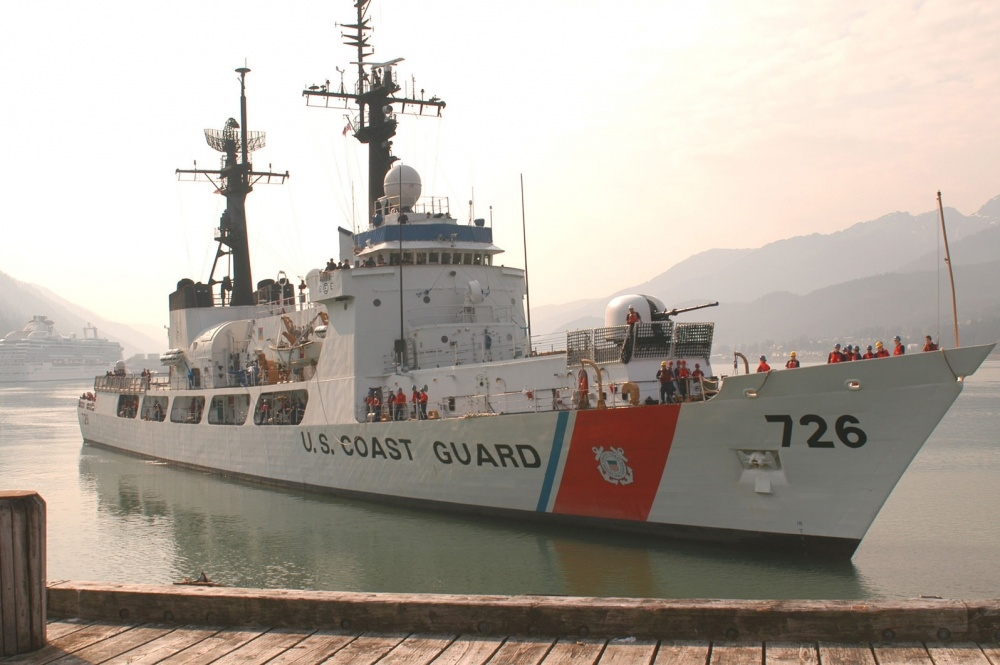 The USCGC Midgett is the twelfth and last of the Coast Guard's fleet of 378 foot High Endurance Cutters. She is the third in her class (HERO) to be named for outstanding Coast Guardsmen. Her namesake, the late Chief Boatswain John Allen MIDGETT, Jr. was born in 1876 in Rodanthe, North Carolina and served for nearly forty years with the U.S. Lifesaving Service and the Coast Guard. Photo: US COAST GUARD PHOTO
In a March 4 message to the Coast Guard, Commandant Adm. Karl L. Schultz said that on March 31 the Douglas Munro would be placed in In-Commission Special Status, which begins the decommissioning process.
The 12 Secretary-class cutters were the mainstay of the Coast Guard's ocean-going fleet until their replacement began 13 years ago by the new Legend-class national security cutters. Some deployed with carrier strike groups and operated in the Persian Gulf. They had an anti-submarine warfare (ASW) capability until 1992, when it was removed. The same year some were armed with Harpoon anti-ship missiles. The original 5-inch gun mounts were replaced in the late 1980s to mid-1990s with Mk75 76mm guns.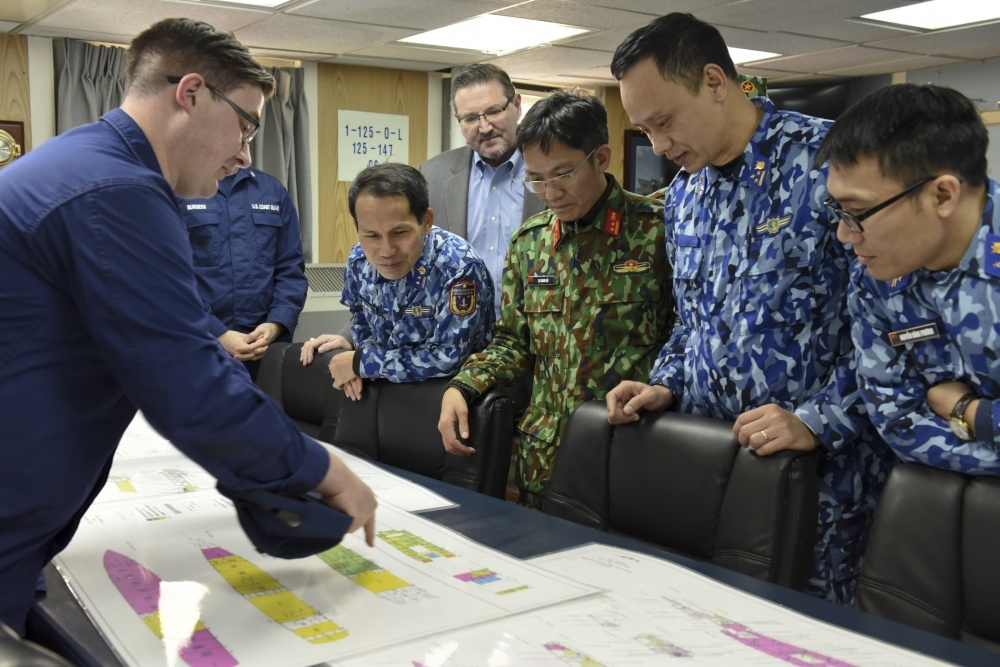 Lt. Ryun Konze reviews several diagrams of the internal layout of US Coast Guard Cutter John Midgett (WHEC 726) to members of the Vietnamese Coast Guard in Seattle on Jan. 14, 2020. USCGC John Midgett is a 378-foot high endurance cutter commissioned in 1972. (US Coast Guard photo by Petty Officer 2nd Class Steve Strohmaier)
The Douglas Munro, built by Avondale Shipyards in Louisiana, was commissioned on Sept. 27, 1971. It was named Munro until the Coast Guard's new Legend-class national security cutter USCGC Munro was built.
As the high-endurance cutters were decommissioned, they were transferred to foreign navies or coast guards. Hamilton, Dallas and Boutwell have been transferred to the Philippines; Chase and Gallatin to Nigeria; Jarvis and Rush to Bangladesh; Morgenthau to Vietnam; Sherman to Sri Lanka, and Mellon to Bahrain. John Midgette is in Seattle being prepared for delivery to Vietnam. Douglas Munro likely will serve in a foreign navy as well, though transfer has not yet been announced./.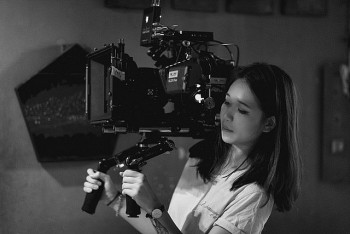 Viet's Home
A film project named 'If wood could cry, it would cry blood' by female director Nguyen Phan Linh Dan has been honoured at the 26th Busan International Film Festival 2021.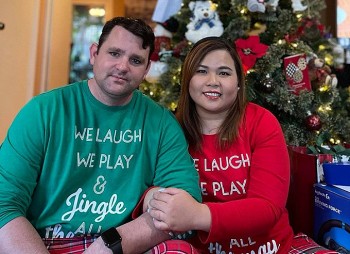 Expats in Vietnam
An American man has removed tattoos on his body so that his Vietnamese girlfriend doesn't feel shy when being with him.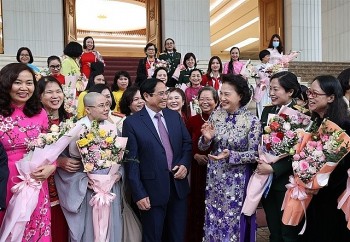 Focus
Prime Minister Pham Minh Chinh has affirmed that Vietnam has created an environment conducive to women's advancement in society.