Vietnam, US strive to boost cooperation on trade and investment
On November 18 in Ho Chi Minh City, the Ministry of Industry and Trade of Vietnam, People's Committee of Ho Chi Minh City, in collaboration with the American Chamber of Commerce in Vietnam (AmCham Vietnam) organized the Vietnam – U.S. Trade Forum themed "25 Years of Economic and Trade Relations and the Journey Ahead".
At the forum, Deputy Minister Industry and Trade Do Thang Hai said that Vietnam will continue to push forward with radical economic reforms, speed up the integration process, while encouraging local firms to establish production and value chains towards stronger connectivity for businesses both locally and in the United States, VOV reported.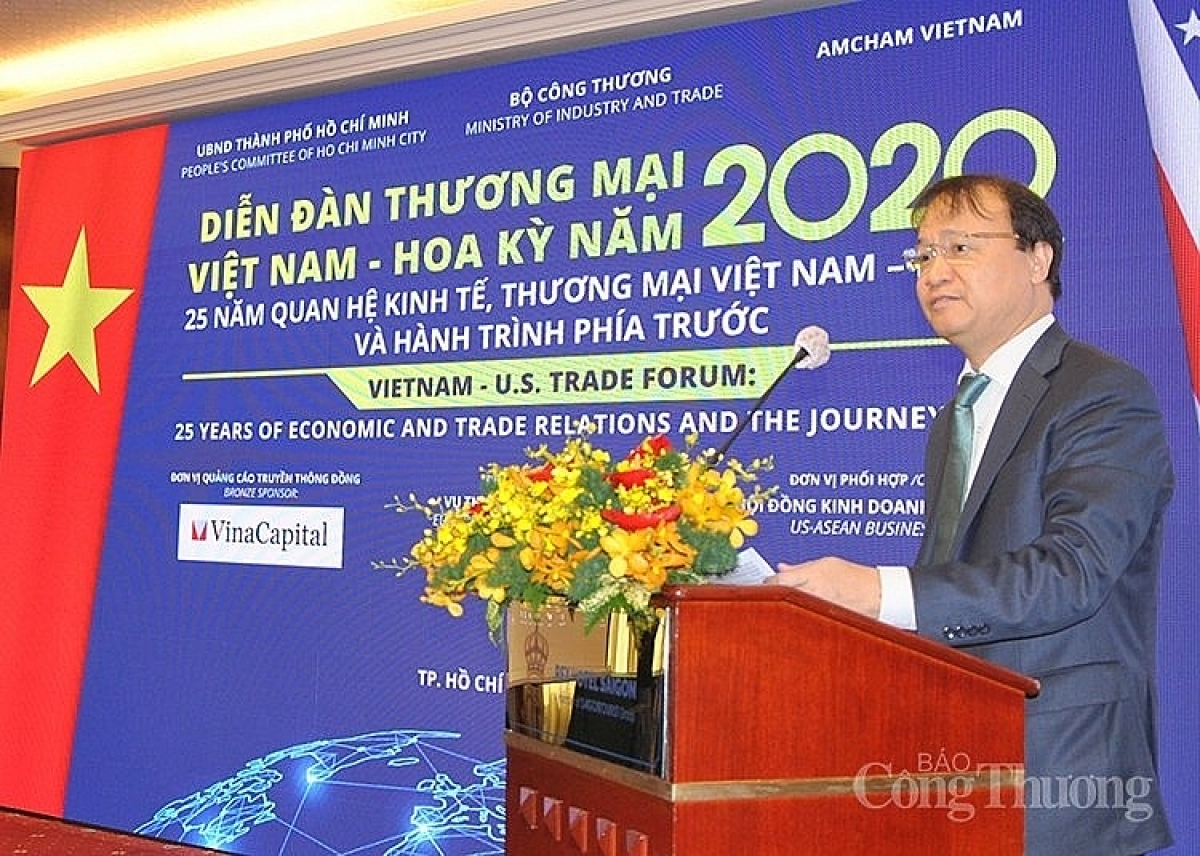 Deputy Minister Industry and Trade Do Thang Hai addresses the forum Photo: Industry and Trade newspaper
Hai also stressed that countries in the Asia-Pacific region, including Vietnam, now represent the US' largest trading partners, with total trade turnover exceeding a sum of US$1.4 trillion per year.
Most notably, two-way trade turnover between the two countries has soared from as low as US$450 million in 1995 to US$75.7 billion in late 2019.
Bilateral trade turnover during the opening nine months of the year surged by 17.7% to US$65.1 billion in comparison with the same period last year despite the adverse impacts of the novel coronavirus (COVID-19) pandemic.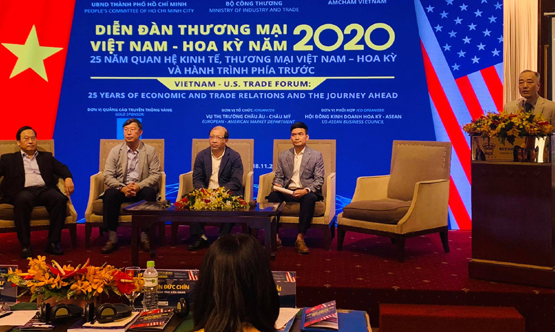 The overview of the forum. Photo: Hanoimoi
The presence of the US Vietnam can also be felt as they have injected money into more than 20 economic fields, thereby ranking 11th among the country's leading investors. Indeed, most of the US' largest corporations now have a presence locally, including Exxon Mobil, Murphy Oil, Chevron, Boeing, Ford, Intel, Wal-Mart, Nike, Coca-Cola, and P&G.
Both countries have been able to effectively deploy co-operation activities through the dialogue mechanism set out in the Trade and Investment Framework Agreement (TIFA) so as to handle any existing issues and to ensure the legitimate interests of each side, Hai stated.
Furthermore, the Deputy Minister said the two countries benefit from having complementary economies, adding that the nation will continue to undergo economic reforms, further integrate into the world, enhance its economic, trade, and investment cooperation, while encouraging local firms to establish production and value chains as a means of strengthening connectivity for both countries.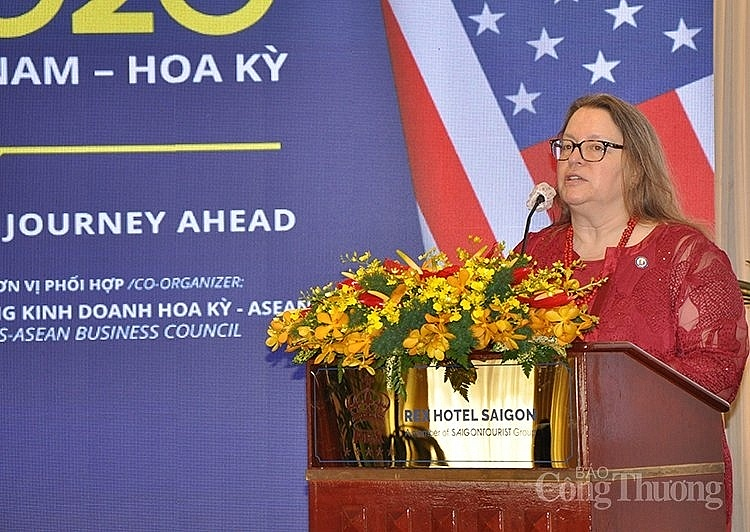 Marie Damour, the US Consul General in Ho Chi Minh City speaks at the forum Photo: Congthuong
Concurring with this viewpoint, Marie Damour, the US Consul General in Ho Chi Minh City, underlined the need for the two sides to maintain the growth momentum that has been evident in recent years, noting that her nation is able to step up co-operation with domestic firms in priority Vietnamese fields, such as energy development, infrastructure, digital economy, and manufacturing.
With the COVID-19 pandemic serving to disrupt global supply chains, the forum serves as an ideal platform for the business community to seek greater opportunities, enhance trade exchange, provide updates on the latest developments and policy trends occurring in the US market, and allow enterprises to devise proper strategies based on the current situation.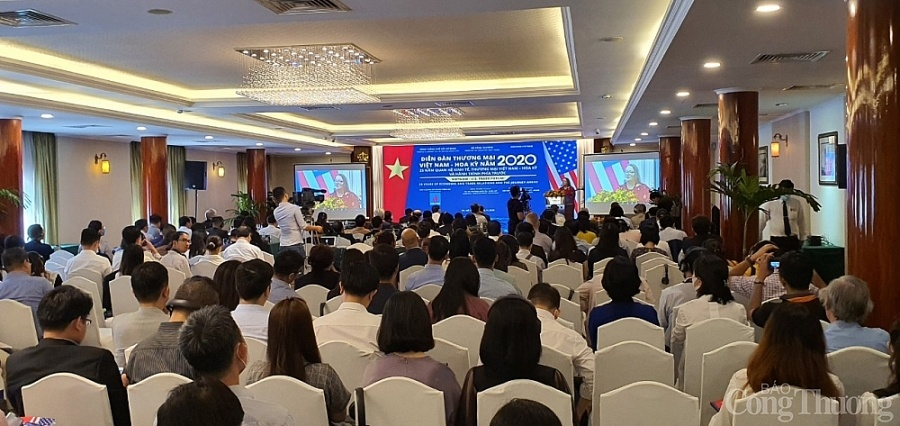 The overview of the forum. Photo: Congthuong
Participating speakers went on to laid stress on the necessity of creating an additional channel in order to swiftly provide information on markets and assist businesses to overcome existing challenges in order to increase import and export activities whilst promoting mutual trade and investment ties in the time to come.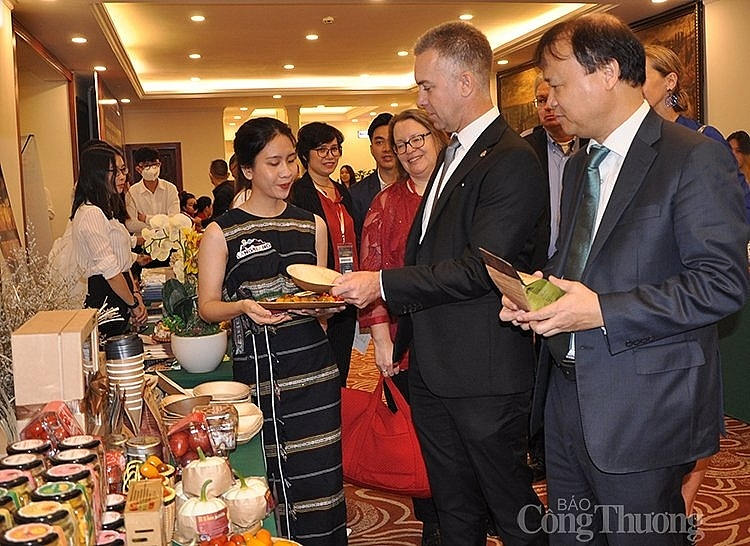 Enterprises introduce their products to delegates Photo: Congthuong
Deputy Minister Hai revealed that priorities are set to be given to removing hurdles faced by businesses. As such, the ministry has moved to establish Vietnamese Trade Offices in several major cities across the US, such as Washington D.C., San Francisco, and Houston, whilst a Trade Promotion Center is now also located in New York City.
These agencies have been actively supporting local firms to gather relevant market information and join trade promotion events, connect with partners, and support businesses as they deal with arising problems while doing business in the US.