Women's Union tributes int'l friends for 90 years of "companion for development"
Vietnam Women's Union held a meeting with the theme "90 years of companion for development" to strengthen connectivity and information sharing, as well as express gratitude towards international partners on December 10.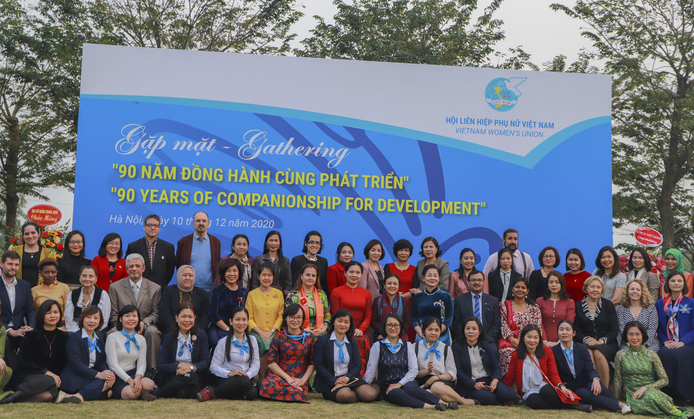 Friends and partners of the Women's Union participated in the meeting themed "90 years of companion for development".
At the ceremony, the President of the Vietnam Women's Union, Ms. Ha Thi Nga, expressed her respect to international friends and partners who have cooperated, supported, and assisted Vietnamese women in general and the Vietnam Women's Union in particular.
Over the past 90 years, the Union has formed and developed into a robust and prestigious organization both domestically and abroad with 19 million members, and a 4-level system nationwide. In this period of integration, the support of international partners has even higher influences, such as assisting the Union to pilot and test new working models, thereby opening up new directions, and approaches in some areas.
With the companionship of numerous partners, the Union has become one of the pioneering organizations in th field of microfinance. A number of models and mechanisms have become the Union's brand, such as "Community Hygiene Output-Based Aid – CHOBA", which operates in the field of hygiene and sanitation, thereby contribute to the implementation of environmental criteria in the National Target Program for New Rural Development.
Ms. Elisa Fernandez - Head of Office for UN Women in Vietnam delivered a speech at the event.
The Peace House, a safe shelter for survivors of violence against women managed by Vietnam Women's Union was recognized, budgeted, and included in the project for replication by the Government.
In addition, international cooperation has greatly contributed to improving the capacity of the Union's staff at all levels, as well as the Union itself through technical support, and training. In particular, internationally funded programs and projects have brought practical benefits to women and the community, especially groups of the vulnerable. These benefits include health care, education, poverty reduction, economic empowerment, start-ups innovations, science and technology, safe migration, gender-based violence prevention, and women's participation in climate change management and response.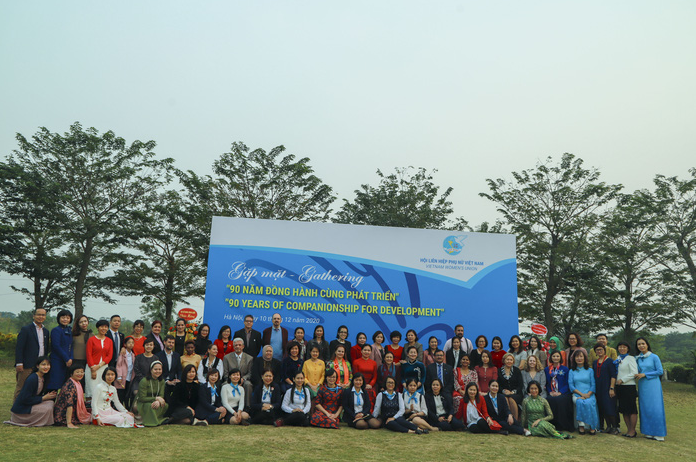 Friends and partners gathered to commit their wills of continuing to accompany the Vietnam Women's Union.
Numerous recent initiatives have been recognized and appreciated, such as "Safety for women and children" Year, "Women's Innovation Day", "Women's Start-up Day", integrated advocacy initiatives to get gender issues to be included in national target policies and programs ... Thereby, international cooperation joins hand in improving the qualifications and capacities of the Union's staff as well as life quality and improvement forwomen in general.
On behalf of partners and businesses, Ms. Elisa Fernandez - Head of Office for UN Women in Vietnam and Ms. Le Thi Hong Nhi - Senior Manager of Unilever Group in Vietnam - highly appreciated the role of Vietnam Women's Union in promoting gender equality and women empowerment. UN Women, Unilever, as well as other organizations and groups would always appreciate the Union as a strategic partner and commit to continue accompanying the Union to improve women's lives and economic power and ensure safety for all women and girls in Vietnam.
In addition to the ceremony, delegates also spent time experiencing the traditional culture and enjoying the natural scenery along the Red River at the Nang Song Hong Culture, Cuisine, and Tourism Village.
Below are photos that were taken at the event.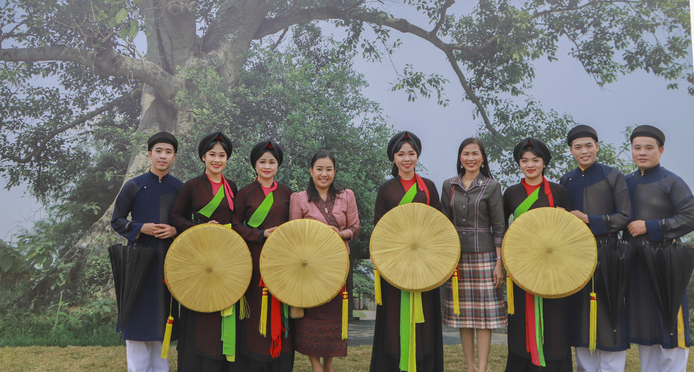 Laos delegates and quan ho folk singing performers in the event held by Vietnam Women's Union.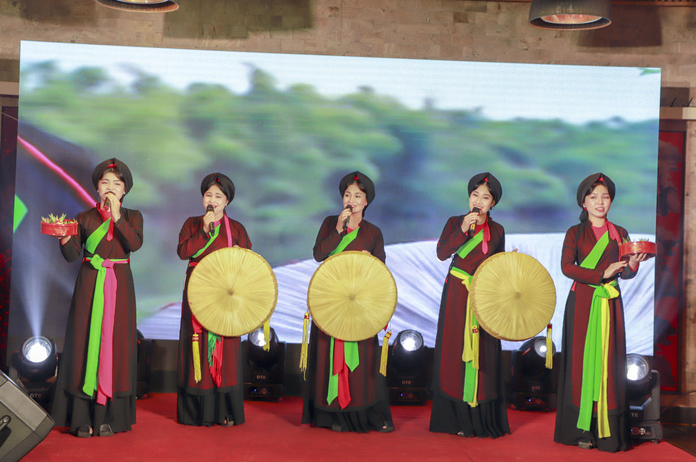 The performance of Vietnam folk singing named "Moi nuoc, moi trau"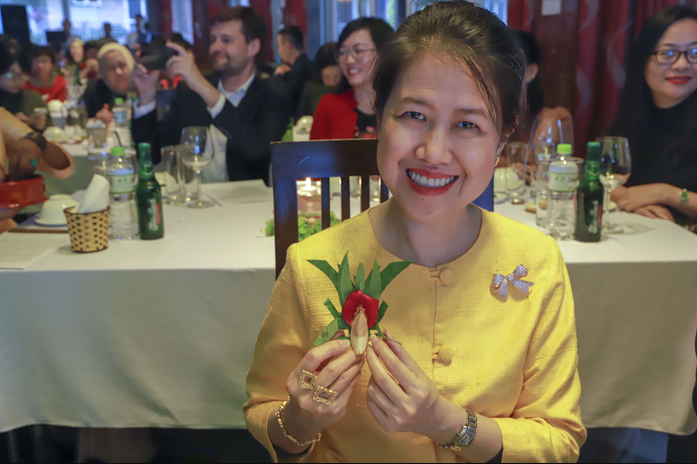 Thailand Provisional Representative in Vietnam, Mrs. Morakot Janemathukorn enjoyed betel in the shape of a phoenix.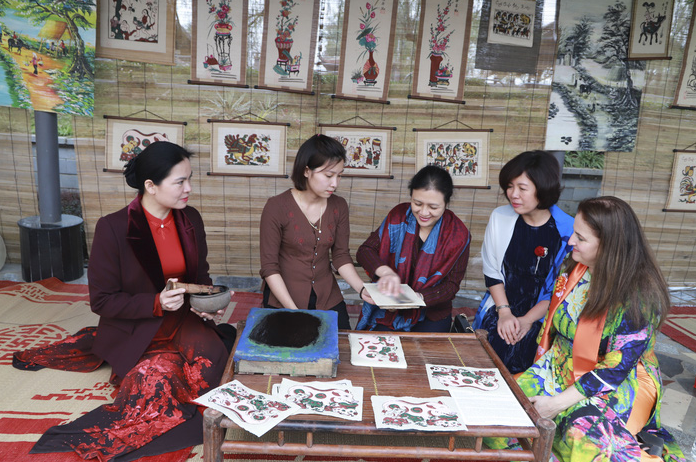 The activity of printing Vietnam's traditional Dong Ho painting.
Ms. Elisa Fernandez - Head of Office for UN Women in Vietnam and the Dong Ho painting that she herself printed on "do" paper (poonah paper).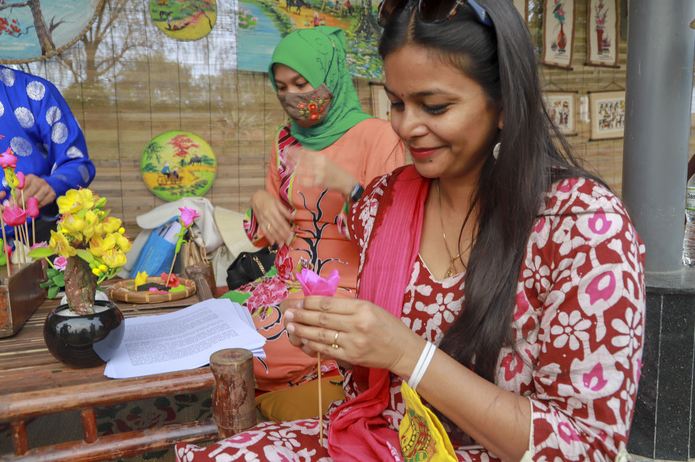 Indonesian delegate experienced Vietnam's "to he" (a traditional toy for children in Vietnam which is made from glutinous rice powder)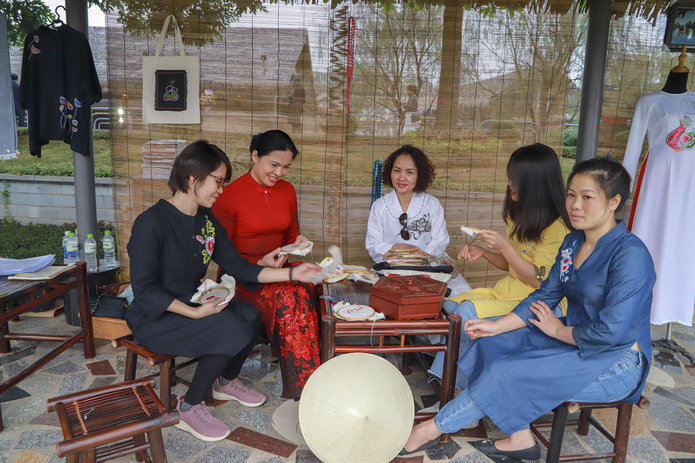 President of the Vietnam Women's Union, Ms. Ha Thi Nga admiring a hand-embroidered work.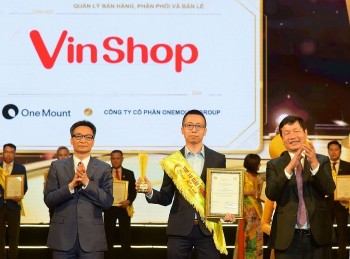 Viet's Home
The One Mount Group was recently been honored by Google as the industry's best practice in digitally transforming logistics and supply chains in 2021 at the Google Cloud Customer Award. This is also the only business in Southeast Asia to receive this award.