UN agency aids additional US$800,000 for women, girls in flood-hit central Vietnam
The United Nations Population Fund (UNFPA) will grant an additional US$800,000 to support women and girls in eight central provinces and cities hit by flooding.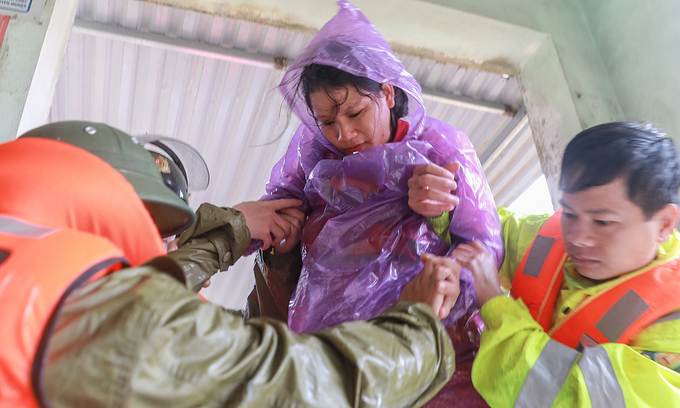 Police officers carry a pregnant woman (C) to a hospital to give birth in Quang Binh as the province was hit by heavy rains and flooding, October 20, 2020. Photo by VnExpress/Huu Khoa.
It brings the UNFPA's total support to $1.34 million. In October it had given $540,000, VNExpress reported.
The support includes setting up mobile and outreach health care clinics and the distribution of dignity kits with essential hygiene items and vital maternal health equipment and supplies.
"When emergencies like this strike, life changes in a moment," said Naomi Kitahara, UNFPA Representative in Vietnam. "This natural disaster has already destroyed thousands of homes and forced people to flee. Women and girls are among the most vulnerable. Women do not need to die giving birth, and this must hold true even in emergencies."
"While fleeing, people are in need of basic necessities, ranging from food and water to hygienic supplies and medical care," she went on. "UNFPA is striving to assist the Government in restoring and improving the lives of flood victims, particularly the most vulnerable. UNFPA expresses sympathy for victims and their families affected by the latest tragedy, especially women and girls. This contribution underlines our solidarity with the people of Vietnam, many of whom have suffered the loss of homes, livelihoods, and belongings in the wake of the devastating floods."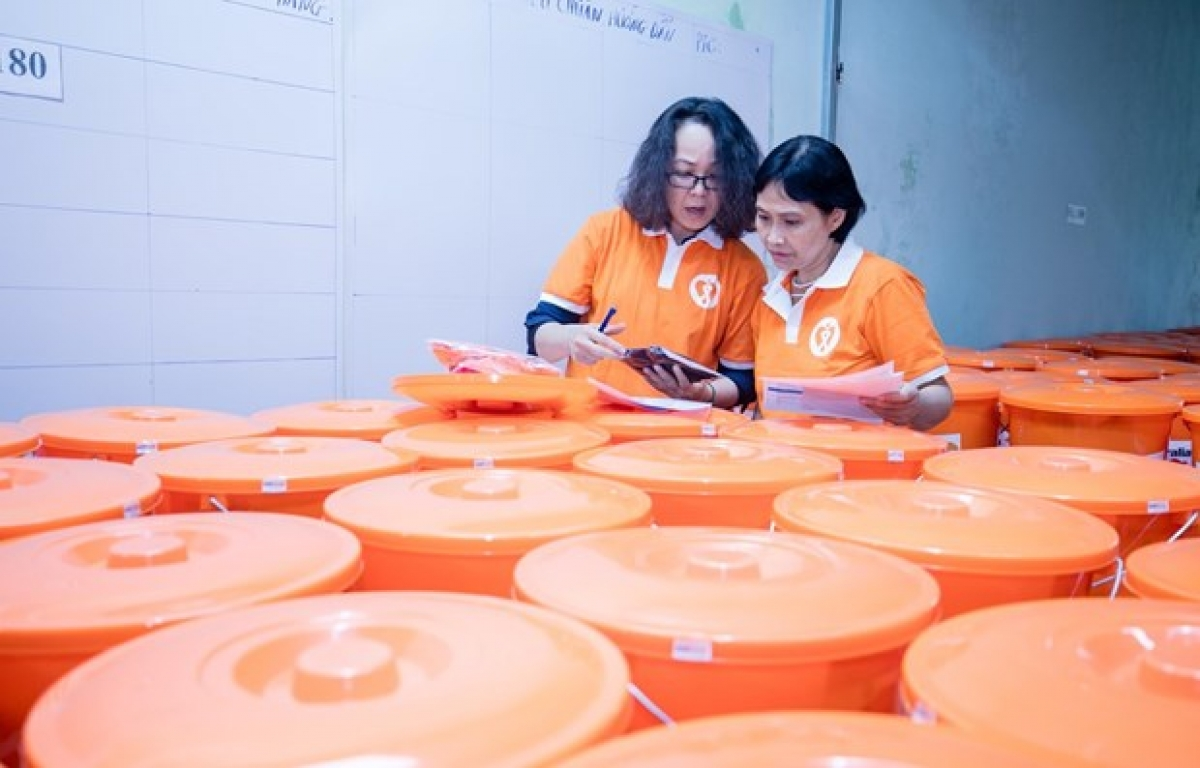 UNFPA officials prepare necessities for flood-affected women. Photo: UNFPA
According to the joint rapid assessment carried out in October, in which UNFPA experts played a lead role in the most affected areas of central Vietnam, health facilities have been hit hard by floods and landslides, and routine public health programs such as antenatal, delivery, post-natal care, and family planning services have been disrupted. Women and girls continue to be unable to access basic healthcare services, including sexual and reproductive health.
The disaster forced women and girls to move to evacuation centers without having time to pack essential supplies. They are unable to manage their hygiene properly as a result and lack access to basic needs such as sanitary pads, clothes, and underwear, which are needed to manage their menstrual periods. In addition, access to water and places to wash and dry reusable pads and clothes, or to dispose of used materials, is currently challenged, according to VOV.
Between early October and mid-November, the central region and parts of the Central Highlands were hit by a succession of storms that brought torrential rains, resulting in severe flooding and landslides.
At least 192 people were killed and 57 others are still listed missing, and losses amounted to VND30 trillion ($1.3 billion), the government said.
Around 5.5 million people have been affected, including over 1.3 million women of reproductive age and more than 92,000 pregnant women, the UNFPA said.
In late November, Prime Minister Nguyen Xuan Phuc decided to grant an additional aid worth 670 billion VND (US$ 29 million) from the central budget reserves for nine Central and Central Highlands provinces to tackle the aftermaths of natural disasters.
Ngai province received 150 billion VND, Quang Nam 130 billion VND, Binh Dinh and Quang Tri 70 billion VND each, and Nghe An, Ha Tinh, Quang Binh, Thua Thien-Hue and Kon Tum 50 billion VND each.
The money would be used to assist search and rescue missions; families that report their members dead or missing or their houses damaged; evacuate locals; support agricultural production, and repair infrastructure.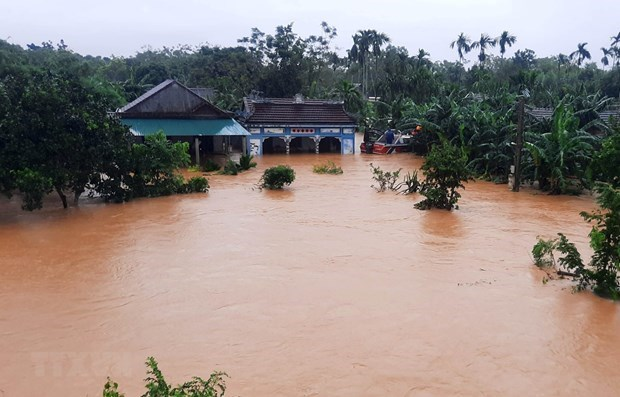 Vietnam's central provinces were severely hit by storms and floods. Photo: VNA
Many international organizations and countries such as the U.S., the U.K., and Australia also provided aid.
To promptly support people in areas severely affected by the recent floods and landslides, World Vision Vietnam pledged to allocate USD$2 million to its Response and Early Recovery Program.
Specifically, World Vision Vietnam distributed 204 storage tanks for drinking water for 204 households and 11,000 kg of rice seeds for 1,100 households in Hai Lang district, Quang Tri province. The total value of this distribution is up to USD$20,000.
World Vision Vietnam's Response and Early Recovery Program will be implemented during a three-to six-month period. Support during the relief stage consists of food aid, shelter, and other items that help improve the quality of water, sanitation, and hygiene for the targeted households. Early recovery will consist of the relief activities above as well as intervention in regard to nutrition, livelihoods, child protection, and education.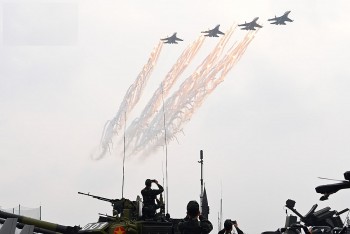 National
At the opening ceremony of the Vietnam International Defense Expo 2022 on December 8th morning, there were impressive performances of the air forces and commando of the Vietnamese People's Army.