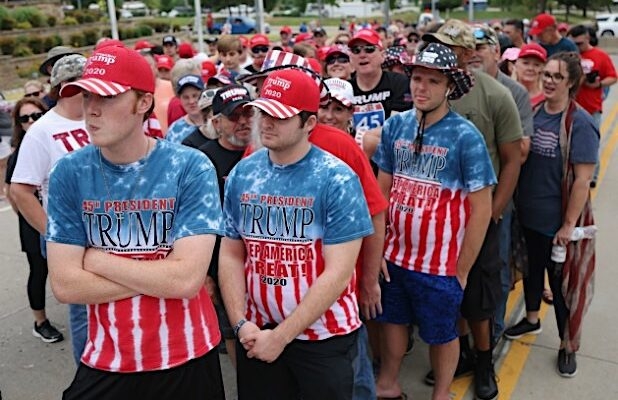 The six members in Tulsa, Oklahoma tested positive for nCoV after months of setting up for Trump's first campaign rally (Photo: The Wrap)
6 Trump campaign members contracted coronavirus ahead of rally
The six members in Tulsa, Oklahoma tested positive for nCoV after months of setting up for Trump's first campaign rally. All were immediately sent into quarantine.
Of the six, at least two of them are Secret Service agents.
According to NBC News, the news comes as Trump, the White House and the president's re-election campaign organization have been criticized for hosting event in an enclosed, 19,000-seat arena in Tulsa.
In accordance with safety rules, campaign staff are tested for nCoV before the event. The six new patients went to Tulsa in advance to prepare for the rally and were confirmed to have contracted the virus, out of hundreds of tests done, according to Tim Murtaugh, the campaign communications director.
It is reported that the campaign is doing contact tracing, but also noted that staffers have been in Oklahoma for a week. The majority have not been wearing masks, were going out to restaurants and weren't take precautionary measures because of the pandemic.
"No COVID-positive staffers or anyone in immediate contact will be at today's rally or near attendees and elected officials," Murtaugh said in a statement.
Brazil' COVID-19 cases surpass 1 million, a potential new epicenter
With 31,571 new infections and 968 deaths reported on Saturday, Brazil records1,070,139 cases in total and death toll reaches 50,058, making the country the second deadliest COVID-19 victim worldwide.
As reported by Bloomberg, the region's most populous country's surge in new infections and fatalities can be traced back to reopenings and social distancing measures being lifted. After months of being cooped up at home, Brazilians are flocking to shopping centers, beauty salons and beaches. Moreover, Brazil is currently having no consistent strategy in place to halt the spread of the virus.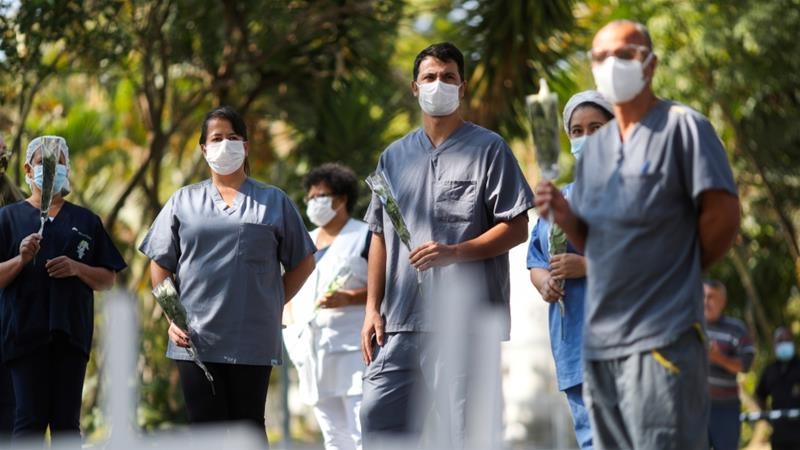 Brazil is now the second deadliest COVID-19 victim worldwide (Photo: Al Jazeera)
A week after Mexico's health minister declared the curve had flattened in the capital, Mayor Claudia Sheinbaum called off a gradual reopening as cases sweep through Mexico City. Chile is redoubling efforts to restrict movement, even as it grapples with the painful reality that its mix of poverty and immigration undermines such measures. In Venezuela, President Nicolas Maduro vowed to "radicalize" the country's lockdown after new daily cases hit a record on Wednesday.Across Latin America, the pandemic is proving too much for crumbling health systems and institutions unable to contain or track its spread.
China security law to override Hong Kong
China confirmed that a proposed national security law would allow Beijing to override Hong Kong's independent legal system, shedding new light on a move that has stoked tensions with the US and threatens the city's status as a top financial center, Gulf News reported.
The proposal said the central government will have jurisdiction over an "extremely small" number of national security cases under "specific circumstances," according to draft language released on Saturday by the official Xinhua News Agency. It added that China will establish a new bureau in Hong Kong to analyse the security situation, collect intelligence and "lawfully handle national security cases."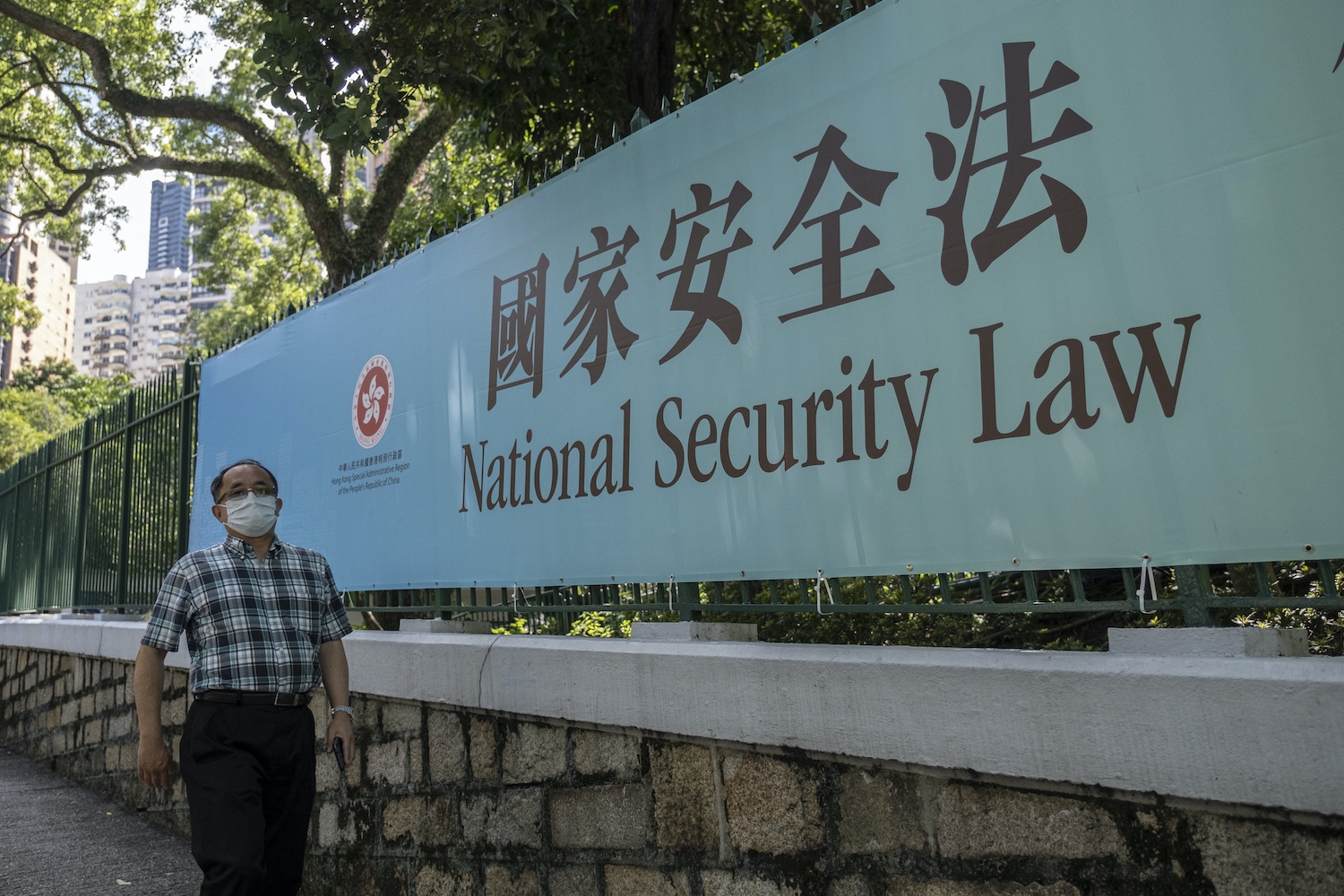 The proposed national security law would allow Beijing to override Hong Kong's independent legal system (Photo: Bangkok Post)
The draft bill also calls for Hong Kong to establish a new committee to protect national security, which will be supervised and accountable to Beijing. The chief executive will oversee the committee, as well as appoint judges to handle criminal cases brought under the law. Authorities in Beijing will have the final say on interpreting the law.
Details of the measures to punish acts of secession, subversion, terrorism and collusion with foreign forces in the former British colony had been secret since the broader National People's Congress approved their drafting on May 28. The NPC Standing Committee began deliberations on the legislation Thursday, after a last-minute announcement that it had been added to the agenda.
Norway Sweetens Deal In Latest Mature Oil Area Offering
Norway announced on Friday the annual licensing round for oil and gas exploration in mature areas on the Norwegian Continental Shelf, expanding the total acreage up for grabs by 36 blocks west of the Norwegian Sea.
The so-called Awards in Predefined Areas (APA) are announced every year and comprise the mature parts of the shelf, which has known geology and good infrastructure already in place, allowing tie-backs to existing infrastructure for any new discoveries.
"The Norwegian Government pursues a long-term, predictable petroleum policy. New discoveries are a prerequisite for long-term employment, value creation and government revenues. Regular licensing rounds on the Norwegian Continental Shelf are therefore a key element in our policy," Norwegian Minister of Petroleum and Energy, Tina Bru, said in a statement, Oil Price reported.
Norway is currently reducing its oil production by the end of the year because of the slump in oil prices. But after Johan Sverdrup and the planned Johan Castberg oilfield reach peak production in a couple of years, Norway's oil production is set for a natural decline after 2023 in the absence of significant new discoveries.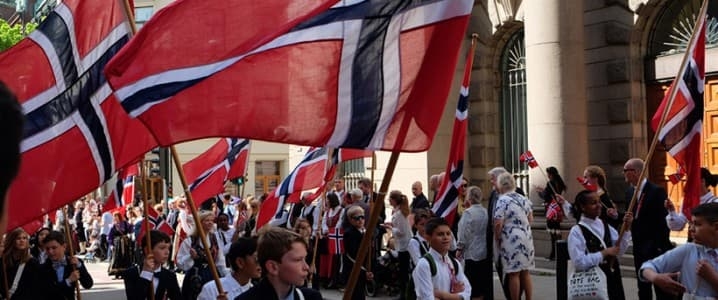 Norway Sweetens Deal In Latest Mature Oil Area Offering (Photo: Oil Price)
"Even after decades of activity, there are still opportunities in these areas. Due to new technology and a multitude of new players, I believe we will see new discoveries in the areas available in this year's APA round," Bru said.
Companies can apply for this licensing round until September 22, while the ministry plans to grant new production licenses in the announced areas in early 2021.
In the previous licensing round in mature areas, Norway awarded early this year 69 new production licenses to 28 companies to explore in areas next to mature developed production areas, securing further exploration on the Norwegian Continental Shelf. Norway awarded 33 licenses in the North Sea, 23 licenses in the Norwegian Sea, and 13 licenses in the Barents Sea.
Jasmine Le