World news today: Trump's unsteady ramp walk sparks health concerns
World news today June 15: Trump's unsteady walk, Fox News' altered photos of Seattle protest removed from webstie, China's new cluster of COVID-19, gold price are making headlines today (June 15).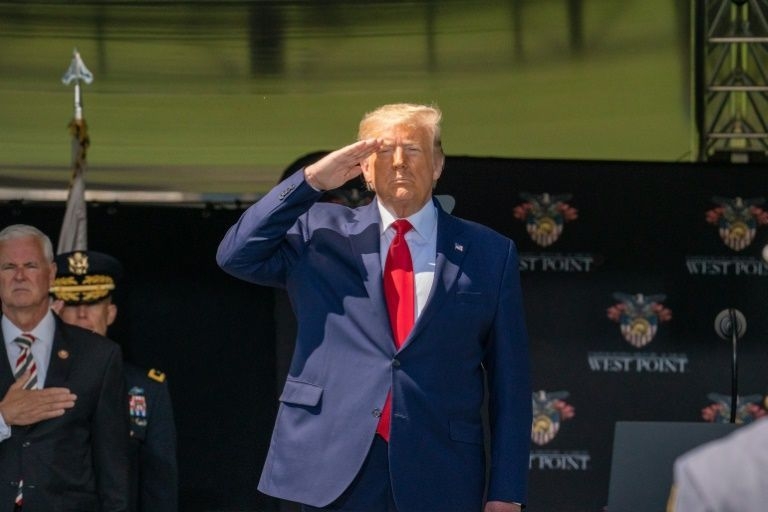 Trump's unsteady walk and trouble with enunciation have spark health concerns (Photo: Yahoo News)
Trump's unsteady ramp walk sparks health concerns
As US President Donald Trump turns 74 on Sunday, the incident in which he appeared unsteady on his feet and had trouble enunciating certain words has raised questions about his health as he heads to a grueling re-election campaign, at the US military academy in West Point, New York.
Trump has generally appeared vigorous at his age. A routine physical released at the beginning of June reveals he was overweight (44 pounds) but is normal in other indexes.
Trump immediately took to Twitter to issue an explanation after the video recording his unsteadiness cicularted on the Internet.
"The ramp that I descended after my West Point Commencement speech was very long & steep, had no handrail and, most importantly, was very slippery", Trump said.
"The last thing I was going to do is 'fall' for the Fake New to have fun with. Final ten feet I ran down to level ground. Momentum!".
A spokeperson insisted that Trump is more enegetic than "anyone in the White House". Harold Bornstein, Trump's long time doctor, wrote in a letter that his special patient's health was "astonishingly excellent", plus his strength and stamina were "extraordinary", Times of India reported.
Fox News' altered photos of Seattle Protests removed from website
The digitally altered photo claiming to be from Seattle protests published by Fox News Friday on its website was removed Sunday following several inquiries by The Seatle Times.
According to Variety, the US-based news agencies on Friday posted a photo of a man holding a rifle in front of a store with broken windows. Another picture showed a burning car and store with a person running down the street with the caption "Crazy Town". Though the tow photos are featured alongside an article about protests in Seattle, they are actually from St. Paul, Minn., taken on May 30, as identified and reported by The New York Times, CNN, and The Seattle Times.
The photo Fox News posted on its website about the Seattle protests was altered (Photo: Seattle Times)
The Seatlle Times called the incident "a clear violation of ethical standards for news organizations."
An editor's note was added to the articles with the incorrect photos.
"A FoxNews.com home page photo collage which originally accompanied this story included multiple scenes from Seattle's 'Capitol Hill Autonomous Zone' and of wreckage following recent riots. The collage did not clearly delineate between these images, and has since been replaced. In addition, a recent slideshow depicting scenes from Seattle mistakenly included a picture from St. Paul. Fox News regrets these errors," the note reads.
China confirms two-month high in new nCoV-stricken cases
57 new cross-transmitted cases of coronavirus is confirmed in China Sunday after nearly two months the country only receive new patients repatriating from abroad.
The spike in cases — which appear to have originated in a wholesale food market in Beijing — has caused Chinese authorities to selectively lock down at-risk areas, highlighting how countries seeking a return to normalcy after reducing transmission of the virus are still at risk of new outbreaks, Vox said.
Beijing had almost no new infection for nearly two months. But the one new case reported Friday was just the start of a new outbreak, with another 35 COVID-19 patients recorded since Saturday. Tow other confirmed cases were reported in the neighboring province of Liaoning that later were traced back to contact with people infected in the city.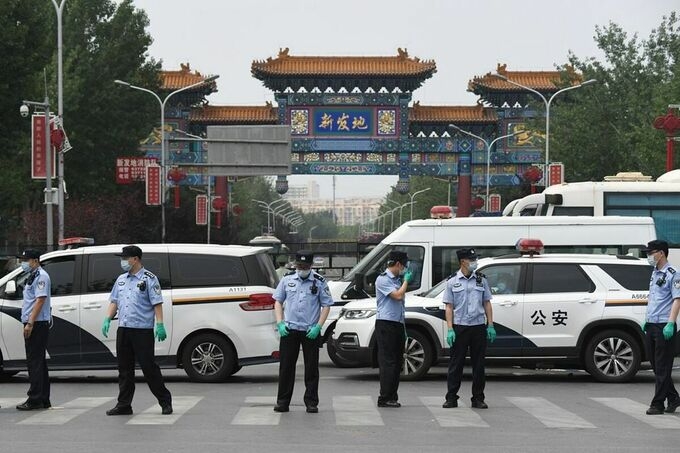 The Xinfadi market is now under lockdown (Photo: AFP)
The capital took immediate measures to alert the public and control the virus, which is considered a "wartime" approach by officials.
Xinfadi market, the largest wholesale market in Aisa, where the new cluster of nCoV broke out, is now under lockdown, along with surrounding buildings. Other neighborhoods in Beijing have been deemed to be at medium risk for the spread, and at least 10 Chinese cities have told residents to not visit the capital.
China's Guangzhou-Dhaka (Bangladesh) flight will be suspended for one month from June 22 after one passenger tested positive for nCoV on June 11.
Gold Price Analysis: XAU/USD sellers attack $1,730 as risk-off mood continues
Gold seesaws around $1,731, intraday low of $1,728.04, during the initial Monday morning in Asia. The yellow metal recently weighed as weekend news keeps the risk of the coronavirus (COVID-19) outbreak 2.0 on the cards. In doing so, the bullion seems to ignore upbeat comments from the Dallas Federal Reserve President Robert Kaplan.
As per the latest update from the Tokyo Metropolitan Government the numbers of COVID-19 cases rose by 47, the highest since May 05. On the other hand, Beijing also reemployed the partial shutdown following the increase in the virus cases around the Xinfadi food market in the Southern Fengtai district. Elsewhere, Reuters spotted the record pikes in new virus cases, hospitalizations in the US.
It should also be noted that the protest in America and fears of few more sober statements from the Fed Chair Jerome Powell, during this upcoming testimonies, also weigh on the market's trading sentiment. Even so, Fed's Kaplan anticipates a recovery in the US job numbers from June while keeping previous pessimism surrounding the yearly unemployment rate.
Against this backdrop, S&P 500 Futures drop over 1.5% to 2,977 by the press time.
Traders might keep eyes on the Fed and the virus updates for fresh impulse. Further, China's May month data dump, comprising Industrial Production and Retail Sales, will decorate the economic calendar and is worth observing as well, FX Street reported.
Technical analysis
The buyers are likely stepping back from the monthly top surrounding $1,745/46. Even so, a 21-day SMA level near $1,723 seems to restrict the bullion's immediate downside.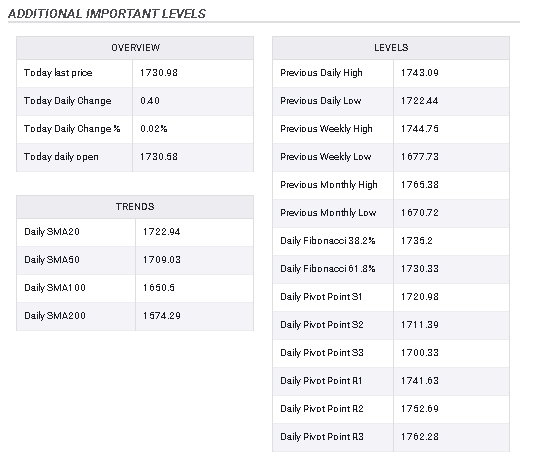 (Photo: Captured)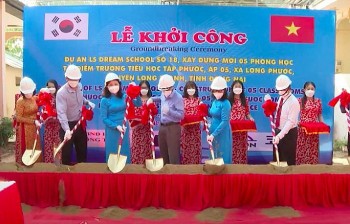 Friendship
The Union of Friendship Organizations of Dong Nai Province and COPION (Co-operation & Participation In Overseas NGOs) kicked off another LS Dream School project in the southern province.