World of Bizzare Things: 8 Weirdest Museums Found In the US
America is the home to many weird, unusual and exotic museums that present parts of the culture, modern world or just basically bizarre things.
Not every museum is a shimmering beacon of high culture. Some focus on the more exotic aspects of the world. No matter how bizarre, offbeat or outrageous the subject may be, there's probably a museum dedicated to it. Here, we have a lis of the strangest museums in the US.
1. Pizza Brain's Museum of Pizza Culture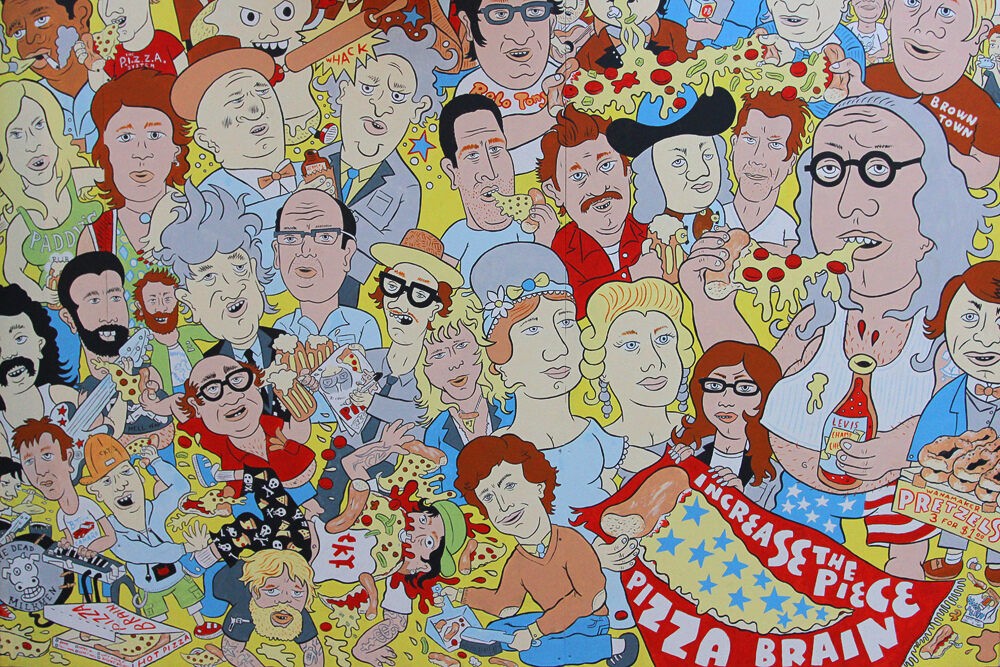 The backyard features a giant mural by local artist Hawk Krall. VIVIANDNGUYEN_
In 2012, three friends brought together by a shared love for pizza made their dream a reality when they opened Pizza Brain and its Museum of Pizza Culture. The museum-cum-restaurant features the largest collection of pizza memorabilia in the world.
From sword-wielding Teenage Mutant Ninja Turtle figurines wearing Pizza Hut sweaters to a slice-shaped remote control to a wall lined with pie-themed album covers, no surface is free from pizza pizazz. In addition to one founder's enormous collection, the museum continues to receive pizza memorabilia from near and far. Located in Fishtown, a Philadelphia neighborhood that has become a haven for creatives and young professionals, the museum is also a pizza parlor. Menu options range from the simple (the "Jane" comes with mozzarella, aged provolone, grana padano, and fresh basil) to the decadent (the "Kira Tierston" comes with mozzarella, smoked bacon, a bit of brown sugar, red onion, and oven-roasted brussels sprouts).
Diners with a sweet tooth can chase their pie with a scoop from the adjacent ice cream shop, Little Baby's, whose flavors run the gamut from Irish Potato to Chocolate Churro. The truly adventurous are can concoct what is called a Frankford Avenue Taco by topping their cheese slice with Little Baby's pizza-flavored ice cream.
2. Spam Museum
Photo: Getty Images
The Spam Museum is an admission-free museum in Austin, Minnesota dedicated to Spam, a brand of canned precooked meat products made by Hormel Foods Corporation. The museum tells the history of the Hormel company, the origin of Spam, and its place in world culture.
The Spam Museum originated in 1991 as the Hormel Foods First Century Museum, when Hormel opened a small storefront company museum in celebration of the company's 100 year anniversary. Located in Austin's Oak Park Mall, Hormel later re-branded it as the Spam Museum.
A much-larger Spam-focused museum opened in September 2001. The 16,500-square foot space included a theater, historical displays, family activities and games, and a gift shop. The lobby of the museum featured a wall of Spam with more than 3,300 Spam cans and, for many years, the theatre showed a short film entitled "SPAM: A Love Story." In late 2014, the museum temporarily closed while it moved to a new downtown location.
The museum re-opened on 22 April 2016 at its new location at 101 3rd Ave NE.
The location in downtown Austin is approximately 14,000 square feet in size and comprises seven main galleries. These include Can Central, "the heart of the museum"; the World Market, where visitors can learn about the advertising and use of Spam and Spam recipes from 44 different nations; a World War II-themed exhibit explaining the importance of Spam as a staple for American troops; and Spam Brand 101, an interactive exhibit where visitors learn about 15 varieties of Spam and families are able to compete in the "assembly" of mock cans of Spam. Many of the exhibits include games, interactive videos, and hands-on activities.
The Spam Shop offers hundreds of Spam-branded items and gifts. Volunteer guides - known as Spambassadors - offer visitors small bits of Spam on a toothpick or pretzel stick, commonly known as Spamples.
3. International UFO Museum and Research Center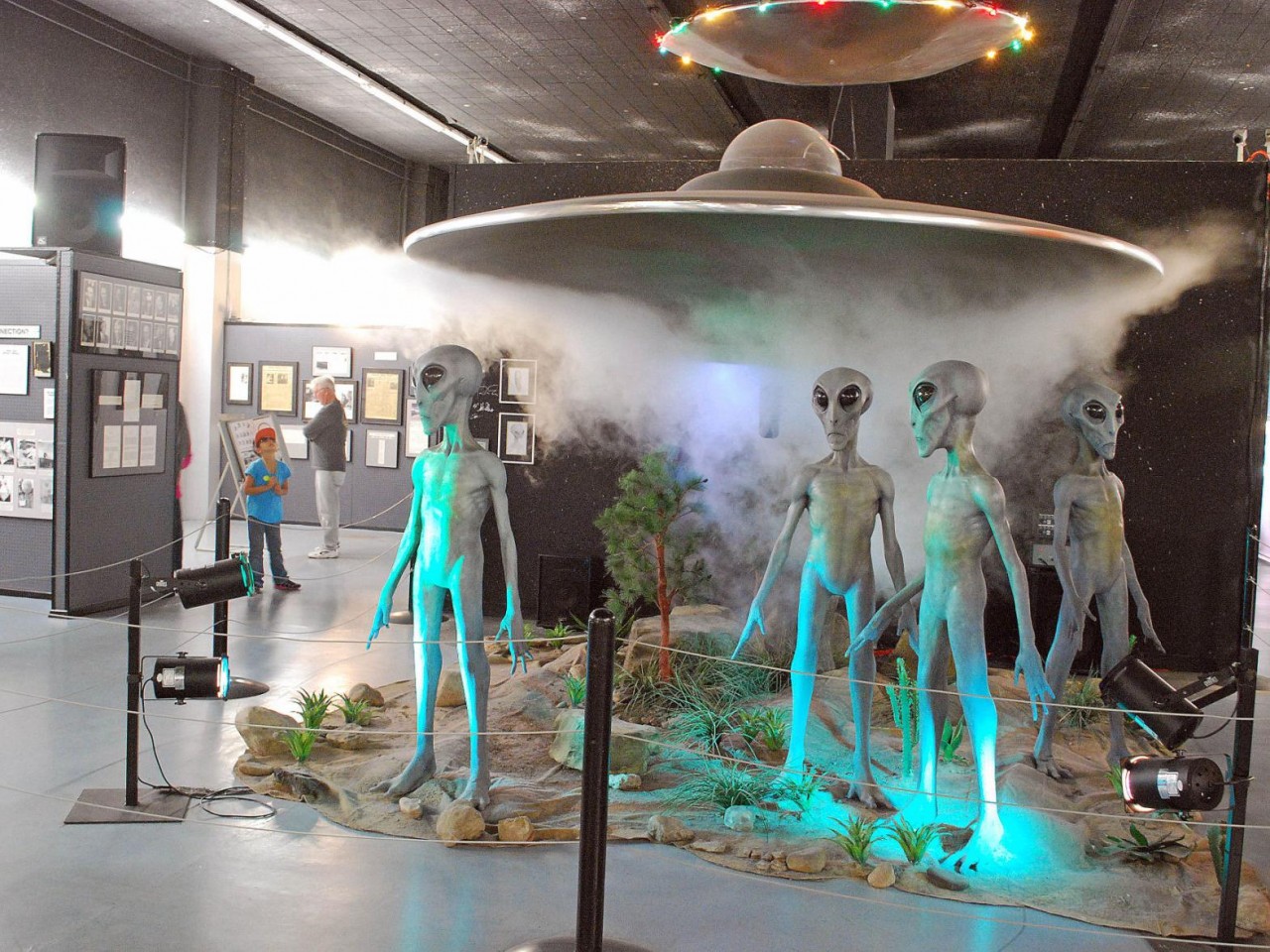 Photo: Sioux City Journal
The International UFO Museum And Research Center is located in Roswell, New Mexico, United States, in the downtown district, and is focused largely on the 1947 Roswell Crash and later supposed UFO incidents in the United States and elsewhere. It was founded in 1991 as a 501c3 nonprofit educational organization and is located in a former movie theater from the 1930s. The museum contains an extensive library and exhibits all focused on the history of UFO encounters. Additionally it has an extensive library collection of UFO material and meeting room. It functions as the centerpiece of the annual UFOfest held in Roswell each year.
The catalyst for the museum was the 1947 Roswell UFO incident, in which a rancher, W. W. "Mack" Brazel, discovered metal debris outside of Roswell, near a giant trench that spanned hundreds of feet. The International UFO Museum and Research Center shares theories about the Roswell incident and other extraterrestrial life.
The Museum was founded by Glenn Dennis and opened in September 1991.
The museum also has a gift store with UFO-inspired souvenirs.
4. The Museum of Death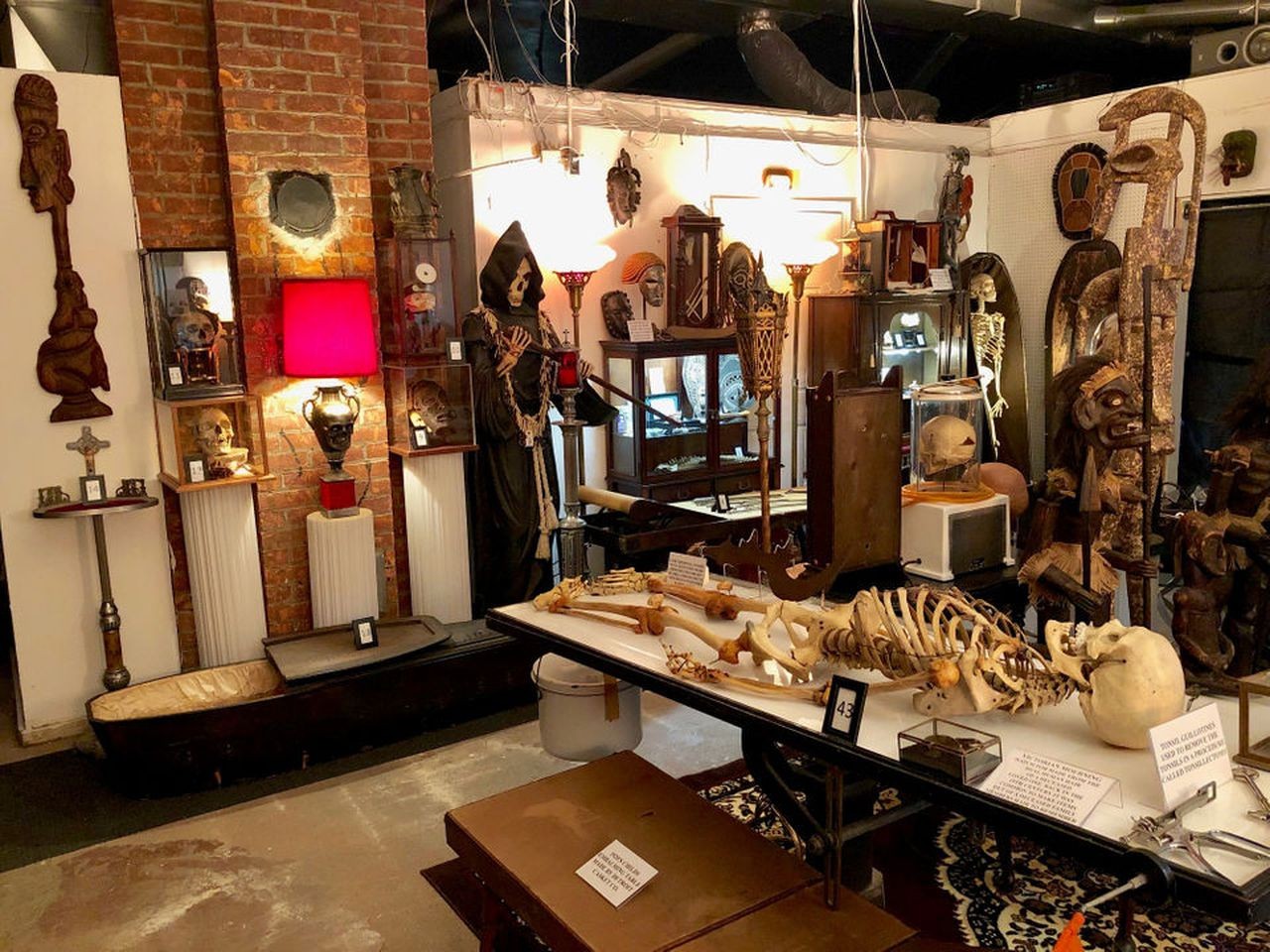 Photo: MLive.com
The museum of Death, a showcase of just that, was originally founded in San Diego in 1995. In 2000, proprietors James Healy and Cathee Shultz moved the museum to its current location in Los Angeles, and expanded to what is now the largest collection of serial murderer artwork, photos of the Manson crime scenes, original photos from the Dahlia Murders, and other such relics of the violent, fatal and macabre.
Other exhibits in the museum include the guillotined, severed head of Henri Landru, a body bag and coffin collection, full size replicas of execution devices, mortician and autopsy instruments (and pictures and video of such in use), taxidermy showcases, the Heaven's Gate Cult recruiting video and more.
If you've managed to read this far, then the Museum of Death just might be a must-see destination for your inner-ghoul. The museum is a self-guided tour that lasts about an hour, but, of course, you're welcome to stay as long as you like (if you're up to it).
"I think it shocks people, but its a good shock," said Healy. "Seeing all these artifacts of death in one place reminds people how precious life is."
5. International Banana Museum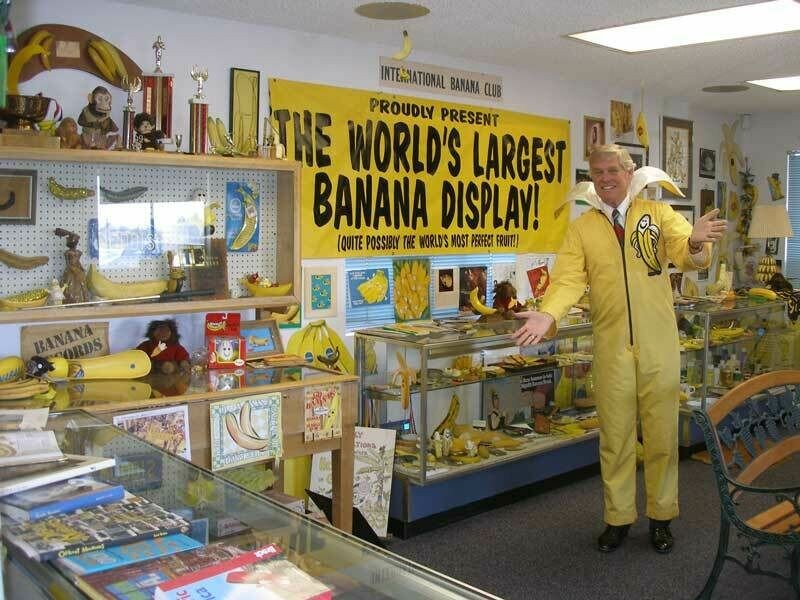 Photo: Bananaclub.com
It all started at a photography convention in 1972, when Ken Bannister, VP of a manufacturing company, passed out Chiquita banana stickers to people he encountered. The goal, he said, was simply to get people's attention and to make them smile. After all, what better way to garner a grin than by using the fruit that's "shaped like a smile."
Soon after, Bannister started receiving banana-related paraphernalia – or "banana-phernalia" – in the mail. Inspired by his banana publicity, and eager to keep people smiling, Bannister then began referring to himself as "Bananaster" and "T.B.," short for "Top Banana." The nicknames stuck and "Bananaster" eventually became the founder of the first ever International Banana Club.
Bannister received so much banana-phernalia that he decided to open the club's first and only museum, the International Banana Club Museum, in 1976. Today, the museum is home to 17,000 banana collectibles, all of which have been donated by members of the club. Objects range from a gold-sequined Michael Jackson banana to the world's only petrified banana. With so many objects, the museum holds the Guinness Book of World Record's title of "World's Largest Collection" devoted to one fruit.
Membership to the club is a flat rate of $15 and, just like Bananaster, members can come up with their own nickname. Additionally, members can climb up in social ranks; the more banana-phernalia one donates, the higher the "B.M." (banana merit) they are rewarded, such as PHB, Doctorate of Bananistry Degree. Banana Club members are said to get extra discounts when presenting their Banana Card Clubs in public, though a simple smile is what the club strives for. And if the smile isn't enough, members can also brag about their fellow famous Banana Club-ers: Jay Leno and former US President, Ronald Reagan.
6. National Mustard Museum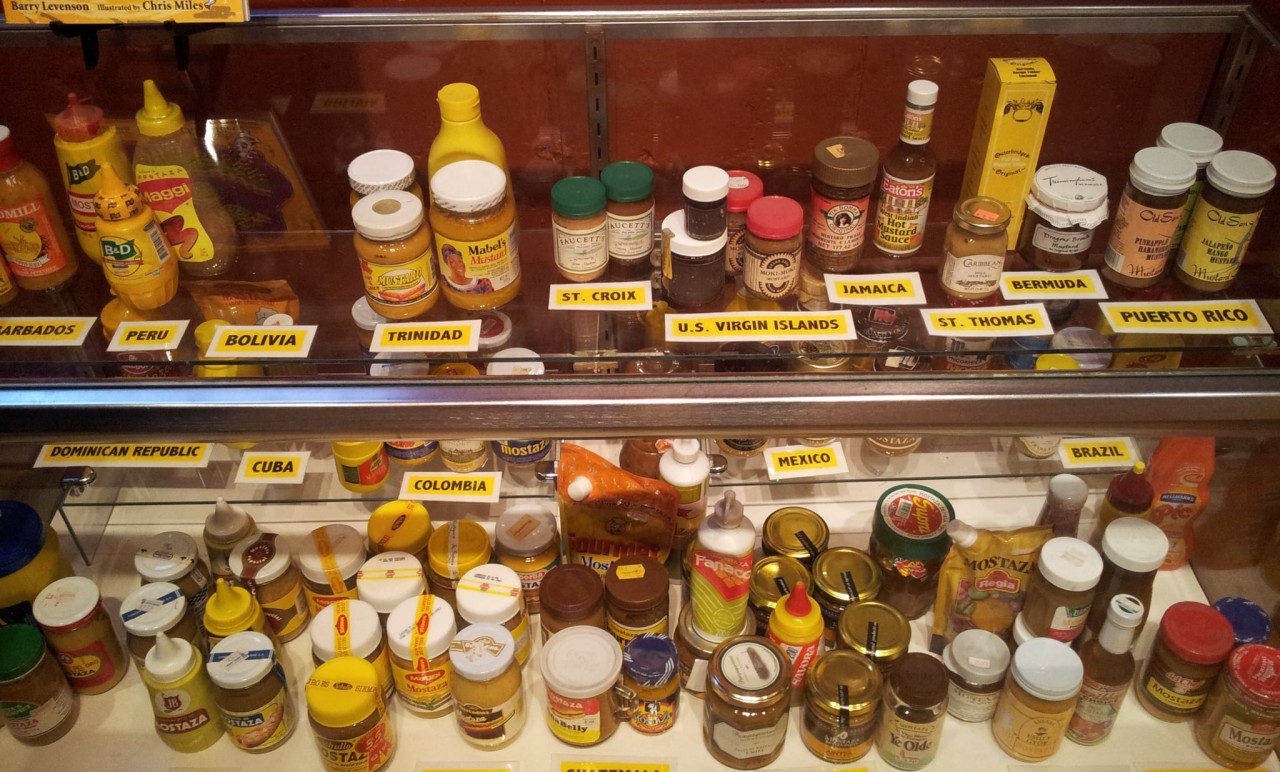 Photo: POPSUGAR
For many years the highlight of Mount Horeb, Wisconsin, was the famous Mustard Museum, run by a local celebrity (Barry Levenson, famous for the mustard museum, naturally) and home to a huge collection of both new and "antique" mustards from all over the world. The museum was small, but delightful, and the collection of antique-mustard serving sets was particularly charming. There was also a stream of movies, such as Mustard: The Spice of Nations, shown throughout the day on a big television in a little seating area known as the "Mustard Piece Theatre."
When the growing collection strained the location, the mustard museum moved 18 miles to Middleton. Now dubbed the National Mustard Museum, it houses an extensive collection devoted to what staff call "the king of condiments, the "collegiate "Poupon U," and a gift shop that offers hundreds of mustards ranging from fruity to super hot, all of which can be sampled on request. If one is really serious about mustard, the first Saturday of August is National Mustard Day, and cause for a full-on festival at the museum.
7. Mmuseumm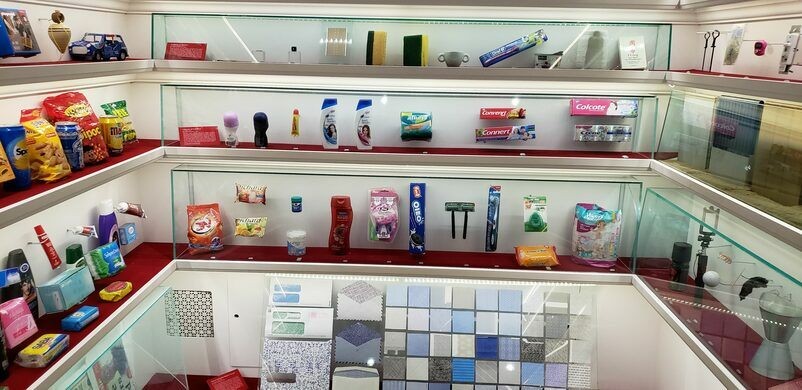 Photo: Atlas Obscura
Pronounced "MUSEUM," Mmuseumm is a curated display of artifacts housed in a freight elevator.
This tiny space features rotating and permanent collections, specializing in the "overlooked, dismissed, or ignored." Museumm offers a unique opportunity to engage with familiar and exotic everyday objects from around the world. Past exhibitions include Personal Possessions found in the Pacific, Paper Works found in Copying Machines, and Homemade Weapons of Defense.
Created by filmmakers Alex Kalman, Benny and Josh Safdie, and sponsored by the late Kate Spade (and Andy and Bea Spade) of the purse empire, among the unusual objects featured in the museum have been the shoe thrown at George W. Bush at the Minister's Palace in Baghdad, a hot water coil heater from Kaunas, Lithuania, and a plastic glove from Paradise Valley, Montana.
The collection is refreshed annually. In 2018, a small "gift shop" was added in a window a few feet down on the right of the Mmuseumm. Visitors may call an 800 number to access a free audio guide. The museum fits three people at a time.
8. Idaho Potato Museum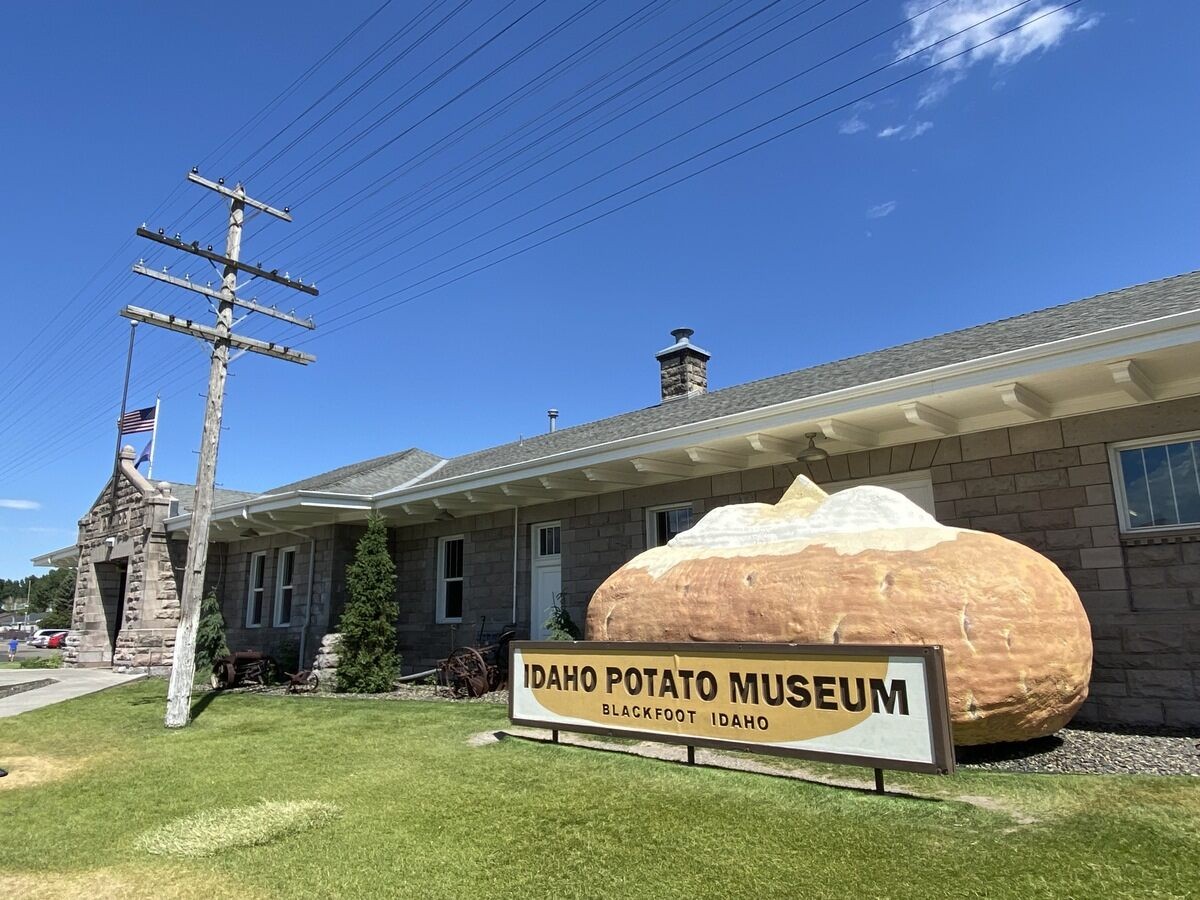 Photo: Atlas Obscura
This museum highlights the agricultural and commercial history of potatoes. It features a giant potato sculpture and also serves as the home of the world's largest potato chip, a 25-inches long Pringle dating from 1991.
Lay's slogan "betcha can't eat just one" is exemplified in this local museum filled wall-to-wall in potato paraphernalia. From the moment you step through the door (adjacent to a several-foot-long baked potato with a permanent tripod to commemorate your trip) and pay the entry fee (and receive a potato sack with a box of hash browns), you are inundated with starchy goodness.
The museum offers information and entertainment for all ages, with examples of products, a build-your-own Mr. Potato Head Station, and animatronic potato people. The gift shop offers an array of cheesy potato-themed products to take home, such as shirts with Da Vinci's Vitruvian Man replaced with a potato.
Connected to the museum is a cafe serving potato products and ice cream.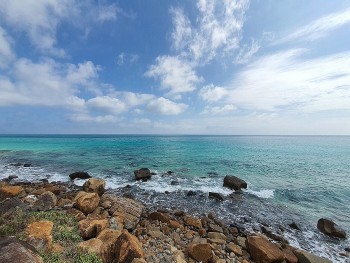 Viet's Home
Con Dao, a historical and famous island situating in the southern province of Ba Ria - Vung Tau, has been named among the top 16 best island vacations in the world, as compiled by tourism magazine Condé Nast Traveler (CNTraveler) of the United States.