World's leaders ask their citizens to stay home amid Covid-19 threat surges
With the uncertainties and complicated situation of Covid-19 and several people against the strict lockdown announced by governments, some world's leaders have urgently asked their citizens to "stay at home" and avoid unnecessary outdoor movement to contain the pandemic.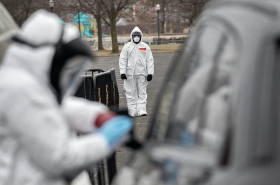 Medical personnel dressed in personal protective equipment prepare to give a coronavirus swab test at a drive-thru testing station in Stamford, Connecticut, on March 23, 2020. Getty Images
The UK's government has just imposed the most stringent social restrictions on the British public on March 24.
With immediate effect, the UK is being instructed to stay at home, with exceptions for basic shopping, one form of exercise a day, medical need and some designated key workers. British police have been empowered to enforce the rules by dispersing gatherings and issuing fines.
"From this evening I must give the British people a very simple instruction -- you must stay at home," Prime Minister Boris Johnson said. "Because the critical thing we must do is stop the disease spreading between households."
The rules come with deaths from the virus accelerating in the UK. A further 54 deaths were announced in the past 24 hours, bringing the nation's total to 335.
Prime Minister Justin Trudeau also issued a stern warning to Canadians who ignore social distancing advice, telling citizens to "go home and stay home!" – and leaving open the possibility his government could take more extreme measures as the number of confirmed coronavirus cases continues to rise.
The blunt message on Monday came after images circulated online showing groups of people congregating in parks, along streets and on playing fields over the weekend.
The Canadian PM spoke from self-isolation after his wife tested positive for the coronavirus more than a week ago.
Trudeau suggested his government could close provincial borders and use the law to ensure people respected quarantine rules and practice social distancing.
Italy has been under total lockdown since March 13, as coronavirus cases continue to spread rapidly through the country.
But some residents have not heeded lawmakers' orders. Some Italian officials said they have seen people wandering empty cities, gathering at parks to play games and walking their dogs.
"Go home, this is not a film on TV, this is a national emergency!," Antonio Decaro, Mayor of Bari, stressed to his residents last week. "Go home, you can't play ping pong, go to your playstations," he said. "You're not allowed to be here, go play at home with your playstations."
Italian authorities have pressed charges against more than 40,000 people for violating the lockdown imposed to contain the coronavirus, according to figures from the interior ministry.
As coronavirus case totals rise in the US — the country has confirmed nearly 50,000 cases and 600 deaths — governors are issuing unprecedented "stay at home" orders. The list of states that have announced lockdowns includes California, New Mexico, New York, Oregon, and Washington among others.
Those who've been told to stay at home or shelter in place are meant to avoid going outside except for essential purchases —like buying food or medicine — or for work in critical sectors.
The goal of these measures is social distancing — keeping people apart and limiting gatherings — in order to slow the spread of the virus.
Nearly 418,000 have been infected worldwide, 18,600-plus are dead, and the US is the third-worst-hit country.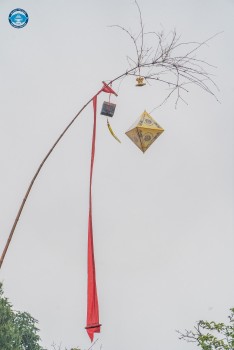 Viet's Home
In the past, the Neu pole (a tall bamboo pole with red garment strips used to ward off evil spirits during the lunar New Year) lowering ceremony at the royal palace of the Nguyen Dynasty was performed to mark the end of the New Year holiday and prepare to enter a new working year.