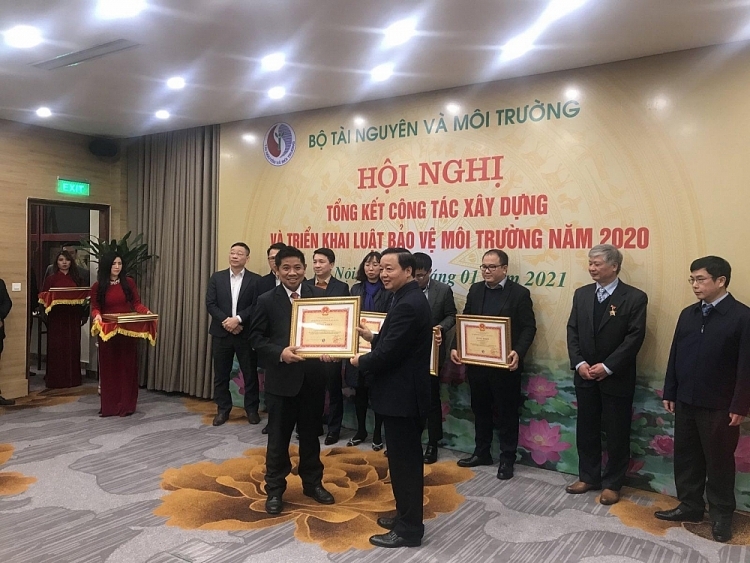 Photo: © WWF-Viet Nam
On November 17, 2020, the National Assembly of Vietnam officially approved the amended Law on Environmental Protection 2020 (LEP 2020).
Evaluating the contribution in supporting the formulation of that LEP 2020, the Minister of Natural Resources and Environment (MoNRE) has sent a letter of thanks to WWF Vietnam and awarded a Certificate of credit for "Excellent achievements in the formation of the Law on Environmental Protection 2020, contributing to the construction and development of the natural resources and environment sector".
This recognition acknowledges our continued assistance in the development of LEP 2020, including: Support for the organization of public consultation workshops on the draft LEP 2020, and Continued shared ideas, proposed environmentally sound measures in environment and natural resources management in the fields of municipal solid waste management in general, (plastic) packaging waste/pollution management in particular; extend responsibility of procedures for their products to the post-consumption stage; landscape planning and management; climate change; effective management of natural resources and biodiversity.
WWF was one of the first International non-government organizations working in Vietnam. In 1985, WWF began working on a national conservation strategy and since then has worked closely with the Vietnamese Government on a diverse range of environment issues and implemented field activities across the country.
On a mission to stop the degradation of Vietnam's natural environment and to build a future in which humans live in harmony with nature, WWF is committed to continue assisting the Government in environmental protection and effective natural resource management activities in Vietnam.
The latest revised Law on Environmental Protection was adopted at the 14th session of the National Assembly Legislature. The law has 16 chapters with 141 articles and it focuses on 12 main groups of policies. Under the law, a strong decentralisation from the central Government down to grassroots level have been well described.
The law will come into force on January 1, 2022./.
Hannah Nguyen