Snaring wildlife animals may spawn disease transmission, warns WWF
The World Wildlife Fund (WWF) has warned that snaring of animals has become a crisis that poses a serious risk to wildlife in South-East Asia and could spawn the transmission of zoonotic diseases to humans.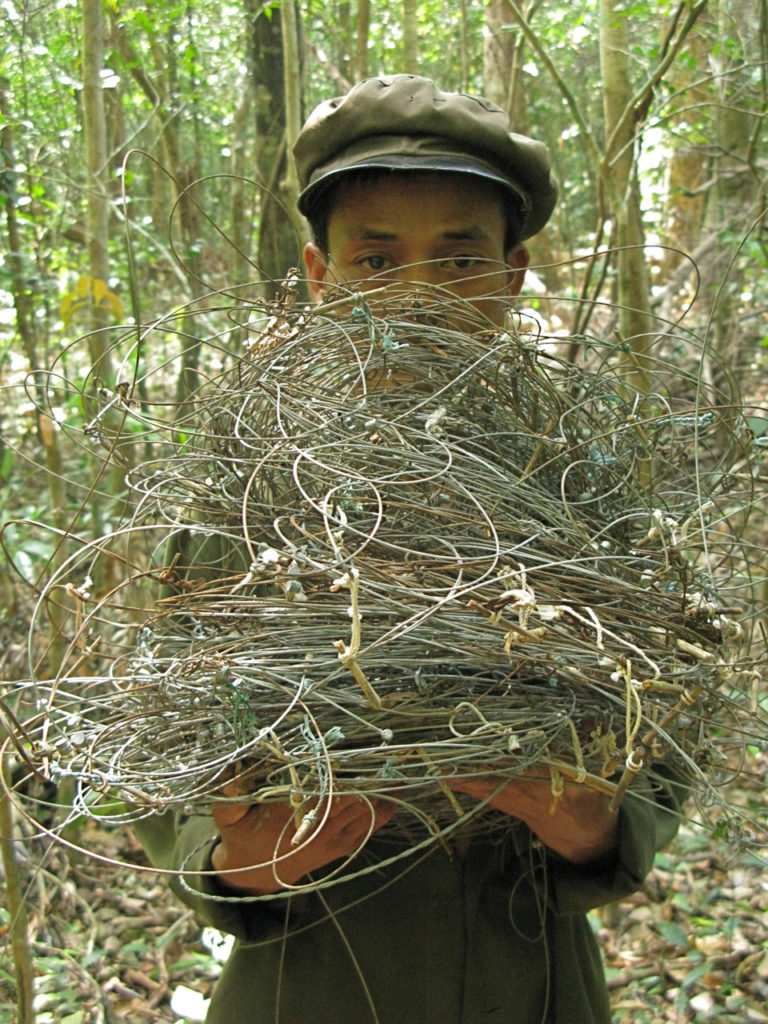 Member of patrol team with wire snares collected in saola habitat in central Laos at Nakai-Nam Theun National Protected Area. Photo: William Robichaud/Global Wildlife
In the report published on July 9 entitled Silence of the Snares: Southeast Asia's Snaring Crisis estimates that 12.3 million snares threaten wildlife survival in Cambodia, Laos, and Vietnam.
The report said most traps were made from wire or cable, and traps increased the chances of close contact between humans and wildlife and the likelihood of a zoonotic disease spillover.
Researchers have found that many of the animals targeted by snaring, including wild boar, palm civets and pangolins carry the highest risk of zoonotic disease transmission.
"Snares are destroying wildlife in the region – from big species such as tigers and elephants to pangolins and palm civets – and emptying forests of wildlife, " said WWF Tigers Alive Initiative head Stuart Chapman.
The report said the demand in urban areas for wildlife meat and wildlife parts had pushed poachers to catch more wildlife.
Snares such as this one remain widely used to catch wildlife in the region. Photo: Sokhoeurn Lor/WWF-Cambodia
Snares impact more than 700 of the region's terrestrial mammal species. These include some of the region's most threatened species such as elephants, tigers, saolas, deer, and banteng.
A total of 234,291 snares were collected from five protected areas in Cambodia from 2010 to 2019, the report said.
WWF-Cambodia country director Seng Teak said the snares were the principal threat to tigers in the region and a major contributor to the presumption of their extinction in Cambodia, Laos and Vietnam.
He said the snaring crisis was a major factor leading to population declines of predators in the WWF's protected areas, including Indochinese leopards, clouded leopards, dholes, and the prey on which these animals depend like banteng, muntjac, wild boar, gaur, eld's deer, and sambar deer.
"I commend the law enforcement efforts made by the rangers and law enforcement officers from the Environment Ministry and the Agriculture, Forestry and Fisheries Ministry, " Teak said.
Masked palm civet (Paguma larvata) found trapped by snare set in the Thua Thien Hue Saola Nature Reserve in Viet Nam by Forest Guard of WWF-Viet Nam. It was later released back to the wild. Photo: Le Thanh Tuan/WWF-Viet Nam
WWF is advocating the implementation of a "One Health" approach linking the health of people and animals. The organization urged this approach to be included in the decision-making process on wildlife and land-use change and be incorporated into all business and financing decisions, especially related to global health.
"Snaring remains a major concern to wildlife survival. And removing snares from the forest alone is not enough. Strengthened legislation, effective prosecution and increased penalties are crucial to end the trade in wild animals that are major targets for snaring," Teak said.
Snaring wildlife may spawn disease transmission. Video: Phnom Penh Post
Environment ministry spokesman Neth Pheaktra said the snare was a hidden killer of Cambodian wildlife. He said the removal of all types of snares from protected areas in the first six months of the year totaled 20,179, saving thousands of wildlife.
More than 40,000 snares, he said, were removed from protected areas last year.
"Snares are a threat to some of the most endangered species on the planet. Keeping ahead of the threat of snaring by hunters, rangers from the ministry not only patrol to prevent the destruction of natural resources and deforestation but also search for snares," Pheaktra added.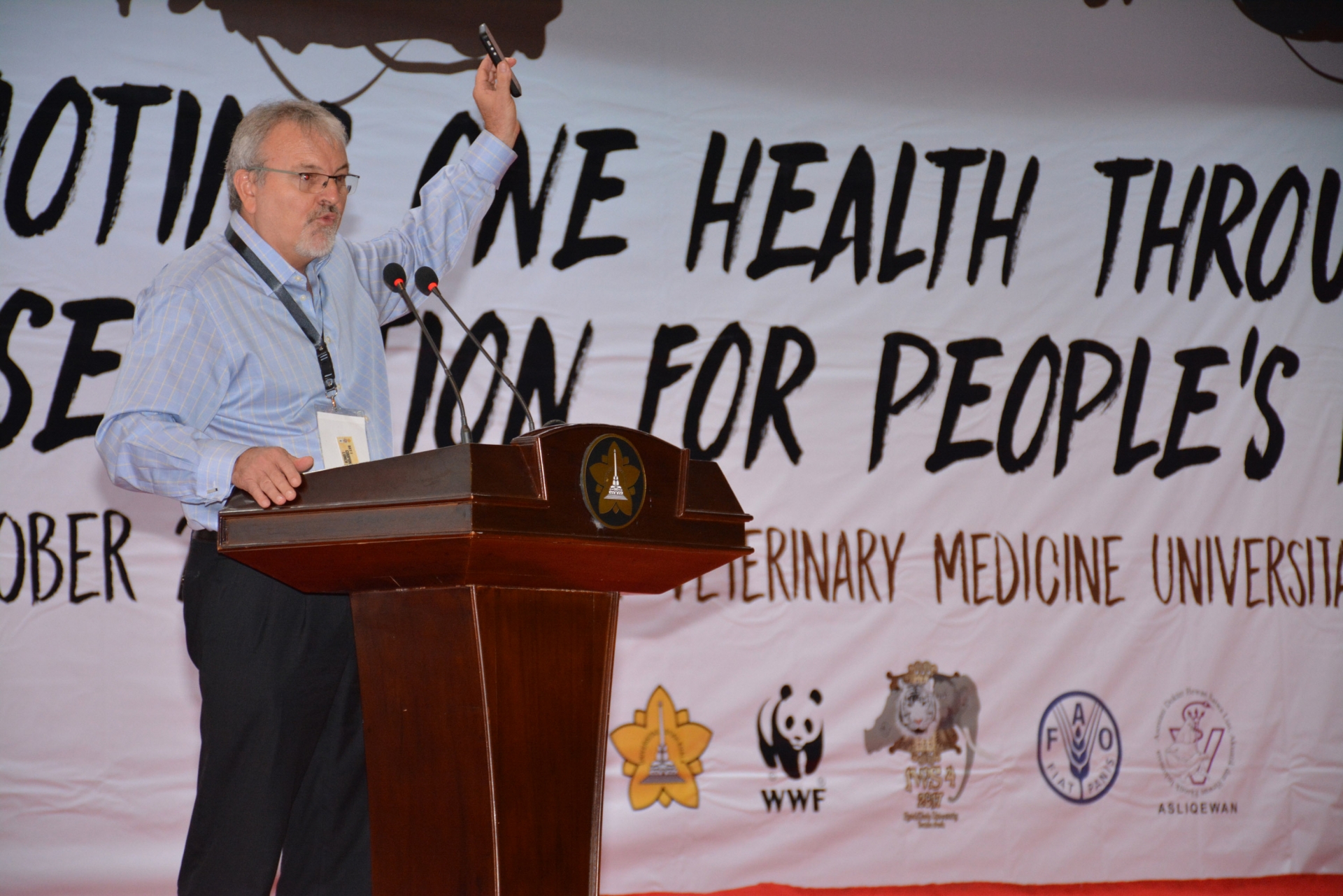 The 4th International Wildlife Symposium (IWS) with the theme of "Promoting One Health through Wildlife Conservation for People's Prosperity", organized by the World Wildlife Fund (WWF) in collaboration with FAO ECTAD Indonesia and Syiah Kuala University in Banda Aceh in October 2017. Photo: FAO
Vietnam News recently reported that there were more than 1,000 snares that illegal hunters used to catch animals in Lệ Thủy District's Động Châu forest (Quang Binh province) being collected by local patrol forces.
Hunters normally use the ubiquitous wires such as brake cables for bicycles or motorbikes, which are cheap and easy to make, to create snares to catch wildlife.
In order to control the situation, the local forces have still patrolled regularly to detect illegal exploitation of forest resources.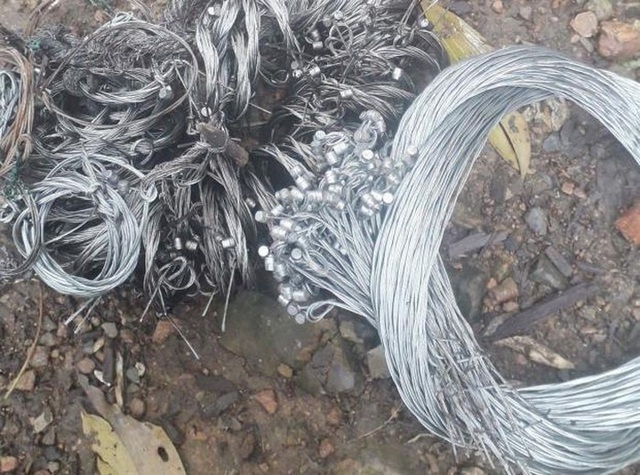 Hunters use the ubiquitous wires such as brake cables for bicycles or motorbikes to create snares to catch animals. Photo: Dan Tri
According to WWF, snares are contributing to a wildlife extinction crisis, while also impacting ecosystems that support human well-being across Southeast Asia. Usually made from wire cable, nylon, or rope, snares are rudimentary traps used to supply the demand for wildlife meat and products. They also increasingly supply an urban demand for wildlife, which is often consumed as a delicacy. Overall, snares impact more than 700 mammal species in the region, including rare and charismatic animals such as the Asian elephant, Sumatran rhinoceros, saola, and banteng. They are also now the greatest threat to the long-term presence of tigers in Southeast Asia.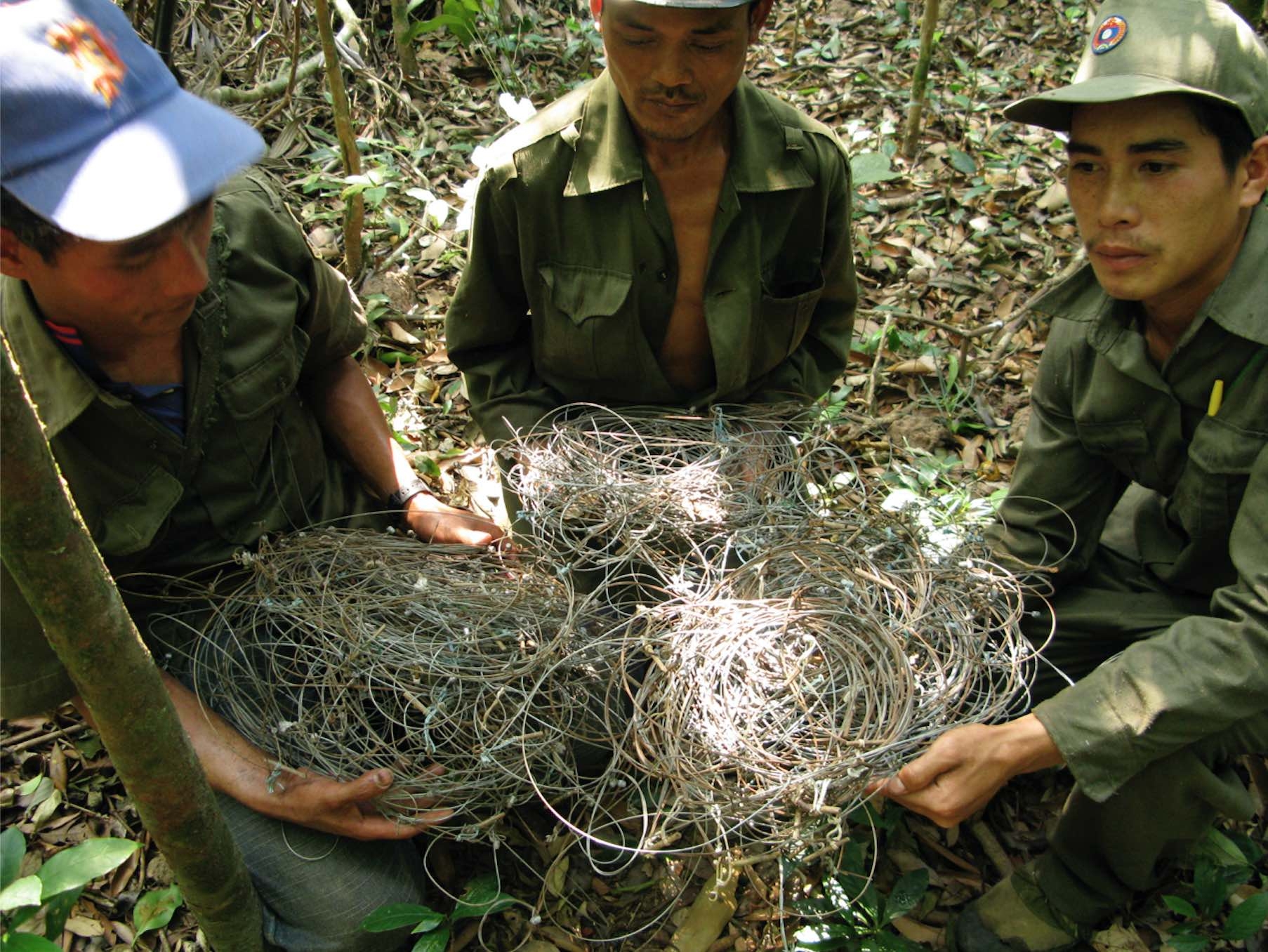 Patrol team with wire snares collected in Saola habitat in central Laos at Nakai-Nam Theun National Protected Area. Photo: William Robichaud/Global Wildlife