Yoshihide Suga officially named as Japan's new Prime Minister, replacing Shinzo Abe
Yoshihide Suga became the country's 99th Prime Minister on September 16, putting an end to the administration led by his predecessor Shinzo Abe — the longest in modern Japanese history.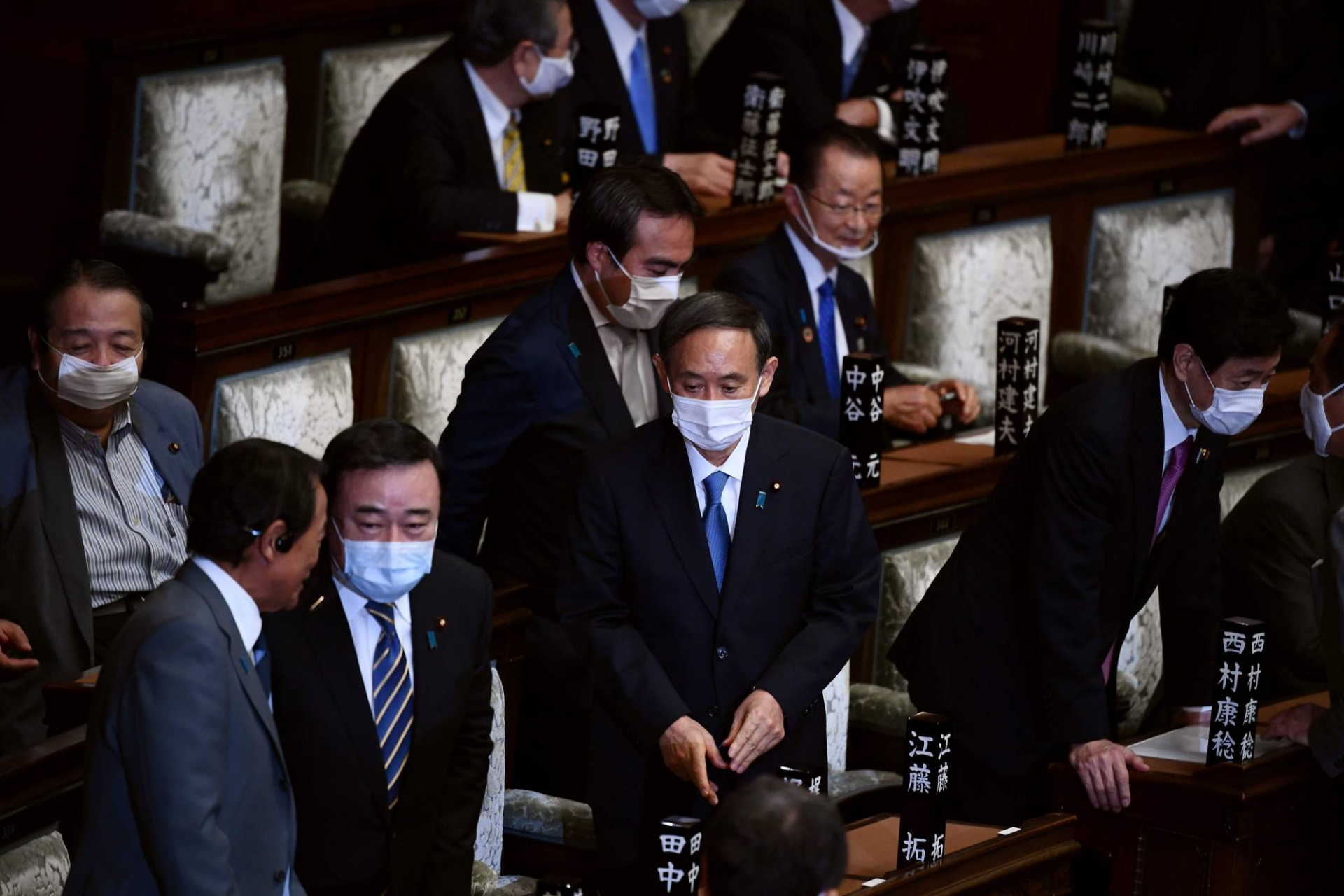 Yoshihide Suga attends a Lower House session to vote for the next prime minister in Tokyo on September 16. Photo: AFP
Yoshihide Suga became the country's 99th Prime Minister on September 16, marking the beginning of a new era shaped by a host of daunting political, economic and societal challenges.
The 71-year-old head of the ruling Liberal Democratic Party (LDP) replaces outgoing leader Shinzo Abe, Japan's longest-serving Prime Minister, who announced his intention to resign in August due to health problems related to colitis -- a non-curable inflammatory bowel disease that he was able to manage for most of his tenure.
Suga was elected LDP leader on September 13 with about 70 percent of the votes, but he still required the backing of the country's national legislature, the Diet, before he could officially become Prime Minister.
He won the Diet vote with 314 out of 465 votes in the lower house and 142 out of 240 votes in the upper chamber, CNN said.
Suga pledges to push forward Abe's policies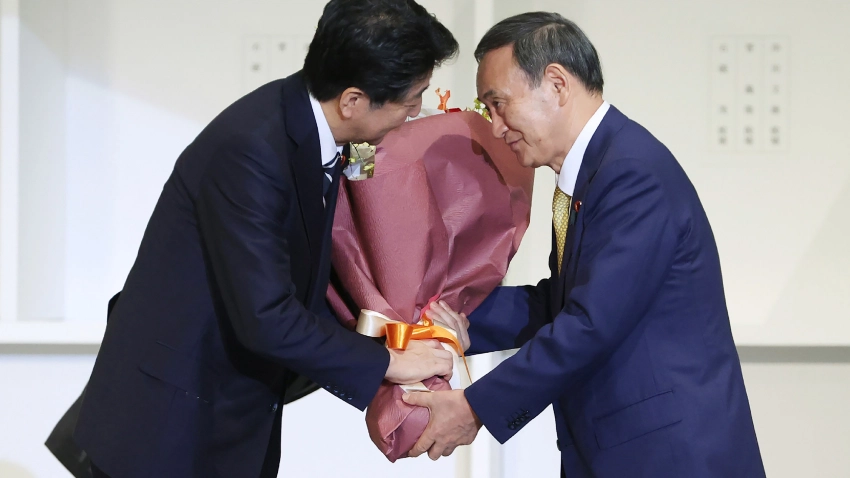 Newly elected leader of Japan's Liberal Democratic Party (LDP) Yoshihide Suga (R) presents flowers to outgoing Prime Minister Shinzo Abe (L) after the ruling LDP party's leadership election in Tokyo on September 14, 2020. Photo: nbcnewyork
For Suga, the immediate focus will be reviving the battered economy while keeping the novel coronavirus under control, with longer-term challenges including the country's falling birthrate and a myriad of diplomatic disputes with Asian neighbors.
Suga has pledged to push forward with Abe's policies including "Abenomics," a mix of measures aimed at beating deflation and spurring growth in the world's third-largest economy.
The farmer's son, who unlike Abe and many other lawmakers in Japan is not the scion of a political dynasty, has hinted at the possibility of additional steps to shore up the economy.
This would come on top of a 230 trillion yen ($2.2 trillion) package the government has already set out for tackling the COVID-19 outbreak, including subsidies for beleaguered businesses and promotion of domestic tourism.
He will also take over a sweeping review of Japan's national security policy that was initiated by Abe after plans to introduce a US-developed missile defense system were scrapped due to technical issues.
More than half of Suga's cabinet ministers were part of an Abe government... a reflection of the new leader's intentions to continue his predecessor's policies, NHK said.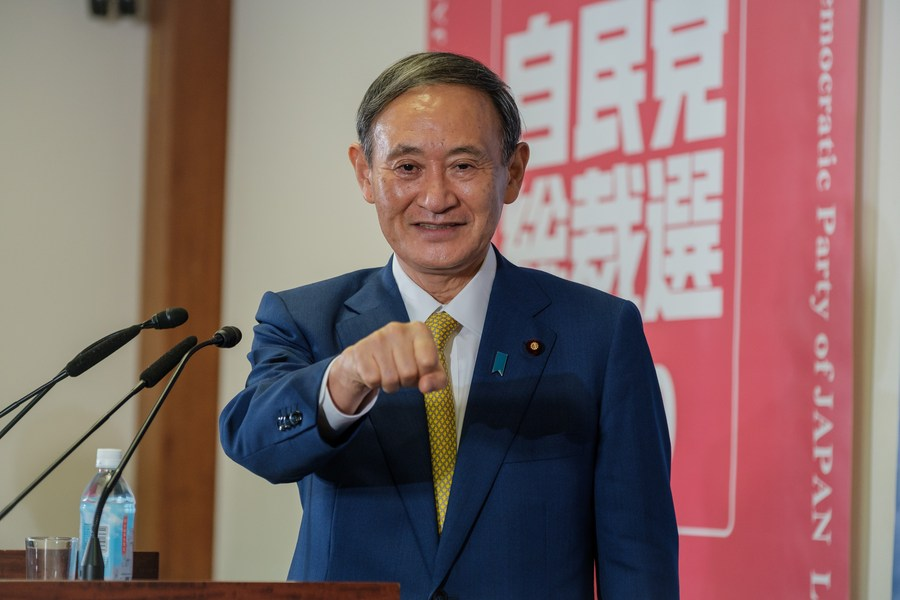 Yoshihide Suga, new president of Japan's ruling Liberal Democratic Party (LDP), gestures before a press conference in Tokyo, Japan on Sept. 14, 2020. (Nicolas Datiche/Pool via Xinhua)
After announcing the members of his Cabinet, Suga will be formally inaugurated in a ceremony at the Imperial Palace and hold a press conference in the evening. His tenure will last through the remainder of Abe's term as LDP leader until September 2021.
At 71 years and nine months old, Suga will be the oldest prime minister to take office since Kiichi Miyazawa in 1991.
Aside from tackling the short-term economic damage that the coronavirus has caused by forcing people to stay home and wiping out tourism from overseas virtually overnight, Suga will be tasked with stemming the country's falling birthrate and improving its dismal fiscal health.
The consumption tax will eventually need to be raised from the current 10 percent to cover for swelling social security costs, Suga has said, though not for the next decade or so.
On the foreign policy front, he has promised to continue working toward securing the return of Japanese nationals who were abducted by Democratic People's Republic of Korea (DPRK) in the 1970s and 1980s, and to hold negotiations with Russia to resolve a territorial dispute to clear the way for a long-awaited postwar peace treaty.
Suga also looks to continue Abe's push to amend the postwar Constitution by adding an explicit reference to the Self-Defense Forces to the war-renouncing Article 9.
"Where there's a will, there's a way"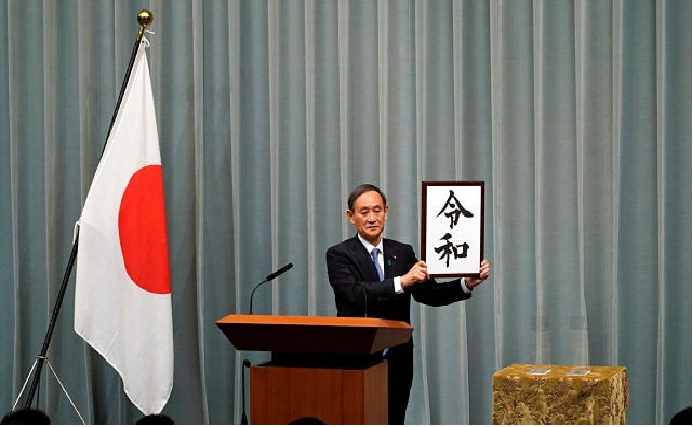 File image of Yoshihide Suga. By Franck Robichon/Pool via The New York Times
Born on Dec. 6, 1948, in a snow-covered village in Akita Prefecture to strawberry farmer Wasaburo and schoolteacher Tatsu, Suga helped out in the fields as a child and, as the eldest son, was expected to eventually take on the family business.
Wasaburo, who worked for South Manchuria Railway Co. during World War II, developed a late-harvest variety of strawberry on his return to Japan following the country's surrender. It proved a hit, selling for a premium to city dwellers.
Suga was reluctant to become a farmer himself and has said that after high school he "basically ran away from home" to find work in Tokyo. He ended up at a cardboard factory but quickly became disillusioned and quit, enrolling at Hosei University in 1969.
Suga has said he had no interest in the wave of student protests against the Japan-US security alliance and the Vietnam War sweeping the country at the time, busying himself with a number of jobs such working as a security guard and low-level newsroom assistant to pay his way through school. He did make time for sports, becoming vice-captain of the karate team.
A few years after graduating and joining an electrical maintenance company, Suga grew interested in politics and became a Diet member's secretary, learning the ins and outs of the trade for more than a decade before successfully running for the Yokohama city assembly in 1987.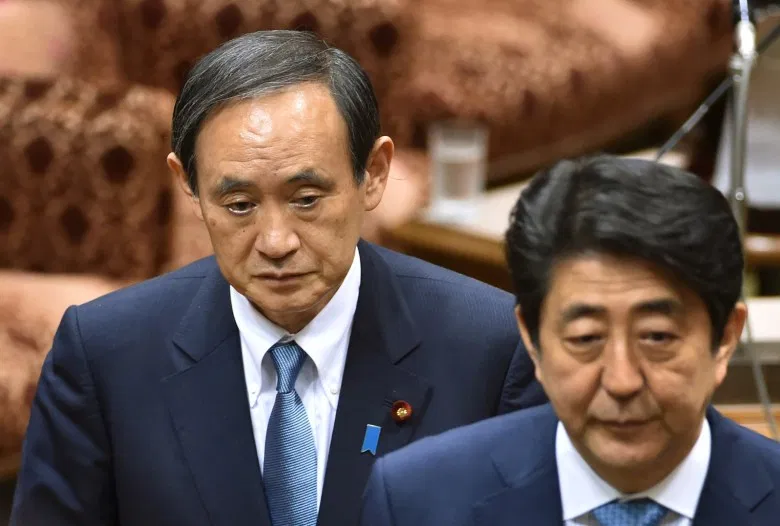 Suga received his first Cabinet position during Abe's first stint in power from 2006 to 2007. Photo: Global Times
His chance to enter national politics came in 1996 when the son of an aging member of the House of Representatives who was to take over his father's constituency unexpectedly passed away, leaving open a spot to run on the Liberal Democratic Party ticket. He won the seat at the age of 47.
Suga has cultivated an image as a self-made man -- his motto is "Where there's a will, there's a way." His background is in sharp contrast to the man he succeeds as prime minister. Shinzo Abe, the scion of a political dynasty, was groomed for office from a young age.
The two became close over their shared passion for securing the return of Japanese nationals abducted by North Korea in the 1970s and 1980s. Suga received his first Cabinet position during Abe's first stint in power from 2006 to 2007.
As minister of internal affairs, Suga introduced a hometown tax program that gives tax deductions for donations made to local governments in the countryside. He played a key role in Abe's return to power in late 2012./.
Vietnam, Japan eye stronger trade ties

Vietnamese Minister of Industry and Trade Tran Tuan Anh and Japanese Minister of State for Economic and Fiscal Policy Nishimura Yasutoshi on July 2 discussed ...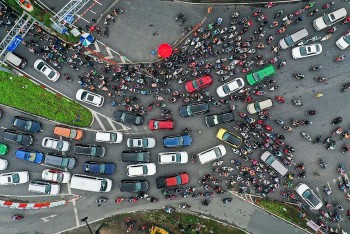 Economy
Vietnam Business & Weather Briefing (Oct 5): 25 Apple's partners have factories set up factories in Vietnam, UOB upgrades 2022 growth forecast for Vietnam to 8.2%