Who is Japan's new Prime Minister officially?
Japanese Chief Cabinet Secretary Yoshihide Suga was elected as Liberal Democratic party (LDP)'s chairman with a high number of votes to replace former PM Shinzo Abe.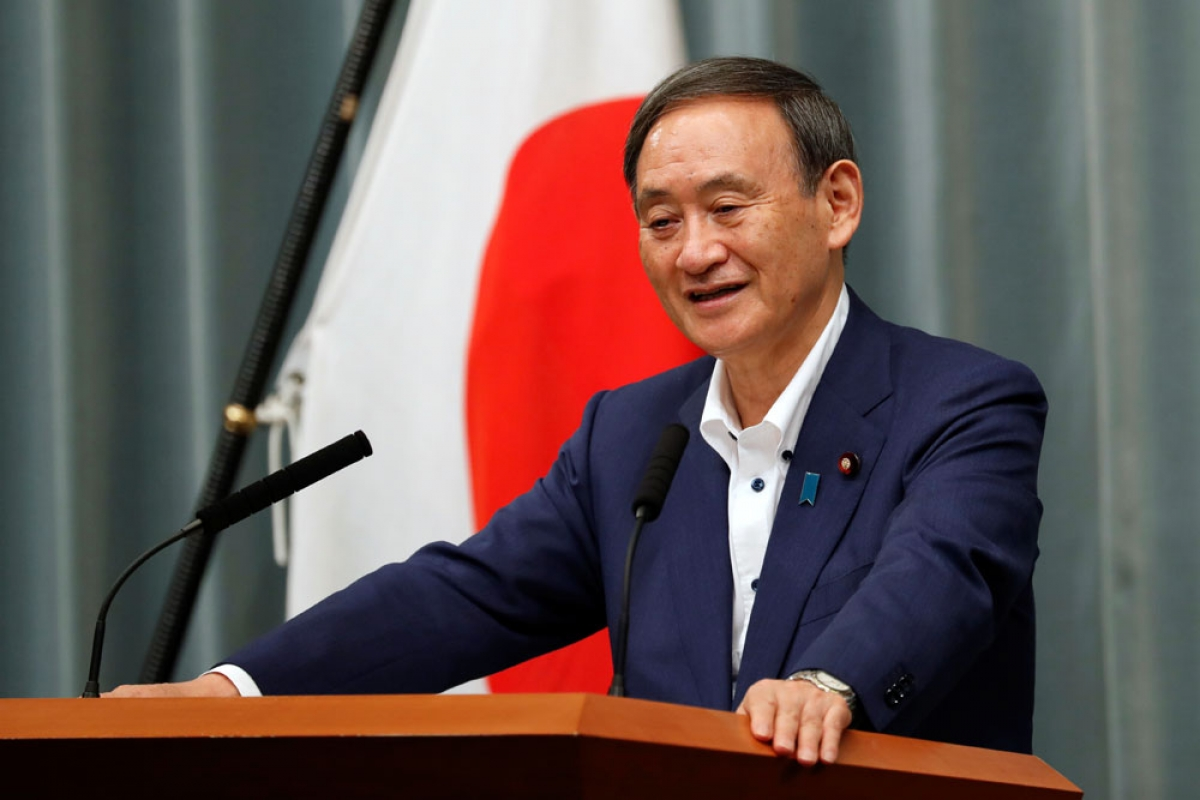 Chief Cabinet Secretary of Japan Suga Yoshihide was elected as Party Chairman with high votes (Image: Reuters)
Nothing short of force majeure will prevent Yoshihide Suga from becoming Japan's prime minister when the ruling Liberal Democratic party (LDP) elects a leader to replace Shinzo Abe this week.
Yoshihide Suga, the chief Cabinet secretary, won by a landslide in the Liberal Democratic Party presidential election Monday, becoming the presumptive successor to Prime Minister Shinzo Abe. Suga is expected to take the helm at a critical moment when the country has been hit by a pandemic and economic slump and is grappling with national security issues.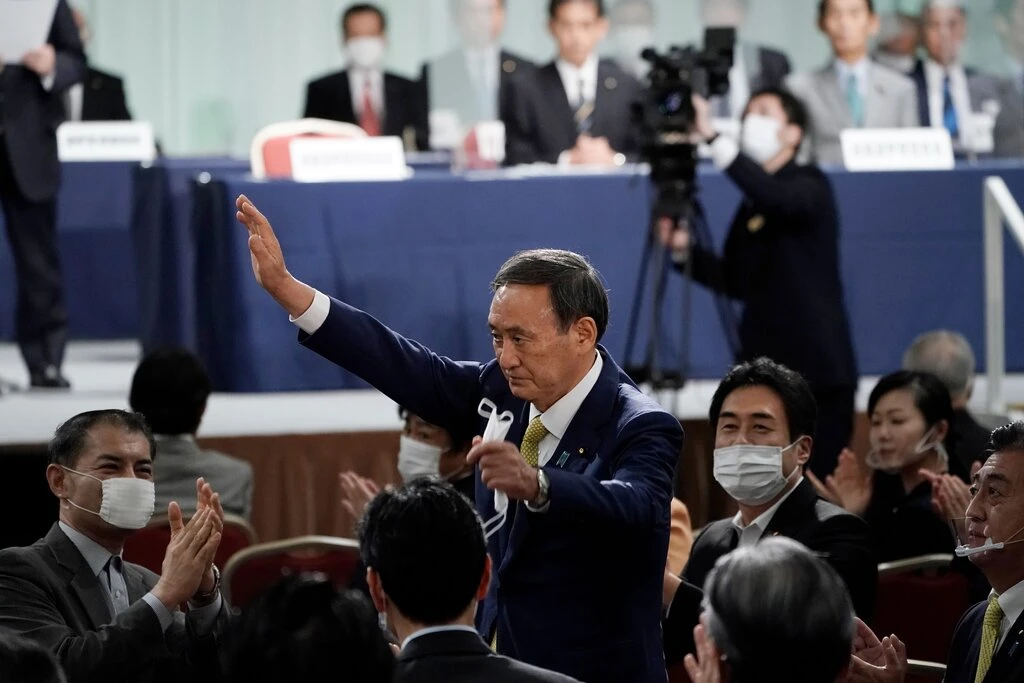 Candidate Yoshihide Suga, the chief cabinet secretary for almost eight years. Photo: NYP
As chief cabinet secretary for almost eight years, Suga has acted as the administration's de facto second-in-command, batting away tricky questions at twice-daily press briefings, advising Abe on policy and reining in Japan's recalcitrant bureaucracy.
Suga has emerged as the clear favourite to replace Abe, who is resigning on health grounds, since securing the support of key LDP factions. After what observers predict will be a comfortable victory on Monday over his rivals, the party's policy chief, Fumio Kishida, and Shigeru Ishiba, a former defence minister, Suga is practically assured of being approved as prime minister in the lower house of parliament on Wednesday, said theguardian.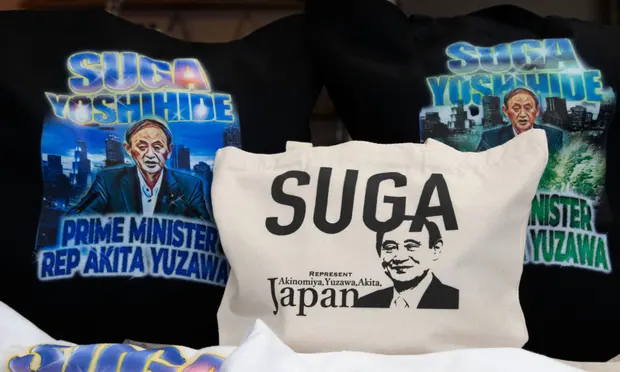 Merchandise featuring Japan's expected new prime minister, Yoshihide Suga in his home town of Yuzawa. Photograph: Reuters
"He represents a continuation of the Abe administration's managerial stability, but also simultaneously represents a stark contrast from Abe himself, in that he doesn't come from the privileged dynastic background typical among so many LDP politicians," said Daniel M. Smith, an associate professor of comparative politics at Harvard University. "And (he) has so far largely avoided the kinds of controversial actions and statements that might pin him as a right-wing nationalist and distract from his governing priorities."
Suga is set to enter the Prime Minister's Office and form a new Cabinet on Wednesday with the expectation that he will deliver on his promise to double down on policies inherited by his predecessor, such as Abenomics.
At 71, Suga is the oldest of the three candidates, but his tireless work ethic is said to extend beyond his life in politics. While he has confessed to a weakness for pancakes, he reportedly burns off the extra calories by beginning and ending each day with 100 sit-ups.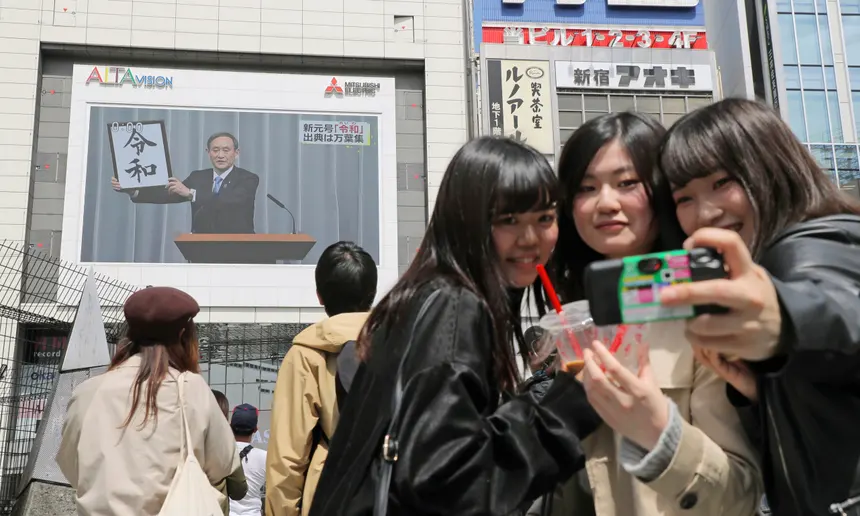 A large screen broadcasts Yoshihide Suga unveiling 'Reiwa' as the new era name in Tokyo, Japan, April 2019. Photo: EPA
At the same time, Suga has made clear he will bring to the forefront his own ambitions, some of which have been seen under the Abe administration, including tightening his grip on the bureaucracy, pressing on with digitalization and reinforcing initiatives to spread resources to areas outside major metropolitan areas through tourism and agriculture.
He has already expressed interest in expanding the national health insurance system to cover the cost of infertility treatments, as well as furthering his aspiration to bring down cell phone bills among the three carriers that dominate the domestic market — or slash the radio spectrum user fee altogether, the japantimes reported.
"The prime minister will be leaving in the middle of his tenure due to illness. However, we're facing a national crisis due to the spread of the coronavirus and we can't condone a political vacuum being created," Suga said. "I pledge to dedicate everything I have to working for Japan and for the people."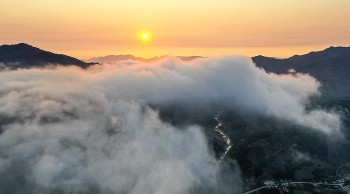 Multimedia
The gorgeous dawn behind a sea of fluffy white clouds creates a wonderful and beautiful picture of Truong Son Dong peak, Quang Ngai.