Young Vietnamese in Top 50 Global Students
Dong Ngoc Ha, a first-year student studying giology class at the University of Science, has been named in the top 50 of the Global Student Prize 2021.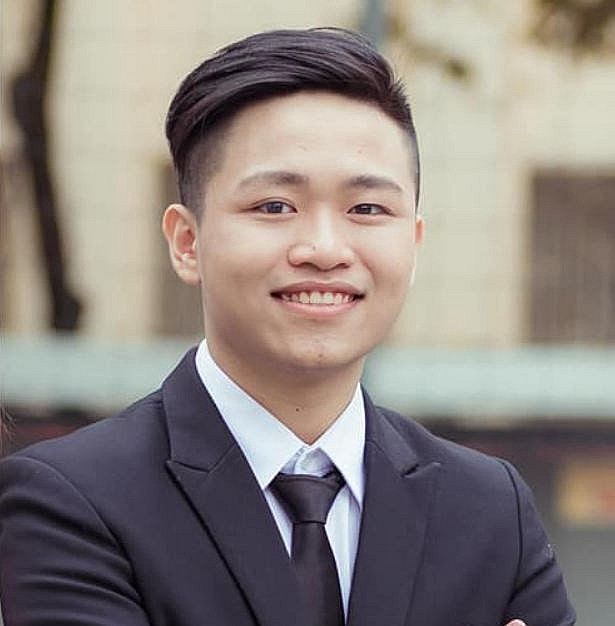 Dong Ngoc Ha is in the top 50 excellent students globally
The list of 50 best students globally in 2021 was officially announced on the website of the Varkey Foundation's Organizing Committee on Sept. 9. Among these, is student Dong Ngoc Ha, former student of physics, High School for the Gifted of Natural Sciences, Hanoi National University..
With this prestigious award, the 19-year-old student presents himself with positive energy and warmth that comes from the spirit of sharing and spreading with the community. It is also a strong point of Dong Ngoc Ha for him to surpass 3,500 candidates and reach the top 50 best students globally this year.
Receiving news of the award while preparing a lecture, assisting students in the biology team of more than 10 provinces before the National Excellent Student Competition, Dong Ngoc Ha shared the joy when his work was recognized. "The award gives me more confidence to continue my projects," he said.
Currently, Ha and her colleagues are implementing the Biology for all (BFAVN) project - the first non-profit project in Vietnam that is committed to providing quality learning opportunities for excellent students, and pioneers in the field of education.
"This project comes from the story of myself as well as the friends around me. I myself am a student majoring in physics but I switched to apply to the National Excellent Student Competition in Biology. In the first days, I was very confused when I had to find out information on my own but didn't know where to start. I think those who are studying for the exam will also experience how I feel that day. Especially during the pandemic situation, our project can support people to gain a solid amount of knowledge and spirit for upcoming competitions," he said.
"Moreover, the project has the participation of many students from many different provinces. They have less opportunity to have access to quality materials in the subject, which means less opportunity to prove themselves. As a person who received a lot of sharing from teachers and friends during the preparation, after finishing the competition, I really want to give back to the community around me and spread the knowledge for those who need it."
Ha found out about the Global Student Prize by accident. The application period took 2-3 months, but it was not until the last days that Ha learned about the award through a friend. Ha saw that participants would have the opportunity to exchange and learn with many excellent students around the world, so he decided to apply.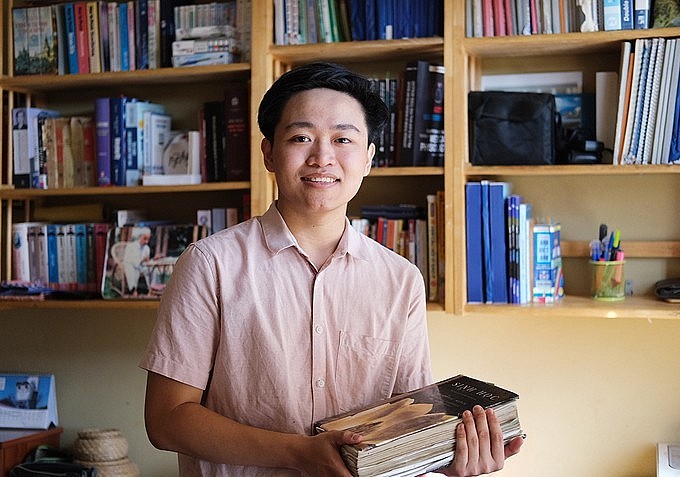 Ha used to specialize in Physics, but he switched to Biology. Photo: Duong Tam
About the award, Ha said: "I think there are a lot of friends out there who are also talented and have extraordinary inspirational stories. I myself did not at first think I would win this award."
"People around me think of me as a smiley person. I also want people in my conversations to feel the energy that I want to convey, which is positivity and warmth. I myself always try to absorb good things and make it a part of who I am."
Along with his positive energy and the power of sharing, Ha also made an impression on the Organizing Committee of the Global Student Prize thanks to his academic achievements. In addition to the third-class Labor medal and the silver medal at the International Biology Olympiad 2020, in the past year Ha won a gold medal at the International Medicine Olympiad.
He also took a number of business exams, worked as an intern for a company to explore new fields, and found out how science and technology are being applied in business.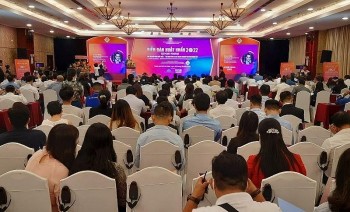 Focus
Vietnam News Today (Dec. 9): Vietnam - Singapore innovation centre helps firms transform production; HCM City among most searched destinations by travelers; Vietnamese digital technology industry's revenue estimated at 148 billion USD in 2022; Two Vietnamese films up for consideration at Oscars.