Youths Introduce Traditional Vietnamese Costumes at Hanoi Walking Street
An event was held where attendees wore ancient clothes and walked around Hoan Kiem Lake area to promote and introduce traditional Vietnamese outfits.
Some youth have worn antique clothes and walked around Hoan Kiem Lake area to promote and introduce restored ancient costumes of Vietnam dating back centuries ago in a event titled "Bach Hoa Bo Hang".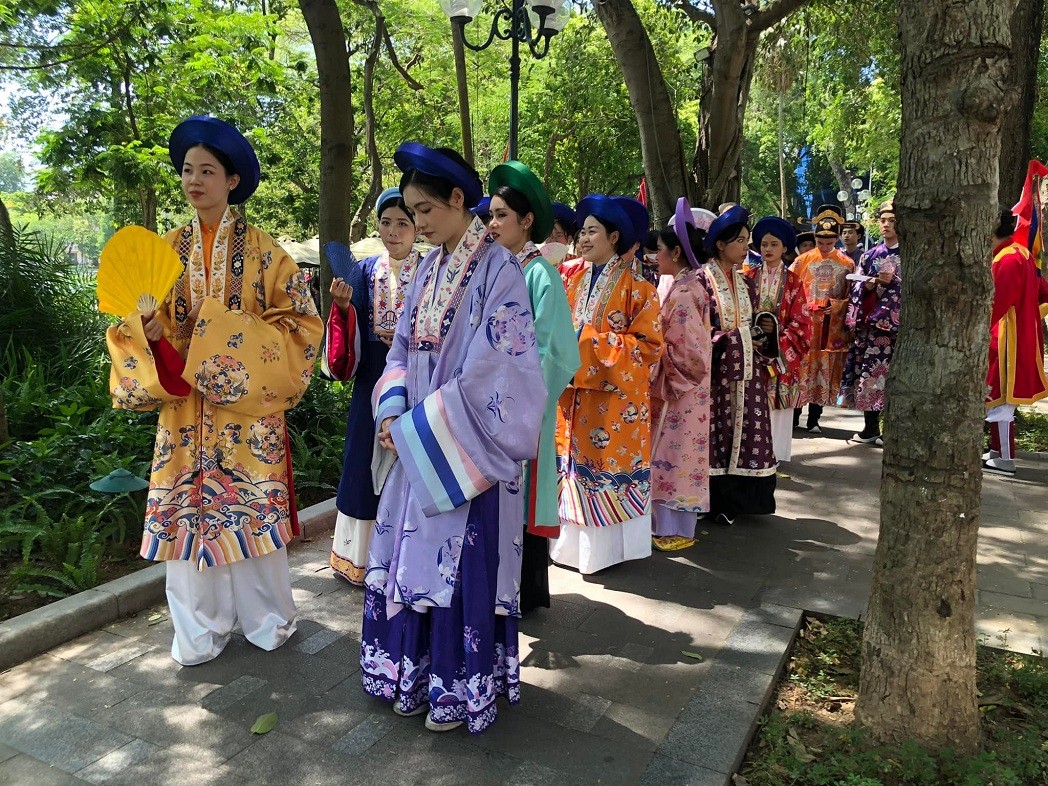 Nhat Binh dress was designed for royal females, including the Princess, Queen Mother. The dress is quite similar to the Phi Phong dress of China's Minh dynasty, however, it was adapted a lot to suit the Vietnamese customs. The garment is often red or blue to present nobility, luxury, and royalty. Patterns of phoenix, dragon, etc., are often sophisticated hand-embroidered on the dress. Photo: Tu Phan
Attendees wore as ao dai (traditional long dress), ao dai Ngu Than (five-flap long dress), Nhat Binh costume (square-collared garb), Doi Kham coat and Giao Linh dress, ao tac with loose and large sleeves among others.
The festival organizing committee expected that more and more people would shown increasing interest in ancient clothes.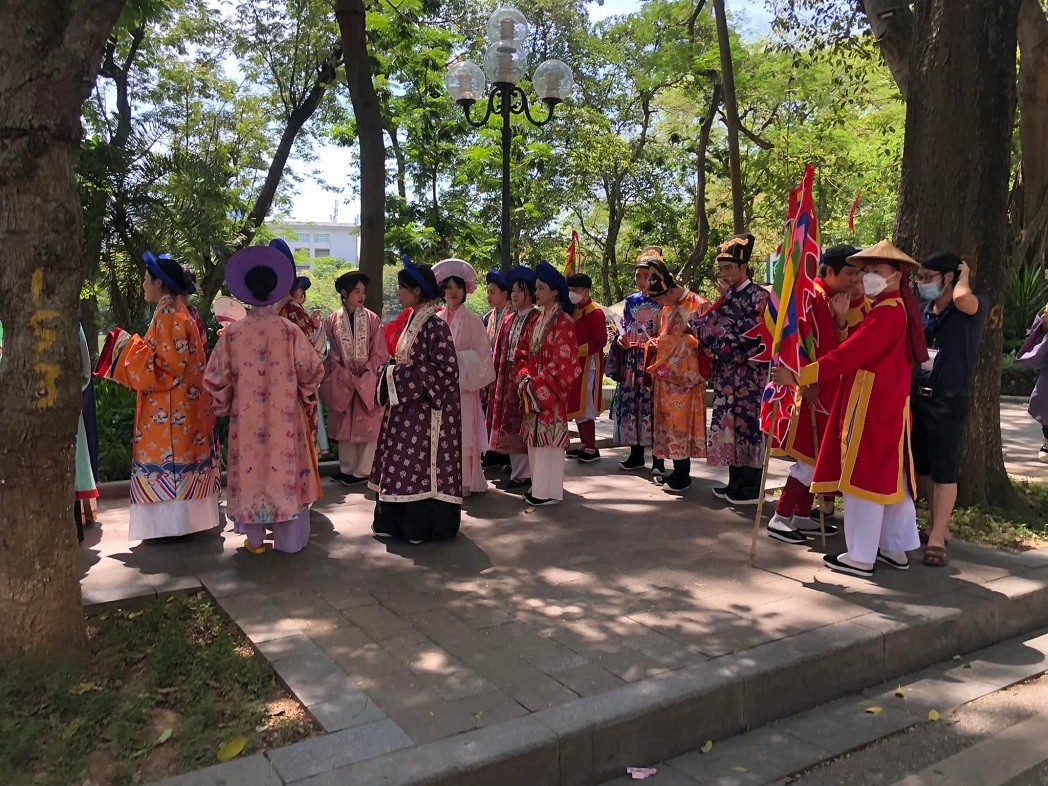 Ancient costumes of Vietnam have been revitalized and well-adapted to modern lifestyles thanks to young designers' passion and creativity. Photo: Tu Phan
The event was created to help Vietnamese people, particularly the younger generation, learn more about the clothing styles of Vietnamese emperors, empresses, mandarins and more.
It also aims to share and introduce the achievements of typical individuals and organizations in traditional costumes; jointly honor and demonstrate quality or popular antique products of the antique community in and out of the North region; contribute to promoting and bringing Vietnamese antiques closer to the public through Hanoi walking space.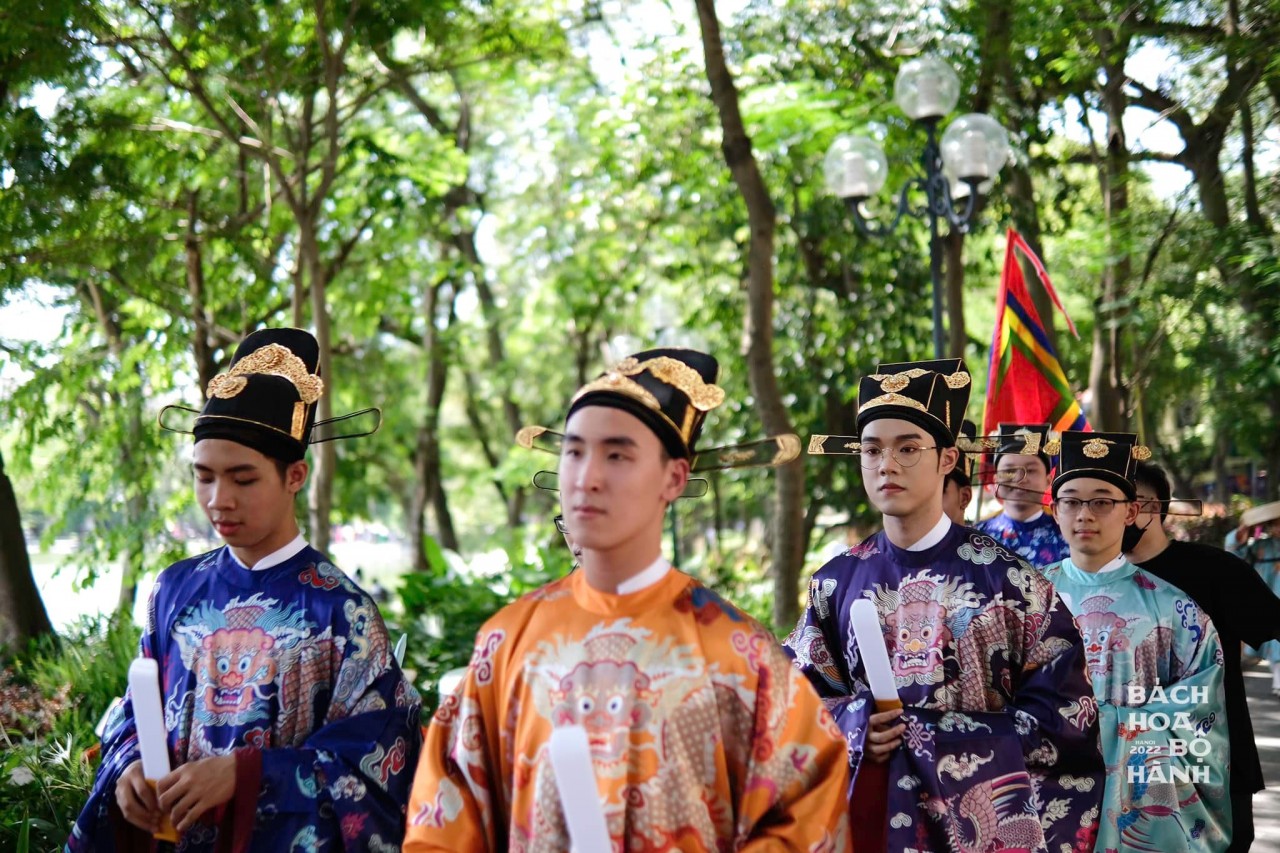 Restored costumes of Nguyen Dynasty court officials. Photo: Pham Duc Anh
Nhat Binh is the everyday costume of the royal consorts, princesses and court ladies of the Nguyen Dynasty. The costume is decorated with colors and embroidery designs classifying royal levels. For example, the Nguyen Dynasty queen's Nhat Binh is decorated with 20 patterns of folk animals: dragon, phoenix or pheasants.
Nhat Binh gets its name due to the rectangle embroider patterns in its collar. When the Nguyen Dynasty fell, this costume became a formal outfit of the nobility to be worn on a number of important holidays, especially weddings.
In the Gia Long emperor period, when wearing the Nhat Binh, royal consorts put on a type of jewelry called Kim Uoc Phat (whose shape is currently unknown). By the reign of Thieu Tri, Kim Uoc Phat was replaced with Kim Phuong, and the latter period of the Nguyen Dynasty, Nhat Binh was accompanied by Vietnamese turban - the most common combination as seen today.
Recently, Nhat Binh and other types of Vietnamese ancient ao dai have been brought back to daily lives by Vietnamese fashion designers. Nhat Binh is now chosen by many young couples as wedding costumes.
Ao tac is also an favored by people when doing a photo shoot.
To make it simple, ao tac is a variant of the ao dai, but it has loose and large sleeves. This is considered the national costume of the Nguyen Dynasty, because ao tac can be worn by any class in society, from the royal, officials, to the middle and lower classes, and can be worn by both men and women.
Ao tac was worn in important ceremonies and occasions such as a wedding, funeral, Tet, and worship events. You can wear any color you want, but it should be based on the occasion.
When wearing an ao tac, your two arms ought to be folded in front of the stomach because the sleeves are long and baggy. This action is to hide both hands and show the humility, respect, and elegance in crucial events.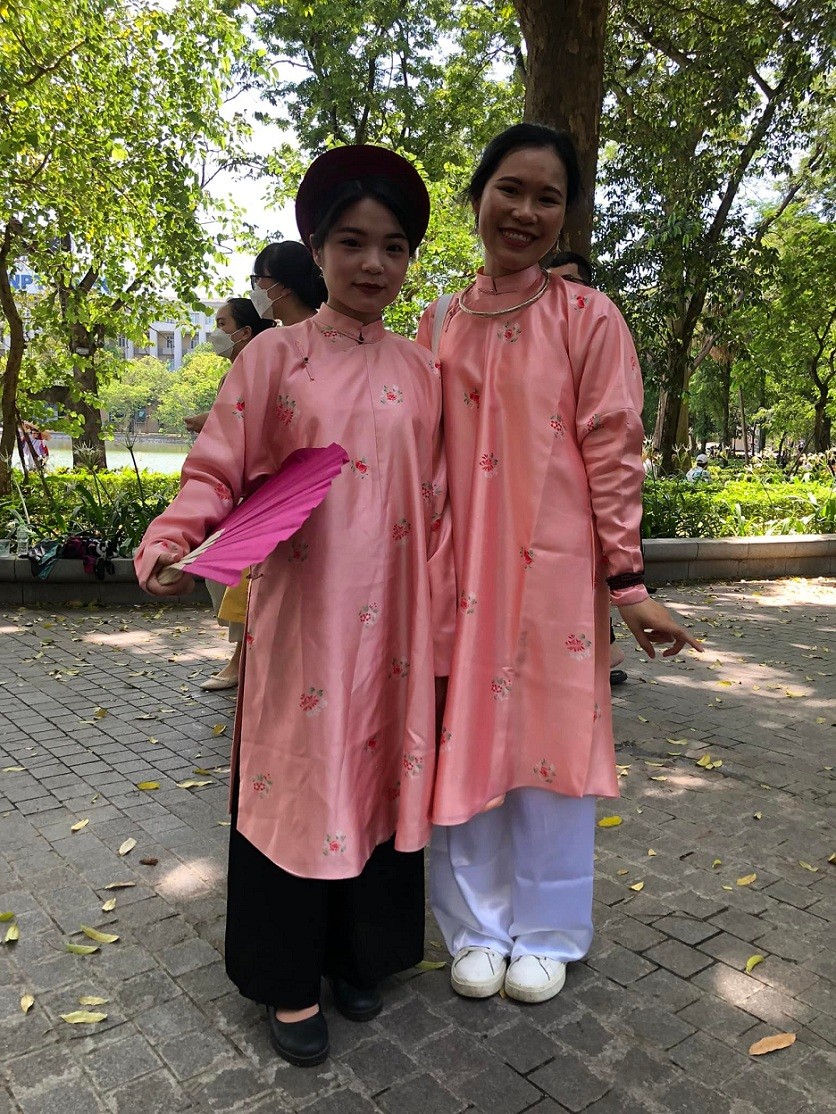 Ao dai ngu than (five-flap long dress) with small sleeves which fully meets the conditions of a costume, creating a distinct poise and figure for men, and an elegant look for women, and is suitable for all activities in the daily life of Vietnamese people. Photo: Tu Phan
In 1744, Nguyen Lord reformed the costumes in Dang Trong (southern Vietnamese), giving birth to the ancient Ngu Than. Ao dai ngu than (five-flap long dress) had a loose fit and sometimes had wide sleeves. It had two flaps sewn together in the back, two flaps sewn together in the front, and a "baby flap" hidden underneath the main front flap. The gown appeared to have two-flaps with slits on both sides, features preserved in the later ao dai.
Compared to a modern ao dai, the front and back flaps were much overall and the fit looser. It had a high collar and was buttoned in the same fashion as a modern ao dai. The four main flaps were said to represent the wearer's parents and in law while the baby flap represented herself.
The five-flap long dress has a great noble meaning: the four flaps in the front and in the back represent father, mother, father-in-law and mother-in-law, the inner flap represents the person wearing the dress.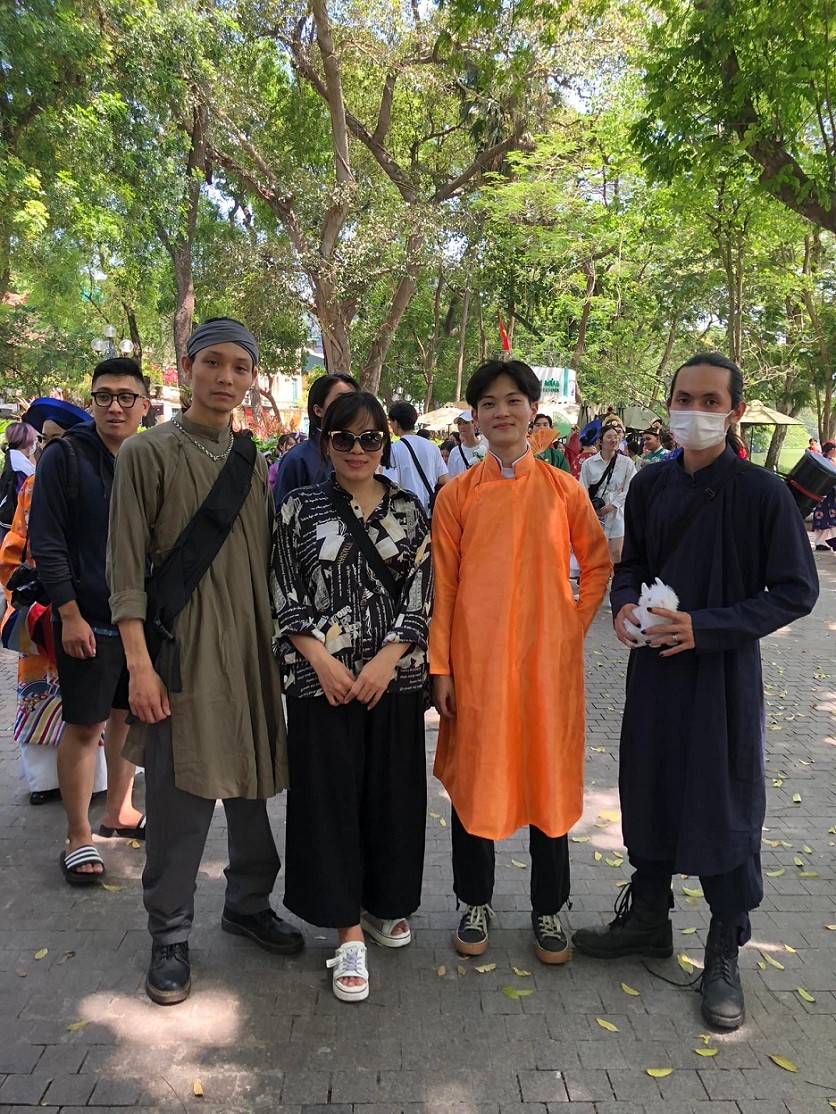 Ngu Than with modern touch. Photo: Tu Phan
Youths don Doi Kham taking photo with a walker. Photo: Tu Phan
Doi Kham under the elites of the Ly-Tran dynasty, can be occasionally spotted on movies or documentary films. The garment boasts two parallel flaps, which literally gives it the name Doi Kham. People normally just wear them down the body or use as a coat.
Doi Kham dress is often worn with vibrant color on the outside and lighter colors on the inside, with the last one is white.
Meanwhile, Giao Linh is also called Truong Linh Trang Vat, or Doi Linh dress. The shirt has an intersecting neck in front of the chest, the left flap is pressed against the right flap when worn. Its sleeves are often loose and narrow.
Giao Linh dress bears resemblance to Japan's and China's traditional costumes, however, its two uneven flaps on the outside and inside make a distinct difference.