10 Best Activities to Enjoy in Ninh Binh
Ninh Binh is one of the best places to spend your holidays, enjoying the most wonderful activities and spots hat attract a large number of both domestic and foreign visitors because of their majestic and poetic beauty.
Far too few travellers make it to Ninh Bình, a mesmerizing area known locally as 'Ha Long Bay on Land' thanks to its magical riverine landscape, with sheer limestone mountains rising up from the paddies. The best way to get a sense of this UNESCO-protected site is by taking a paddleboat tour along its shimmering rivers, and climbing to the top of its fabled peaks.
Ninh Binh tourist sites are always places that attract a large number of both domestic and foreign visitors because of their majestic and poetic beauty. The unspoiled nature, charming landscape with many beautiful places have made Ninh Binh a famous tourist destination of the North.
1. Trang An Complex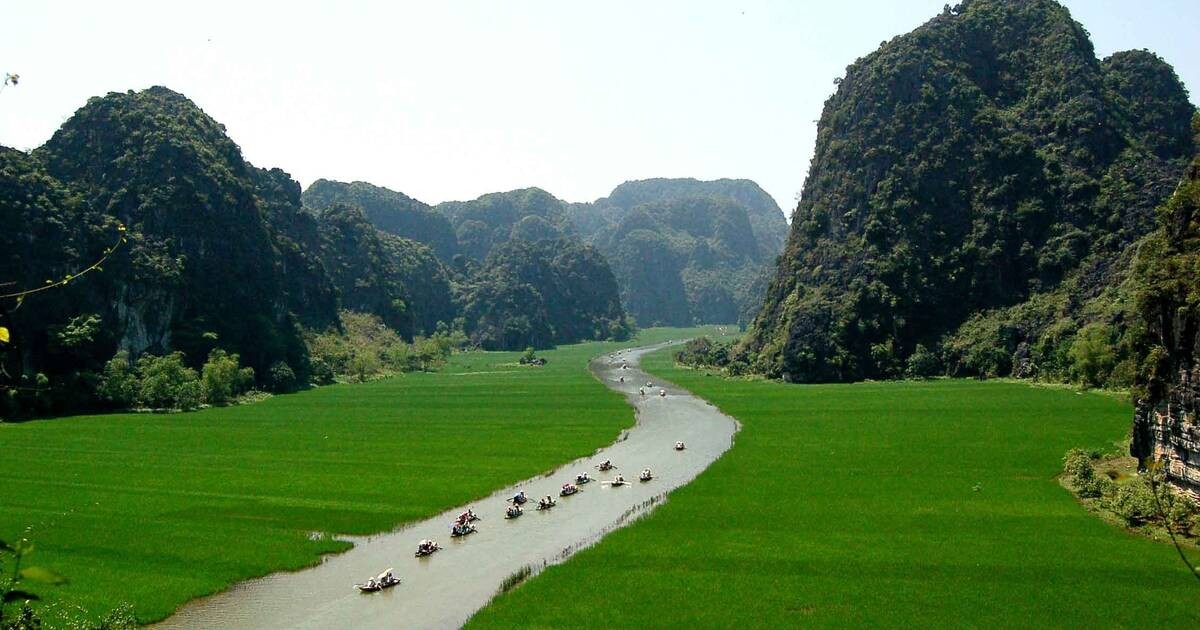 Photo: UNESCO
Ninh Binh Province consists of three different types of landscapes including wetlands, coastal delta, and uplands. Furthermore, the province is blessed with many places of particular interest such as Tam Coc – Bich Dong Grotto, Cuc Phuong National Park, and Van Long Nature Reserve, etc. of which the Trang An Complex is a popular option for tourists, especially the foreign one.
Stretching a total area of more than 2,168 hectares on 8 communes in Hoa Lu and Gia Vien districts in Ninh Binh City, Trang An is a complex of Hoa Lu Ancient Citadel preserved area – a center area, grottoes, and Bai Dinh Pagoda.
There are 47 grottos and caves, 31 valleys and the hallowed cultural area of Bai Dinh Pagoda inside the Trang An scenic landscape complex. Take a leisurely cruise around the area, tourists can be imagined as kings from ancient times who use the mountains as walls, the rivers as roads and the caves as palaces. When you first arrived at Trang An, you will be deeply impressed on dozens of boats anchoring in lines and waiting for every tourist to start the journey.
2. Bai Dinh Pagoda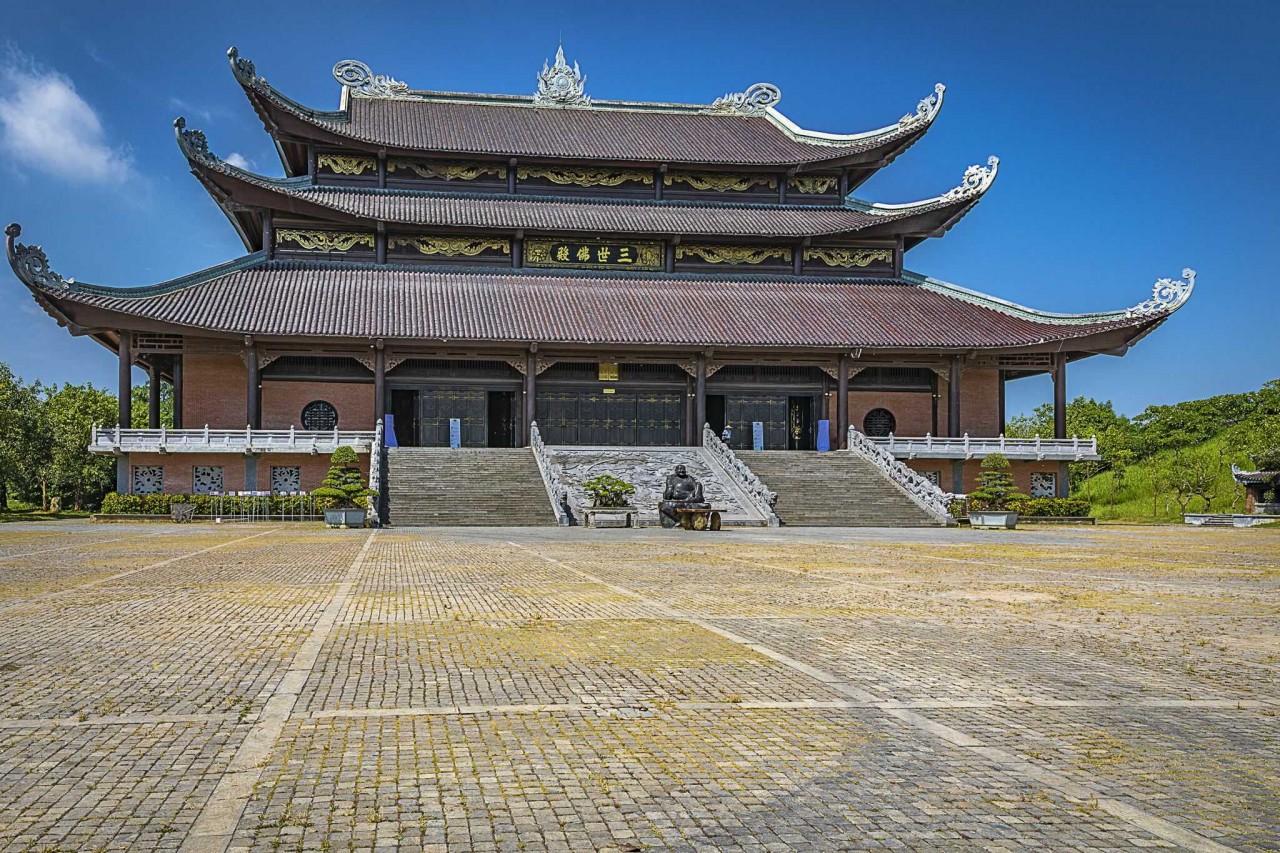 Photo: Vietnam Online
Bai Dinh Pagoda is Southeast Asia's largest Buddhist complex. It consists of several temples and over 500 intricately carved statues of Buddha, including one that's made of bronze and is 10 metres in height. Set within the Gia Sinh Commune, it attracts a huge crowd of local devotees and travellers looking to pay their respects and have their fortunes told by the resident monks.
There are two main pagodas of the same name, one of which is located on the slopes of Dinh Mountain. Accessible via a 300-step stairway, this quiet shrine houses a main prayer hall and natural caves, where locals pray to Buddha and mountain spirits such as Saint Nguyen and Genie Cao Son.
The second Bai Dinh Pagoda is about 800 metres away, covering a total of 7 million square metres. Built in 2003, it's made with materials that are sourced from local handicraft villages within the Ninh Binh Province, including Bat Trang ceramic tiles, Y Yen bronze casts, and embroidery from Ninh Hai Village.
Not only does the temple offer breathtaking views of the surrounding mountains, you can also enjoy a variety of events and activities during your visit. On the sixth day of the Lunar New Year the temple hosts a vibrant festival during springtime, usually between February and March. There are ritual processions, blessing ceremonies, traditional music, and dance performances. You can also watch or even take part in interesting folk games, including tug-of-war and wrestling, as well as sample authentic local snacks at food stalls throughout the festival. After visiting Ba Dinh Pagoda, many travellers often explore nearby limestone grottoes and hike through the Ba Chua Thuong Ngan forest.
3. Tam Coc – Bich Dong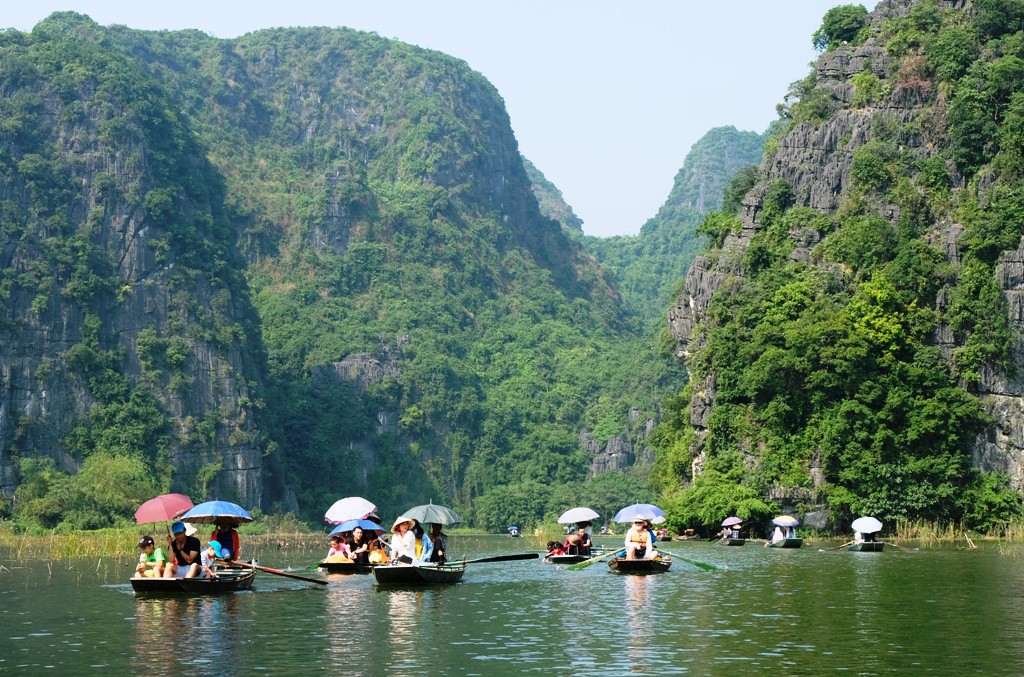 Photo: NLD
Tam Coc - Bich Dong, a harmonious architectural ensemble has long attracted numerous tourists. Its beauty is a wonderfully harmonious combination between the stunning caves, the charming waterways and the talent of the human, forming an inseparable unity.
The complex is located just right next to Trang An Landscape Complex and both appeared in the Hollywood blockbuster Kong: Skull Island.
Tam Coc - Bich Dong is considered the most appealing tourist attraction in Ninh Binh, known for famous names such as "Second nicest grotto". Tam Coc (Three Grottoes) includes Hang Ca, Hang Hai and Hang Ba Grottoes. All of 3 caves are formed by Ngo Dong River crashing through mountains.
Far about 100km from Hanoi city center along Highway 1A, tourists will meet Tam Coc - Bich Dong, the most famous landscape of Ninh Binh travel. Tourists to Tam Coc Ninh Binh will actually feel the charming beauty of the waters and mountains. Ninh Binh today retains numerous scenic spots, yet Tam Coc - Bich Dong is the oldest one and the only region where the local people still cultivate wet rice combining with tourism development.
Like Trang An, to see the most impressive sceneries of Tam Coc Bich Dong, you'll have to hire a boat. However, there're plenty of places nearby you can explore on foot or by bicycle.
4. Hoa Lu Ancient Capital
Photo: Hanoi Explore Travel
Being the capital of the first fundamental Government of Vietnam, Hoa Lu witnessed many important historical events: the union of Vietnam after "12 Lords Rebellion", the war with the Song dynasty, the defense against the ancient Cambodian, and the formation of Hanoi nowadays. With the total size of 13.87 square kilometers, Hoa Lu old capital is an attractive place that history lovers should not miss out.
First and foremost, attractions catching tourists ' eyes are temples, where people worship the Emperors and royal people that ruled here more than 1000 years ago: Dinh Tien Hoang Emperor temple, Le Dai Hanh Emperor temple, Phat Kim Princess temple (Phat Kim is a tragic fate daughter of DinhTien Hoang Emperor), and the newest one is Ly Thai To Emperor temple, which built in order to celebrate the 1000th anniversary of Hanoi. Besides, Hoa Lu has the four sacred temples of Hoa Lu (Hoa Lu Tu Tran) to worship the Gods of four directions: Quy Minh temple, Thien Ton temple, Cao Son temple and Nguyen temple.
Secondly, Hoa Lu still keeps the remaining of ancients fortress built by Dinh dynasty more than 1000 years ago. The Imperial place lays under the ground for 3m and now become a very interesting place to visit. Tourists will have the chance to see the old items used by the royal family in ancient time.
The last but not least element that impresses visitors to Hoa Lu is the Festival Truong Yen which is held in February and March (Lunar calendar) which includes a chain of events that regain the spirit of the ancients Emperors: the March of Water, the Ritual for Dinh and Le Emperors, the performance of the old times, the Battles of DinhTien Hoang when he was a child, Cheo and Tuong performances, and a beauty contest for Hoa Lu women. This Festival brings back the memories of the old times, and helps the young people to have chance to know more about the traditions of their ancestors.
5. Take Photos Rice Field From Mua Cave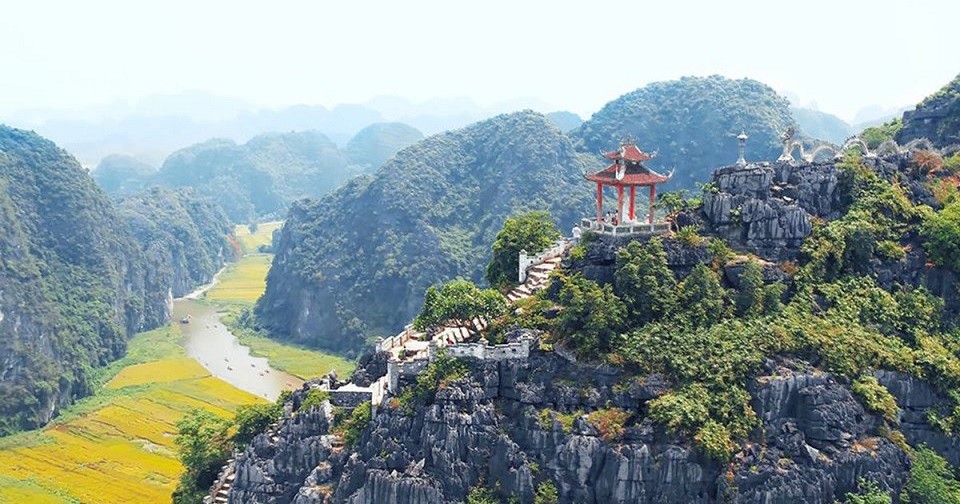 Photo: Indochina Voyages
You are a person who likes to conquer, but the above places are too gentle and poetic? Then challenge yourself to Mua Cave – dubbed the "Great Wall of Vietnam". This is also one of the top things to do in Ninh Binh. With 486 steps that make you sure to breathe hard when climbing. Finally, it makes you admire when arrive by The beauty of Ninh Binh is so beautiful.
Mua Caves ( Hang Múa - Ninh Bình) is one of the most famous attractions in Ninh Binh that tourists almost will decide to visit it when they have had a bunch of information about the historical and King Kong's land - Ninh Binh ( Appeared in the film "King Kong").
Mua Cave is lying at the foot of Mua mountain which shapes a bell with a width of around 800 square metre. On the left and right of staircaseit is decorated on the stone with the dragon or phoenix carved properly very sharp and beautiful.
The way leading to the cave formed by a long stone staircase zigzags through the karst, there are nearly 500 steps to a simple altar to Quan Am (the Goddess of Mercy). It is assumed that the cave entrance seems to be similar as" Great wall of China ".
Legend of Mua Caves Ninh Binh : According to Vietnamese legend when the king Tran arrived at Hoa Lu to establish Thai Vi temple, the King was like visiting this cave for enjoying dancing performance by ladies ( who serve imperial ). In Vietnamese "mua" means dancing so that the cave was named "Hang Mua".
Tourists setting their foot on this place normally try to conquer the peak of mountain to look down a stunning beauty of Ninh Binh especially Tam Coc where having floating boats.
6. Am Tien Cave – "Tuyet Tinh Coc In Ninh Binh"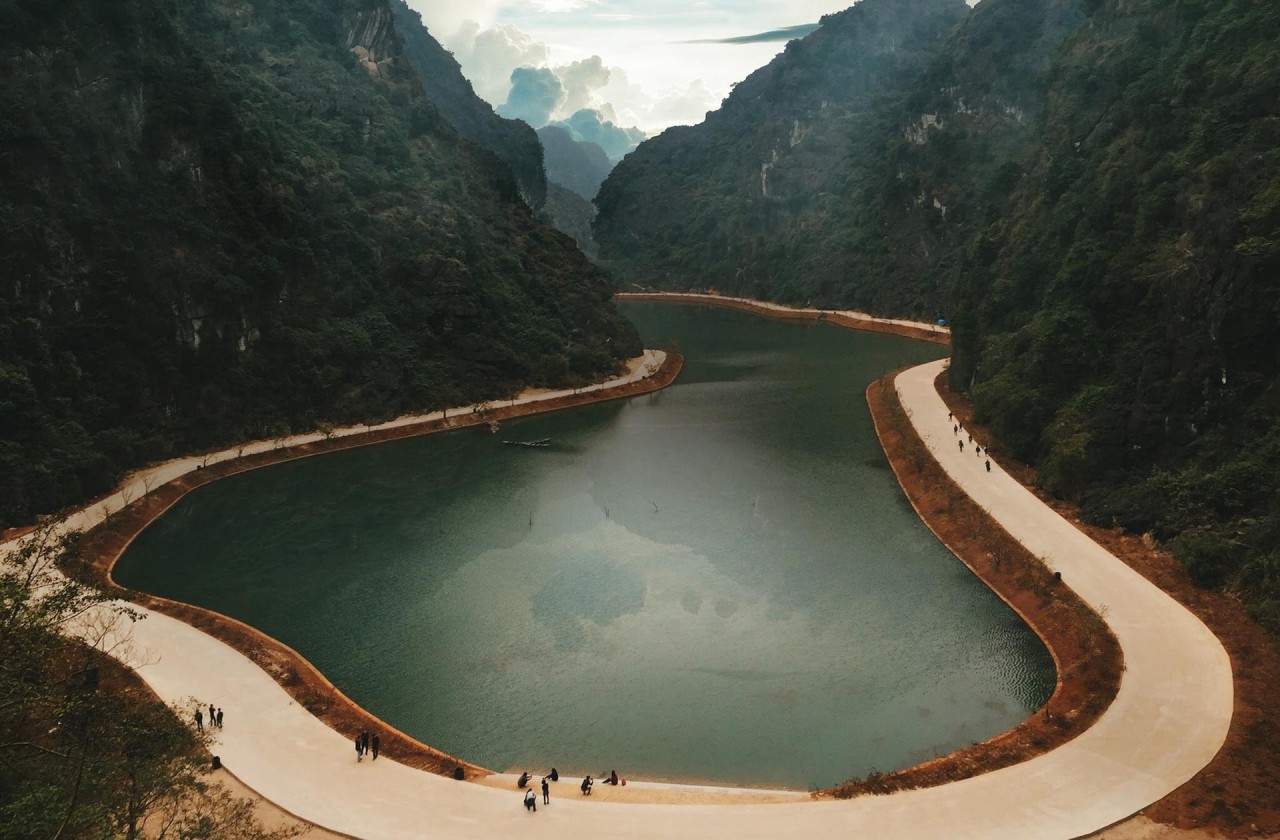 Photo: Day Trip of Vietnam
Am Tien Cave is located in the ancient relic of Hoa Lu, ninh binh vietnam, formerly where King Dinh Tien Hoang had built the Legal case, punished the guilty people, and at the same time, has the temple that Queen Duong Van Nga lead a religious life at the end of her life. The road leading Am Tien Cave is quite dangerous because most of the Am Tien cave area is a flooded valley surrounded by rocky cliffs. With its unique terrain, Am Tien is a unique world filled with colorful historical attractions that attract any visitor.
Am Tien Pagoda is as a separate world, formerly where King Dinh raised a tiger to punish the guilty people. Even in the foot of Mount Dia is a water monster (crocodile) pond, where the king raised to throw the guilty to the pond as a punishment. This is also the place where King Le Dai Hanh imprisoned Quach Quan Bien prisoners, Trieu Phung Huan of the Song Dynasty invading Dai Co Viet in 981.
Am Tien Cave in the middle of the mountain, at the geographical position, is quite dangerous. Visitors must climb through 205 stone steps to reach the cave. In the distance, the cave has the shape looking like the dragon mouth, so it is also known as the dragon cave. There are many stalactites with various shape – a paddy, a cash tree, a fruit handkerchief, a lotus bud hanging down with drops of water. In addition, in the area, there are Salt caves, Tien cave … where the king kept food, national treasure in the Dinh Dynasty Le Dynasty.
Am Tien is surrounded by mountains, so space here is almost separate from the world outside. The scenery Am Tien is majestic and poetic, but haunting and mysterious as if it still saves the remnant of the old Place of Execution.
7. Trekking In Cuc Phuong National Park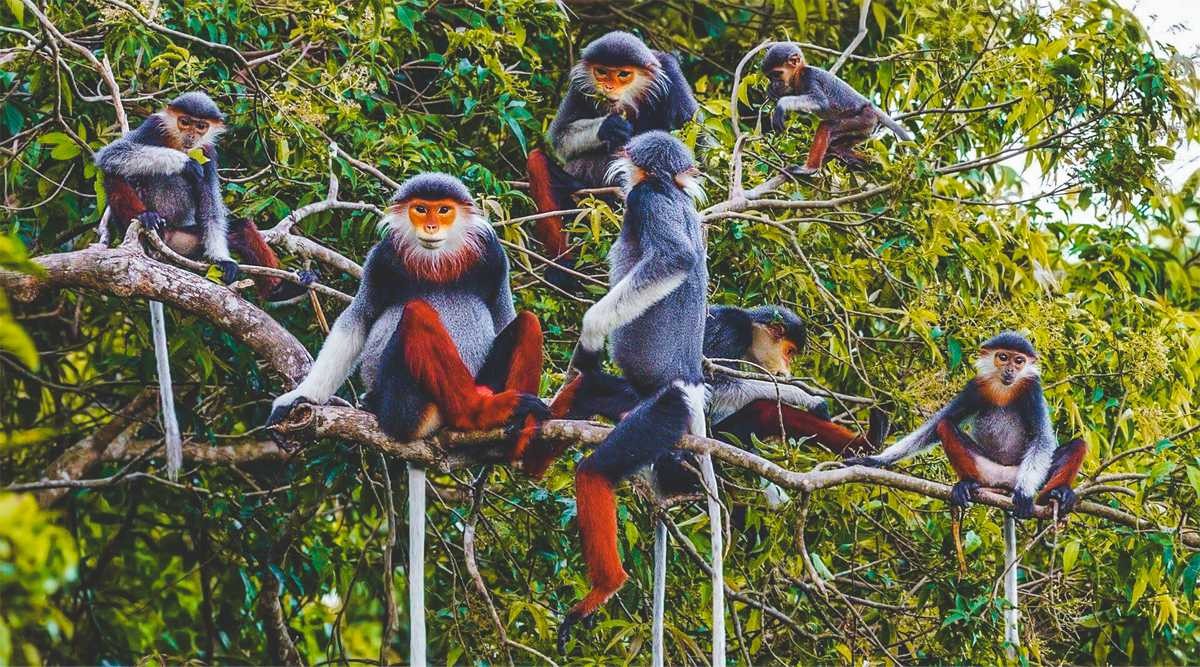 Photo: Local Vietnam
Home to a diversified flora and fauna system owning typical features of tropical rain forests and highly-endangered species, Cuc Phuong National Forest is a conservation area covering an area of 25,000 hectares and located in the territory of 3 northern provinces: Ninh Binh, Hoa Binh and Thanh Hoa. On a par with the most famous primeval forests in the world, experiencing many historical changes since it became the first national park in Vietnam, Cuc Phuong National Park still retains its wild beauty and precious "treasures" endowed by Mother Nature such as fossils of Con Moong Cave, ancient trees, Cave of prehistoric man, etc.
120 kilometers south of Hanoi Capital and located deep in the heart of Tam Diep mountains, Cuc Phuong National Park is bordered by 3 major Northern provinces: Ninh Binh, Hoa Binh and Thanh Hoa. Therefore, if you feel exhausted from the hustle and bustle of the city, let's change the atmosphere with a trip to the national park to enjoy a majestic, peaceful natural space along with the fresh air and regain a happy and relaxed mood.
A visit to Cuc Phuong National Park will be perfect if you plan to go from the time of December to May - when the weather is cool, dry and pleasant. Visitors should avoid going during the stormy season in the north around June to August - a very dangerous time for your trekking trip at the national park.
Notably, you will be amazed at the brilliant butterfly season at the national park in May with a sparkling and colorful painting painted by millions of butterflies of all kinds, making you feel like lost in fairyland.
8. Boat Trip At Thung Nham Bird Park
Photo: Hanoi Travel Explore
Thung Nham bird sanctuary is about 12km east of Ninh Binh city, located in the core area of the complex of Trang An landscapes, next to the famous Tam Coc – Bich Dong tourist resort. From Bich Dong Pagoda, about 4km from the road, tourists can come to Thung Nham – the country of birds.
Thung Nham Birds Ecological Tourism Area (Thung Chim) is located in the southwest of Ninh Binh city, in Ninh Hai Commune, Hoa Lu District. It is one of the tourist destinations full of cultural and spiritual factors, landscape and biodiversity.
Surrounded by tropical forests on the limestone mountains, many valleys, and caves, blending with grass and flowers, Thung Chim has been given a beautiful natural landscape.
Coming to Thung Chim, visitors of Ninh Binh tour also explore the wildlife of nearly 40 species of birds with about 50 thousand birds. Especially at sunset, each flock of white storks hovers, shelter in a wetland, then visitors will feel the primitive beauty difficult to find.
Bird garden is definitely the most important destination of Thung Nham bird sanctuary in Ninh Binh Vietnam. Bird garden is a living space of many birds such as stork, heron, mallard, Forktail, etc. Especially, there are also two rare species in the Red Data Book, flamingo, and Phoenix. The monumental limestone mountains reflected on the blue water with the flock of birds which creates a rarely peaceful and poetic scenery.
The best time to visit the bird garden is in the autumn when the weather is cold, about 5 pm when the birds find for food. However, if you cannot arrange the time, you can come to between 5 am and 7am or between 4pm and 6pm to see birds flying.
If you have more time, you should visit the full list of other places at Thung Nham Bird Park, such as Tien Ca Cave, Garden area, Thuy Cung Cave, Trees moving, Valley of love, etc.
9. Van Long Lagoon Is A Great Idea For Photography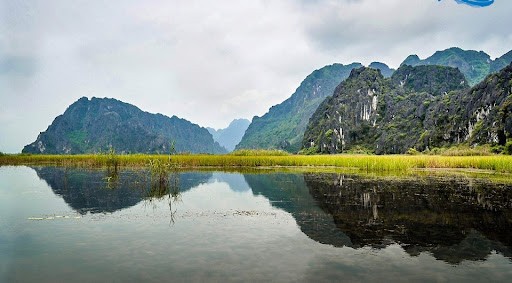 Photo: Amazing Ninh Binh
Van Long Lagoon is known for its tranquility between the limestone mountains and the calm water surface that mirrors the clouds.
About 80 km to the south of Hanoi, Van Long lagoon is said by many to be a "legendary land" with the largest wetland nature reserve in the Northern Delta. From far away, the towering limestone mountains harmonized with white clouds, blue sky and immense water beautify the natural scenery.
Surprisingly, Van Long lagoon is not natural. It was formed from embankment of dyke on the left of Day river to prevent flooding. Since then, a vast wetland with beautiful rocks and caves was "born", becoming a stopping destination for people who love to explore nature and want to immerse themselves in water and mountains.
Van Long is called "Ha Long Bay without waves" of Ninh Binh by many. If you take a boat on the lagoon, feel the calm water without ripples like a giant sun mirror, you will get why. Van Long lagoon water is clear, revealing every layers of moss down in the bottom, making the natural scenery here even more impressive.
10. Phat Diem Cathedral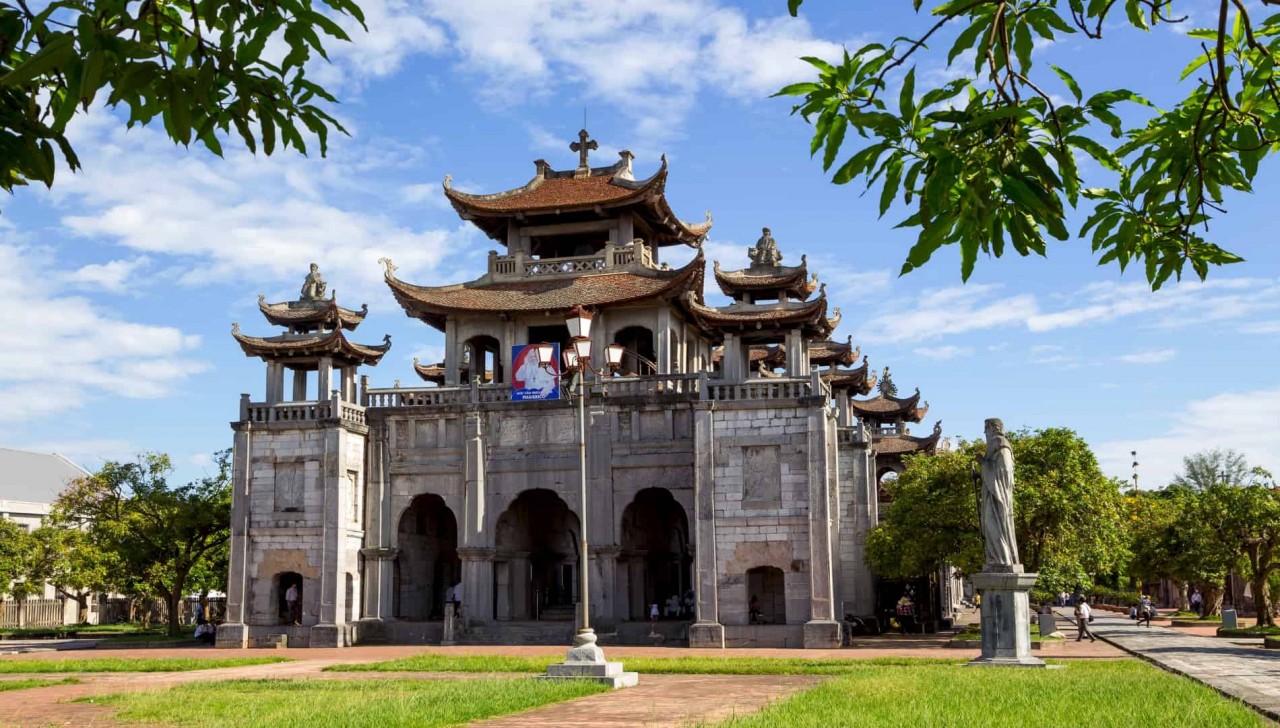 Photo: Asianway Travel
Phat Diem Stone Cathedral is one of the most famous and beautiful churches in Vietnam with special architecture: an elegant combination between Western church architecture style and Vietnamese religious buildings.
It took 24 years to build this church from 1875 to 1898. And as its name suggests, it was completely built of stone and wood that are readily available in the mountain area of Ninh Binh. The preparation phase, mainly extracting materials from limestone mountains, took the local as many as 10 years to finish.
Phat Diem Cathedral is a complex comprising of a lake, a cathedral, a stone church, Phuong Dinh (bell house) and three artificial grottoes. At first sight, visitors are easily attracted to square lake on the main road to the cathedral. In the middle of the lake, there is a small island with statue of Jesus Christ. Phuong Dinh easily becomes the next eye-catching monument, with stone carvings on both sides of the walls. It is 25 m high, 17m wide and 24m long with three stories. The first floor is covered by large green flagstones.
The cathedral is 74 meters long, 21 meters wide and 15 meters high with four roofs. It was built of 6 rows of monolithic ironwood. Within the cathedral are four small churches of different styles. Next to the grand cathedral is a stone church with initial name "Nha Tho Trai tim Vo Nhiem Nguyen Toi Duc Me" but now people usually refer to it as" Stone church" because from its walls, pillars, ground, bars to tie beams are made of stone.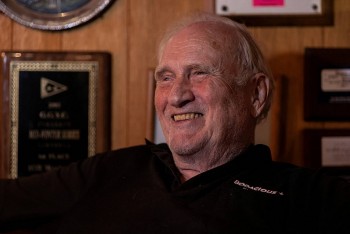 World
Alain Aspect, John F. Clauser, and Anton Zeilinger have won this year's Nobel Prize in physics for their work in quantum mechanics, Sweden's Karolinska Institute announced on Tuesday.