Top 10 Most Expensive Hotels In The World
If you have an unlimited budget looking for a premium lodging experience anywhere in the world, why don't you look at our top 10 best hotels, which are like heaven on earth.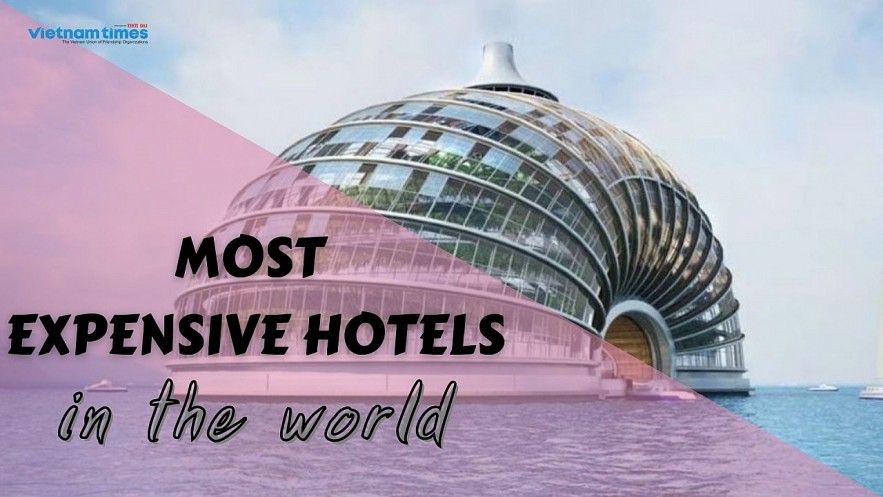 Top Most Expensive Hotels. Photo: vietnamtimes.
What are the most expensive hotels in the world?
A hotel may be an establishment that provides paid accommodation on a short-term basis, but the level of comfort varies, and that is what distinguishes one from another. Some hotels are like heaven on earth with 'out of this world' facilities, situated at great locations. If you have an unlimited budget looking for a premium lodging experience anywhere in the world, let's scroll down to explore our top 10 in the world:
1. Lover's Deep Luxury Submarine, St. Lucia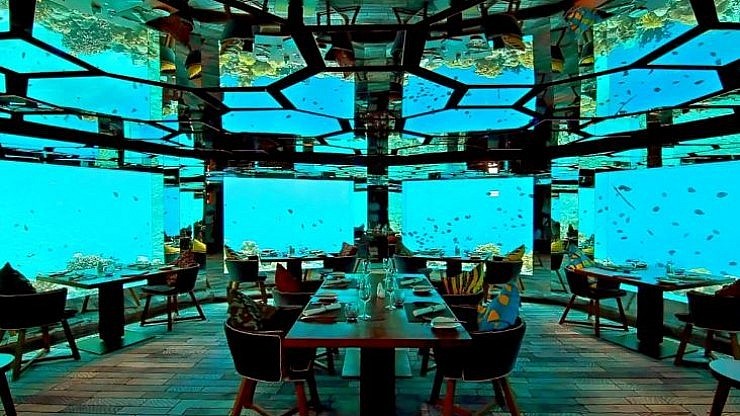 Photo: trendingtopmost.
At $150,000 per night, it is officially the costliest hotel in the world. Located in the ocean at considerable depth. You get an underwater view of the entire marine world. Though it's very extravagant, every minute spent on this hotel is worth every penny. This hotel is the very definition of the Mile-Low club.
This is one of the most beautiful and unforgettable experiences one could have in a life time. But the fact that it is not affordable for the middle class people is not to be forgotten here. It is quite heavy on the pockets or seemingly unaffordable as one night's stay here in thus hotel costs almost $175,000 with food and other amenities; which is almost equal to a common man's annual earnings.
You'll get 5-star accommodation beneath the waves which includes, your own captain, private chef and butler, speed boat transfers to and from the submarine, and some additional optional add-ons, like helicopter transfers, beach landings and champagne-soaked breakfasts.
The Lover's Deep Submarine is fully equipped with the ultimate in luxury, and everything you'd want from an experience like this.
2. Hotel President Wilson Royal Penthouse Suite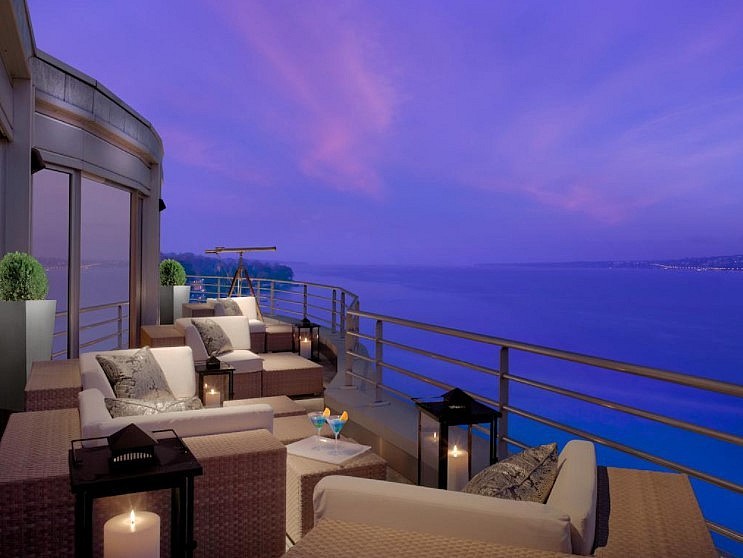 Photo: traveltoplist.
Geneva, Switzerland – Named after the 28th President of the US, located close to the United Nations building in Lake Geneva. Visitors in this hotel enjoy magnificent views of the Swiss Alps. The Penthouse suite is 1800 square Meters with bullet-proof windows. Also, private lifts take you straight to your apartment, amongst other luxuries.
If you're in Geneva, Switzerland and have $80,000 to spend a night, then this is the hotel for you. The Royal Penthouse in the Hotel President Wilson occupies the entire 8th floor of the hotel. It offers a panoramic view of Lake Geneva and Mont Blanc, as well as 12 bedrooms, 12 bathrooms and a jacuzzi bath overlooking the lake.
Besides the luxurious furnishings and views, you'll also benefit from a 24/7 personal assistant, private chef and butler. If safety is a top concern for you when staying in a luxury hotel then rest assured that the Royal Penthouse is one of the safest places to be. It has bulletproof glass, 24/7 security, a security camera system throughout the suite and a fortified safe to store your valuables. You'll also find a 1930 Brunswick billiard table, a Steinway grand piano and a Bang & Olufsen's BeoVision 4-103 home cinema system. And, all this can be reached by your own private elevator!
3. Four Seasons Hotel Ty Warner, New York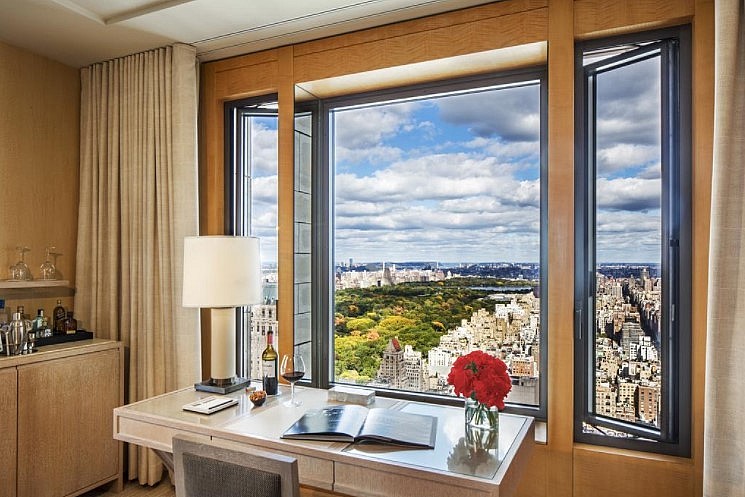 Photo: traveltoplist.
Kicking off the top five countdown is the Ty Warner Penthouse at the Four Seasons Hotel, New York. The luxury hotel suite is named after the owner of the building, Ty Warner and will cost you around $60,000 a night. The interiors are luxurious and have a modern art design. The hotel was started in January 1989 and it was planned to have a main tower of 46 stories and a smaller tower of 20 stories with a total of 400 rooms. In 2004, Pei and Marino redefined the entire 52nd Penthouse suite.
Located on the very top floor of the building, the 52nd to be exact; the $400 square-metre suite cost approximately $50 million dollars to complete. The suite comes with a 360-degree panoramic view of the city and contains four glass balconies that provide views of uptown, midtown and downtown New York.
Now, you'll only get one bedroom with this suite; but you'll also get a spa, a rock crystal master bathroom, a panorama infinity tub, a private elevator and a dedicated guest relations manager and chauffeured rolls Royce at your disposal. If that's not enough, then you can take advantage of the unlimited massages that are thrown in for good measure.
4. Raj Palace Hotel, Jaipur, India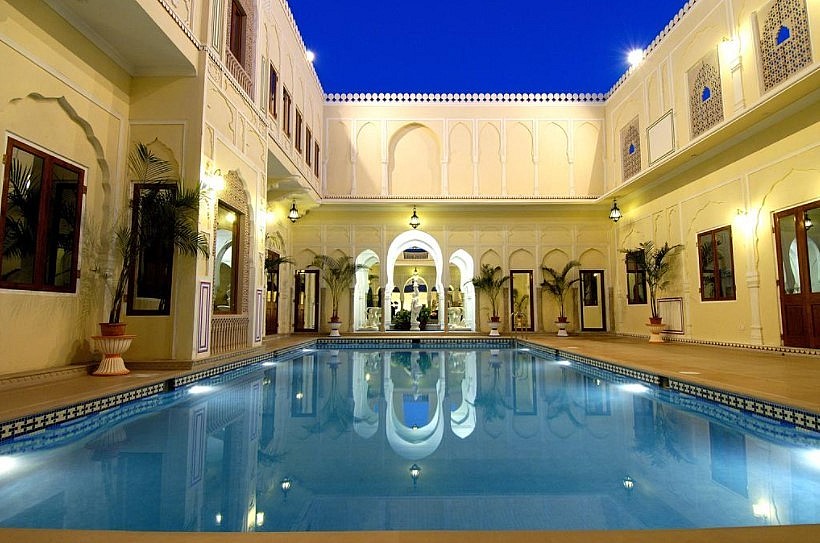 Photo: traveltoplist.
Magnificent is one adjective we can use to describe the Raj Palace in Rajasthan, India. Situated in the capital city of Jaipur, the Raj Palace is a hotel that's has garnered at least 14 awards since 2007, plus numerous other recognitions as a hotel that provides luxury, culture, and heritage. It's an immersive experience of India, a graphic display of the country's culture, heritage, and influence, through every fixture, wall, floor, ceiling, and work of art. The Presidential Suite emanates all of these and more.
Thus building was built in 1727 and is still being inhabited by 16th generation descendent and present owner Princess Jayendra Kumari. This building opened as a heritage hotel in August. Museum suites were also created. Present general manager of the hotel is Mrs. Ankur Rara Jethila. It won many awards like, 2014 Asia's leading hotel suite, international gold star Millennium Award in the year 2002 in Bangkok.
Priced at $45,000 per night, the suite is swimming in luxury, complete with golden furniture. For a price, people can experience living like kings and queens in the Raj Palace!
5. Laucala Island Resort Hilltop Estate, Fiji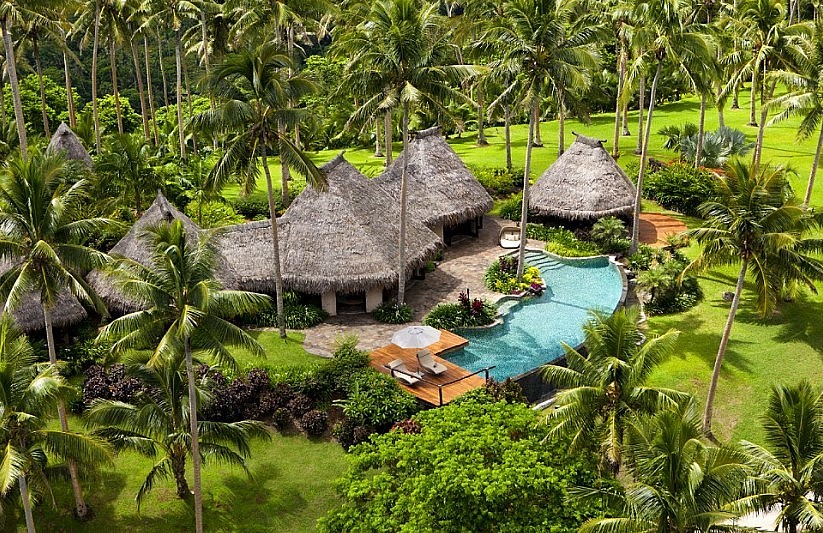 Photo: traveltoplist.
The Hilltop Villa is tucked away in paradise, only accessible to the super-rich. The hotel is located Laucala island in Fiji and costs an impressive $45,000 a night. But, for that, you'll get a four-acre villa, split into three separate villas; that each offers the most beautiful views of the island.
Castaway Island is a picturesque island in Fiji that has a private resort perfect for honeymoons and family vacations. There are a lot of other island resorts like Castaway Island spread all over Fiji, but there is no resort that can match Laucala Island Resort. It is the resort of all resorts and, at the same time, it is the island resort of all island resorts. Lush with plant life and wildlife, Fijian culture and hospitality, and Fijian-style villas, of course, inhabit the private island. Enjoy every water sport you know, or chill out at the island's own 18-hole golf course!
The first villa, "The Delana" comes with a master bedroom with a walk-in wardrobe, a library, a living room, your own large private pool with waterfall and hot tub and a solid wood soaking tub.
The second villa, "The Dua", has similar specifications but sleeps two comfortably, with sliding doors separating all the rooms. And lastly, "The Rua" has a separate living area and large private pool and is the second biggest villa out of the three. If you're looking to get away with friends or family, then The Hilltop Villa could be a perfect getaway as it sleeps up to eight people and has all the luxurious you need from a hotel.
6. Grand Resort Lagonissi Royal Villa in Athens, Greece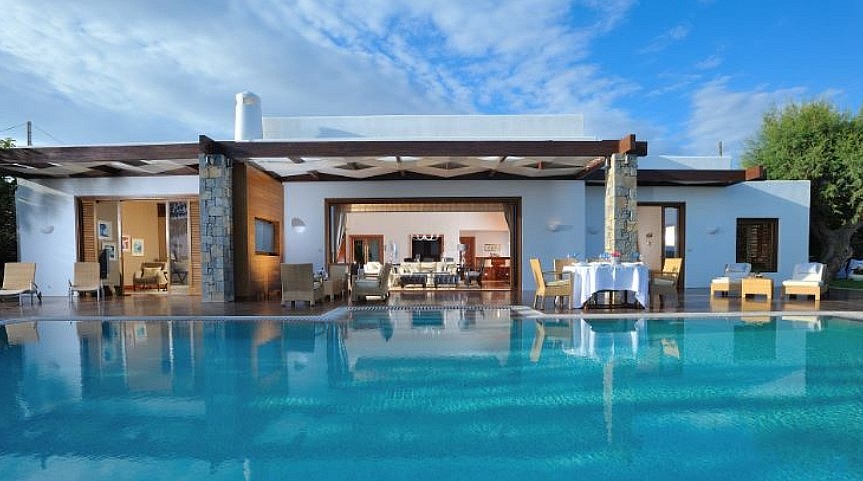 Photo: trendingtopmost.
A very extravagant hotel located on the Athenian Rivera, it has ten restaurants, 197 rooms, and 76 suites. It offers concierge facilities like helicopter lifts, yacht hire, chauffeur-driven limousines for its distinguished guests. At more than $40,000 every evening spent, it is the definition of Greek opulence.
Coming from outside, the more costly hotel suite on earth already appears much like a fairly simple single-family home. However the Royal Villa features everything: The swimming pool is warmed up along with a steam room. You will love a wonderful view of the sea as well as Athens of approximately forty kilometers away. There's even a privately owned beach, a private servant as well as personal pianists are offered.
Thus is a grand hotel as is reflected by its name, it is located on the Athenian Rivera, which is peninsula on the south of Athens. There are ten restaurants in the Rivera, a Thalaspa Chenot which is an oriental approach to relaxation and holistic treatments. The area around the hotel is peppered with private sandy coves for those who want a day alone.
Stunning sights, extraordinary food, luxurious vehicles, European ladies, this area is definitely the glimpse of what money can get! The Grand Resort Lagonissi in Athens, Greece has long been visited by almost all of the big stars.
7. Grand Hyatt Cannes Hotel Martinez in Cannes, France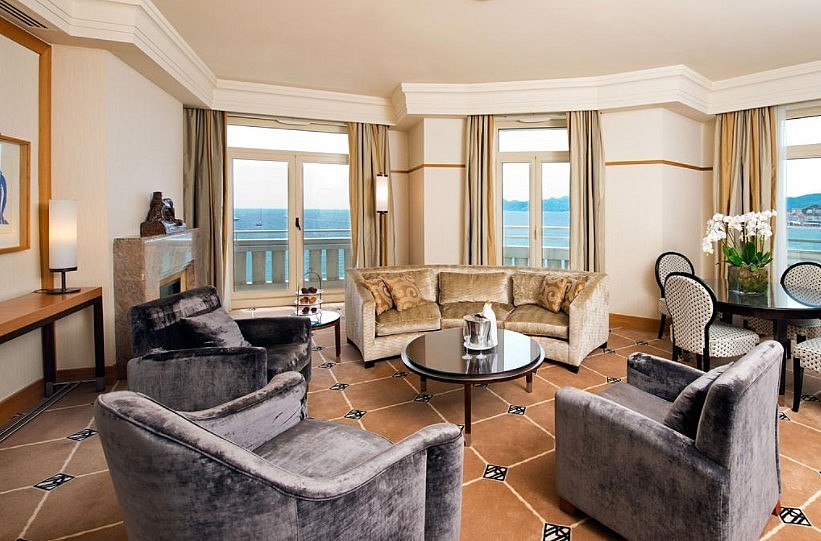 Photo: traveltoplist.
This hotel is a prominent feature of luxury living in France. Established in 1929 by a noble Italian family, its art styled décor is unmistakable. You can enjoy the scenic view of the southern French city from the hotel. Part of its exclusive features include guests having the luxury of personal jacuzzis overlooking the Bay of Cannes.
Right on La Croisette, this gleaming white, art deco icon, with 400 rooms and a two-star Michelin restaurant, plays host to many a celebrity-filled shindig during the Cannes Film Festival in May. We have it on good authority that Elton John stayed there while in town for his Rocketman preview. The most expensive room cost £53,000 a night.
The hotel is famous with an art styled décor located on the Croisette at Cannes. It opened on 20 February in the year 1929 by a noble ancient Italian family of Sicilian origin. The Hotel Martinez, as it was called before, survived the World War II despite occupation by French Army, Italian Army, etc. the hotel was sold in the year 2013 and later got incorporated into Hyatt chain on April 9, 2013 and was renamed.
8. Palms Casino Resort, Las Vegas, Nevada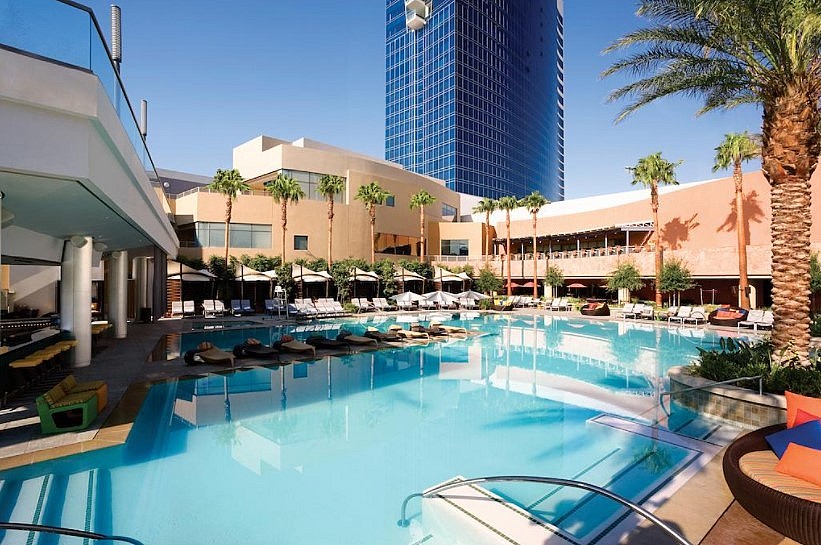 Photo: traveltoplist.
There is a Sky Villa suite in Nevada at $35,450 per night. This is a hotel plus casino bearing 653 rooms and suites and has a recording studio, Michelin starred restaurant and a concert-theater. The resort is styled in a modern, neo-retro fashion. The fantasy tower is famous for its night life venues like, moon night club, rain nightclub and suites like sky villa and fantasy suites. There is a Ditch Friday's, which is a pool party with live DJs every Friday and a pearl concert theater is a 3-level concert venue which can seat 1000 to 2500 people.
Its design style is a tasteful blend of modern and retro. Its world-class facilities like poker tables, racy artwork, and indoor pools make it the preferred choice of the rich. The hotel is renowned for its great nightlife activities.
9. Hotel Plaza Athenèe, France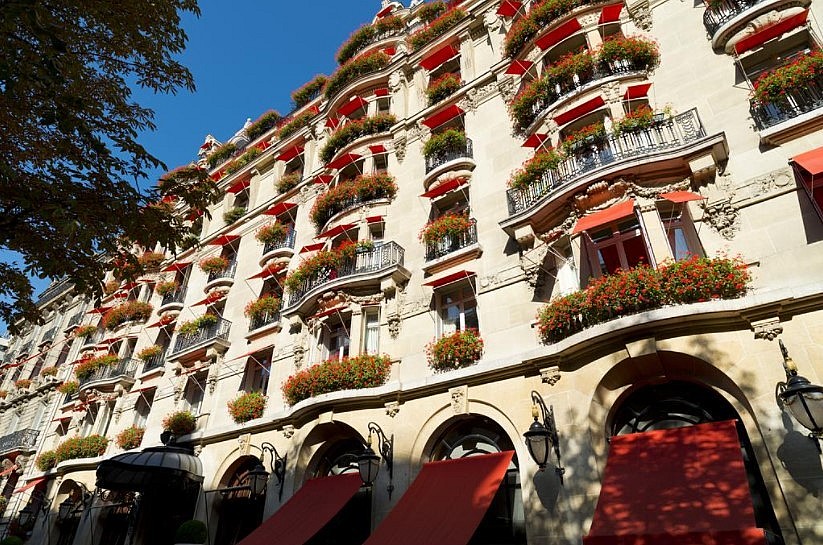 Photo: traveltoplist.
The premier hotel in Paris in terms of grandeur. On the 5th floor is the biggest suite of the French hospitality industry. You get to relish the sights of the Eiffel tower from the hotel. Guests have a private kitchen and a steam room to themselves and enjoy French Regency fabrics and furniture. A night here will cost you $27,000.
This is a historic luxury hotel located in Paris near the Champs-Elysèes and Eiffel Tower. This is a part of Dorchester Collection group of luxury hotels. The hotel has 5 restaurants and a bar. In August 2014, there was a renovation with addition of new buildings and six guest rooms, eight suites and a ball room and two event spaces.
This has French décor but the seventh and eighth floors are done in art décor. There is sauna and steam room and in 2008 a Dior wing was installed.
10. Burj Al Arab in Dubai, UAE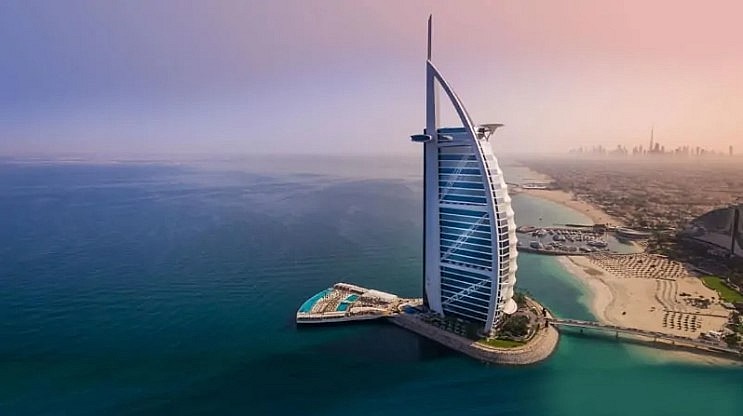 Photo: wealthygorilla.
This is a famous architectural wonder and is the forth tallest hotel in the world but ironically 39% of the hotel is made up of nonoccupiable space. The shape of this building is designed to mimic the sail of a ship. It has a helipad and is also called 'The Pregnant Building'. This building was designed by Tom Wright. There were a lot of claims about this hotel being a 7-star hotel in the world but the Jumeirah group differed in opinion and said they never agreed to that.
Starting off the list of the most expensive hotels in the world is one of the most well-known hotels, the Burj Al-Arab. Located in Dubai, United Arab Emirates, the Burj was marketed as the worlds first ever seven-star hotel, and it goes without saying that it most definitely lives up to expectations. It's the seventh-tallest hotel in the world and was designed by architect, Tom Wright, to resemble the sail of a ship.
What are the most expensive hotels in Vietnam?
There's something unique about Vietnam's luxury properties. The country's naturally beautiful landscapes, enticing food, and rich culture create a singular backdrop for five-star experiences, whether set along a sandy beach or in the beating heart of a metropolis. Vietnam's top hotels will delight you with superb hospitality and a distinctive aesthetic found nowhere else. Snag a memorable stay at any of these following exceptional Vietnamese hotels and resorts.
1. Amanoi, Ninh Thuan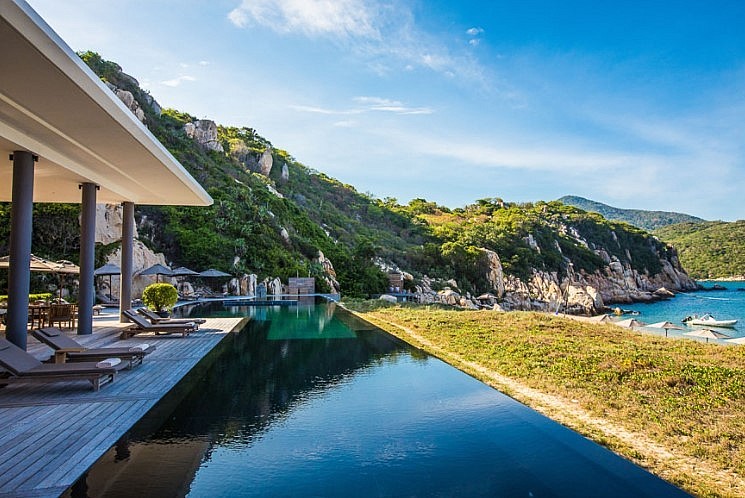 Photo: vietnam.travel.
In 2013, Aman brought the brand's signature sleekness to its debut resort in Vietnam, a contemporary beachside resort alongside a full-service Aman Spa. Named for the Sanskrit-derived word for 'peace' and noi meaning 'place', Amanoi is a tranquil, ultraluxe retreat situated on a gorgeous golden sand beach overlooking spectacular Vinh Hy Bay in Nui Chua National Park, northeast of Ho Chi Minh City. The luxury hotel's polished, slate pagodas peek out from a lush green landscape; its infinity pool segues into the sea; and its spa rests by a lotus-blossom-dotted lake. Amanoi offers total privacy in beautifully designed accommodations that are located in 31 Pavilions, a number with private swimming pools, and five Aman Villas, all positioned on the hillside with impressive views.
2. Reverie Saigon
Photo: vietnam.travel.
In 2015, The Reverie Saigon debuted as the most spectacularly extravagant hotel in Vietnam and as the one and only member property of The Leading Hotels of the World in all of Ho Chi Minh City. Taking pride of place on the topmost floors of the landmark Times Square Building in prestigious District 1, the much-lauded hotel presents world-class hospitality with its impeccable service and its unique celebration of haute Italian design and inimitable luxury. Don't expect a sense of place as you may imagine it to be. To say it's over the top is an understatement. When you first enter you may well ponder if there is any marble left in Italy. The sky-high Reverie Saigon offers an incomparable perspective on the city with its spectacular views from all of its marble-clad rooms, which are the largest of any in Ho Chi Minh City.
Hotel website: The Reverie Saigon
Tip: enjoy free VIP amenities when booking via Virtuoso (e.g. room upgrade, daily breakfast, early check-in, late check-out, and $100 USD food & beverage credit).
3. Sofitel Legend Metropole Hanoi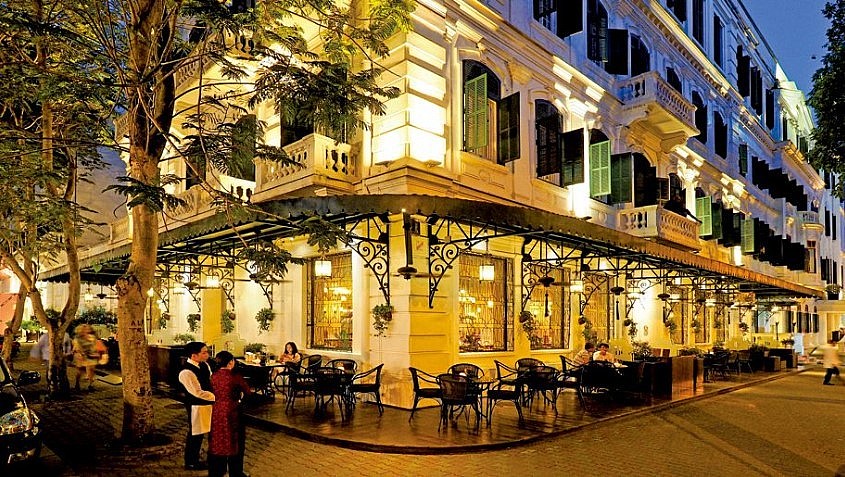 Photo: businesstraveller.
The Metropole in Hanoi is inarguably Vietnam's grandest hotel. Since 1901, the elegant building at 15 Ngo Quyen has lured guests such as Catherine Deneuve, Charlie Chaplin, and Graham Greene. The historical wing is a throwback to Old Hanoi, with canopied bed and balconies that open directly onto Ngo Quyen, while the newer Opera wing is a perfect example of modern Vietnamese luxury. The Metropole's restaurants are Hanoi institutions: Le Club, a bright, gazebo-like structure surrounded by tropical greenery; La Terrasse, a wrap-around cafe facing a leafy park; and Angelina, a contemporary New World restaurant sporting a slinky cigar lounge and handsome brushed steel bar.
Situated in the heart of Hanoi with its leafy boulevards and lakeside pagodas, this colonial-style hotel is ideally placed within walking distance to the famous Hanoi Opera House. Sofitel Legend Metropole Hanoi has been Hanoi's legendary landmark since its establishment at the turn of last century and has always proved a popular rendez-vous spot for both business and leisure travelers. The hotel offers 364 rooms and suites, spread over two wings: the original grandeur is preserved in the historical Metropole Wing, whereas the Opera Wing offers a neo-classic elegance. Other facilities include French, Vietnamese and Italian restaurants, three bars, a heated swimming pool, and the luxurious Le Spa du Metropole.
Hotel website: Sofitel Legend Metropole Hanoi
Other accolades: Sofitel Legend Metropole Hanoi also features in my top 10 list of the world's best historic luxury hotels.
Tip: enjoy free VIP amenities when booking via Virtuoso (e.g. room upgrade, daily breakfast, early check-in, late check-out, $75 USD food & beverage credit, and afternoon tea with chocolate buffet or a glass of champagne in Bamboo bar or Le Club bar per person for maximum of 2 people).
4. JW Marriott Phu Quoc Emerald Bay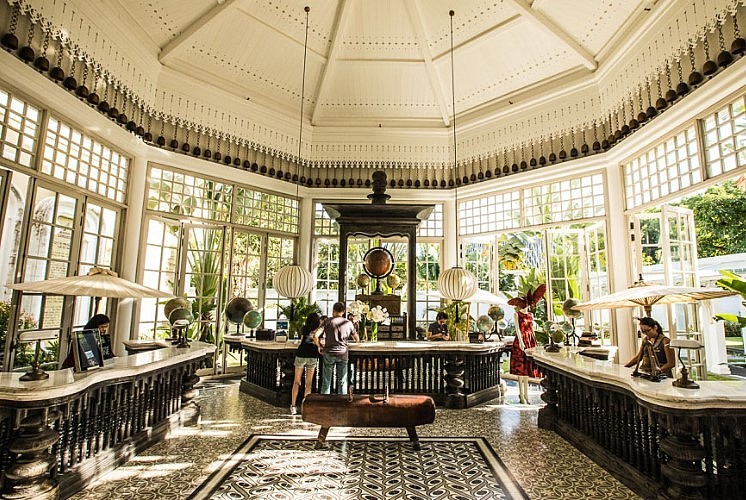 Photo: vietnam.travel.
The JW Marriott in Phu Quoc has caused a stir since its opening. As the awards, reviews, and photos attest, the property is a visual stunner, conceived by Bill Bensley in the theme of a colonial-era university. There's something to admire in every corner of this beachfront beauty. Guest rooms feature sunken balconies and clawfoot tubs, and face powdery Khem Beach and the resort's four swimming pools. Each morning, Tempus Fugit restaurant lays out a kingly spread of dishes from across the globe, and after dark, fine-dining restaurant Pink Pearl entices guests with live Neo-classical opera and gourmet cuisine in an extraordinarily opulent setting. Don't miss a treatment at Chanterelle Spa, named World's Leading New Spa 2017 at the World Luxury Awards.
5. Intercontinental Danang Sun Peninsula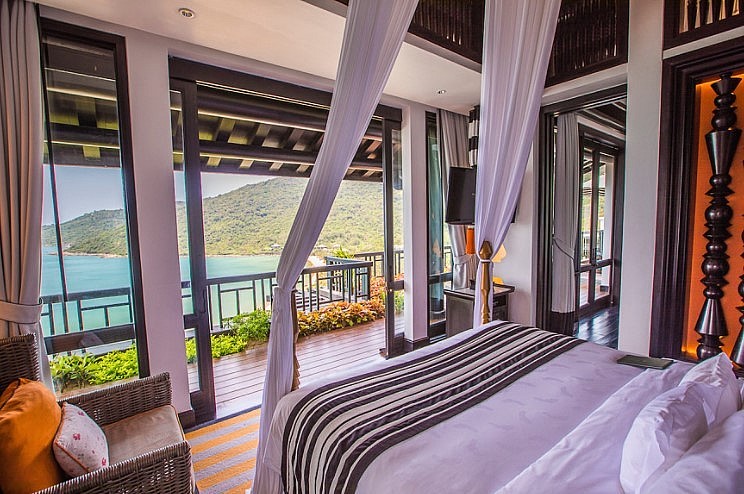 Photo: vietnam.travel.
A marvel of modern design courtesy of Bill Bensley, the InterContinental Danang Sun Peninsula Resort occupies a prime piece of hillside on the stunning Son Tra Peninsula. Traditional motifs drawn from Vietnamese temples are scattered throughout the villas and interiors. Ornate windows recall the form of Hội An's flickering lanterns, while carved lions, dragons and other beasts add to the ambiance. The 700-metre private beach is perfect for swimming, sunning or simply sinking your toes into the amber-hued sand.
Danang Sun Peninsula Resort is a luxury five-star beach resort nestled in the heart of Son Tra Peninsula Nature Reserve, overlooking a private bay. Here, you can delve into the soul of Vietnamese culture and heritage with nearby UNESCO World Heritage Sites Hoi An Ancient Town and Hue Imperial City. The resort has been designed by famed architect Bill Bensley, who reimagined Vietnamese design, history and mythology with his characteristic whimsy, creating a magical retreat over four levels – Heaven, Sky, Earth and Sea. Guests can enjoy culinary artistry at La Maison 1888 restaurant helmed by world-acclaimed chef Pierre Gagnaire, soothe their body and soul at HARNN Heritage Spa, or simply kick back and enjoy the resort's 700-meter (2300 feet) private beach.
Top 7 Best Vietnamese Films on Netflix

Vietnam's film industry has recently received multiple international awards from Busan Film Festivals, Asian Film Festivals, or Vegas Movie Awards. If you are struggling to ...
Top 5 Best Air Purifiers

A great air purifier can really improve your life—reducing allergens such as pollen and mold spores, and protecting against wildfire smoke and other kinds of ...