10 Best Dishes in Quy Nhon Coastal City and Where to Find Them
Grilled spring rolls, lagu bread or dancing shrimp pancakes are three of the specialties visitors cannot miss in coastal areas of Quy Nhon city in Binh Dinh province.
Seek tourist destinations for travelling when the pandemic is put under control, why not? Quy Nhon, located in central Vietnam, is a coastal city in Binh Dinh Province that was surrounded by pristine sandy beaches, majestic mountains and many other beautiful sites for tourists to discover. As a port city, Quy Nhon has a bountiful supply of seafood. Naturally, there are dining establishments that serve the best catch from the sea. Aside from seafood, there are plenty of local specialities you should try.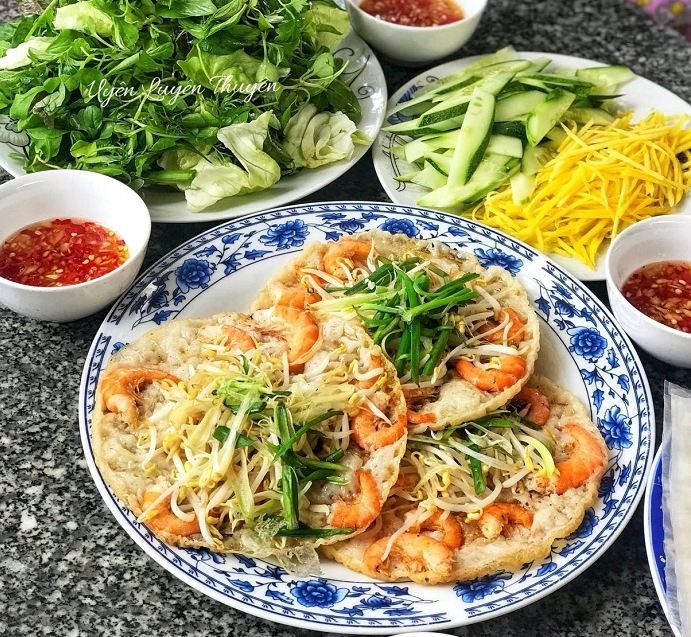 This Quy Nhon specialty has its own distinctive flavor. Photo: Uyen Luyen Thuyen
"JUMPING" SHRIMP PANCAKE – BANH XEO TOM NHAY
The term "jumping shrimp" is used to describe the freshness of the shrimp. This pancake is much smaller than the southern version. I enjoy the sizzle of the heat as the mixture of liquid flour makes contact with the hot pan. The filling of central banh xeo is rich. You can also eat this pancake with squid, egg, or rare beef which is then complimented by bean sprouts, onion, and green onion.
This central pancake feast isn't completed without a tray of greens herbs, rice paper, and sweet fish sauce. To eat it, grab a piece of rice paper, top it with salad, herbs, and the pancake. Then it's time to roll! Finally, take a bite and feel the steaming texture of a fried pancake, the freshness of the seafood, and the refreshing flavor of herbs.
In addition, Quy Nhon pancake also has a soft and delicious beef filling that is not inferior to shrimp so you can try it if you want to change the taste. Surely this Quy Nhon specialty will make the culinary devotees extremely satisfied.
Recommendations:
Anh Vu food store: 14 Dien Hong street, Quy Nhon, Binh Dinh
Ong Hung food store: 24 Dien Hong street, Quy Nhon, Binh Dinh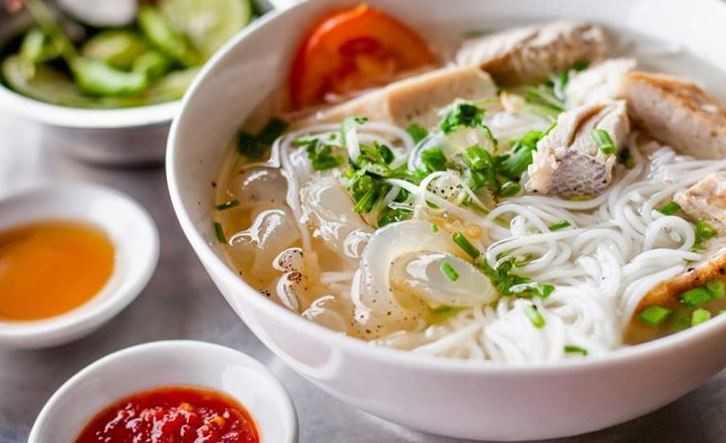 Noodles with jellyfish is a typical dish of the sea, which is popular in central and south regions. In Quy Nhon, the final dish is served with also some baked peanuts and sliced green mango.
JELLYFISH NOODLE – BUN SUA
Here comes another bun dish! Not every jellyfish can be cooked in a delicious bowl of noodles, it must be a milky jellyfish. The cook immerses the vermicelli noodles in boiling water, then moves it to a bowl when done. Next, the cook places slices of jellyfish, fried fish fillet, and pours a decent amount of broth (made of stewed pork bone) into the bowl. Last but not least, grinded peanut is added to the beautiful bowl of noodles as a delicious crunchy topping.
Just like other Vietnamese dishes, the veggies that accompany jellyfish noodles are mango to contribute a sour taste, slices of cucumber, and some greens like salad, coriander, and mint leaves. All of the ingredients are blended so well together and create a pleasant flavor in your mouth.
Bun sua is perfect for those of you who love eating anything that is chewy and crunchy.
Recommendations:
Tau Hoa Hoa restaurant: 318 Phan Chu Trinh street, Quy Nhon, Binh Dinh
Moc Vien restaurant: 03 Dong Da street, Quy Nhon, Binh Dinh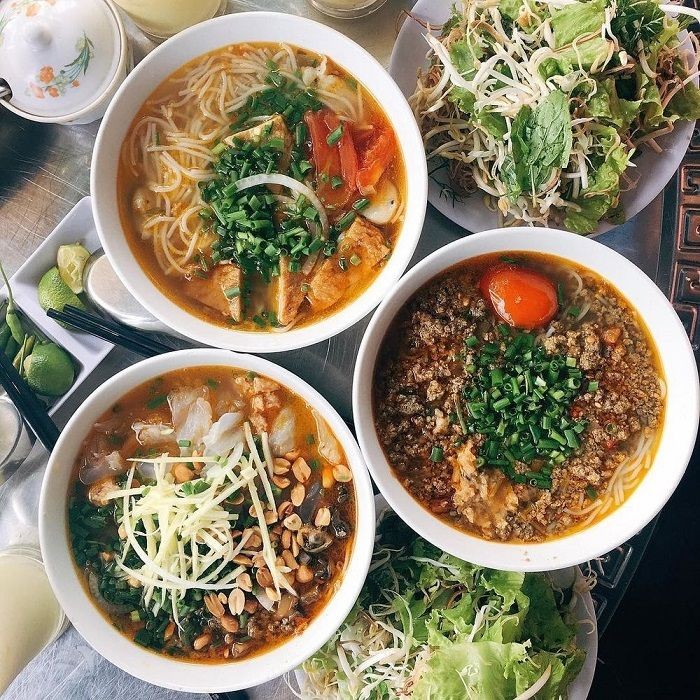 Fishcake with vermicelli in Qui Nhon is different with Da Nang or Nha Trang which makes a great impression at the land of Binh Dinh – a delicious flavor, sweet noodle soup and strong taste from fishcake cannot make you stop eating from the first bite.
FISH NOODLE – BUN CA
Just like Nguyen appears in the first name of many Vietnamese names when it comes to food, it's the bun (or noodle) that usually begins the name of a Vietnamese dish. Among the countless types of noodle in Vietnam, bun ca Quy Nhon is one of the most popular ones.
It is so easy to spot a cart that sells bun ca when you're in Quy Nhon but the preparation requires a lot of effort. Every ingredient has to be prepared separately the night before. From kneading, shaping, and boiling a mixture of rice powder and flour to make the vermicelli; to elaborately making the fish fillet and patiently stewing the fishbone and head for hours to make a flavourful broth, this dish will not disappoint.
A bowl of fish noodles is usually served with a dish of fresh herbs. It tastes even better when you dip the fish fillet in the fish sauce.
Recommendations:
Phuong Teo - 221 Nguyen Hue, Tran Phu W., Quy Nhon, Binh Dinh
Bun Ca Thuan Hong - 415 Nguyen Hue, Tran Phu W., Quy Nhon, Binh Dinh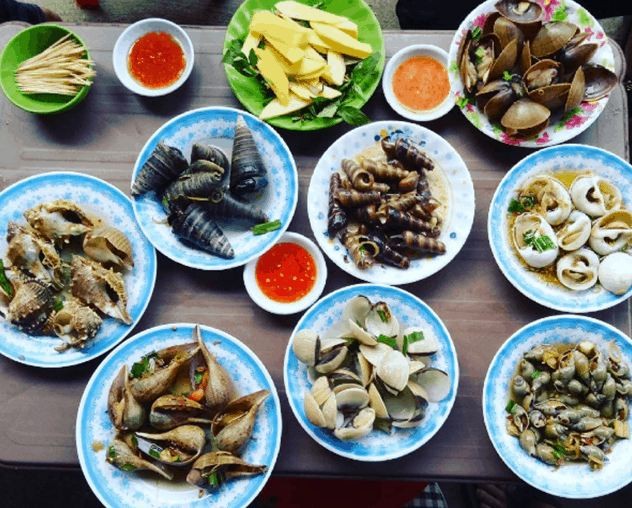 Because it is a coastal city, the seafood of the sea such as snails, beholds, and oysters is not to be missed when enjoying delicious food in Quy Nhon.
FRESH SEAFOOD – HAI SAN TUOI SONG
You can't go to the beach without trying any seafood. So wake up early in the morning and pay a visit to the fishing village. With 72 kilometers of coast, seafood in Quy Nhon is very perse! There you can easily find shrimp, sea snails, crabs, king crabs, clams, scallops, and more. You can buy seafood directly from the fisherman or in the wet market. If you enjoy the freshness of seafood, you should try boiling or steaming it to taste the true flavor. But don't forget to dip it in salt, pepper, and lime sauce.
Some dishes you should try are sea snails sautéed with coconut (oc len xao dua), scallops/echinus grilled with oil and green onion (so diep/con nhum nuong mo hanh), fresh oyster served with lime (hau tai chanh), steamed sea clams (ngheu hap), Huynh De Crab sauteed with tamarind (cua Huynh De rang me), or grilled fish (ca nuong).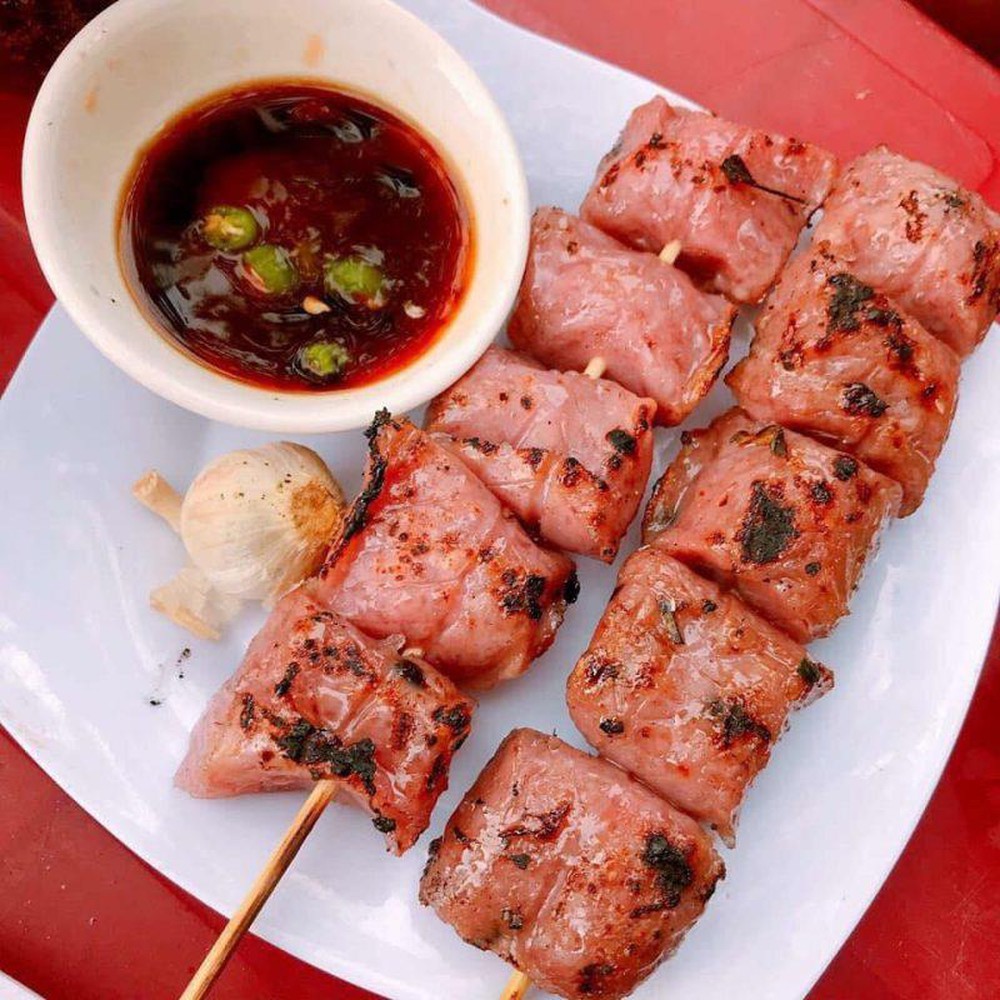 Different from Thanh Hoa sour spring rolls, Hanoi fried spring rolls, Quy Nhon grilled spring rolls are made from ground pork, wrapped in banana leaves or guava leaves, has a crunchy and sweeter consistency. The grilled spring rolls are hot, spicy, sour, sweet and fragrant, making many diners to eat from 5 to 10 to satisfy.
GRILLED MEATBALLS – NEM NUONG
Nem is a kind of meatball (usually pork) that often comes in the shape of a cube wrapped in banana leaves and herbs. Quy Nhon-Binh Dinh nem is a specialty that people usually buy to gift to their family and friends whenever they travel to this region.
Normally, nem can be eaten without having been cooked. The nem is grilled until the surface is a little burnt, then the cook will either use it for spring rolls or serve it with the greens, bitter banana, cucumber, and star fruit. In every bite, you will taste the light texture of the grilled nem, it won't be too dry. Dip it in soya sauce or chili sauce to enhance the taste.
Recommendations:
Nem Tuyet Nem - Hai Thuong Lang Ong – Xuan Dieu, Qui Nhon, Binh Dinh.
Restaurants at Ngo Van So food street, Qui Nhon, Binh Dinh
Tran Binh Trong grilled spring rolls - 59 Tran Binh Trong street, Qui Nhon, Binh Dinh.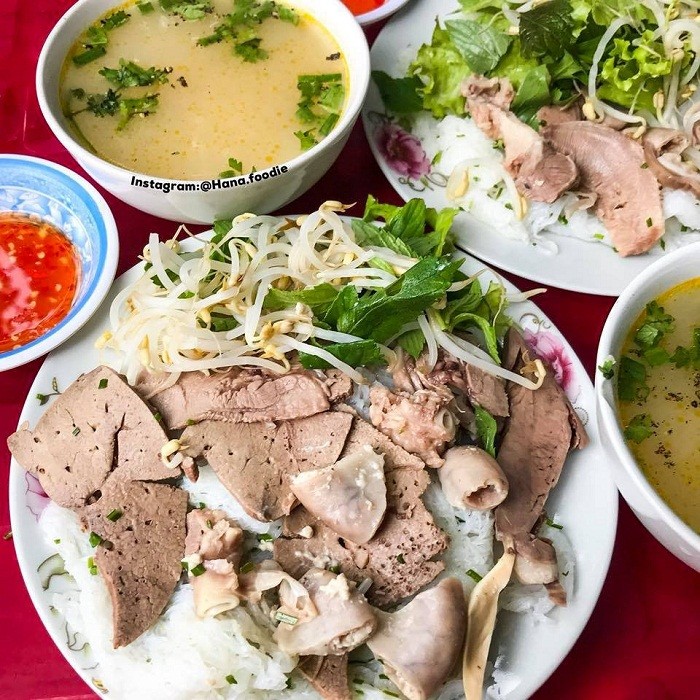 If in other provinces the cake is eaten with grilled meat or burnt shrimp then the local people eat the cake with the heart of the pig, the heart is hard and a bowl of porridge with warm blood. Some shops that may even have a variety of pigs are also quite attractive. Photo: Hana.foodie
BANH HOI SERVED WITH PORK INTESTINE – BANH HOI LONG HEO
This dish is a favorite breakfast of people in Quy Nhon. Made of rice vermicelli, banh hoi is another kind of noodle that the Vietnamese love. It is prepared with a spoon of oil and finely chopped chives, and the intestine is placed in the middle of the banh hoi plate. The side dish of banh hoi long heo is a helping of boiled bean sprouts, basil, salad, and coriander or a bowl of porridge.
The sauce also plays a very important role in completing the taste of this delicacy. First, the server cooks down the fish sauce with sugar until it's thicker. Second, ground garlic, lime juice, and a few slices of chili are added to the fish sauce. Later, it is poured into a small bowl.
Recommendations:
Mẫn food store: 46A Tran Phu street, Qui Nhon, Binh Dinh
Dien Hong food store: 20 Dien Hong street, Qui Nhon, Binh Dinh
Snacks have eye-catching colors when there is a layer of green onions, yellow onions and pounded peanuts, few shrimp on top.
WATER FERN CAKE – BANH BEO
This dish is not originally from Quy Nhon but beo cake is a flavorful snack with good flavor in this region. The water fern cake in Quy Nhon is made of rice flour, topped with chopped chives, dried shrimp, and ground peanuts. The best version of this dish has crunchy fried breadcrumbs on the top. Add a decent amount of sweet fish sauce and this snack will be ready to go.
Ba Xe - Tran Nguyen Dan street, Quy Nhon, Binh Dinh
Kim Dinh - 20 Nguyen Hue street, Quy Nhon, Binh Dinh
Banh Beo Cay Man - 742 Tran Hung Dao street, Quy Nhon, Binh Dinh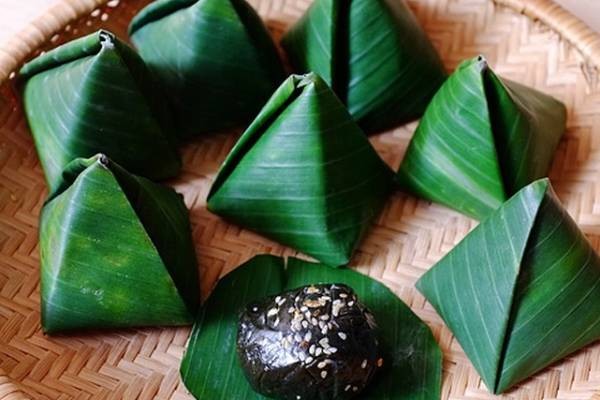 Presenting as a last name in my list – Bánh Ít Lá Gai usually considers a nosh or a dessert after the main meals. Bite a small part, a sweet taste of sugar, a good aroma of glutinous rice, a fat taste of oil, a buttery taste of bean really creates an irresistible pleasure.
RICE PYRAMID DUMPLING – BANH IT LA GAI
This pyramid dessert is a specialty of Quy Nhon-Binh Dinh. Locals wrap a cake with gai leaves and stuff it with coconut flesh, peanut, green beans, and ginger. A good quality cake is soft, bland, and not too sweet. "Don't think, just chew" to feel the interesting texture.
Wait until you bite the sweet stuffing, it is probably unlike any dessert you have tried. Depending on each place, people may use various ingredients such as green bean, black bean or coconut cooked with sugar or even salty taste with shrimps and pork. The cake will be wrapped into a dynamic shape by banana leaves after handing over the fire and covering with peanut oil. That is going to the end of a progress by taking those cakes for steaming.
Don't worry about the sweetness as even those who don't like a sweet taste can't deny having a second one.
Recommendations: Phuong Nghi food store: 115 – 117 – 119 Qui Nhon, Binh Dinh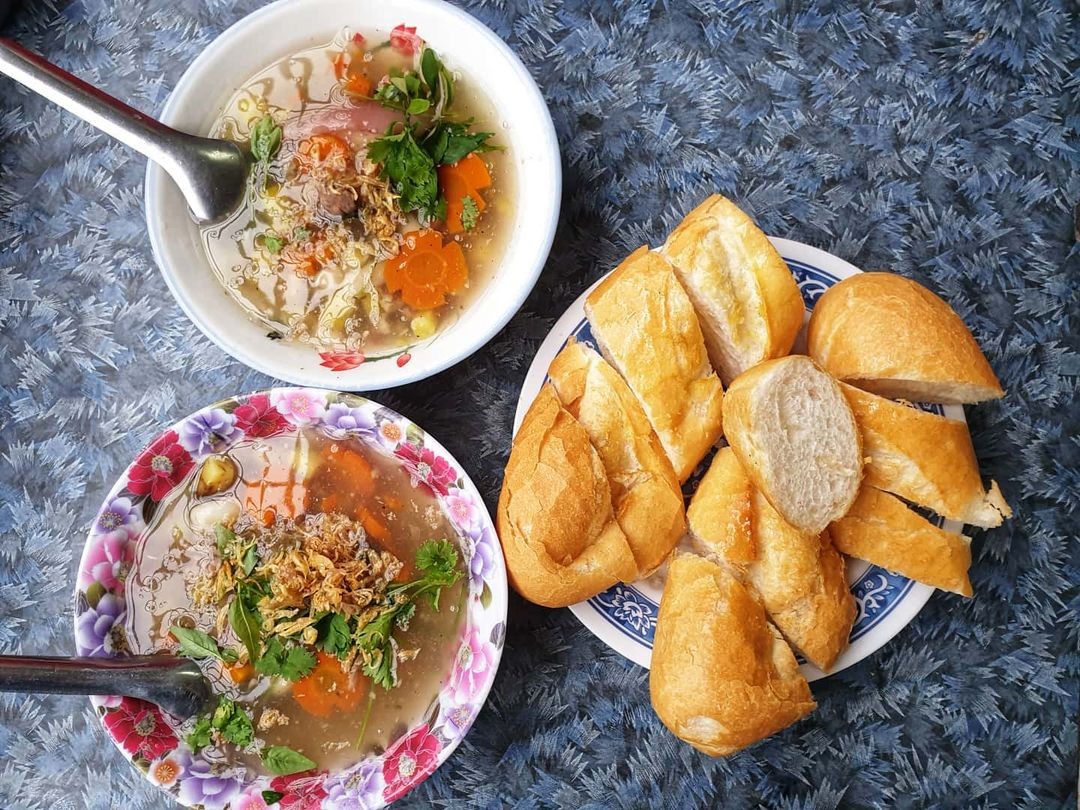 This is one of the oldest dishes in Quy Nhon, attracting diners by the delicious flavor of the broth, mixed with crispy hot bread. Vegetables such as lotus seeds, sweet potatoes, carrots, red beans … are carefully selected. The pork is carefully simmered to taste sweet, without a fishy smell, and the tenderness of the meat is just right, not chewy or too soft.
BEEF RAGU SERVED WITH BANH MI – BANH MI RAGU
Another popular breakfast in Quy Nhon is beef ragu served with bread. The beef is stewed for hours to make it firm but soft so when you bite down, it will be chewy but not too tough to swallow. A bowl of beef ragu contains a lot of nutrition. Besides meat, you will also find carrots, peanuts, and some other spices. A banh mi is what makes this food even more addictive. The good smell of butter spread on bread is so alluring that you can't help but keep thinking about it afterward.
On a chilly day, nothing is better than holding a warm banh mi in your hands, tearing it apart, stopping for a second to smell the good scent of butter, bread, and beef ragu. Dip the banh mi into the broth and slowly relish the symphony of flavors in your mouth.
Recommendations: Alley 171 Nguyen Hue street, Qui Nhon, Binh Dinh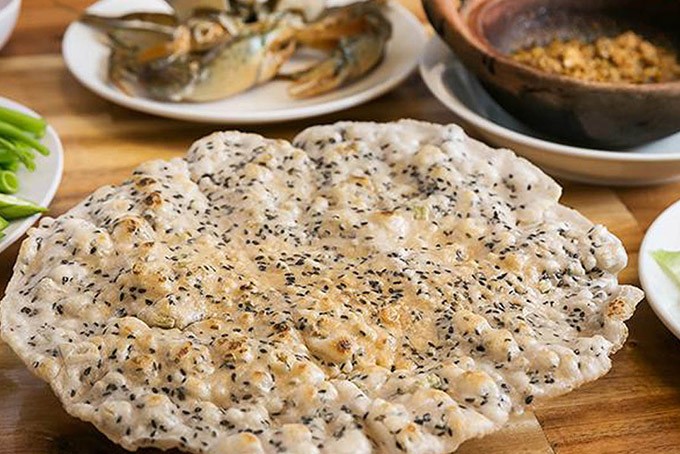 Tam Quan town, now Tam Quan ward, Hoai Nhon town, about 100km north of Quy Nhon city (Binh Dinh province) is famous for its coconut water rice paper.
GRILLED COCONUT RICE PAPER – BANH TRANG NUONG DUA
The land of Tam Quan is famous in Vietnam for having many recipes that contain coconut in the ingredients. Coconut paper is the most popular one. It is made of flour, rice flour, sesame, and coconut juice. After coating a pan with the mixture, it will be left in the sun until dried. The grilled coconut paper is a favorable snack that tastes a little sweet because of the coconut juice and smells good due to the sesame. Locals usually bring it home as a Quy Nhon gift to their loved ones.
Anthor famous rice paper is Grilled fish rice paper, eaten with Vietnamese coriander and chili sauce, a delicacy distinctive to coastal town Quy Nhon.
The main ingredients of this dish (banh trang cha) are fish, a little bit of tapioca starch to create plasticity, cornstarch and some spices to purify the fishy smells and enhance the characteristic aroma of grilled fish.
The mixture is cut into thin slices, grilled and deep-fried until brown yellow. Banh trang cha is a childhood delight of many Quy Nhon culinary buffs. The snack can be brought from any place in Quy Nhon at affordable prices, though the best way to enjoy it is at the seaside.
National flag carrier Vietnam Airlines will resume two-way flights between Hanoi and Ho Chi Minh City and Da Nang; between Ho Chi Minh City and Hai Phong, Vinh, Thanh Hoa, Quy Nhon, Hue, Da Nang, Quang Nam, Dong Hoi, Nha Trang, Tuy Hoa and Phu Quoc; and between Thanh Hoa and Da Lat, starting from Oct. 10.