Binh Dinh spellbinds tourists with stunning bird-eye view
Quy Nhon coastal city, Bai Da Trung (Stone Egg Beach), Nhon Hai Beach, De Gi salt field, etc boast colorful and ravishing beauty from a bird-eye view.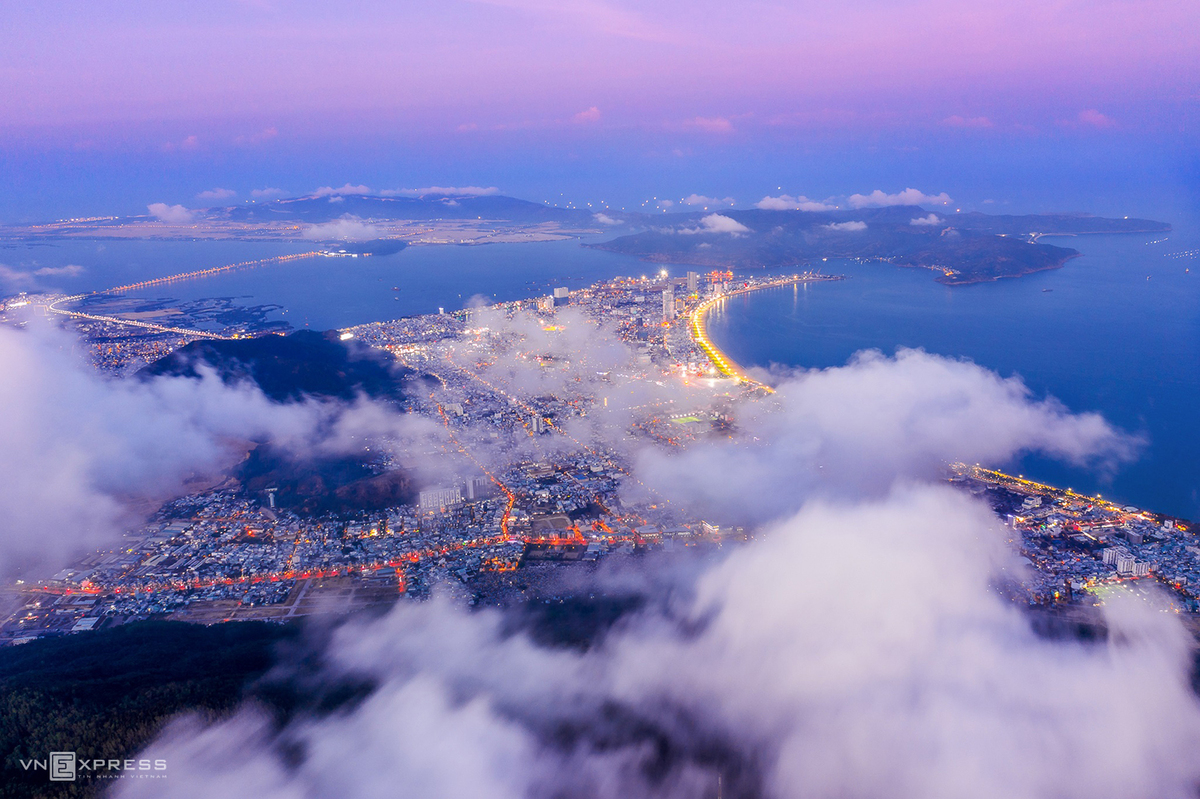 Photo: Vnexpress
Quy Nhon is cloaked in a sea of clouds.
The photo set "The beauty of Binh Dinh" was captured by photographer Nguyen Phuoc Hoai, from Quy Nhon City.
Binh Dinh, located in the South Central Coast region, possesses a potential for tourism, especially beach tourism thanks to its 134 km long coastline. Quy Nhon, a famous tourist site of Binh Dinh, has been featured in many international travel newspapers.
In 2015, Quy Nhon was voted as the top destination in Southeast Asia by the British magazine Rough Guides. In 2017, it was named in the world's top 10 best places for winter holiday by the Guardian. In June 2020, it was included in the world's top 20 best destinations for backpackers by Hostelworld.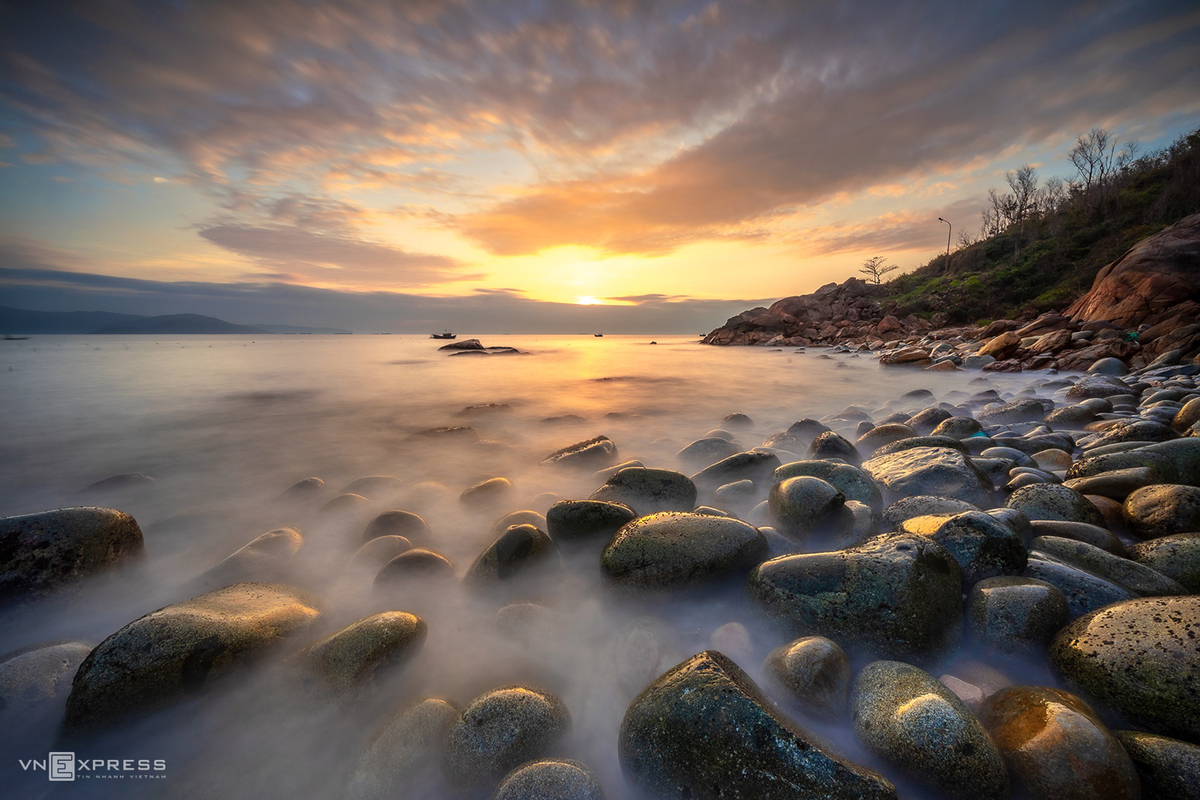 Photo: Vnexpress
The magical beauty of Bai Da Trung (Stone Egg Beach) at sunrise, which is about 2 km southeast of Quy Nhon.
Bai Da Trung belongs to the Ghenh Rang tourist area and comprises countless stacked stones, resembling giant birds' eggs.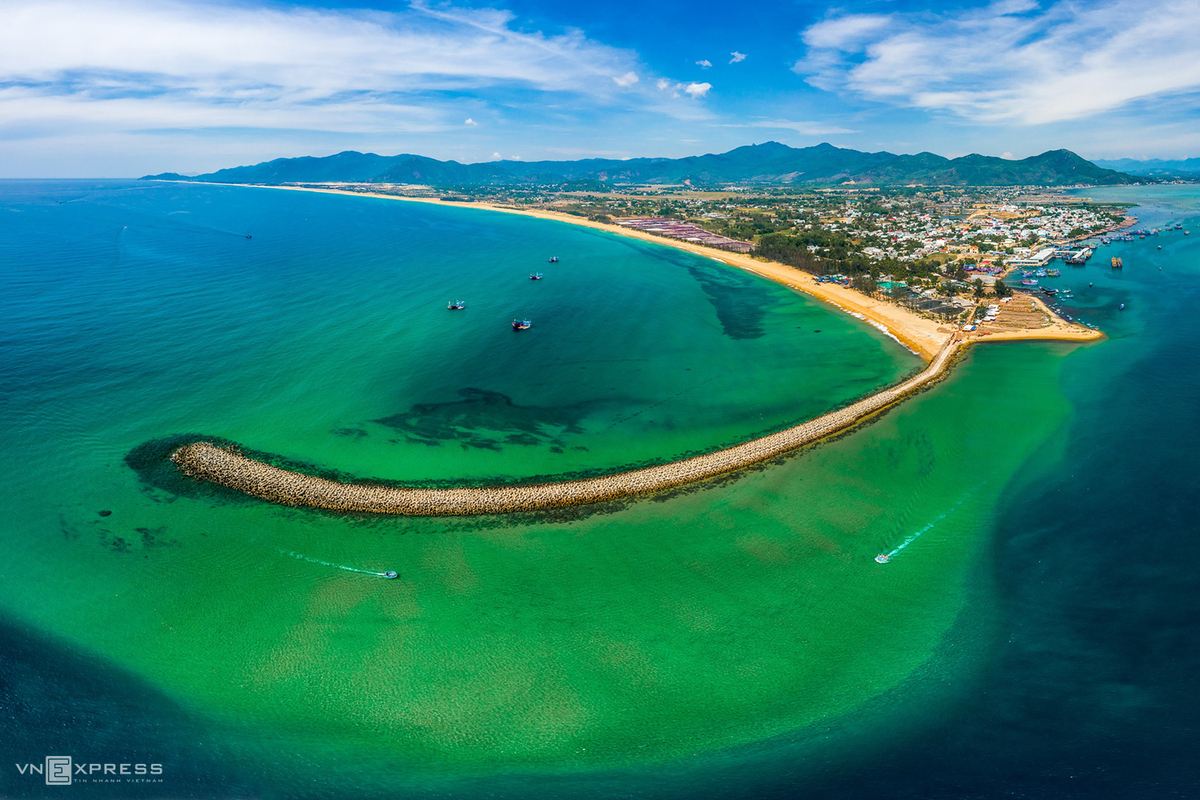 Photo: Vnexpress
A green moss-covered breakwater runs along the De Gi beach, surrounded by picturesque turquoise water.
Tourists can travel from Nhon Hoi economic zone to Cat Tien commune, then follow the route DT 639 running along the sea to De Gi in Cat Canh commune, Phu Cat district.
Coming here, tourists will have the opportunity to immerse in the daily life of fishermen and savor fresh seafood.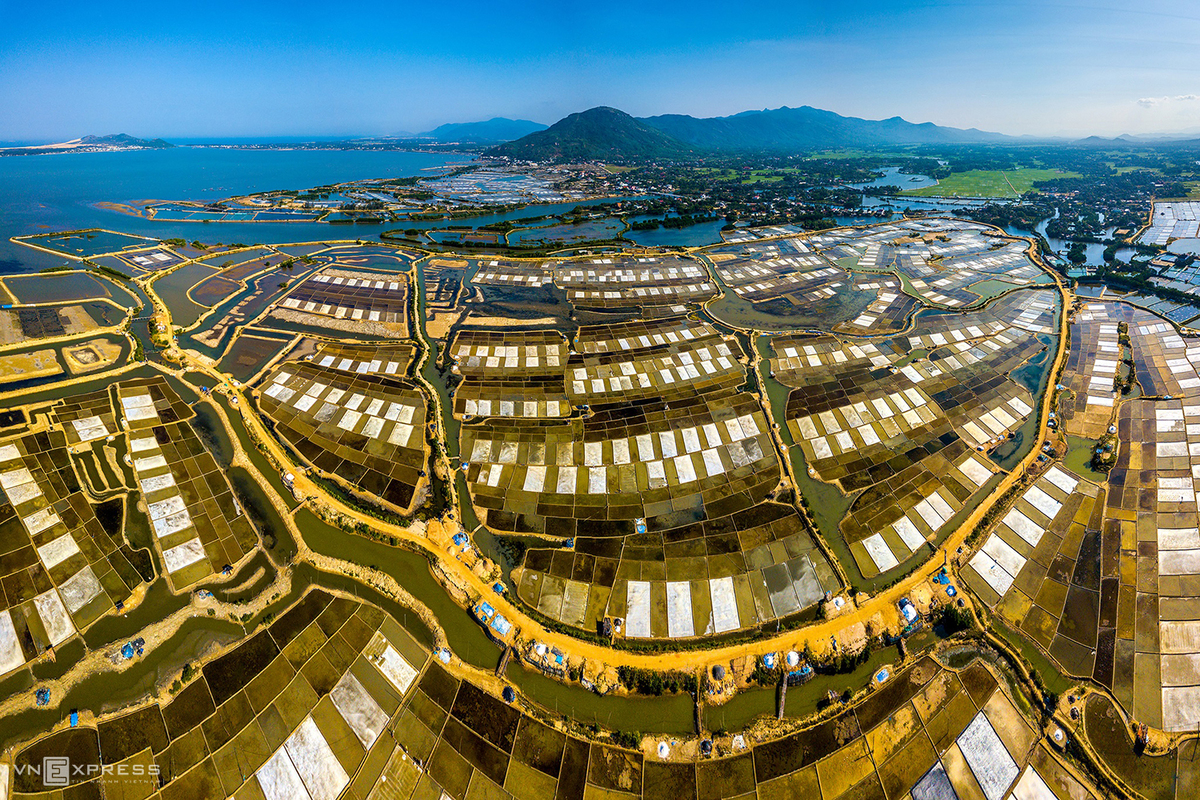 Photo: Vnexpress
The entire view of De Gi salt field. Cat Minh Commune is famous for its long tradition of salt-making. Rectangular fields, each around 100 square meters and with splashes of color, spread over dozens of hectares. There are five plots of water for every one of salt, Vnexpress reported.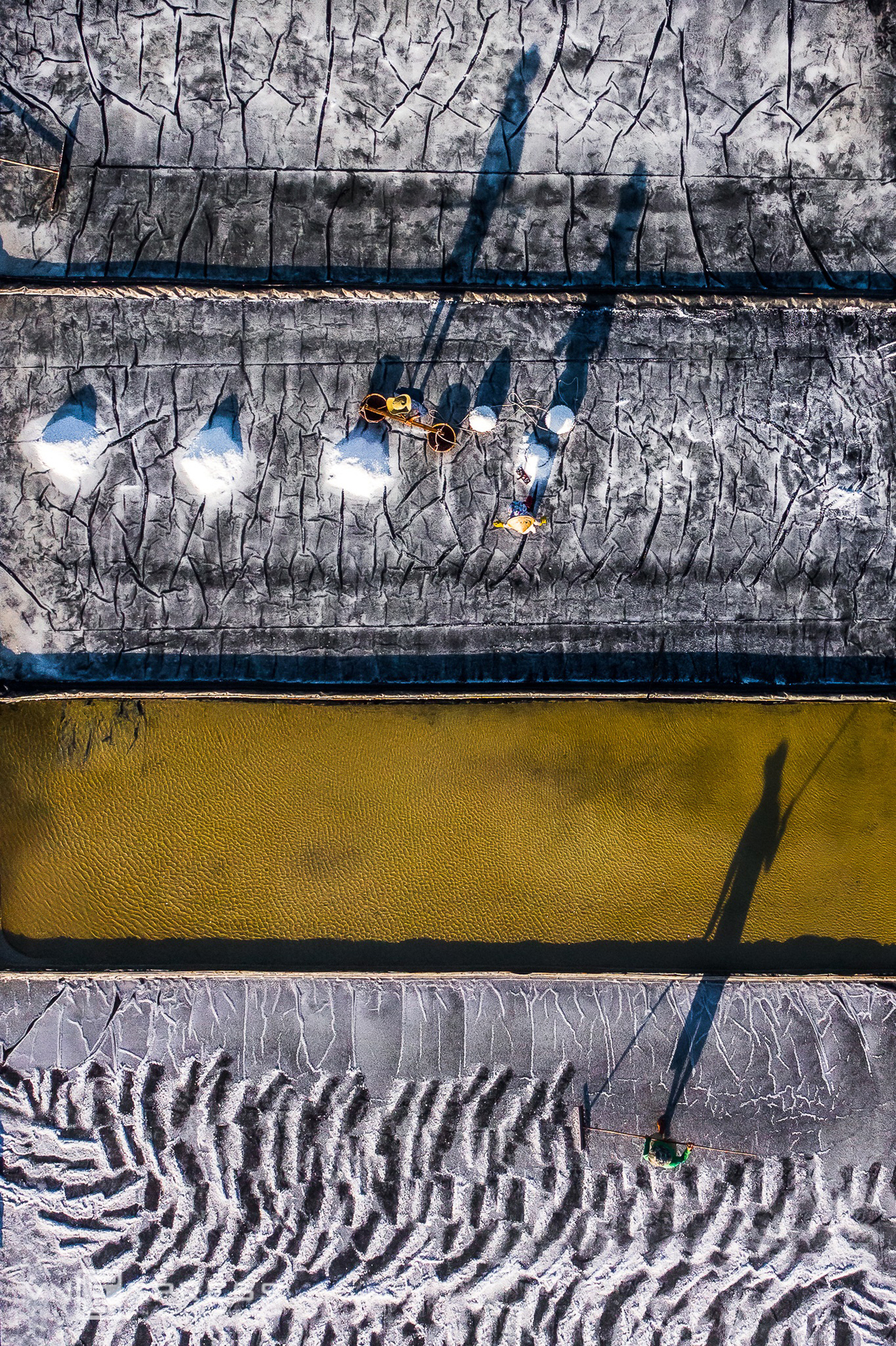 Photo: Vnexpress
The local farmers are busying raking salt. plots of water for every one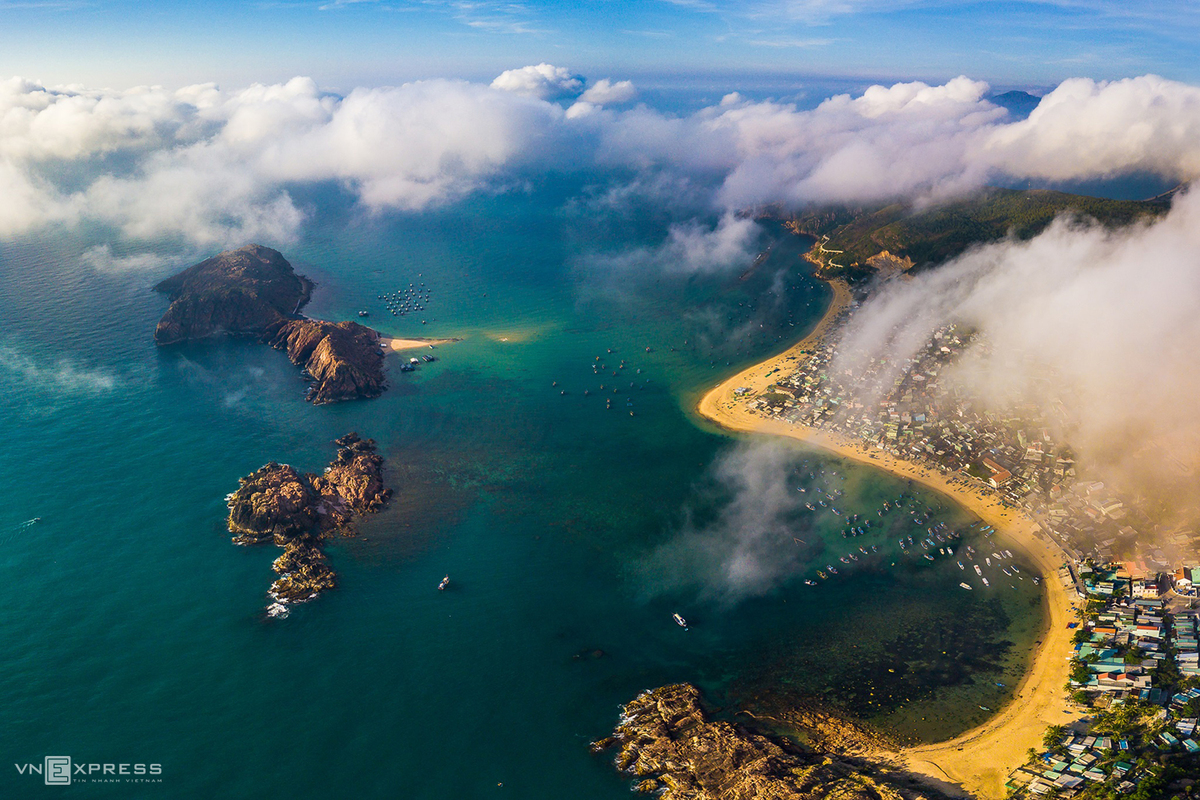 Photo: Vnexpress
A bird-eye view of fishing villages on Nhon Hai and Hon Kho islands, with colorful houses. Nhon Hai offers visitors various kinds of accommodation such as restaurants, hotels and homestays.
Hon Kho Island, located about 6 km from Quy Nhon, acts as a natural shield for Nhon Hai fishing village. It often takes about 10 minutes to reach the island by canoe. Scuba diving, coral gazing, swimming and sunrise and sunset watching are among "not-to-be-missed" experiences in Hon Kho.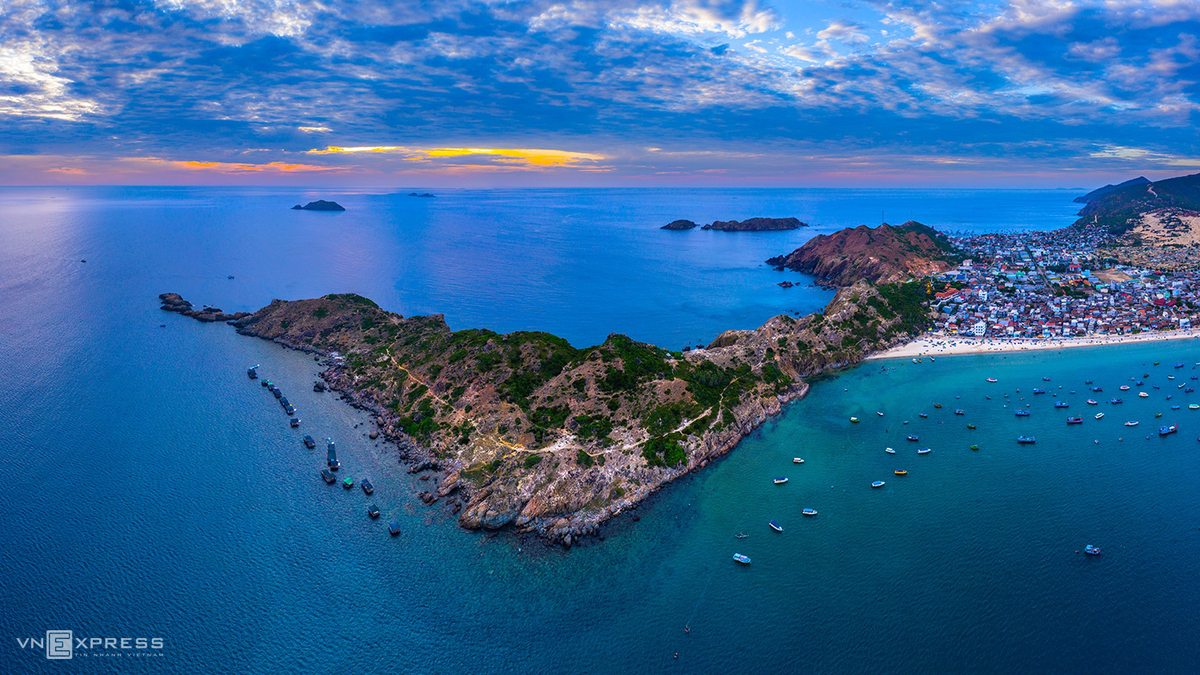 Photo: Vnexpress
Blessed with stunning landscapes and a diverse marine ecosystem, Nhon Ly Island is considered a paradise for avid travelers. Nhon Ly is well known for its Eo Gio and Ky Co.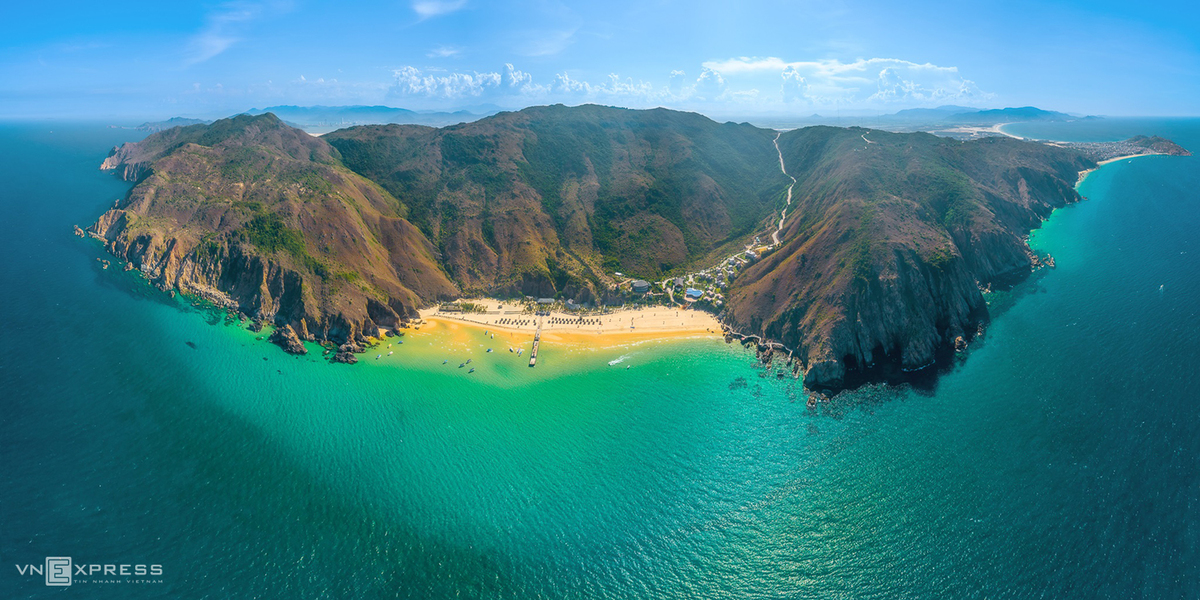 Photo: Vnexpress
Ky Co is dubbed as the "Maldives of Binh Dinh", embraces a pristine beauty with white sand and crystal-clear seawater.
A day tour of Ky Co costs VND 350,000 - VND400,000 ($15.17-$17.33)/person, including round-trip canoes, snorkeling and lunch.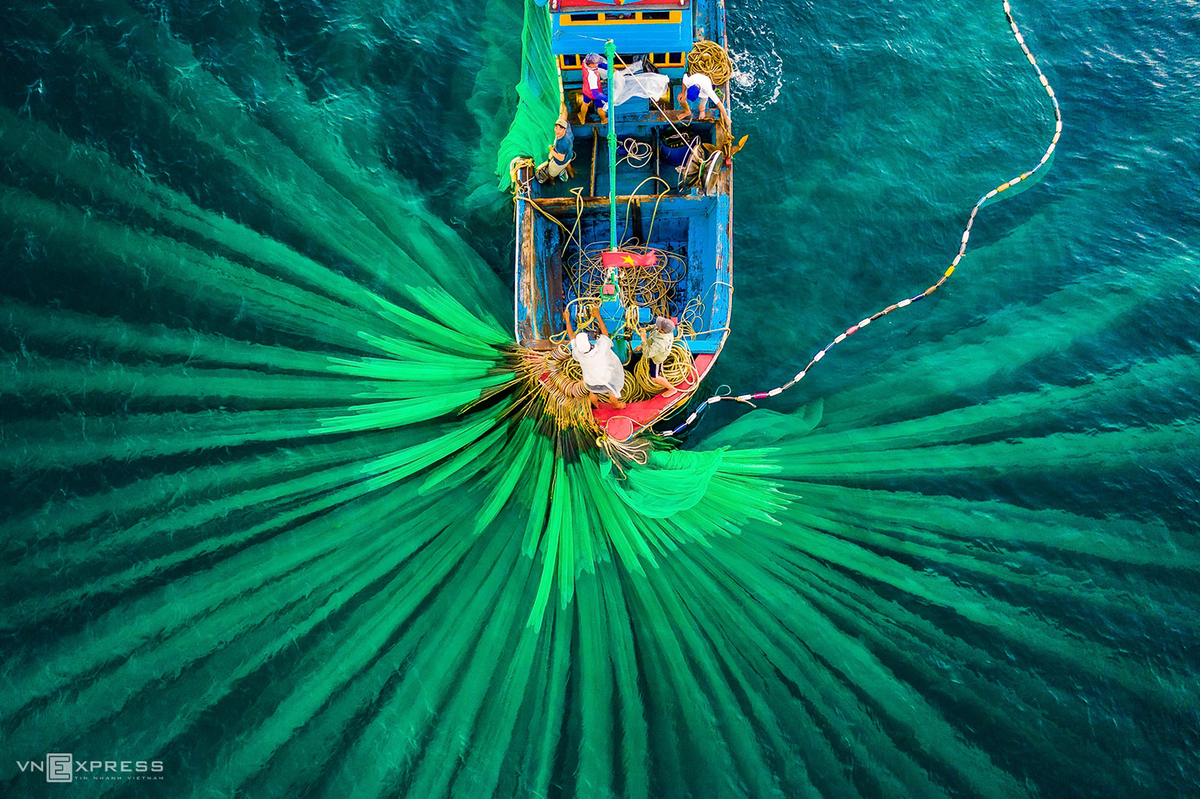 Photo: Vnexpress
Fishermen cast nets to catch anchovies on Nhon Ly Island.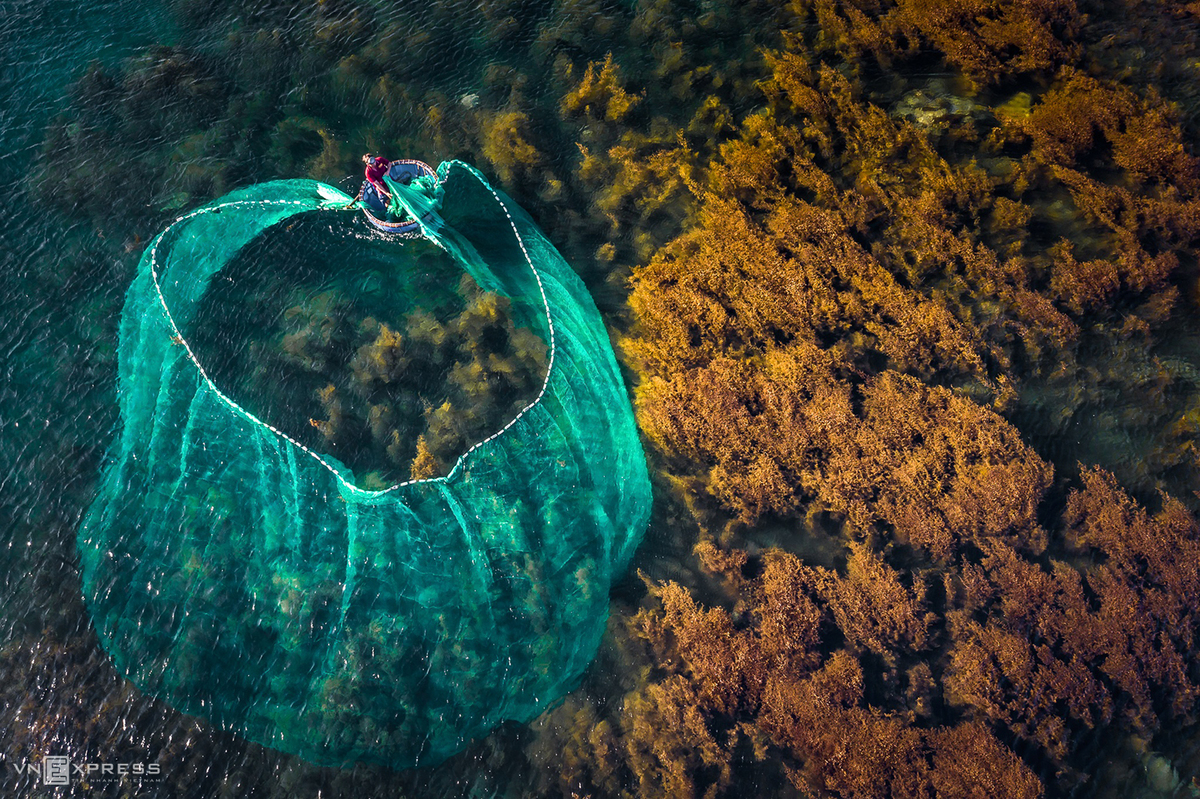 Photo: Vnexpress
Fishermen row basket boats to catch fish on Nhon Hai beach, covered by a forest of Sargassum. Sargassum often grows on coral reefs and underwater rocks. The fishing is carefully carried out to avoid damage the Sargassum.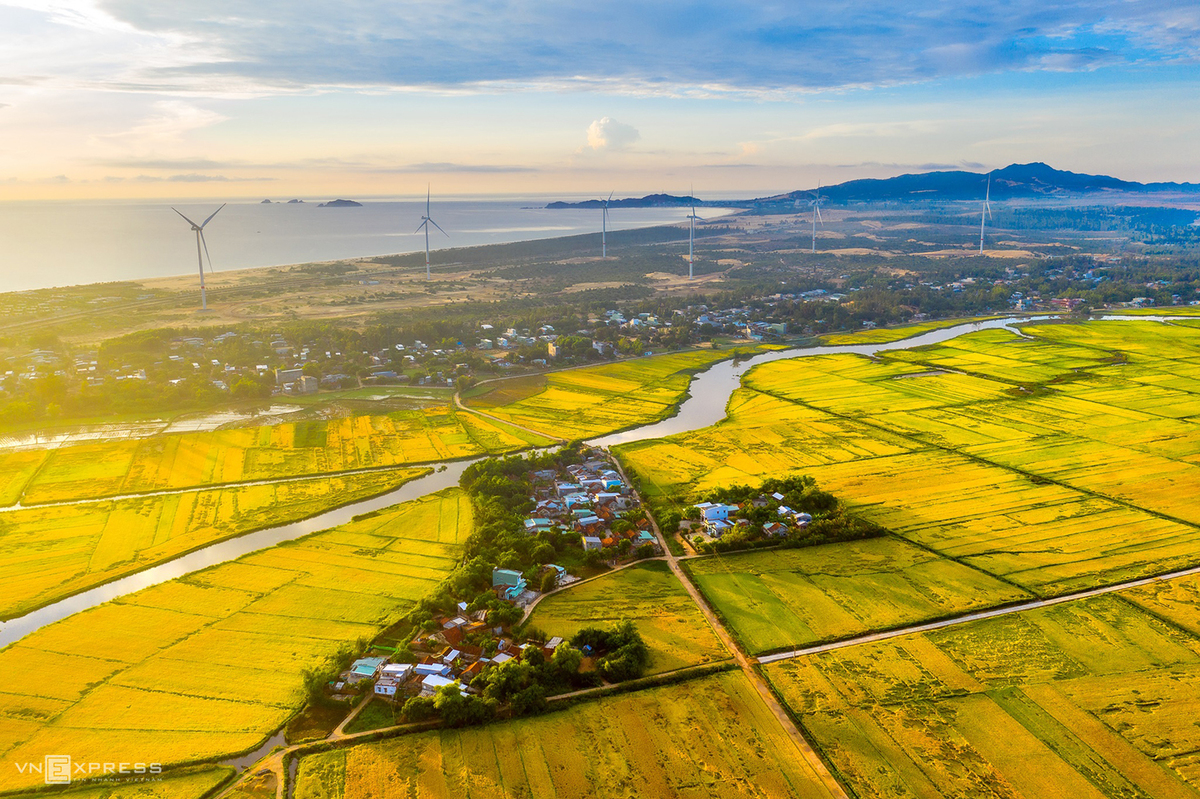 Photo: Vnexpress
Rice turns golden next to a wind farm on Phuong Mai peninsula.
Photo: Vnexpress
Previously, Phuong Mai used to be deserted. Nowadays, it has been transformed into a famous tourist site thanks to infrastructure development.
After riding motorbikes along the sand dunes on Phuong Mai peninsula, tourists go more 20 km to reach Nhon Ly commune with diverse terrain, one side facing the sea and three others facing mountains and hills.
Coming to the commune, don't miss out on the opportunity to visit the fishing villages of Ly Chanh, Ly Hoa, Ly Luong and Ly Hung where tourists can relish the fresh air and enjoy delicious seafood.