Seasonal Delicacy: Enjoy Fried Ruoi Omelet in Chilly Days
Cha ruoi (fried ragworm omelet) is a delicacy this time of year – the delicious smell of it cooking is very pervasive, a temptation to passers-by.
Ruoi doesn't live in Hanoi – it lives in the mangroves and wetlands along the coast. In the capital, cha ruoi is a delicacy this time of year – the delicious smell of it cooking is very pervasive, a temptation to passers-by. The combination of fried ruoi and egg is irresistible.
This year the northern winter comes early. In the 10th month of the lunar calendar, the scent of Cha ruoi (fried ragworm omelet) has filled the hidden sidewalks of Hanoi. Walking slowly on the roads, it's lucky to "bump" into a seductive scent, which suddenly appears right in front of your nose. That scent is unmistakable because it rarely appears: the smell of Cha ruoi.
Every late October, when sunbeams gently light up trees, turning them yellow, and light cold front approaches in the north, rươi (palolo/ragworm/sand worm) season begins, as it has done for a thousand years.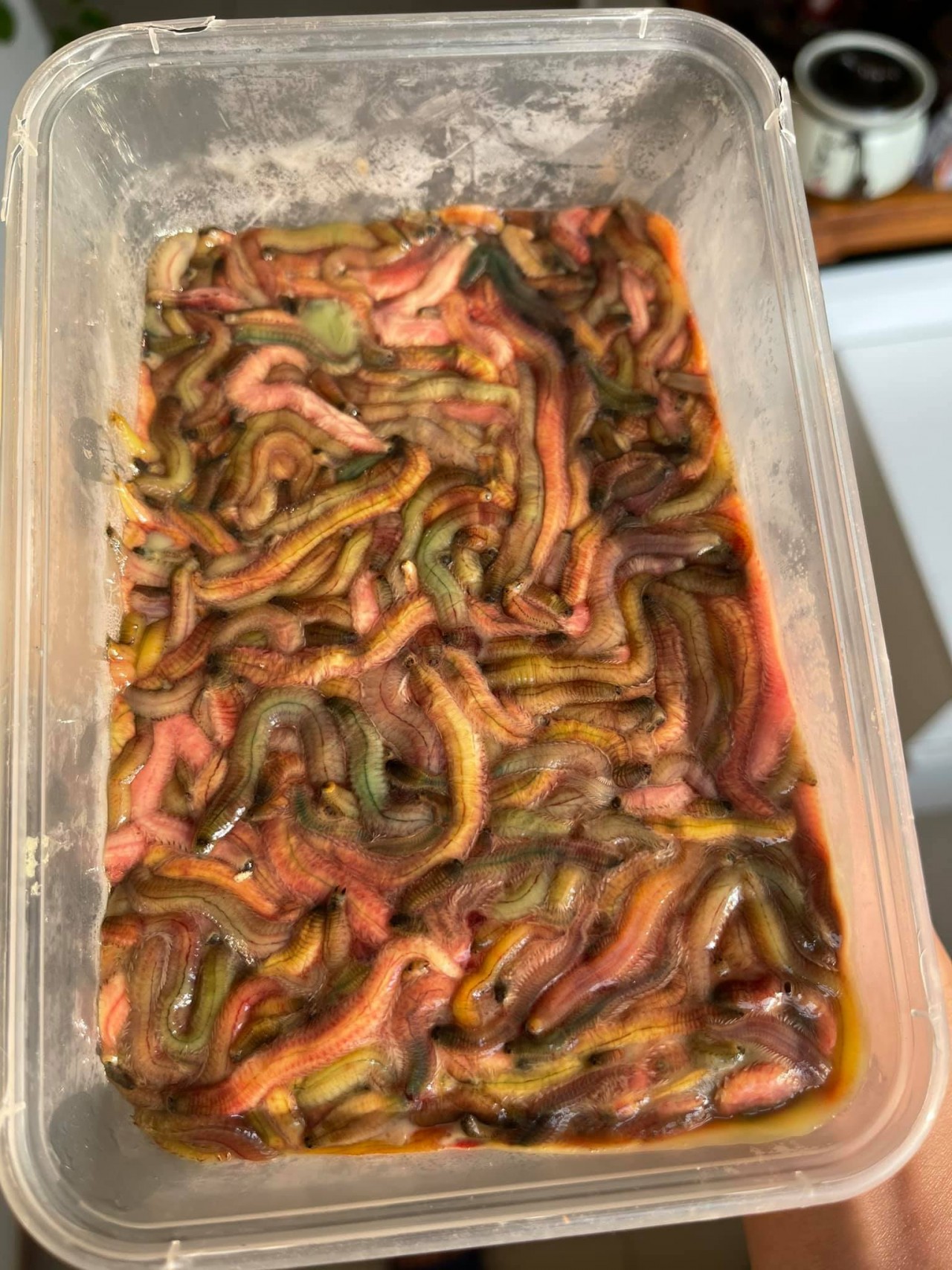 Ragworms appear on the sea's surface on certain days of the lunar cycle in autumn. In Hanoi, Vietnam, they are harvested to make a delicacy called "chả rươi".
Ruoi (scientifically named Nereididae, mainly lives in brackish water fields in Hai Duong and Nam Dinh provinces) can be cooked many ways, such as rươi kho niêu đất ( seaworm braised in a small clay pot), mắm rươi (fermented seaworm), and other dishes.
Looking at the ruoi, almost people do not think they could be made as the best Vietnamese food. This dish, fried ruoi omelet, attracts the big number of customers in its season in year.
Although these creatures may seem unappetizing to many, ragworms have long been served in food in Vietnam, and can be quite nutritious. Seaworm stir-fried with củ niễng (tuberous traditional herb) is very good for the heart. It cools down the body heat and is a diuretic as well.
Ruoi is also rich in calcium and folic acid, and can help patients with weak digestion and blood pressure.
Certain provinces in the country are well known for this type of worm, including Hai Duong, Ha Tinh, Quang Ninh and Thai Binh.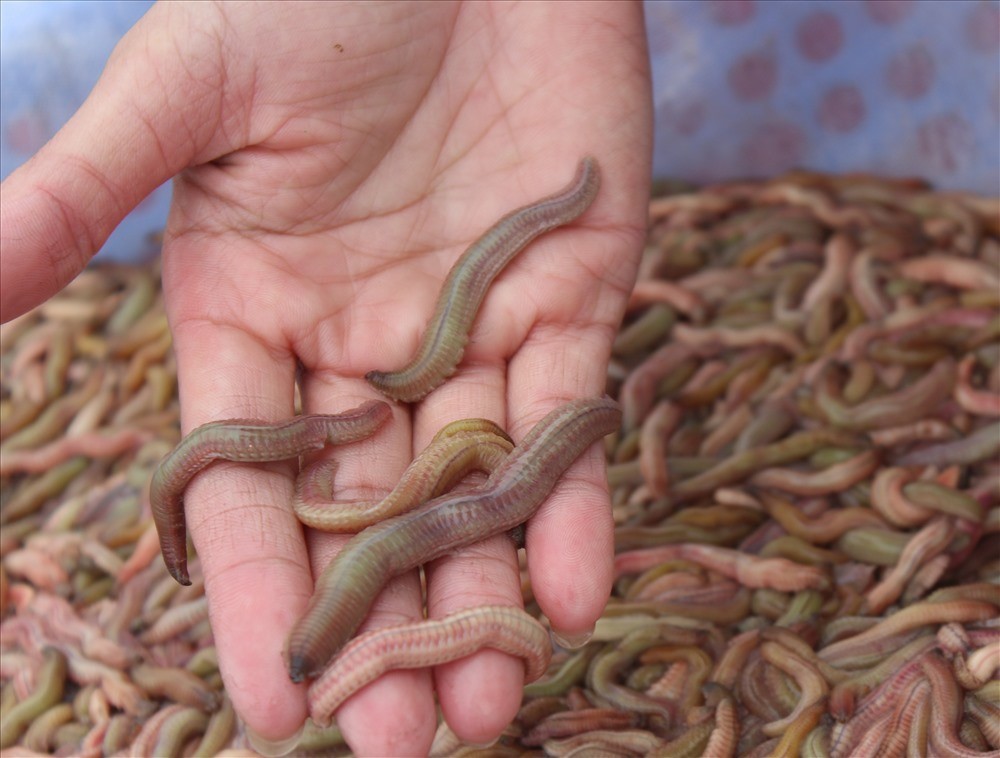 Many may shiver at first glance at the dish made of worm-like creatures, but those worms are important ingredients to make a unique specialty of Hanoi.
Ruoi spend much of their short lives in brackish water burrowing into the sand or mud. Their hue changes from pinkish purple when young to milky brown as they mature. When the bellies fill with a milky fluid, it is time for the ruoi to depart for the spawning grounds.
There was once a time when coastal farmers would leap into the sea and cast nets by hand each time the worms appeared. In recent years, they've started populating small lakes and even paddy fields with them.
Ruoi taste a little fatty and greasy, and sweet enough and they're a little crunchy. These characteristics are why they make for great food, though they must be fresh.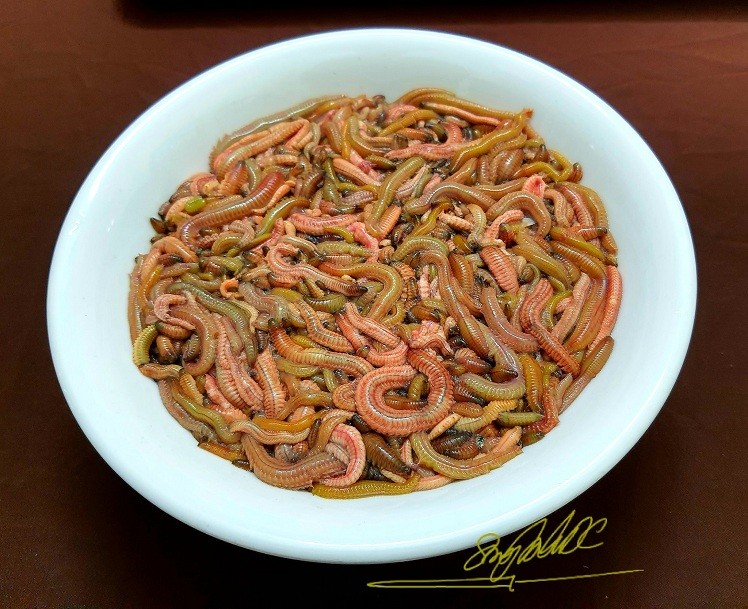 Before cooking, ruoi is placed in a bowl of hot water to remove their tentacles and take away the unpleasant smell. After that, let them dry before mixing with other ingredients.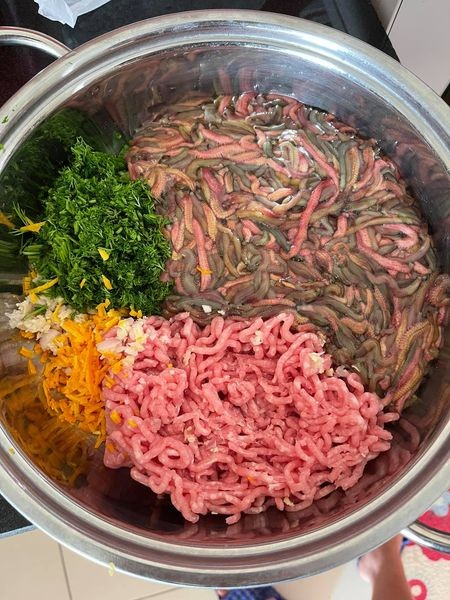 The dish's ingredients are fresh worm, dried onion, dill, minced pork, mandarin peel, egg, pepper, fish sauce, and a little of chilli.
Fishermen catch ruoi when they appear en masse following a rising tide, floating on the surface of the water in the spawning season in late September or early October.
Before making a meal of ruoi, they must first be cleaned in a bowl of sink of water. Once clean, they can be kept in the fridge for up to a year and used as required.
Before cooking, place the ruoi in a bowl of hot water to remove their tentacles and take away the unpleasant smell. Note that if the tentacles are not completely detached and discarded, cooked ruoi can cause itching and other discomfort.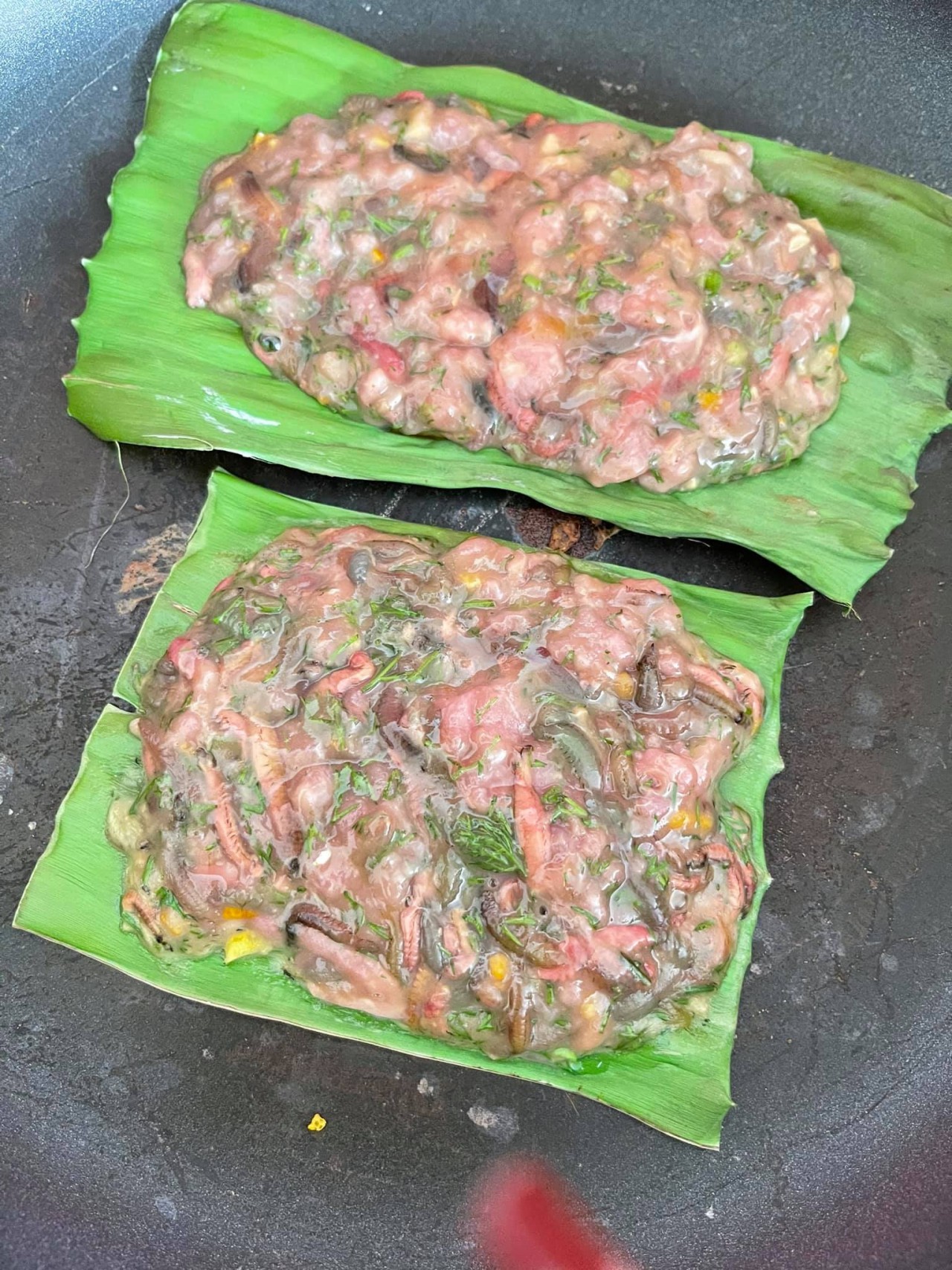 These ingredients are mixed and stirred well before being scooped into a big spoon and fried in a pot of oil.
The fresh ruoi have a light pink color. The fresh one does not have bad smell, but when making it the bad smell will appear. Therefore, the cookers use the mandarin's skin to reduce the smell.
Cha ruoi is not available all year round. Ruoi is a type of sand worm that can only be found from the end of September to the middle of October. The short season is why Hanoians regard cha ruoi as a special but expensive gift from nature.
The sauce includes pepper, fish sauce, lemon and chilies. You do not eat any noodles or vegetables to eat with this Best Vietnamese Food. Fried ruoi spring has a fat flavor, the fragrant of mandarin and the spicy of chilies. It is not a luxurious food from the hotel, but it is taste that diners cannot forget when eating one time.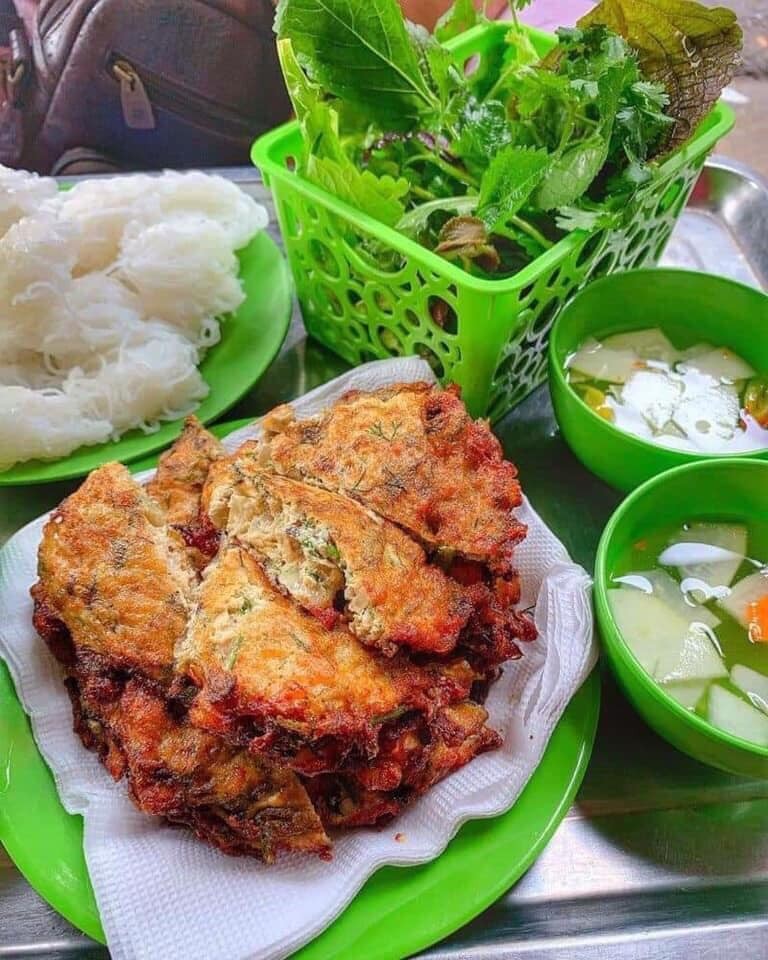 The worm omelette is usually served with rice vermicelli, sweet-and-sour fish sauce and fresh herbs.
Ruoi is sold in the local market is ruoi which is frozen in the bridge yearly, so the taste is not delicious. Ruoi's season just take in a short time which occurs only two or three weeks. Therefore, people usually take their friends to ruoi restaurant to enjoy this best Vietnamese food in its season.
This traditional worm omelet was one of the only unique Vietnamese dish that appeared in South China Morning Post's article named "Tastes like caviar: worm omelet, a seasonal Vietnamese delicacy, draws diners from miles around".
Other dishes made from these worms included ruoi fried with salt, ruoi hot pot, ruoi fried with củ niễng, ruoi fried spring rolls, fermented ruoi, steamed ruoi, ruoi wrapped in betel leaf or stir-fried ruoi with radish or bamboo shoot.
Stir-fried ruoi with veggies,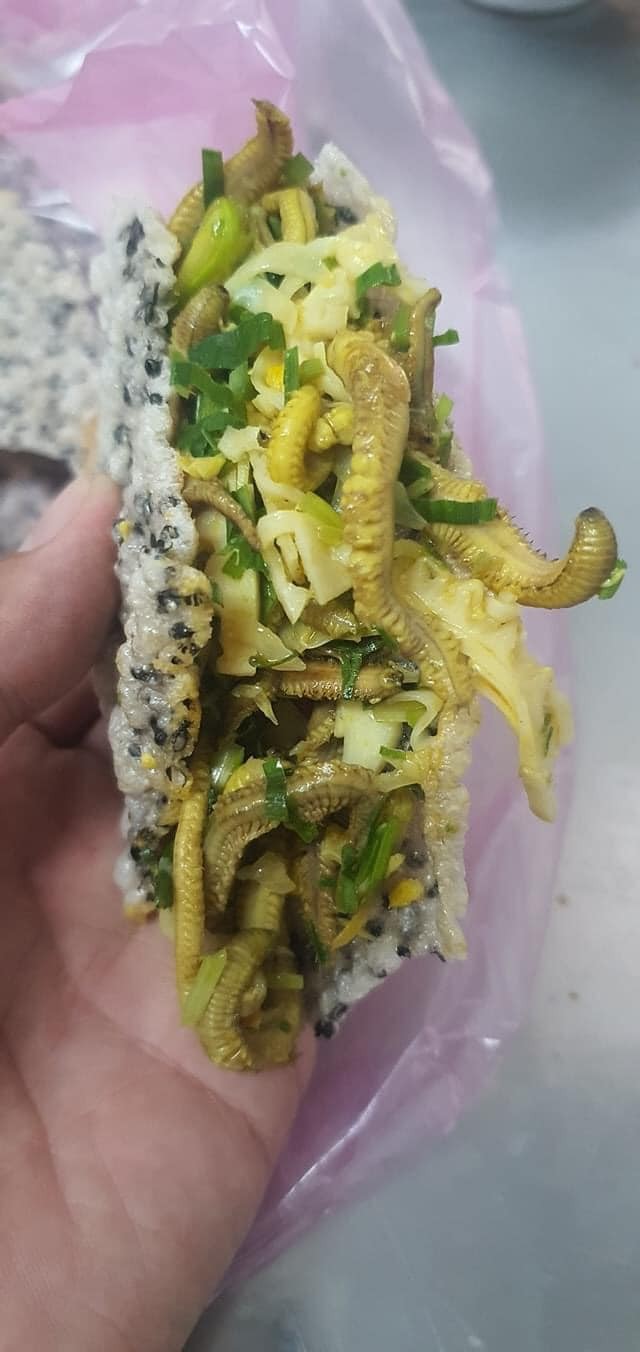 Stir-fried ruoi with bamboo shoot.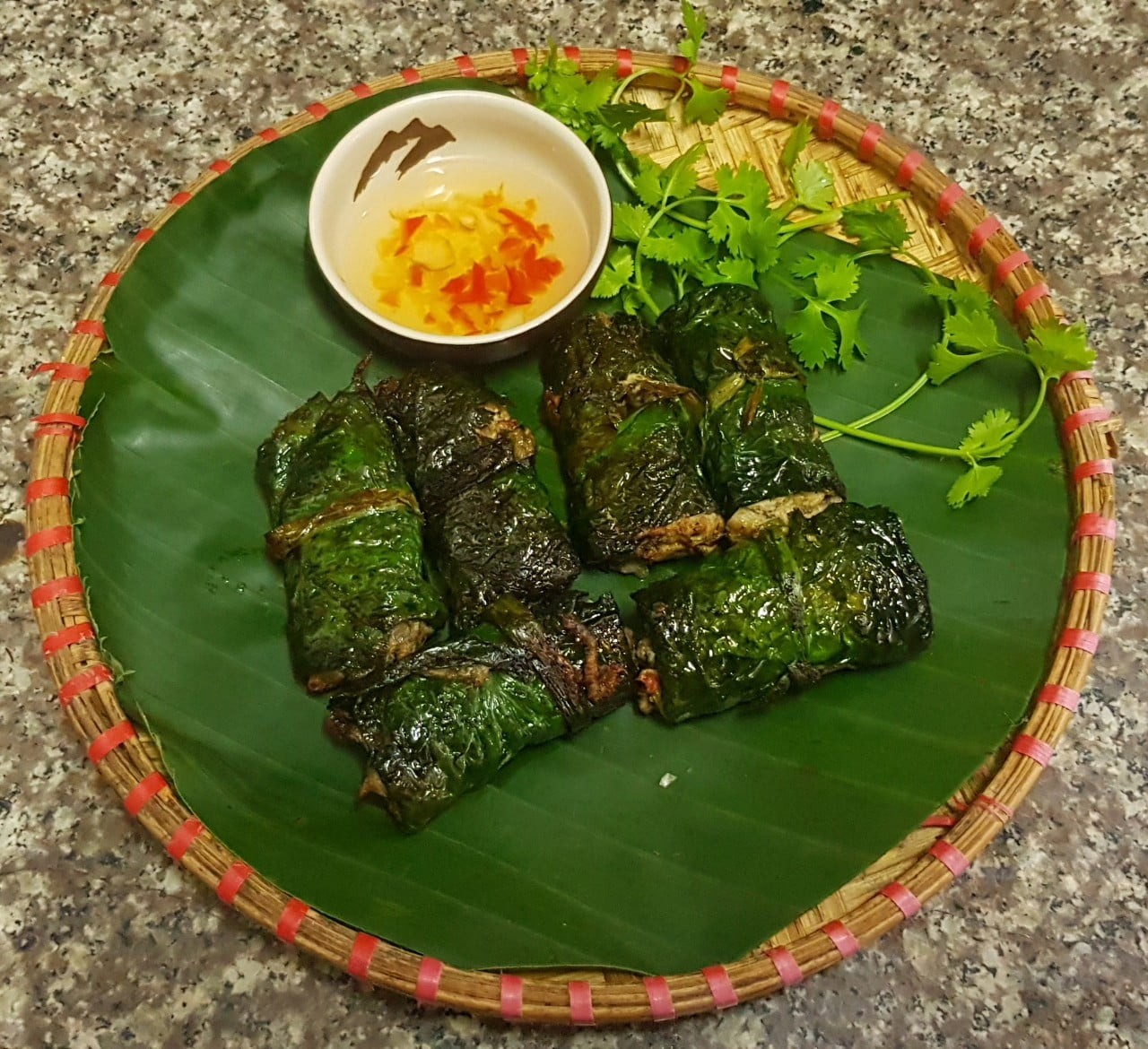 Grilled ruoi wrapped in betel leaf,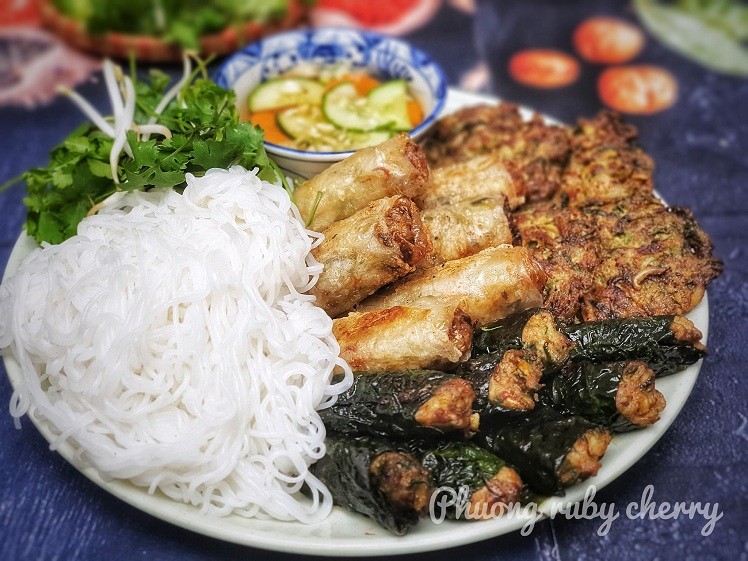 Three fried dishes from ragworm served with vermicelli, sweet-and-sour fish sauce and fresh herbs.