1,000 Cambodian Students Studying in Vietnam, Linking Two Countries
Cambodian students are an important bridge, linking the longtime friendship between Vietnam and Cambodia
Vietnam's attention and care to Cambodian students has partly helped them feel less homesick, and at the same time fostered the affection and attachment that previous generations have built so that in the future they will be ambassadors for the good relationship between Vietnam and Cambodia.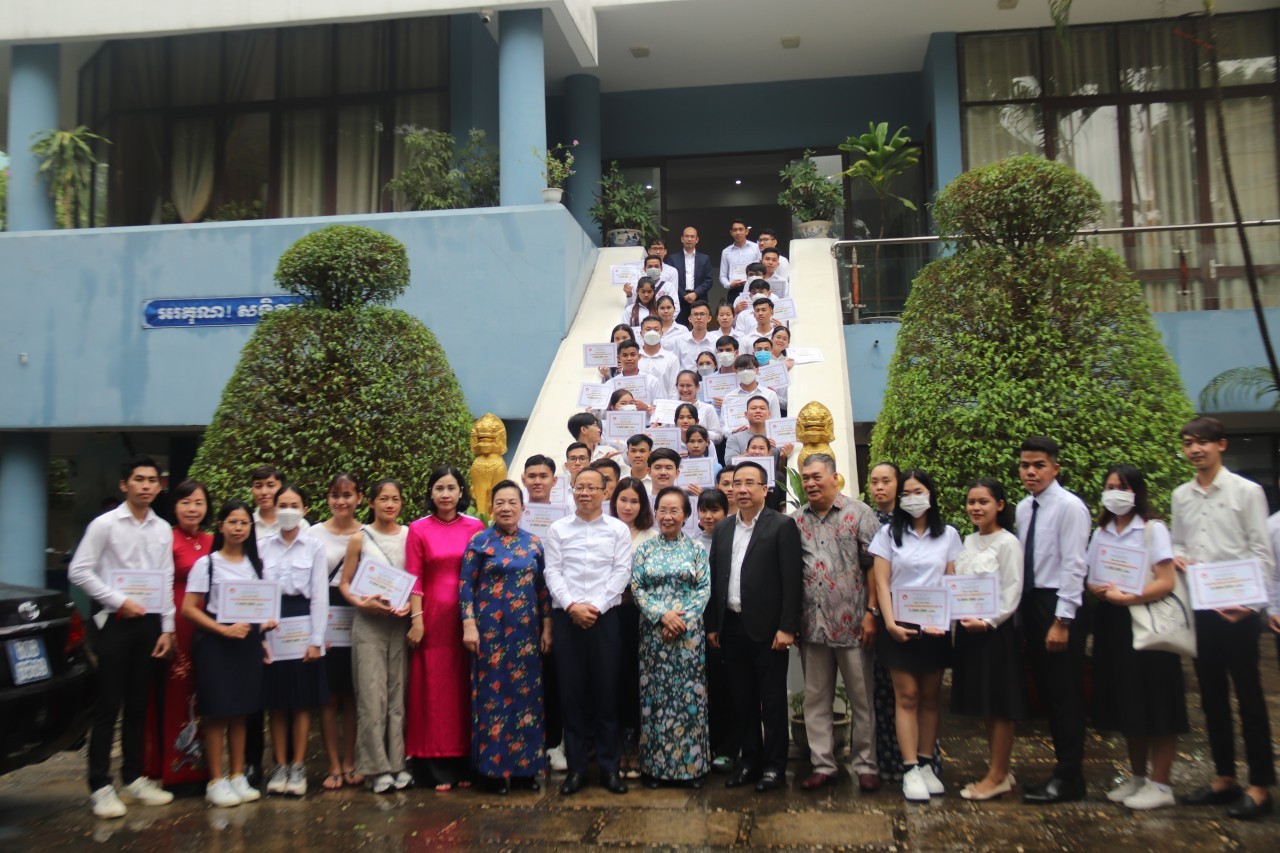 100 Cambodian students receive scholarships of the Vietnam Study Promotion Fund. Photo: VNT
Every year, Vietnam welcomes many international students from Cambodia to come to study at colleges and universities across the country. In addition to supporting Cambodian students in education and training, over the past time, Vietnam has had many programs and activities to take care of Cambodian students' lives. In addition to celebrating the traditional New Year and supporting training, Vietnam has also organized many other diverse activities to create a playground for Cambodian students to strengthen solidarity, thereby accompanying and supporting students in mutual development.
Vietnamese departments and organizations are always interested in visiting and giving gifts to international students every holiday and Tet and providing timely support to Cambodian students.
Hea Rin, a student of the Military Medical Academy shared: "When I came to Vietnam to study, I faced many difficulties. However, I always received the attention and care of all branches, levels, teachers, friends, fosterparents. This is a source of encouragement for me to constantly strive to excel in learning, striving and asserting myself."
Hean Taing Hea, president of the Cambodian Student Association in Vietnam said that there are currently about 1,000 Cambodian students studying in Vietnam. In which, 700 students' in the North and Hanoi, the rest in the South and Ho Chi Minh City. During their time in Vietnam, Cambodian students have received a lot of support and assistance from schools, departments, branches, and friendship associations.
"Cambodian students are given the best conditions both physically and mentally, from accommodation, food, and support equipment," said Hean Taing Hea.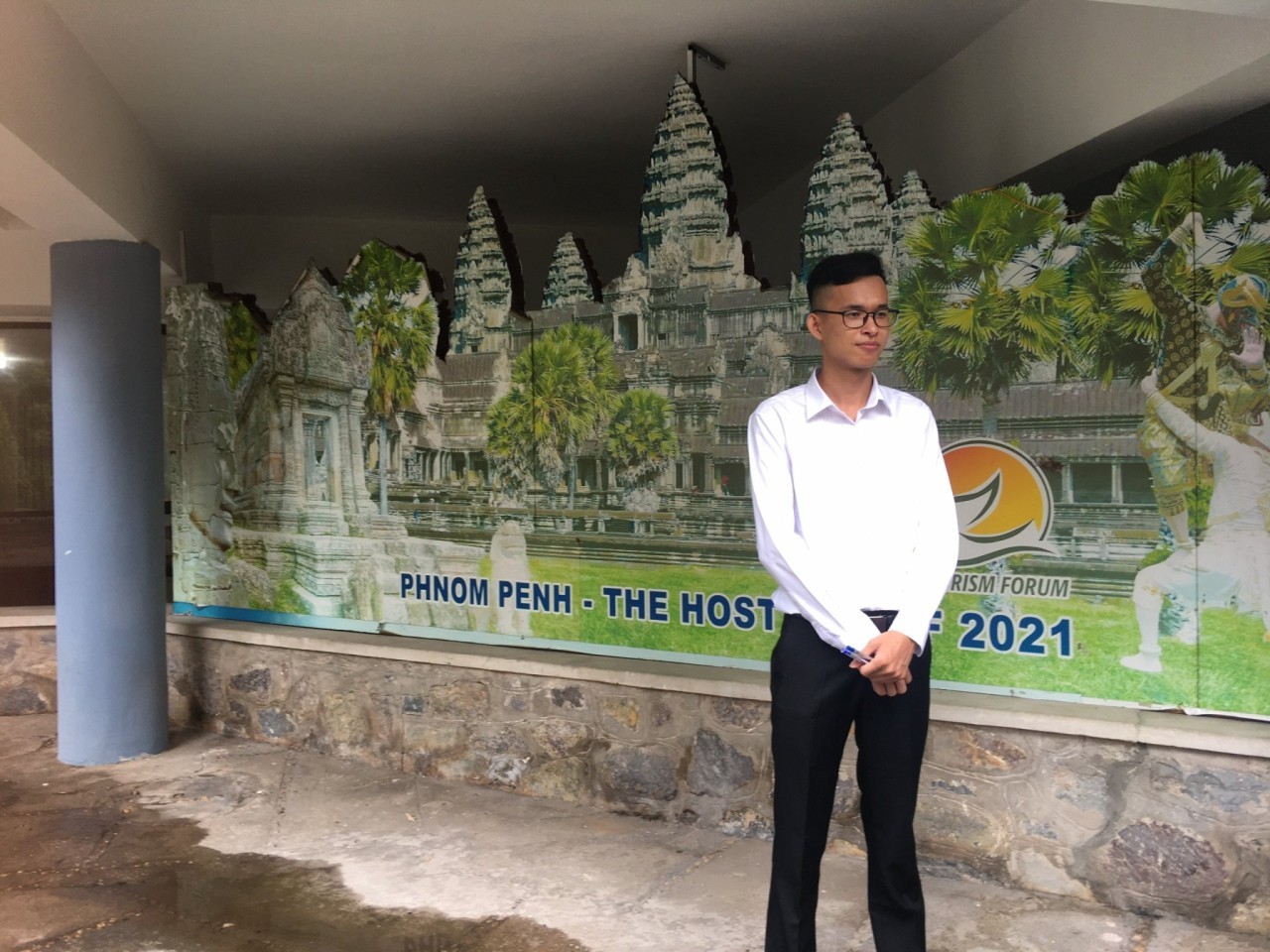 Hean Taing Hea, president of the Cambodian Student Association in Vietnam. Photo: VNT
Recently, on the occasion of the 55th Anniversary of the establishment of diplomatic relations between Vietnam and Cambodia (June 24, 1967 - June 24, 2022), in response to the Vietnam - Cambodia Friendship Year 2022, the Vietnam Study Promotion Fund has announced awarded 100 scholarships worth VND 300 million (USD 12.800) to Cambodian students. Each scholarship is worth VND 3 million (USD 128).
According to Prof. Dr. Nguyen Thi Doan, former State Vice President, president of the Vietnam Study Promotion Association, scholarship-giving to Cambodian students studying in Vietnam is an opportunity to cultivate traditional friendship and further strengthen the solidarity between the two peoples.
The scholarships show the deep faith and trust of the previous generation in Cambodian students, Doan said, stressing that the students will be active contributors to the construction and development of Cambodia and will forever keep the good feelings that the country and Vietnamese people have for the country and people of Cambodia.
"100 Cambodian students awarded scholarships are all excellent students. We want you to study well in professional knowledge, learn about the culture and history of the country and people of Vietnam, especially the traditional solidarity and friendship relationship between the two peoples of Vietnam. Cambodia, becoming 'bridges' connecting the two countries' friendship."
Ambassador of the Kingdom of Cambodia to Vietnam Chay Navuth haild the scholarships, saying they are meaningful, a timely and practical source of encouragement for Cambodian students. The diplomat reminded Cambodian students to try harder to study, preserve and strengthen the solidarity and friendship between the two countries.
Over 45,000 foreign students from 102 countries and territories studied in 155 educational facilities across Vietnam from 2016 to 2021, according to the Ministry of Education and Training. Each year, around 4,000 to more than 6,000 foreign students are admitted to Vietnamese educational institutions on average.
Lao and Cambodian students mainly do PhD courses, while some students from China, the Republic of Korea and Japan prefer majoring in Vietnam studies.
Particularly, the number of students from Laos and Cambodia accounted for nearly 80 per cent of the total number of foreign arrivals.
The Hanoi-based Vietnam National University took the lead in admissions of foreign students who hailed from 74 countries and territories worldwide.
It is followed by the National University - HCM City (47), Hanoi University (44), Hue University (34), Thai Nguyen (29), and Da Nang (13).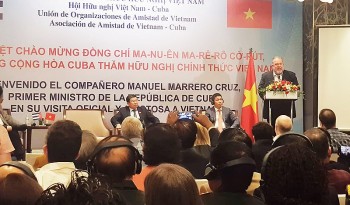 Friendship
Cuban Prime Minister Manuel Marrero Cruz met representatives from the Vietnam-Cuba Friendship Association in Hanoi on September 30, as part of his visit to Vietnam from September 28 to October 2.