153rd handover American missing servicemen's remains took place since 1973
The 153rd handover of American missing servicemen's remains since 1973 has recently taken place at the US (missing in action) MIA Office in Hanoi, VNA reported.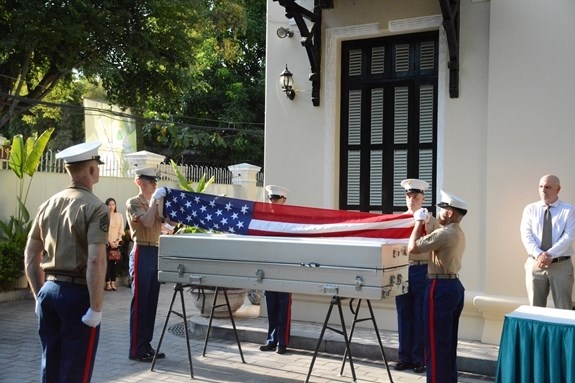 The repatriation ceremony of remains of US servicemen in Hanoi on July 16. Photo: qdnd.vn
A repatriation ceremony of remains of US servicemen who died during the war in Vietnam was held on July 16.
Attending the ceremony, representatives from the Board of Directors of Vietnam Office for Seeking Missing Personnel (VNOSMP), the Ministry of National Defence and the Ministry of Foreign Affairs, US Ambassador to Vietnam Daniel Kritenbrink and representatives from the US MIA Office in Hanoi.
The Vietnamese side's representatives handed over to the US side a set of remains which was recovered during the 139st Joint Field Activities from May 5 to June 23, 2020.
The set of remains had been unilaterally reviewed and concluded by Vietnamese forensic specialists that it might be associated with the US servicemen missing during the war in Vietnam and was recommended to bring to Hawaii for further examination.
Addressing at the ceremony, US Ambassador to Vietnam Daniel Kritenbrink expressed deep gratitude and high appreciation for the full and effective cooperation of the Vietnamese Government and people.
He vowed to continue supporting Vietnam in searching and gathering the remains of Vietnamese soldiers missing during the war as well as in addressing war consequences.
July 16's repatriation ceremony was the 153rd handover since 1973.
Since 1989, the United States and Vietnamese Governments have worked together to overcome the effects of the war with programs that remediate dioxin contamination, support persons with disabilities, and remove unexploded ordnance. In addition to these activities, the search, recovery, and identification of soldiers' remains from the war is vitally important both spiritually and culturally for both countries.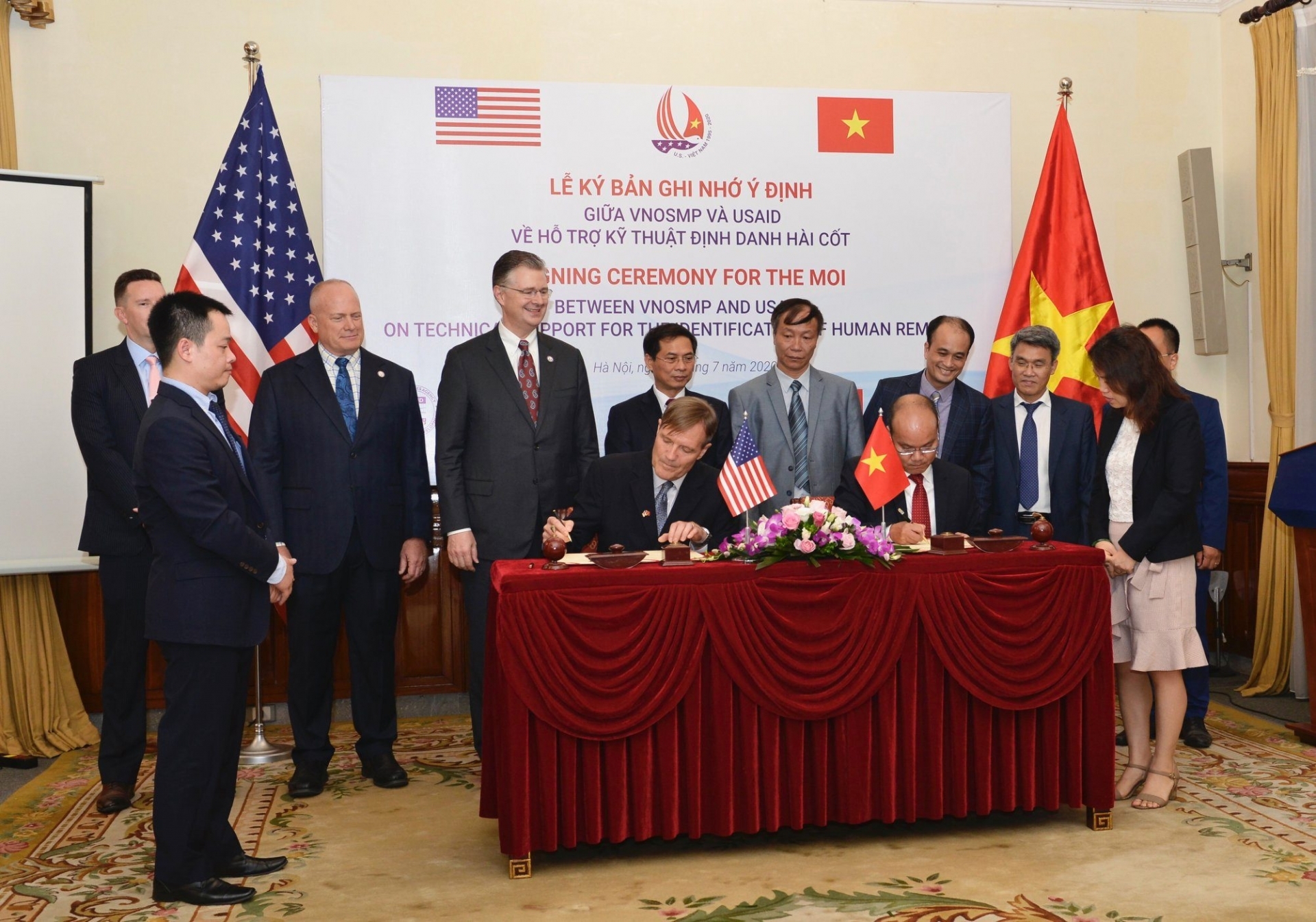 Under this MOI, USAID will support VNOSMP to enhance its capacity to conduct DNA analysis of unidentified remains from the war. Source: US Embassy
Earlier this month, a Memorandum of Intent (MOI) between the United States Agency for International Development (USAID) and the Vietnamese Office for Seeking Missing Persons (VNOSMP) was signed, witnessed by US Ambassador to Vietnam Daniel J. Kritenbrink and Vietnam's First Vice Minister of Foreign Affairs Bui Thanh Son.
Accordingly, USAID will partner with VNOSMP to fund a new three to five year, USD 2.4 million project, which will complement a broader US Department of Defense effort to support Vietnam's efforts to find and identify the more than 200,000 Vietnamese soldiers missing during wartime.
Speaking at the ceremony, Deputy Foreign Minister Son said the MOI was signed in a special occasion when Vietnam and the US are celebrating the 25th anniversary of their diplomatic ties.
The two countries' cooperation in searching for soldiers missing during wartime has played an active part in beefing up the bilateral ties over recent years and at the same time, helped both sides understand more about each other's goodwill, thus fostering expansion of partnership in other areas, Son said.
Vietnam will continue actively and effectively cooperating with the US in this matter, he affirmed./.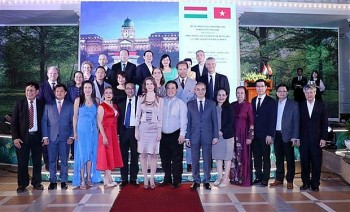 Viet's Home
Saigontourist Group in coordination with the Hungarian Consulate General held a series of events within the framework of the Hungarian Food and Culture Festival 2022 in Ho Chi Minh City