230 deaths in floods and landslides in central Vietnam
Floods and landslides triggered by storms and torrential rains in central Vietnam this month have killed at least 230 people, Prime Minister Nguyen Xuan Phuc said at a meeting on October 30.
Natural disasters in central Vietnam this year have caused great damage to both lives and property, Phuc told a government meeting on the country's socio-economic status in the first 10 months of this year. Among the casualties were military officers and officials, VNExpress reported.
"Many of our people, who we have failed to find, remain lost at sea or buried across mountainous areas," Phuc said.
Authorities, especially the military, are sparing no effort to rescue victims of natural disasters, he noted, adding many communities have expressed their solidarity with citizens in central Vietnam.
"We share the loss of our people in central Vietnam, and of the soldiers and police officers who have lost their lives," he said, requesting relevant ministries and other authoritative entities to help central Vietnam overcome these trying times.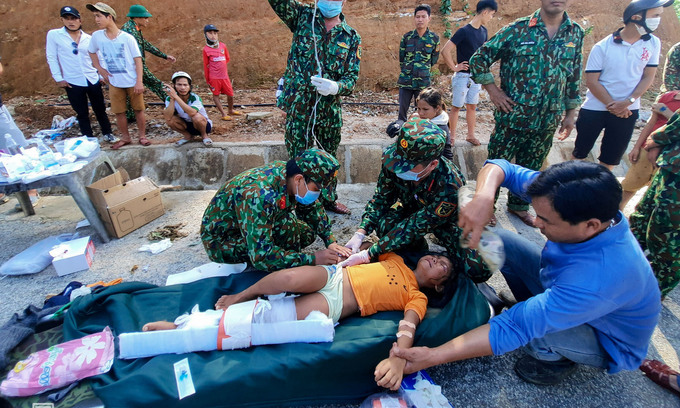 A girl receives first-aid after having been rescued from a landslide in Quang Nam Province, October 29, 2020. Photo: VnExpress/Ngoc Thanh.
PM also lauded efforts of the Central Steering Committee for Natural Disaster Prevention and Control along with police and military forces in locating and saving people in distress, in particular the ongoing search for landslide victims in mountainous areas in central Quang Nam province and the Rao Trang 3 hydropower plant in nearby Thua Thien Hue province.
The Prime Minister, Deputy Prime Ministers, and other Government members observed a minute's silence in honor of the cadres, officers, soldiers, and civilians who lost their lives in the natural disasters.
Within the span of a single month, central Vietnam has faced five storms and two tropical depressions, bringing with them heavy rains, floods and landslides, said Nguyen Xuan Cuong, Minister of Agriculture and Rural Development. Storm Molave, which made landfall Wednesday morning, is one of the two most powerful Vietnam has seen in the last two decades and has caused severe damage, he said.
"Despite traveling at the same wind speed, Storm Molave is even more severe than Xangsane in 2006 as it directly hit central Vietnam, already inundated by floods. From Molave's formation to its landfall in Vietnamese took only three days," Cuong added.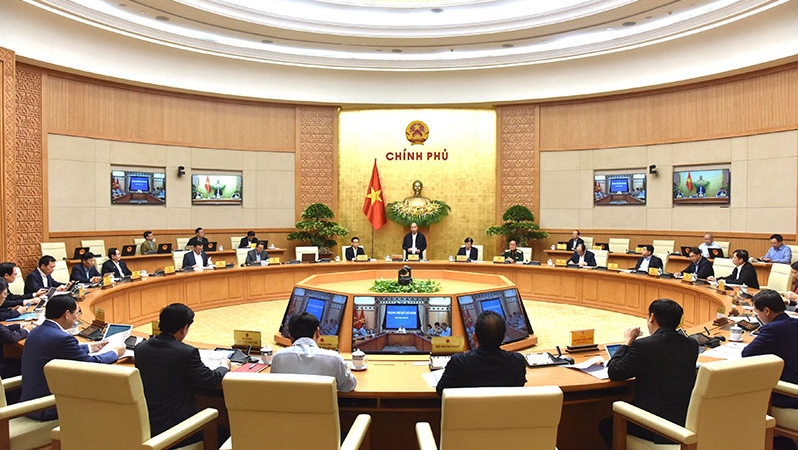 At the meeting Photo: Tran Hai/ Nhan Dan Newspaper
Prior preparation and coordination when the storm had yet to enter the Bien Dong Sea (internationally known as South China Sea), served to mitigate Molave's damage, he stressed.
Besides human casualties, Molave has also damaged around 92,000 houses, 88,000 of which are in Quang Nam. A total 5,000 houses have completely collapsed, while over 600 schools and hospitals were damaged.
As of Friday, rescue efforts are ongoing both at sea and on land for natural disaster victims. Three fishermen among 26 aboard two boats that sank Tuesday night in Storm Molave were rescued by a Hong Kong cargo vessel, Tran Chau, deputy chairman of central Binh Dinh Province, said Friday. A total 23 remain missing.
On land, hundreds of soldiers, police officers and residents are still searching for victims of a landslide in Tra Leng Commune of Quang Nam's Nam Tra My District. The landslide, which occurred Tuesday, buried 53 people, killing at least eight and injuring 33. Twelve are still missing.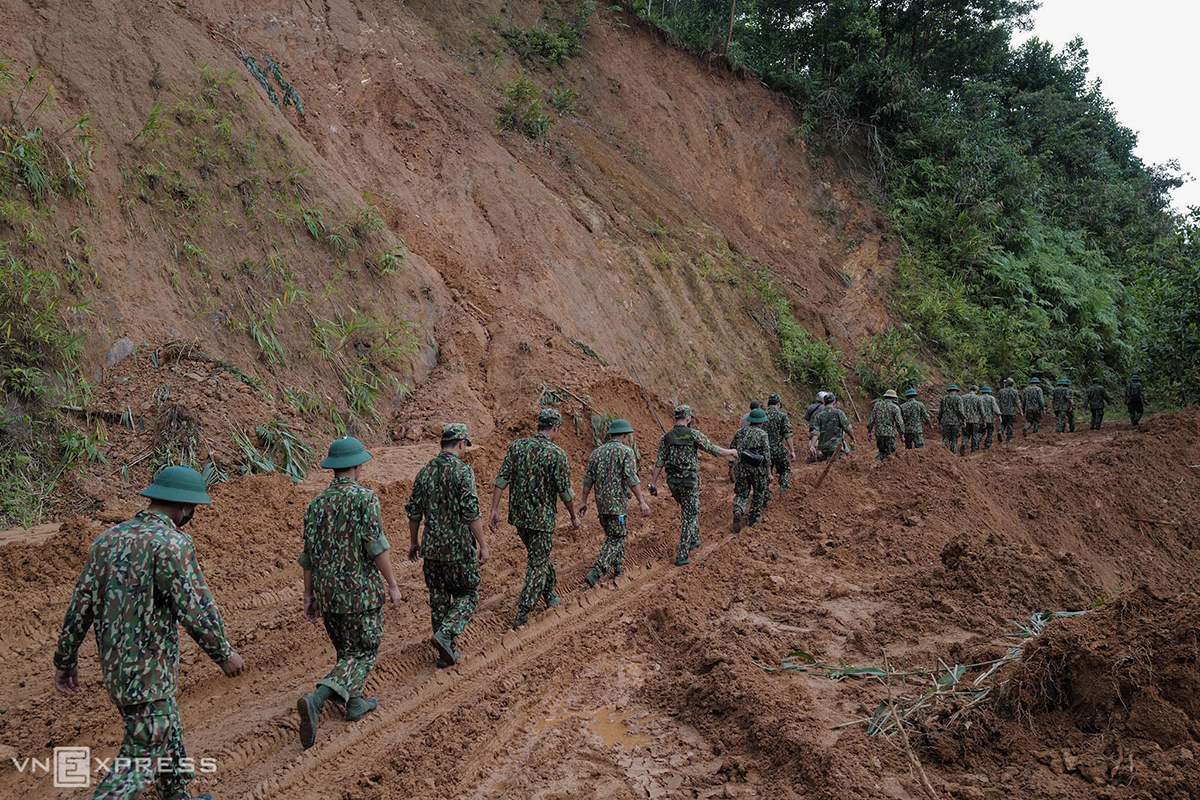 Soldiers of Quang Nam Province make their way to Village No.1 of Tra Leng Commune, Nam Tra My District where a landslide took place. Photo: VNExpress
Rescue efforts are also ongoing for another landslide in Quang Nam's Phuoc Son District that hit Friday. Eleven people were buried, with five confirmed dead and six still unaccounted for.
At the meeting, the PM requested that all-level authorities, sectors, and localities continue with search and rescue efforts, deal with the aftermath of the storms and flooding, pay due regard to the prevention of disease, including COVID-19, and return life to normal as soon as possible, Nhan Dan Newspaper reported.
Financial support will be provided to families in Quang Nam and Quang Ngai provinces with seriously damaged houses, he said, adding that more assistance will also be given to provinces affected.
The Government leader stressed the necessity to double or even triple efforts to make up for the losses suffered, including stepping up the disbursement of public investment and ODA capital and boosting production and trade over the two remaining months of the year, to record annual growth of 2-3%.