Flood in Central Vietnam: Landslide thread displaces 165 people in Quang Tri
The 200-meter long crack in Ta Bang mountain discovered Thursday has prompted local authorities to evacuate 165 residents over possible landslides and damages.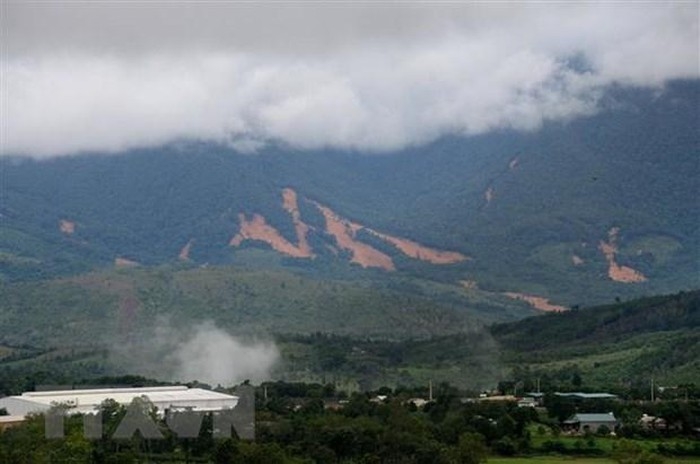 Many places in Huong Hoa, Quang Tri are suffering from landslides (Photo: VNA)
The crack in Ta Bang mountain is reportedly on the verge of sliding down, risking households underneath. As reported by local people, the crack measures up to 200 meters long and 50 centimeters wide.
According to the People's Committee of Huong Hoa district, Quang Tri province, the local authorities have deployed an emergency force to relocate 32 households lying at the foot of Ta Bang mountain. All belong to La Ri Lao, Huong Son commune, Huong Hoa mountainous district.
The People's Committee of Huong Son commune has also issued a petition calling for the People's Committee of Huong Hoa district to take measures to relocate all of its residents to safer places.
As of Thursday evening, Storm No.9 only has left 3 people injured, 9 houses collapsed, another 13 badly damaged or dilapidated. A staggering 249 houses had their roof blown off.
Heavy floods and landslides also take a heavy toll on transportation, with many routes in serious damage, disrupting daily commute.
Trees in 118 ha of forest and over 39 ha of perennial trees are toppling off or fallen down. A large number of infrastructure works, irrigation works, dykes, riverbank are negatively affected by the landslides, Vietnam Plus reported.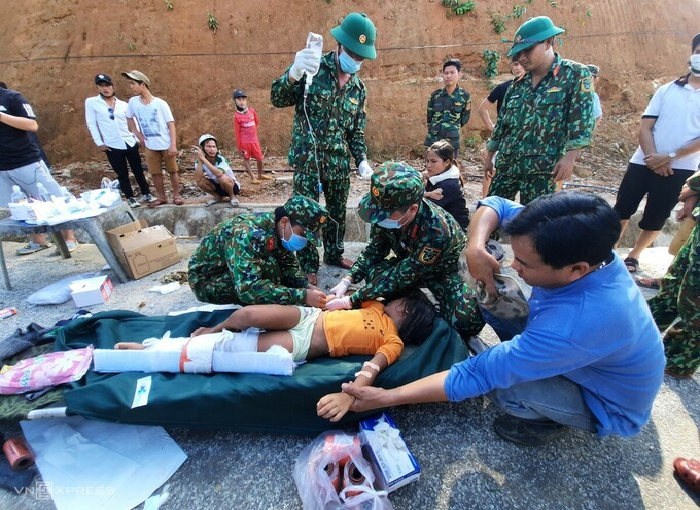 A landslide survivor receives medical care at the site. Photo: VnExpress
Meanwhile, in nearby Quang Nam province, at least 19 people have died and dozens are missing after three landslides, triggered by torrential rains from Typhoon Molave, hit the central province on October 28.
The two landslides, one in Tra Leng commune and the other in Tra Van commune, both in the central province's Nam Tra My district, have killed at least 14 people, authorities said.
The Tra Leng landslide had buried 53 residents, of whom six are confirmed dead. Thirty-four have survived, leaving 13 still missing. The Tra Van landslide had buried 20, killing eight and injuring 12.
Storm Molave, which made landfall in the morning of October 28 and weakened into a tropical depression by 4 p.m., uprooted many trees and damaged hundreds of buildings. Nearly 230 houses collapsed and some 88,600 others had their roofs blown away.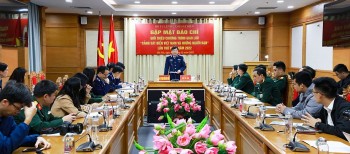 Seas and islands
The first "Vietnam Coast Guard and friends" exchange will take place in December with the participation of National Committee for Maritime Security of Cambodia, Coast Guard Department of China, Indonesian Maritime Security Agency, Malaysian Maritime Enforcement Agency, the Coast Guard of the Philippines, and Thailand Maritime Enforcement Coordinating Center.