4th Samsung Hope School in Lang Son To Open This Month
The fourth Samsung Hope School in Lang Son province is expected to open in October.
Samsung Vietnam and Korea Food for the Hungry International (KFHI) at the "Samsung Hope School" in Bac Giang province. Source: VOV
In July 2020, Samsung Electronics Vietnam Co., Ltd, the Korea Food for the Hungry International (KFHI)/Korea, the provincial Department of External Affairs and Lang Son city People's Committee had signed a memorandum of understanding on the establishment of Samsung Hope School in Lang Son province.
Locating in Mai Pha commune, Lang Son city, the school will comprise classrooms, library, an entertainment area, a canteen and restrooms. It is built with a total budget of nearly VND 20 billion (USD 863,400). It will also serve as a venue for the Child Development Program with extracurricular training activities such as fine arts, music, information technology, and foreign languages, as well as exchange and health check-up activities.
In particular, the project also has a collaboration with Management and Sustainable Development Institute (MSD Vietnam) - a Vietnamese non-government organization to support the training of teachers before they participating in teaching at the school, thereby contributing to educational development of the locality especially primary and secondary education.
According to VNA, it is expected to open this month. After it is completed, around 300 elementary and secondary school students from impoverished families in the province will enjoy a comprehensive education combining studying and healthy practices.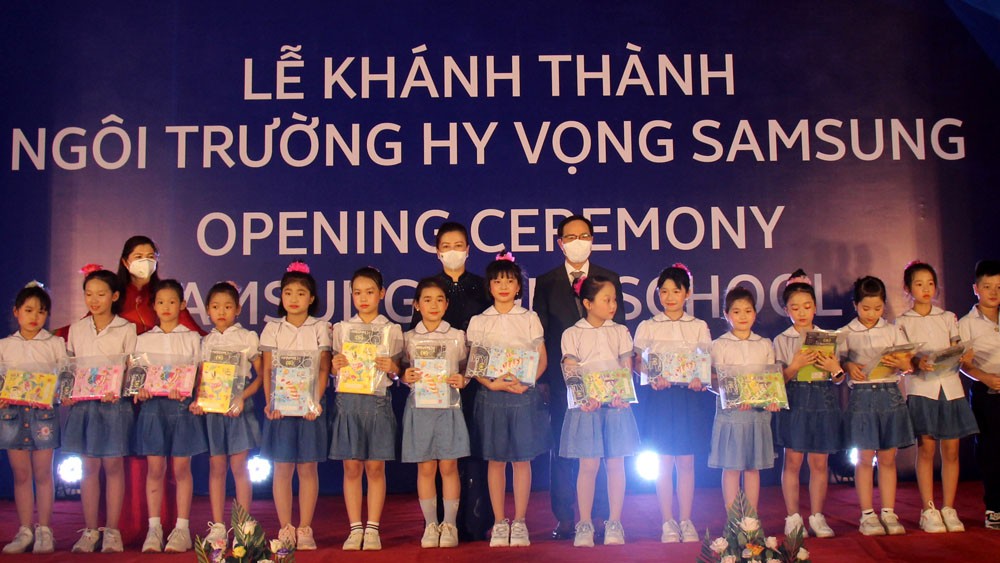 Delegates present gift to students in Bac Giang's Samsung Hope School. Source: provincial newspaper
Last week on Oct. 2, Samsung Vietnam and KFHI inaugurated "Samsung Hope School" at Dinh Huong village, Hiep Hoa district, Bac Giang province, after the Covid-19 outbreak has eased in the province.
The Samsung Hope School is "a school after school time" built for about 300 disadvantaged students from Primary to Secondary school age. It has one two-storey classroom building, a welfare building, a multi-purpose building, football field, garage and garden built on a total area of 8,100m sq.m.
This will also be the place to implement the Child Development Programme to help students get the opportunity to be trained in computer science, foreign languages and classes to develop specific talents such as music, fine arts, English and Korean languages, as well as experiencing various career-oriented training courses.
The "Hope School" in Bac Ninh has been in operation since 2013 and in Thai Nguyen in 2018. About 1,000 students have been studying and developing at these schools.
The school officially started construction in August 2020, and was almost completed in March 2021. However, due to the 4th wave of Covid-19, the building was used as a concentrated quarantine facility.
Speaking at the event, Choi Joo Ho, president of Samsung Vietnam hopes that students in Samsung Hope School in Bac Giang will always keep the faith that with courage and unity we can overcome the crisis in any situation, as same as how Samsung and Bac Giang worked together to overcome the crisis during the last April and May.
"I am delighted because despite the Covid pandemic, with the very active support of the authorities of the province and Hiep Hoa district, after more than a year of construction since August last year, to now the 3rd Samsung Hope School officially comes into operation," he said.
Samsung also signed a MoU with Dong Nai province and KFHI to implement the 5th Samsung Hope School project in Dong Nai province.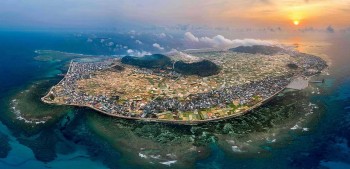 Viet's Home
Dozen of beautiful photos from the "Homeland View from the Sea" national photo contest will be featured in a 2022 calendar.